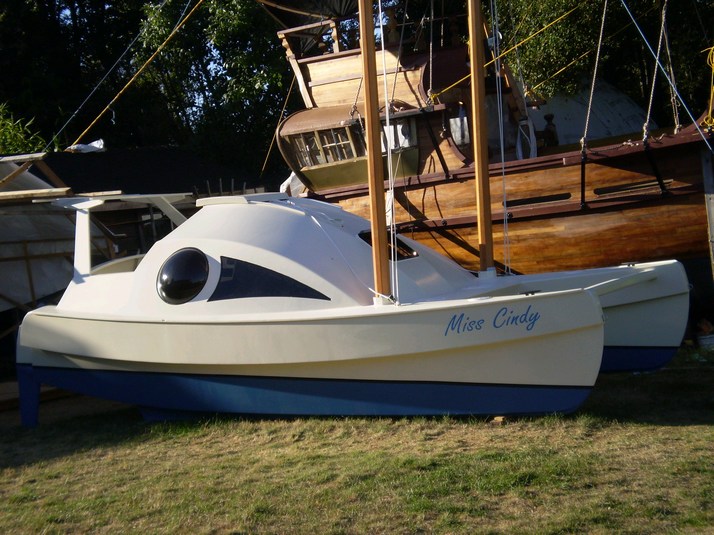 Miss Cindy
---
Dimensions:
Length over all 16' 3"
Length of hull 15'8"
Length waterline 15' 3"
Beam over all 8' 5"
Draft rudders down 21"
Draft to keels 14"
Sail area 200 sq ft.
Mast head height 17' 0"
Rig: Biplane standing lug with large roach and full length battens
Roller reefing around boom.
Engine: Yanmaha 2 hp 2 cycle outboard
Weight rigged 500 pounds
Design displacment 1000 pounds
Typical sailing weight 900 - 1100 pounds

Performance:
Maximum speed under power 5.3kts
Cruise speed under power 4.25kts 15 Nautical miles per gallon
Maximum speed under sail 15.8kts
Typical speed under sail 3 - 7 kts
Greatest passage length 430 nautical miles
Longest period at sea 6 days
Furthest distance offshore 200+ nautical miles

Construction:
1/4" marine plywood stitch and glue, glass epoxy.
Masts hollow fir, glass epoxy
Keels 1/2" marine ply, glass epoxy, stainless steel shoes

Main boats page including 'Miss Cindy' design and construction.

Equipment:
House battery is a U1 30 amp hour gel. Cheap West Marine panel with meter and lighter plug. The cabin light indicator died after a month but otherwise works fine. The Weems and Plath instruments should have been a wristwatch baromenter probably. This unit is fairly heavy and the hygrometer has not worked from day one despite recallibration per instructions. Heavy breaker goes to solar panel.
Standard Horizon VHF radio has worked well.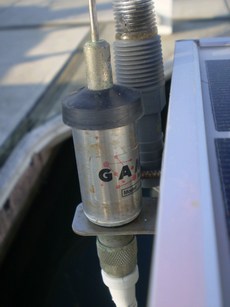 Guys at Harbour Chandler in Nanaimo swear by this little antenna and it has worked extremely well. 60 mile transmit and receive on one occasion and did radio relay between a cruise ship and a harbour master. Very light compared to the shakespear unit.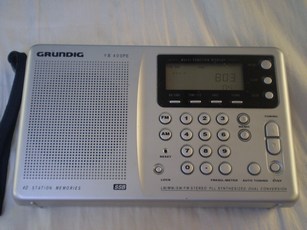 Had this unit a while. Lets me lurk in the whirs and squeals of SSB radio nets. Mostly used as an alarm clock and time tick receiver.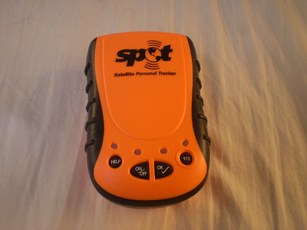 Sattelite tracker has worked very well. Can send position reports to a google map web page every 10 minutes.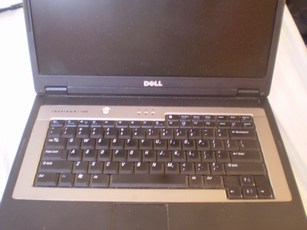 3 years old and feeling it. Battery is pretty useless. Unit has been reliable. Have a USB puck type GPS for this that I don't usually use.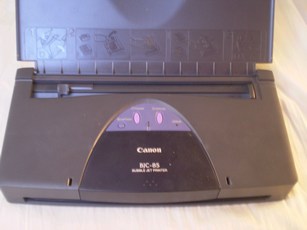 Works well and light.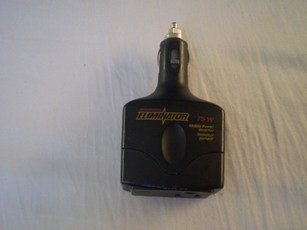 Cheap unit with nothing special to recommend. Fell apart while entering Mazatlan but was able to put back together. Should probably have a spare. Used for the computer and AA and AAA battery chargers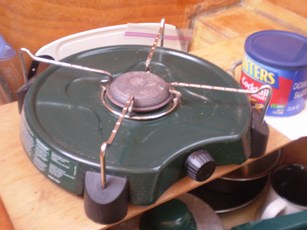 One burner propane. Have not use much but no problems. Uses external 5 lb propane tank. Pretty heavy tank configuration, I should have just got 4 or 5 1 lb cans that attach direct, would have saved 15 lbs.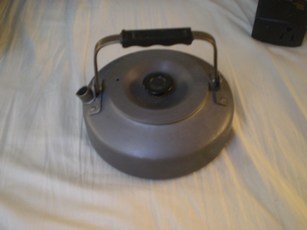 Nice primus hard anodized aluminium kettle. Two cups and does not drip when pouring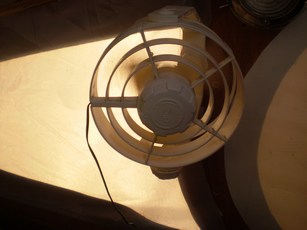 Hella Fan reliable efficient but hard to clean and a bit of a finger slicer potentially when adjusting.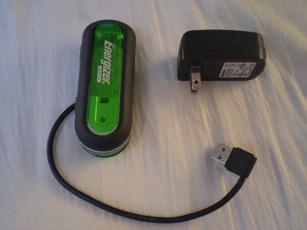 Used for NIHI AA and AAA mostly on 120V sometimes on USB. Not very reliable. Sometimes charges instantly ( not ). Piece of junk requires lots of babysitting.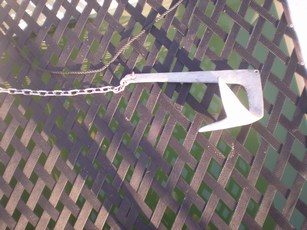 Lewmar Claw Bruce type 4.4 lbs with 80' 1/8 SS chain and 120' 1/4" nylon. Good to at least 40kts ( so far ). Have bower anchor of same type of 11 lbs and additiona 70' chain which can be combined. Replace SS chain which was failing from Stress Corrosion Cracking at welds with galvy 3/16 60 foot and a short bit.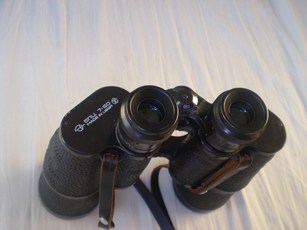 My rusky binoculars from the 70's. Heavy but still work great.
Also a Garmin Etrex from the late 90's. Slow to aquire signal and goofy interface but works well, except for the time it claimed I was doing 329kts.
West Marine beta light hand bearing compass, Works well and keeps me irradiated.
Princeton Tec regulated LED headlamp. Uses AAA NIHI. Un reliable as well. Had it open on it's own on a couple of occasions and for the last month the on switch has been unreliable.
---
Copyright © 2009 Tony Bigras.