Travels with Miss Cindy

Chapter 9

Rocas de Reyes, 'Miss Cindy' in Chains, Turmoil, Whales, Turtle Island, Turtle Beach, Cabo Corrientas, When Frigates Attack, Crappy Careyes, Terrific Tenacacita, Barnacles, Barra.
---
Sunday Jan 11, 2009
We are anchored in Bahia Tenacatita. There is Mexican music with a intriguing beat and melody from the beach and a modest tumble of surf with it's own beat and ambiance. I have my favorite incense filling the boat and drifting towards the beach. I wonder what those who catch that scent will imagine. It is all quite exotic.
My crew left on a jet plane 5 days ago, and later that day another jet plane brought in my replacement bi-colour navigation light. The night before we had gone to a local fett the cutting of the 'Rocas de Reyes'. A big ring of sweet bread with occasional tiny baby Jesus statues cooked inside. The finders of the litte guys got a present.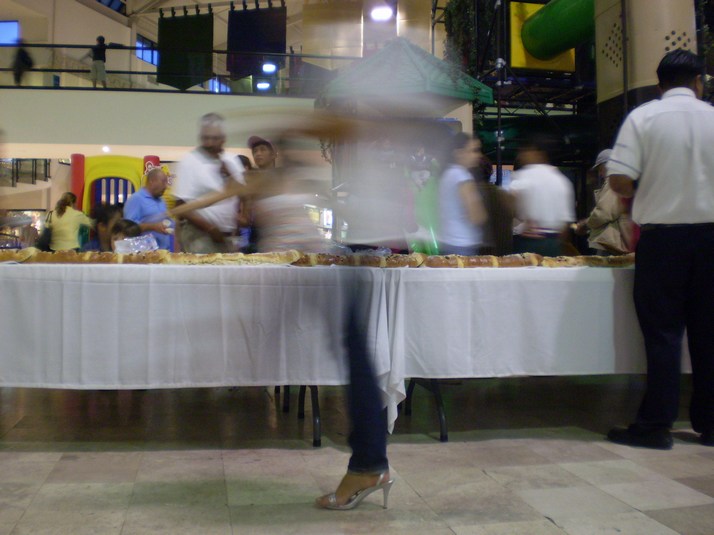 This photo was taken in ambient light and has one of those artifacts that my old co-worker Tom Forman loves. I mean those are pretty cute shoes and she may have been too, but where has she gone?
When we got back from La Penita 'Miss Cindy' was chained to the dock. Dick Mackie the nice harbour master arrived shortly after us and explained that there had been lots of boats coasting by to have a look at her as she was an interesting and unusual boat and he was concerned she might disappear one night as we were not aboard. I thanked Dick for his attentions. The chain had been padded but there were a few minor paint chips where it had rubbed over the gunnel and some scuff marks where it had sashayed across her curvy transom. Character building stuff. This was our most expensive stay at $25 per night ( Dicks wife the business minded Gina insisted on their 25 foot minimum) but it was a nice friendly secure marina only lacking in a functional wireless net at the dock. One is offered from the yacht club but I did not avail myself of the $30 option after being told It would not work on B dock because of all the big boats.
After saying goodbye to my crew I did a little maintenance on 'Miss Cindy'. The sails needed chafing patches sewn where the battens touch the mast, the port sail had worn more than the starboard for some reason. There was also a weird little hole in the middle of a panel.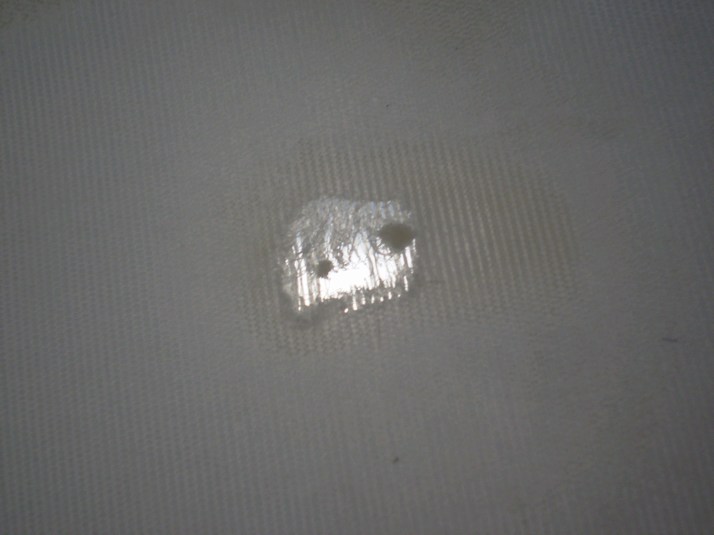 It turned out that this was caused by chafe against the mast when reefed. I sewed on a cute triangular patch as well as the four chafing patches.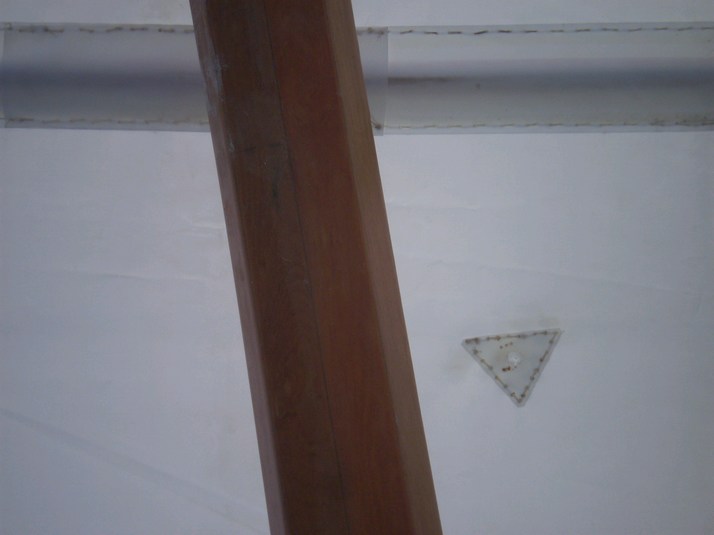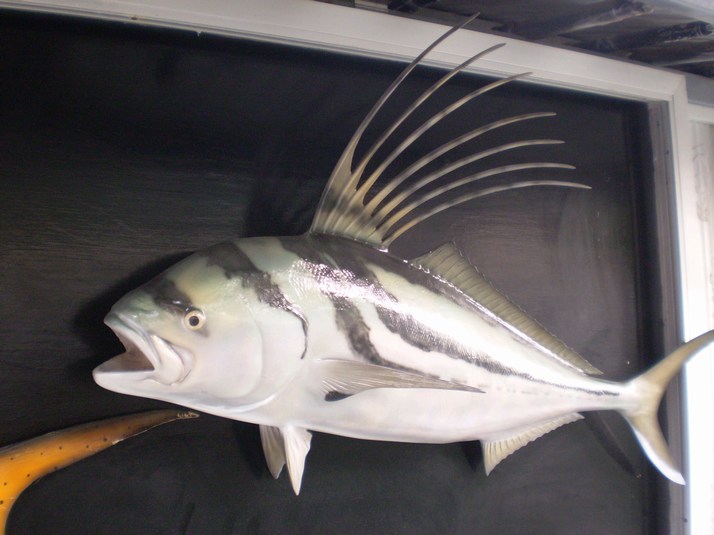 Took one last stroll around the Paradise Village docks and over by the rental shack was this nice carving of a rooster fish.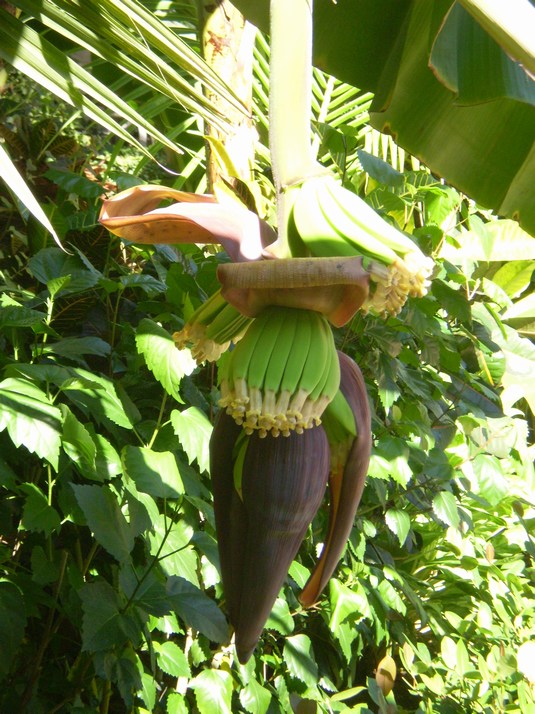 And along the dock walk this strange fruit, a young banana raceme.
While waiting for my new nav light to arrive I provisioned up 'Miss Cindy'. Lugged aboard 11 gallons of drinking water ( our most ever ) and some fresh fruit and sundries.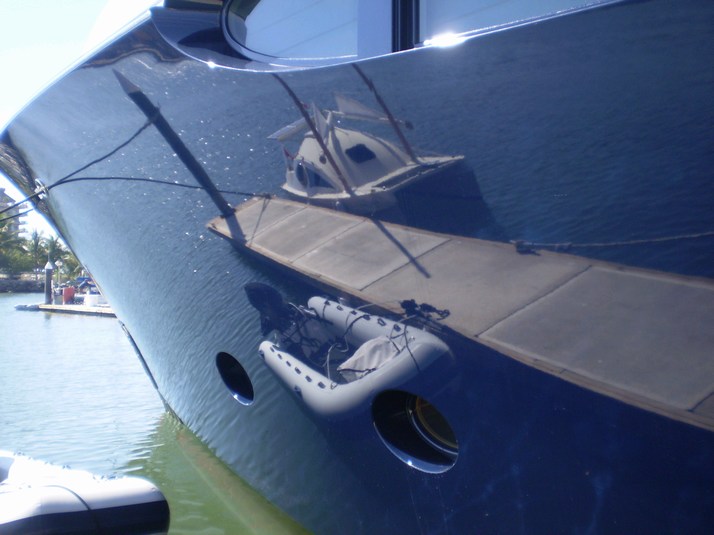 While I was doing that the big boat beside 'Miss Cindy', 'Slojo' who we last saw at Marina La Paz was loading wooden crates of fine California wines and trolley carts full of live orchids. Phalenopsis mostly I think. Those were destined for their sky lounge.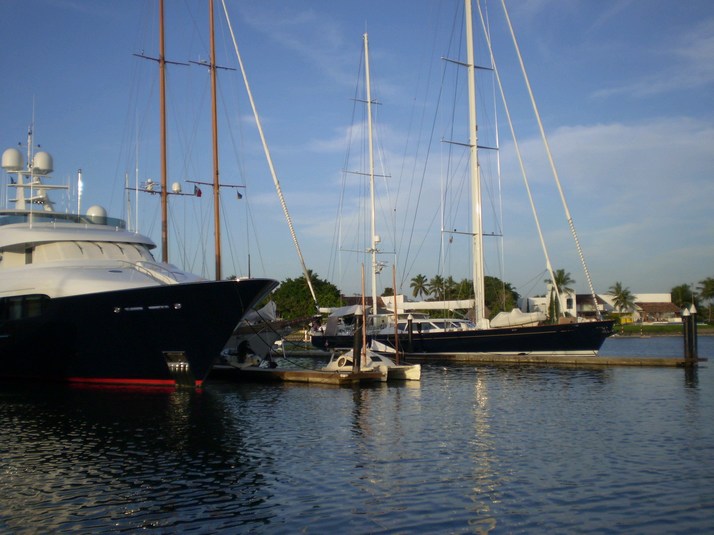 Looking at this photo of 'Miss Cindy' I think perhaps she is a 'lateral schooner' rather than biplane rigged.
I talked more with some of the crew of this new boat. I also spoke with the paid crews of the other two boats near by. The big teak schooner from London who got her transom and wheel varnished and the even bigger 'Beagle V' a blue ketch from Cowes beside her.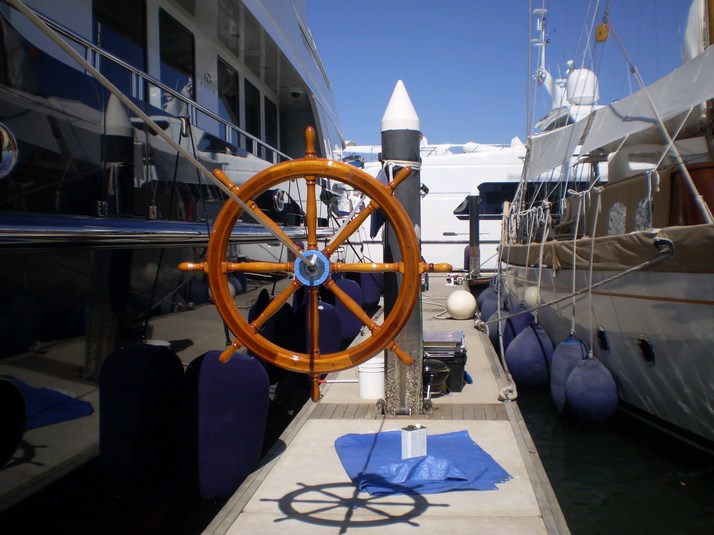 These crews were an interesting mix. Such positions would seem to attract the adventurers but as well they have to be willing to serve, and sometimes provide such service to a quite demanding level. We spoke of the pros and cons of boats with owners aboard vs charterers. Even the worst charter is gone in a couple of weeks for example. And certainly if one wants to work in a seaman role rather than as an officer you have to love cleaning as these boats are being cleaned all the time, and there is lots to clean.
But I would imagine with a nice owner it would be pretty sweet. Right out of high school I worked as a handyman's assistant for a Californian who had made his money in the 60's turning orange groves into subdivisions. My brother had worked for him before on a steamship restoration that he donated to the San Diego museum. I met him a few times and you could not imagine a nicer or more gracious guy. He had good taste in boats too. Worked for a CIO once that was class and substance all the way too. These guys would be a dream to crew for. If the owner is a pain why would you not find another boat to crew on.
I have just lit another josh stick and as I quench the match I note that the full moon has come up as expected about 50 minutes after sunset. This is about an hour later than yesterday and two later than the day before etc. We have sailed quite a bit at night the last 4 days and natures rhythm finds its own place in ones awareness. When we headed out from our open roadstead anchorage at two in the morning a couple days ago I new that big moon would be with us till daybreak, unlike the night before when it set about 3/4 hour before twilight... making things ... dark dark dark. This was important as we planned to sail around Roca Negra a 46 foot tall vertical black rock bearing 140 degrees magnetic from our anchorage and about 5 miles distant. Despite the full moon and extensive binocular efforts I did not see the little black rock until dawn when she had the good sense to show up where she was supposed to be.
But back to our story.
A couple days before all the orchids and wine passed me by, a really big yacht came into the harbour and tied up at Paradise Village Marina. She was the 210 foot expedition style yacht 'Turmoil'. She had several boats on board that were much bigger than 'Miss Cindy'. While I did not meet any of the crew while we were at the marina, when we sailed out in the early morning light as we ghosted downwind about 20 yards off her port stern her capitan (4 gold bars) came out on the side deck and said good morning and I smiled and waved back. About 20 seconds later as we ghosted past the front salon two other crew including a pretty steward waved and received same in return. The pretty steward also took a photo as did I a little bit later...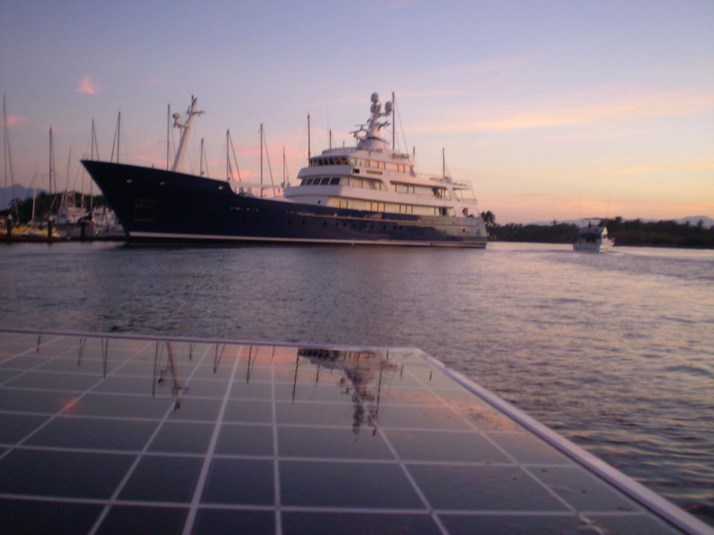 Leaving 'Turmoil' behind.
A big drop of dew from the cabin hatch has landed on my head and wakes me. It is now 4am on Jan 12 and the surf continues to purr on the beach. There is a nice land breeze of 5 knots headed where we want to go today, Barra Navidad about 14 miles away, but I work on this travel log rather than weigh anchor. There are lots of rocks off the point we came round into this anchorage and lots more off the other point of Bahia Tenacatita, pointy mean spirited volcanic types. With the full moon helping out it would be a moderate challenge to spot the breaking surf on them but I am not in the mood for it. I fire up the computer and set to this story just covered by 440 denier sateen cotton sheets in the cool of the night. I have to use a piece of paper as a mouse pad as the sheets won't work with the optical mouse. I had a nice blue neoprene mouse pad but the Chief Engineer used it inside the chafing patches on the battens to cushion and quiet their clonk clonk noise.
But back to our story.
We scampered out into Banderas Bay on the land breeze headed for Cabo Corrientas.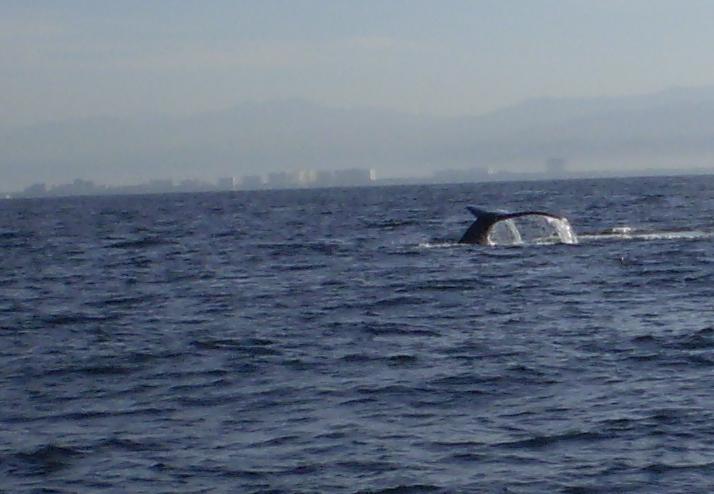 A big whale waves goodbye an hour later. As I sail South I have a feeling that I will never return here. Pt de Mita goes down over the horizon for the last time in my life, not a rational feeling but very strong. Perhaps I am still feeling the effects of the 'Mexican flu' that I got in La Penita, my taste buds still are funny as well.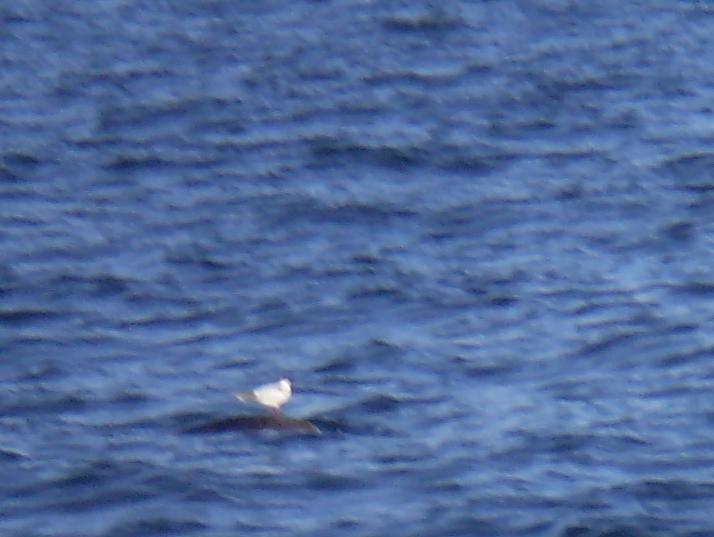 A little while later we come across this 'turtle island', a bird standing on the back of a sea turtle. It is the first turtle I have seen at sea.
We motor for a couple of hours thru the mid day calm. I want to get well clear of Cabo Corrientas by night fall.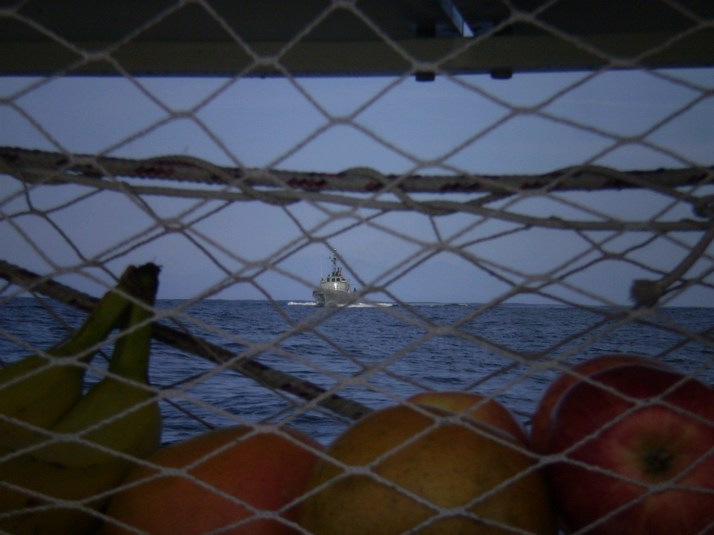 Around 1400 the Mexican Navy comes up from astern. They have a good look and friendly waves all round. As they pass ahead I see the patrol boat is named after the cape ahead 'Corrientas', a good portent I think. Cape of Currents, the Cape Horn of the Mexican Riviera ( just kidding ), but a place all the guides caution about. They say go at least two miles offshore.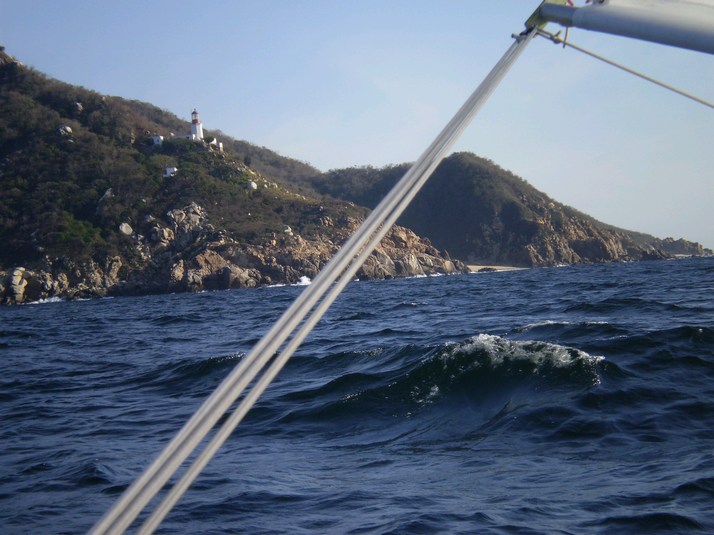 We go close inshore and 'Miss Cindy' transforms planning and opportunity as we round the cape at 1700. We have a couple of hours of good light to get clear of the next set of rocks and some distance offshore for the evening. Rounding the cape the water temperature was 71F, but 10 miles South it is already 76, we are into the tropics for real now. Just before dark we trundle past a panga who is setting a passel of lobster traps with which we pavane in the dusk.
The first decent anchorage is 50 miles south so we sail on thru the night. Nice to be at sea.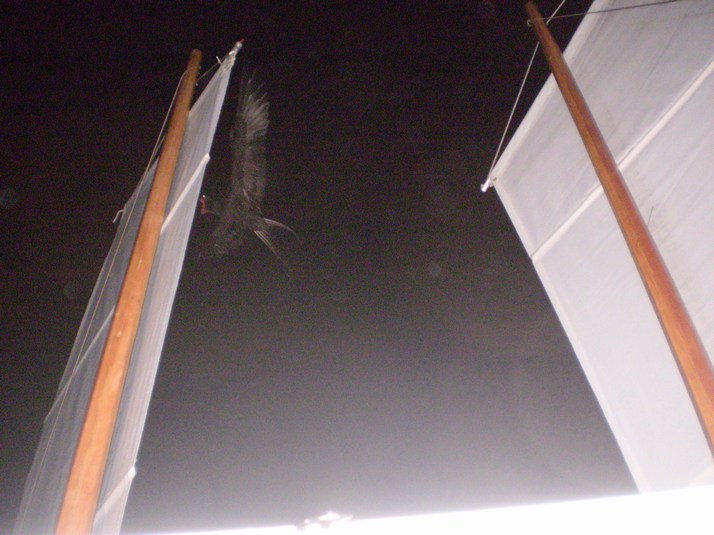 During the night we are pestered by this frigate bird. Perhaps it is the lost one from La Penita.
In the morning we approach shore and a 10 mile long beach , tracks show above the tide line, 'turtle beach'. We see 5 turtles swimming near by.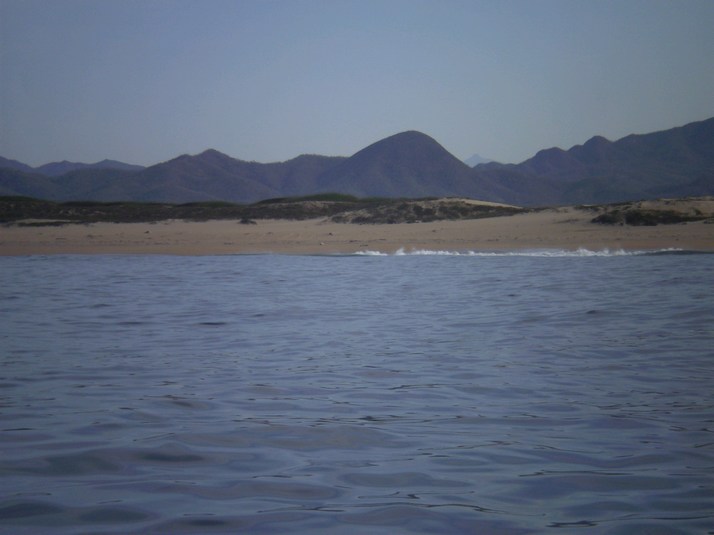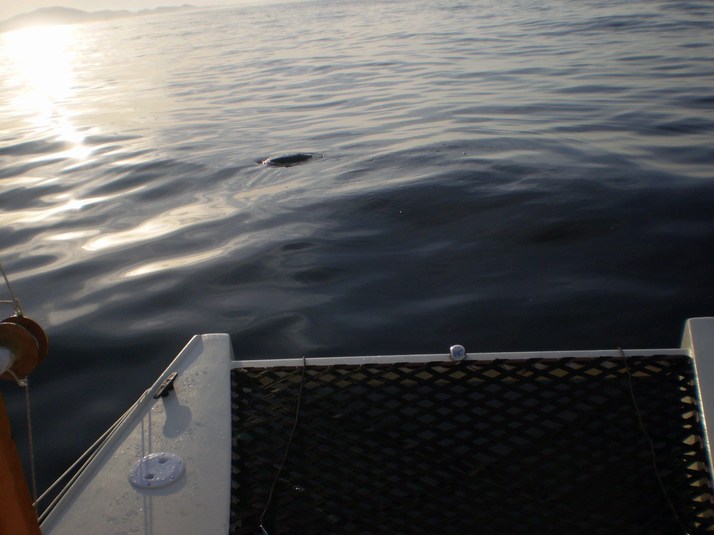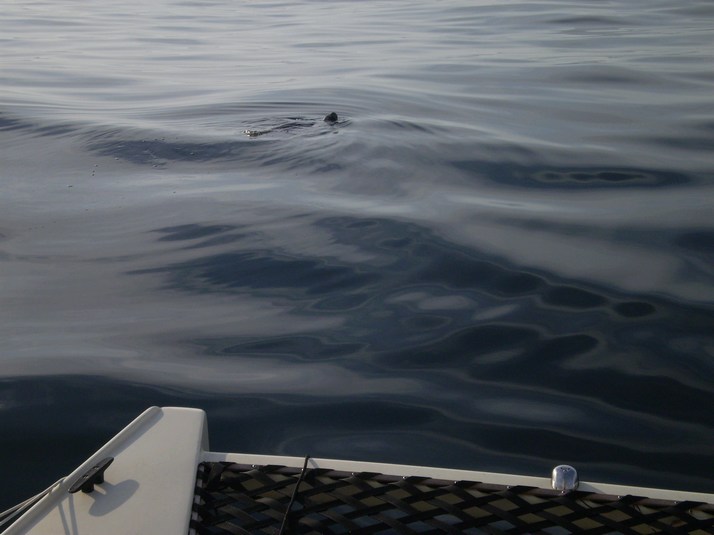 They are really cute when they spot us and go wide eyed and skedaddle.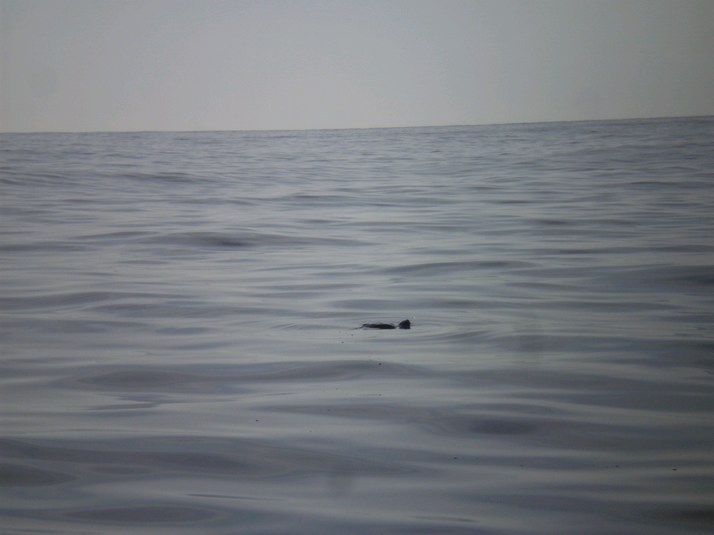 They are supposed to taste really good too, not at all like chicken.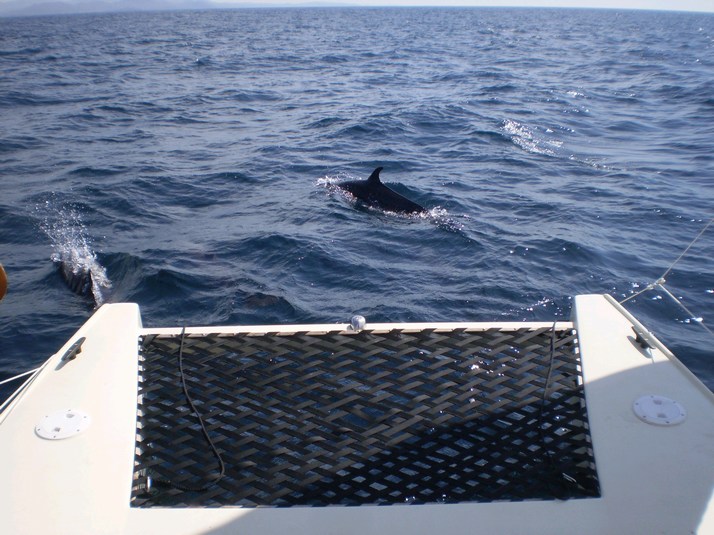 We also have some more dolphins come and play.
We anchor for the night in an open roadstead about 40 miles South of the cape. I watch the sun go down. There is very good seeing and a yellow flash as it drops into the sea, but no green flash.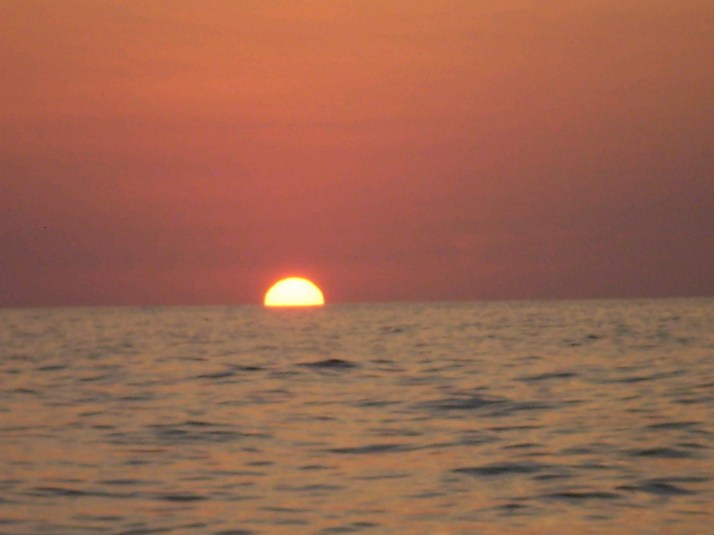 I am looking for the next anchorage, there are lots of possibilities along this stretch of the Mexican Riviera. From the grand description in Charlies Charts guide I choose Careyes. We see more turtles and the body of a dead Humbolt squid about 3 feet long floats by. We enter Careyes around 1600 and it is like Prince Charles, a royal disappointment. The three grand anchorages in the nodes of the bay are just little holes in the wall full of pangas for the hotels ashore. I anchor surrounded by rocks, it reminds me of the Octopus islands near Desolation Sound, claustrophobic and rocky. The supposedly hopping Club Med and Disco are not even happening. I have a look ashore with the glasses and see 3 people. We leave at first light after a bouncy anchorage.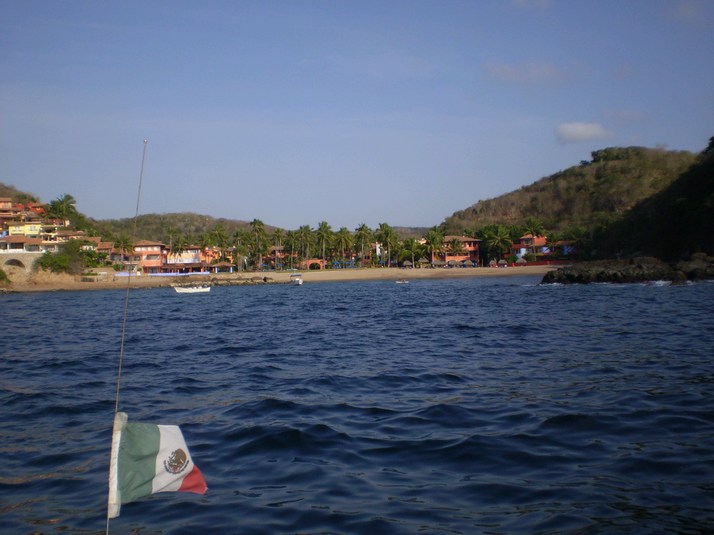 And just South of Careyes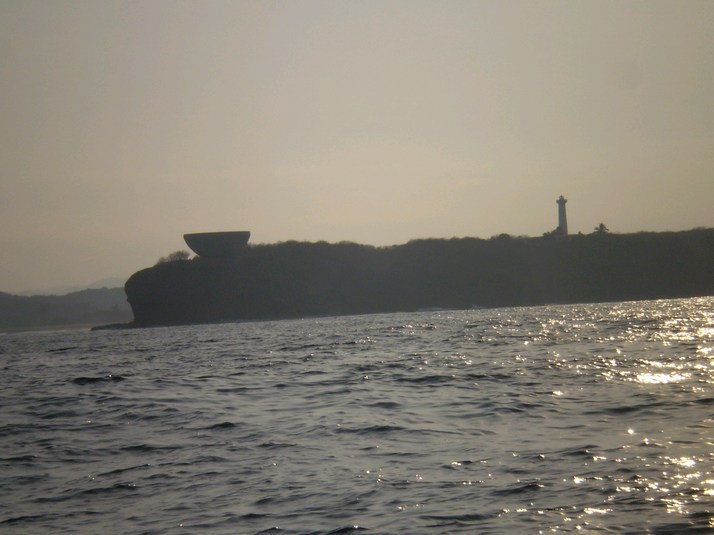 This ancient Aztec spaceship landing pad, next to the lighthouse.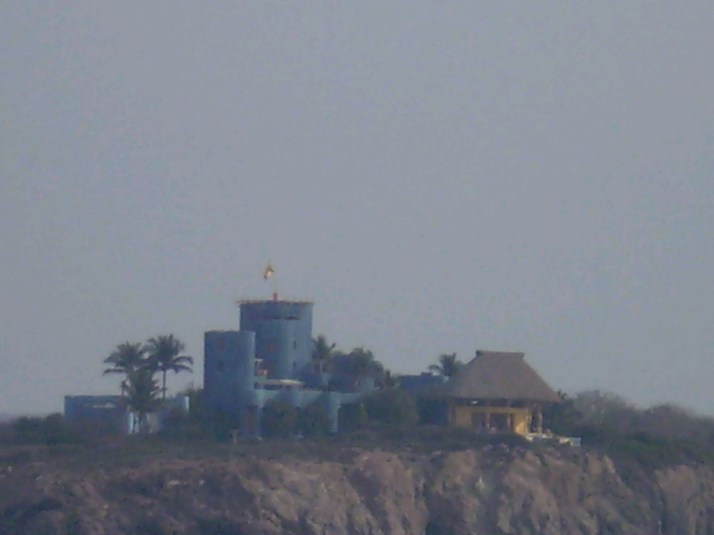 As we mosey down the coast a colourful castle goes by.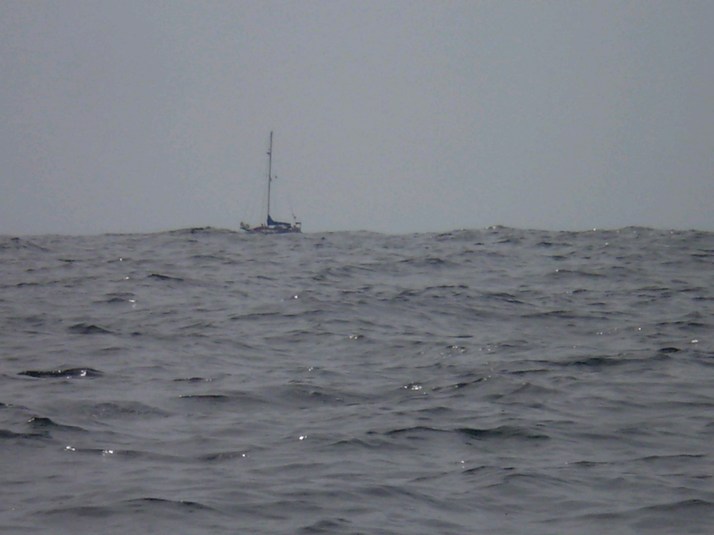 And a cruising sailboat motors by in a nice following wind. In two months I have only seen one cruising boat under sail, 'Hipnautical' headed to Isla Isabella. We are headed for Tenacacita bay and actually beat to windward ( tack out tack back ) for 4 hours, then the wind dies and we motor in.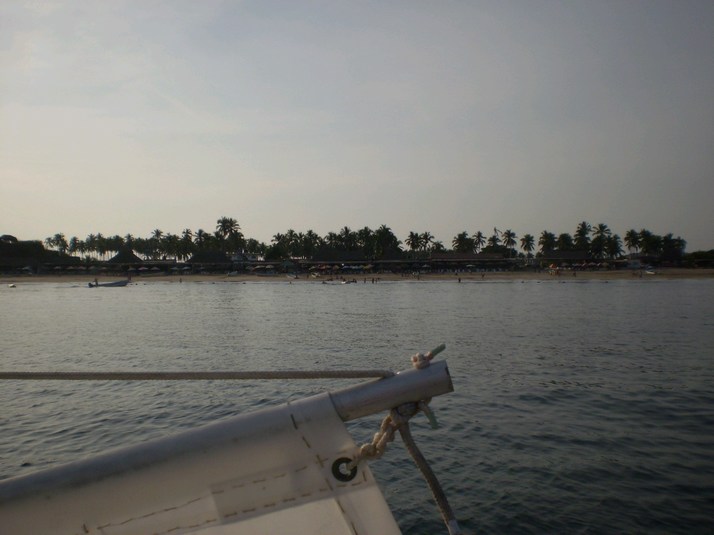 This is a nice bay.
I have just had a look around, we are two and a half days out from Barra de Navidad about 2/3 of the way to Zihuatanejo, I have seen two vessels all day, a navy ship at dawn in the distance, and a cruising sailboat powering south in the morning. We are 4 miles off shore running wing and wing in a light breeze doing three knots. Have seen just one turtle today but yesterday they were like potholes floating by every 1/2 hour or so. This has been the hottest day of the trip with the cabin getting up to about 90F from about noon to 4pm.
But back to our story.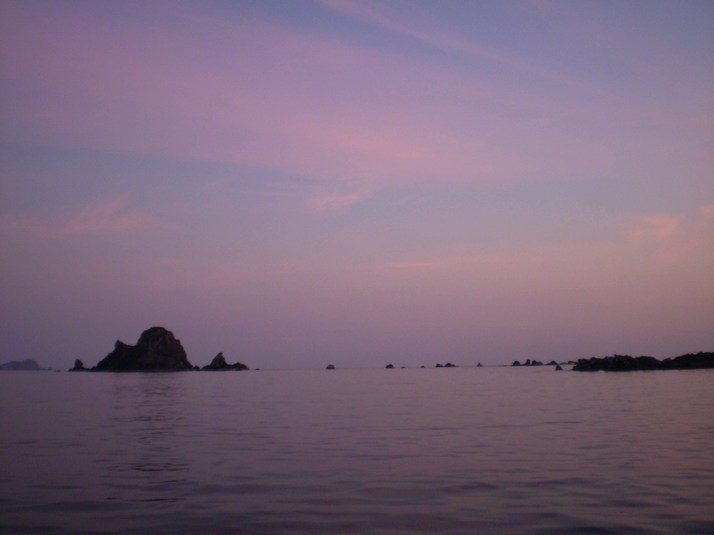 As I came in to Tenacita past the point rocks I saw swarms of jellyfish so thick that the water was simmering with their movement. This does not look good as I need to scrub 'Miss Cindy's' bottom as she has some slime and significantly some barnacles after her two two week marina stays. The anchorage seems clear of the little stingers so I spend 45 minutes scraping off the barnacles with a stick and wiping down the paint with a sponge. The paint is Pettit Horizon and is only 3 months old. The barnacles are 3/8" across so must have started in Marina Mazatlan to be that size. Expected a little better from this paint but I guess it is not up to it. I only get stung once in the process and dry off in the evening breeze.
Next day I depart by the dawns early light and am approaching Barra's lagoon entrance by 1100. I have listened in on the VHF 22 yachtero net and already know a lot of what is going on. Ray on 'Pavane' who has inspired me to come to Barra is not up yet, it seems he has had a late night with two Canadian women ( Ray is in his 70's ). Jim on 'Gitana' is in the bay as well, he was hanging out with Pavane in Mazatlan. They are both hanging out with the crew on 'Raven' Scott and Harold. The party line tells me Harold's eye is doing much better ???. Ray is not answering calls to Pavane at 1000. As I approach the lagoon there is a panga fishing with two hand lines and a guy, two women and two kids aboard. I wave them over and pass them a couple of the goodie packs I carry in the cockpit. These ones have soap, incense, and a couple of Maple Leaf stamped pencils and a beach ball. The kids scramble forward in the panga to grab them. Good thing I did not toss one with fish hooks. The panga goes away and the kids and women look pretty excited about it all. The panga comes back and he asks if I need help getting into the lagoon, I say no thanks I'll be ok.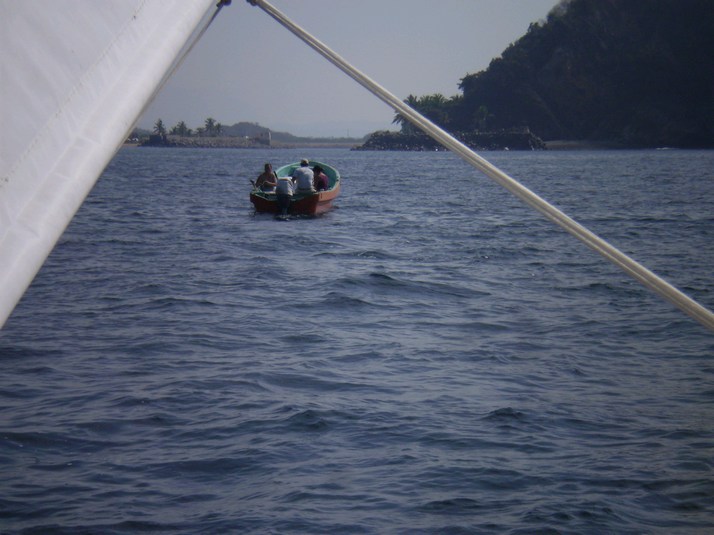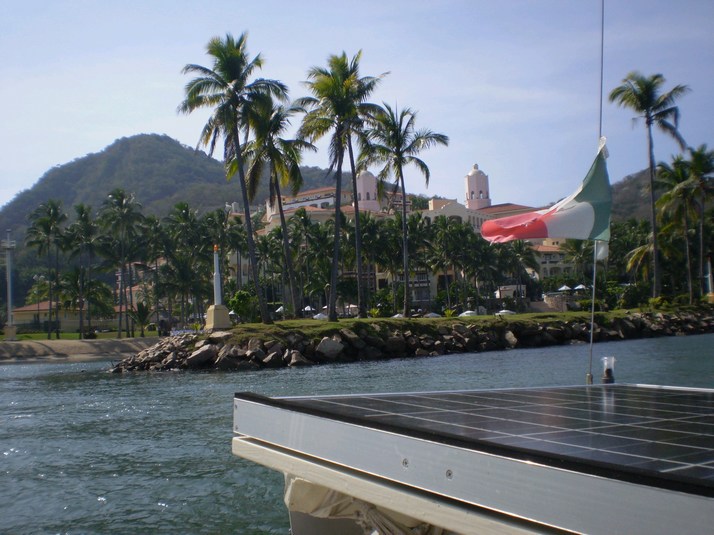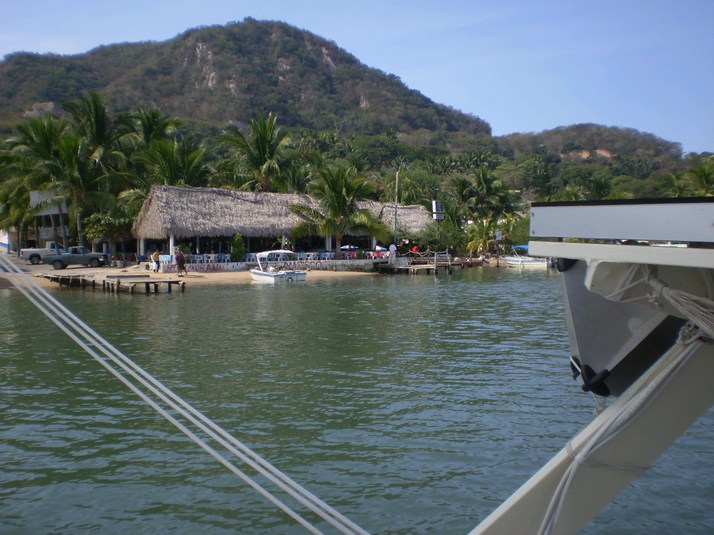 We sail in to the windy lagoon entrance past the Grand Hotel against a knot or so of current and the panga stays about 50 yds ahead. We get up to 4 kt from time to time and get lots of smiles from the shore. Once into the lagoon the current goes away and I call up Pavane on the VHF. He is up ( barely ) but cannot see me in the lagoon. He lets me know where he is anchored and I work my way around under sail till the wind dies then motor over.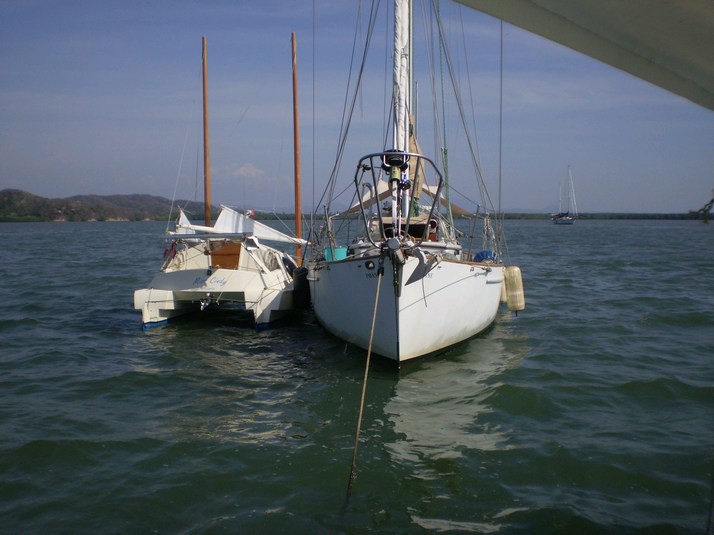 Ray suggests I raft up. This is nice as the lagoon has a reputation for messy mud that takes a day or two for an anchor to settle properly in.
I have just had another look around, still nobody but we are up to 4kt now. The coast here is almost straight East to West and we are running square. This is the first square running I have done in a while as we are usually working off the coast on a broad reach. On the shore is this very large house with a big palapa on top. This guy must like his isolation, there is nothing for 3 miles up or down the coast from here and no other houses in sight.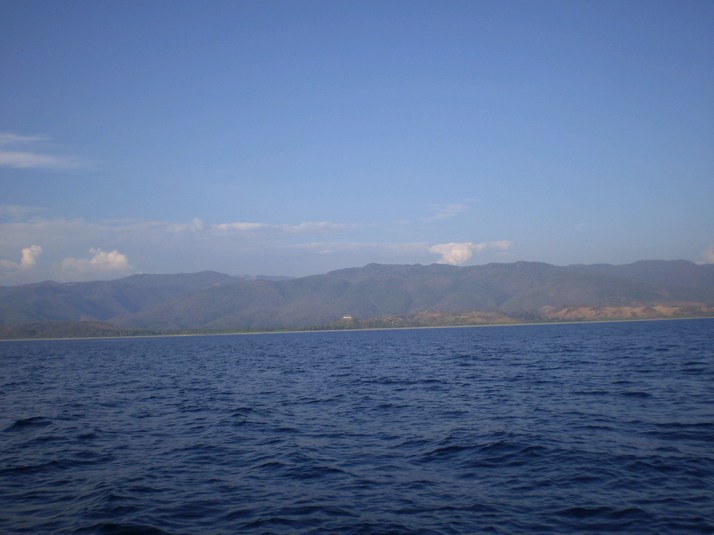 But back to our story.
Ray is up and we catch up a bit on news since Mazatlan. John his super cool crew ( polishes stainless steel by moonlight on his watch ) is gone but will be back in a couple of weeks. Too bad I will miss him. Ray fills me in on his busy social life with the Canadian girls, and we make plans to head into town so he can show me around. I am here to visit with Ray, check out Barra and to enjoy some serious R and R before the long haul down the coast.
---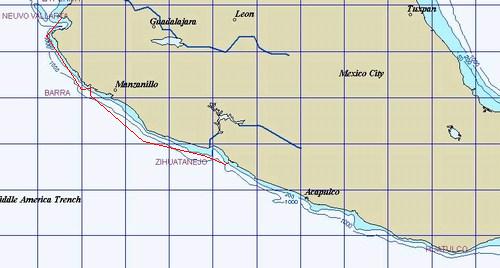 Distance Summary:
---
This Leg: 330 Nautical Miles
Hours Underway: 169
Hours on Motor: 14
---
Total To Date: 1275 Nautical Miles
Total Hours Underway: 539
Total Hours on Motor: 33
---
Copyright © 2009 Tony Bigras.