Travels with Miss Cindy

Chapter 8

Electric Motor gets the Boot, Grubby Marina Mazatlan, On the Beach at Isla Isabella, The Troll of San Blas, Bugs, Pretty Chacalla, 'Miss Cindy' is Invited to Paradise Village, La Penita, Fireworks for Christmas.
---
Spent a full day in the old harbour at Mazatlan and went ashore to walk about the old town. The dingy dock was difficult to access from the Kayak and unfortunately this is where the sewage treatment plant is and it smells most of the time.
This one boat in the bay has all the birds on it. None of the other boats have any. Must be because it has covers on everything and the birds are considerate.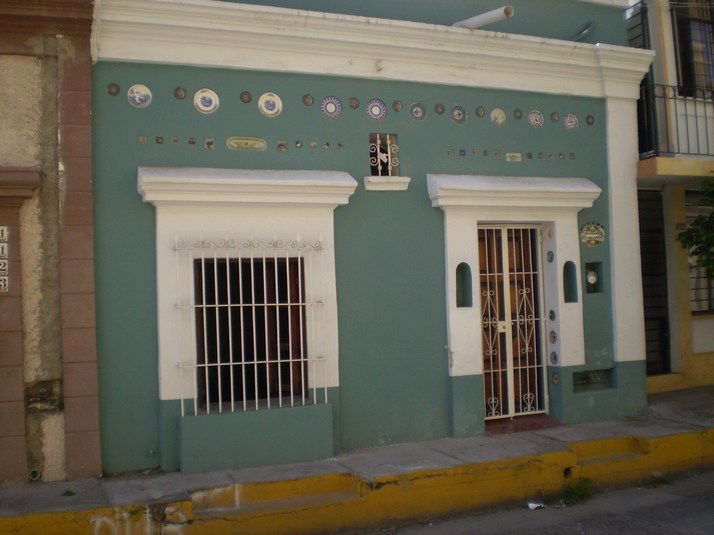 The old town is really nice. Lots of old buildings and much colour and style.
Dec 1 2008
Sailed out of the old harbour headed for the new marina harbour and sailed past all the places we had passed in the dark on the way in.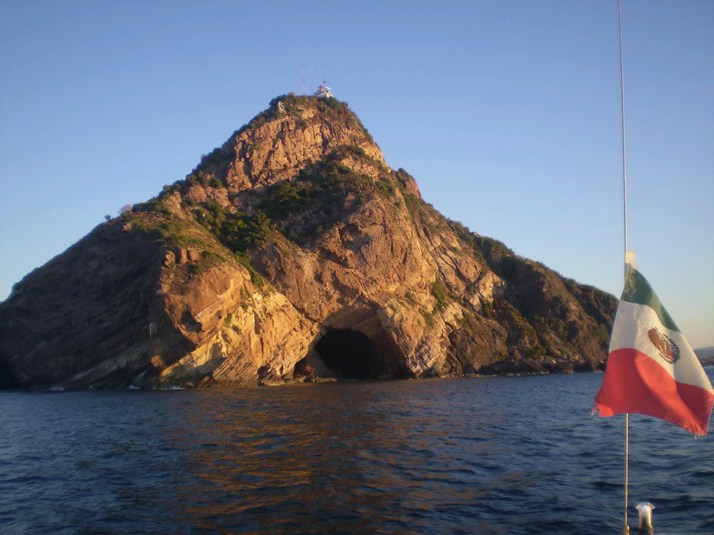 The old lighthouse, the highest manned lighthouse in the world and the second highest lighthouse anywhere.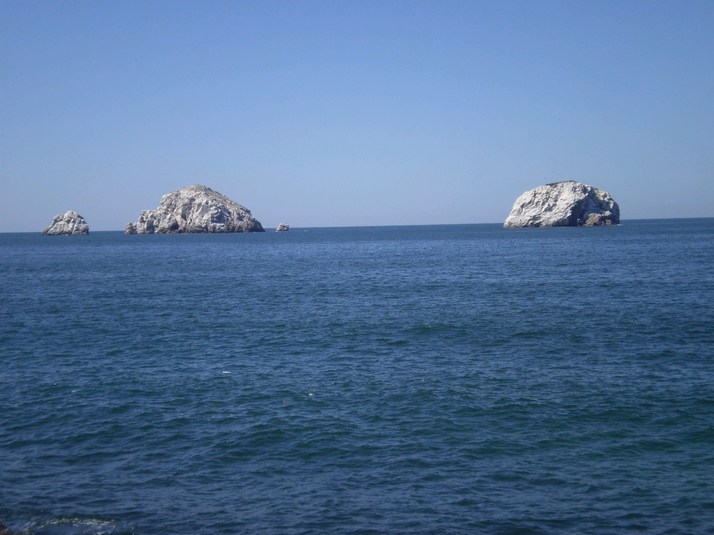 These white guano covered rocks could only be seen by the shore lights they obscured on the way in. Took the shorter and more scenic route between them and the town on this trip.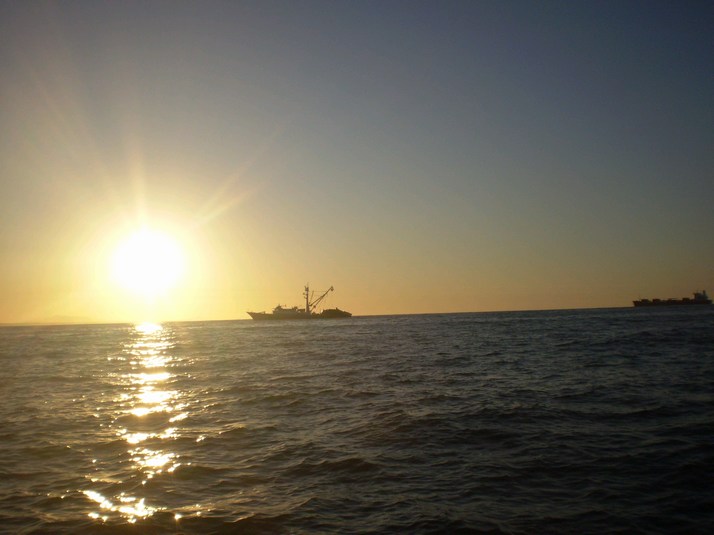 Lots of big ship traffic in this old harbour. A tuna seiner ( not dolphin friendly ) with a helicopter to spot the schools comes in ahead of a bulk carrier. There was also a car carrier waiting out by the pilot buoy.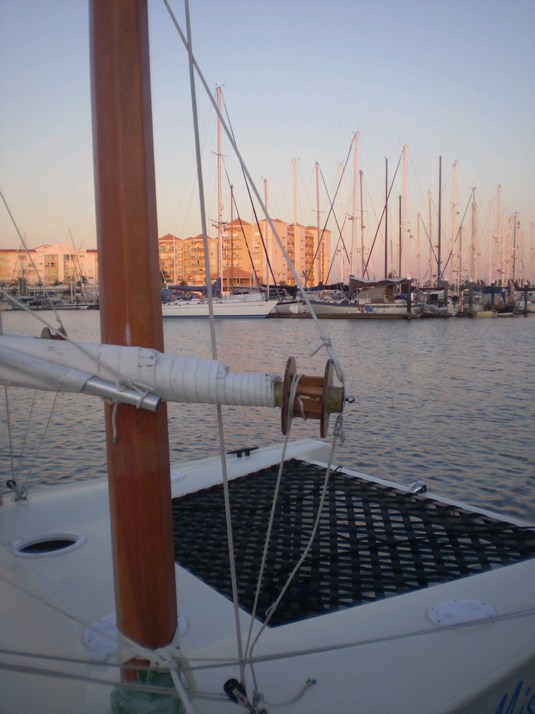 After entering a narrow gap in the breakwater and dodging the dredge parked in there we got to a spot at Marina Mazatlan.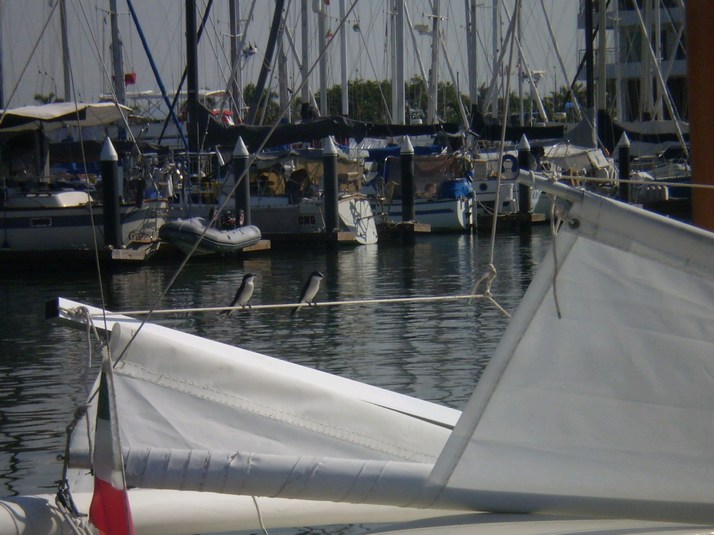 Lots of swallows but not very many bugs.
Once again the quest for booms and a small gas motor begins. I have crew coming in about 10 days from now and plenty of time to look into these. I get a Yamaha 2 hp 2 cycle job from the local dealer for about US$800 and it actually fits the new mount. I spend a few hours buzzing around the marina breaking it in for the most part.
Top speed is 5.25kt and it looks like a cruising speed of 3.5 to 4kt will produce about 20 MPG. Finding some decent gas cans is a bigger problem. There are lots of Mexican style light weight jugs with no spout of vent but none of the type I am used to with a sturdy plastic can and a proper spigot and vent. I end up getting a couple of 1 gallon jugs of the California Air Resources Board stupid type with nozzles that stick out all the time and no vent except for some engineering abomination in the center of the nozzle. Gave the electric outboard and the group 24 battery to a Mexican who was working on the boat beside me in the marina.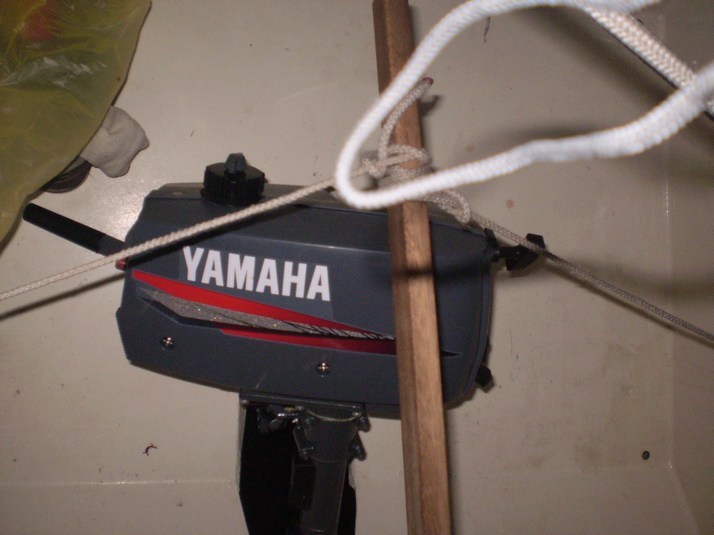 Marina Mazatlan is a disappointment. Cost is about 50% more than Singular in Santa Rosalia and Marina La Paz, both excellent well maintained marinas. Marina Mazatlan is friendly but the washrooms are often dirty with used toilet paper bins overflowing onto the floor and the docks are not well maintained with an access hatch on my dock not being safe to step on. The cruisers lounge is air conditioned but in the same space as the showers and washrooms so is very often either humid or stinky or both. The internet setup is very poor, they only have two wireless access points so bandwidth is unavailable for most of the day. They do have wired ports in the stinky lounge but they are so poorly configured that IP addresses are unavailable most of the time.
On top of that the harbour has virtually no water change and is filthy, as are 'Miss Cindy's' topsides after a day here.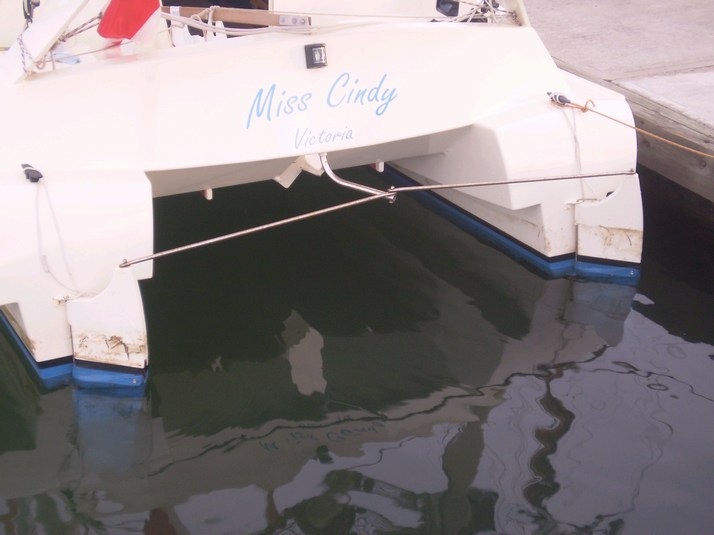 I hunt around the local businesses and the resident yachties for the availability of some schedule aluminium pipe but after a week of that with no success I decide to have my visiting crew bring it with them already cut to length.
Met some interesting people at the marina. There seems to be lots of big boats being used as seasonal condos, but there are also lots of cruisers coming thru. Spent a bit of time with the skip and crew of 'Pavane' in harbour and about town. Lots of sailing and Vietnam tales. Hope to see them in Barra down the road.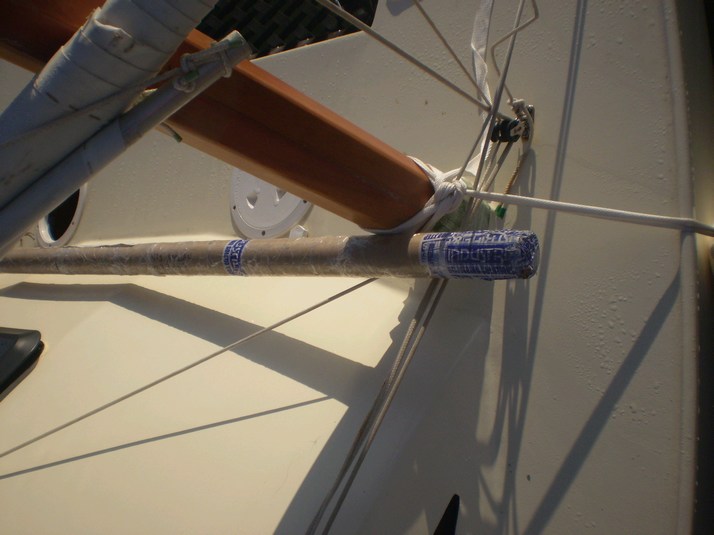 My crew and the new booms arrive on Dec 12. The booms have kindly been packed by Jay at Industrial Plastics in Nanaimo and arrive in excellent shape. I borrow a drill and bits from Dennis on 'Dolce Vita' and have them installed the next day.
Spent a little more time in Mazatlan with my crew, particularly the old town. Had the best fish ceviche in the world (really) at Bahia restaurant a nice family run place since 1952.
Set sail for Isla Isabella about 90 miles South with a 25% displacement overload. Moderate conditions and the boat still performing fairly well but some significant underbridge slap and certainly not a load the designer would support for more serious sea conditions. Sailed all day and spoke with 'Hipnautical' a Morgan 51 a few miles astern of us a dusk. Let them know our port side running light was dead. Hardly any systems on this boat but still stuff to fix. 'Hipnautical' is headed Isabella as well. Sailed thru the night and all next day and got in on the new motor with a few miles of fuel left.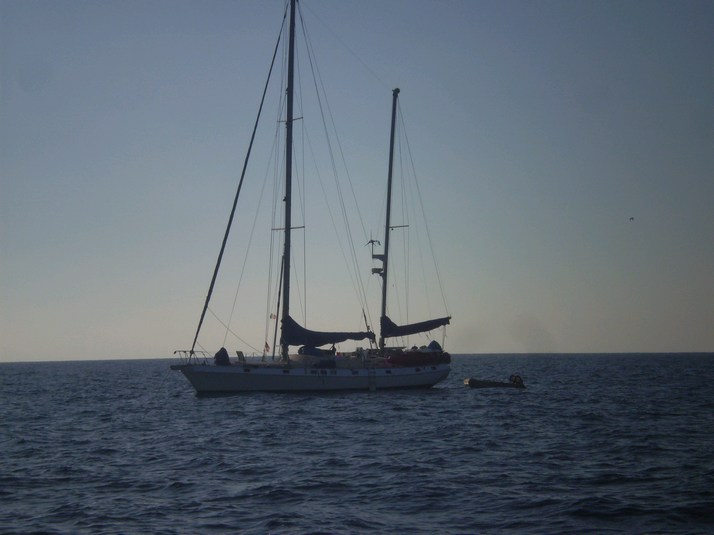 'Hipnautical' by the stacks where we anchored.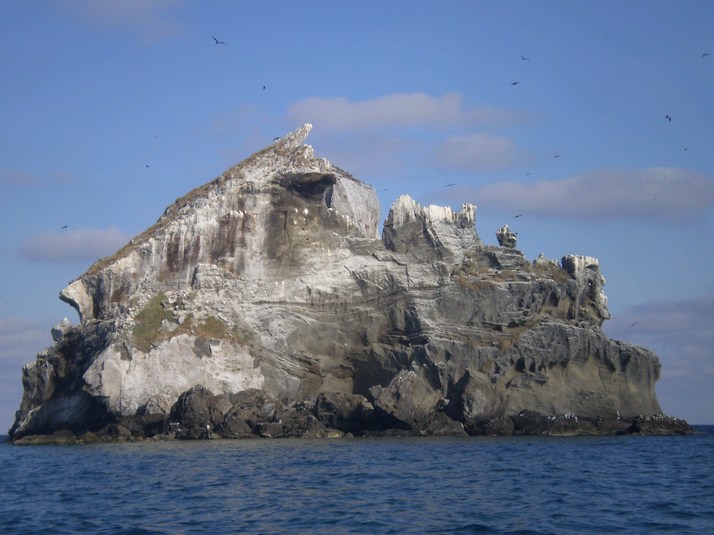 From the North coming in the stacks look like a big turtle, but from the South side they look like this with an interesting face on the East side.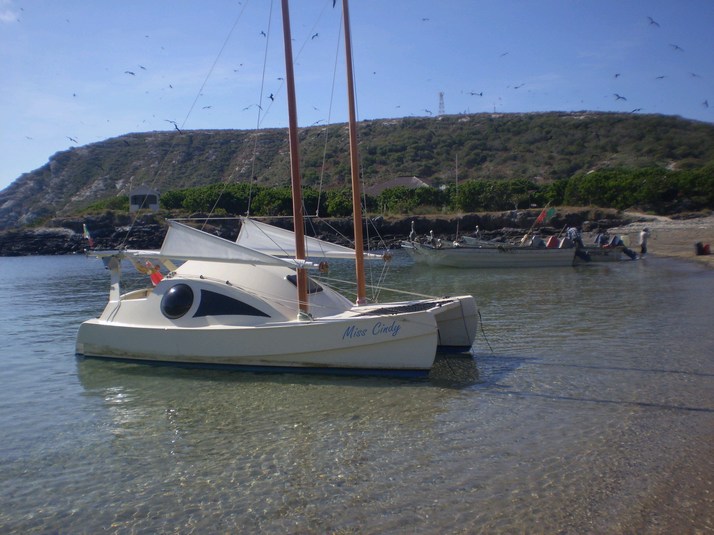 Decided to head into the little bay the fishermen use and that most yachts dingy in to 'Cove Tiburoneros', 'shark fishermans cove'. Chugged into there and anchored close to the beach to head ashore as our dinghy is a one man kayak and "Miss Cindy' is now two up. Topsides are still covered in crud from Marina Mazatlan.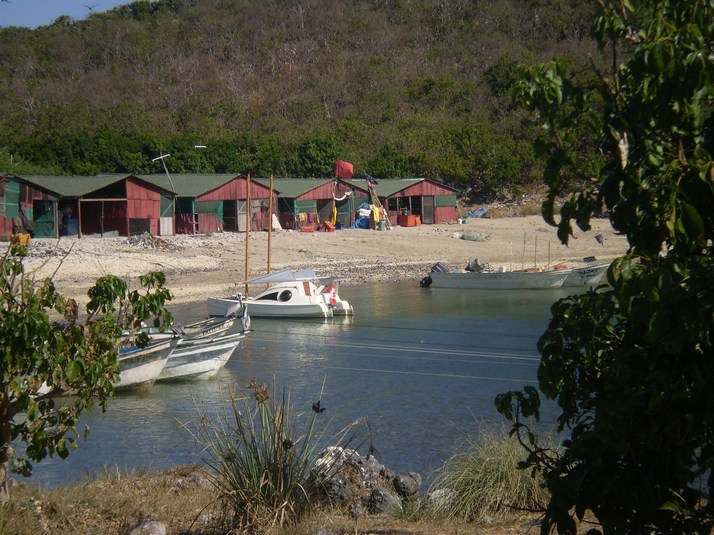 First time the boat has been beached since San Felipe.
Lots of bugs and critters in an around Isabella. Hundreds of lizards and Iguanas and apparently over 5 million birds.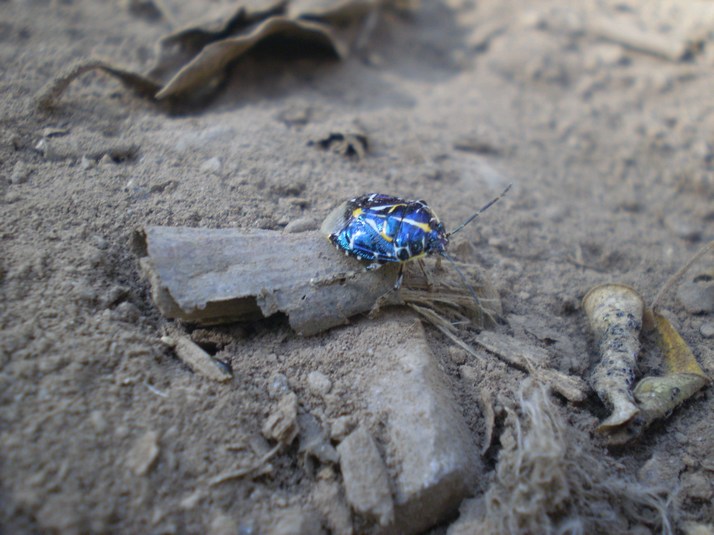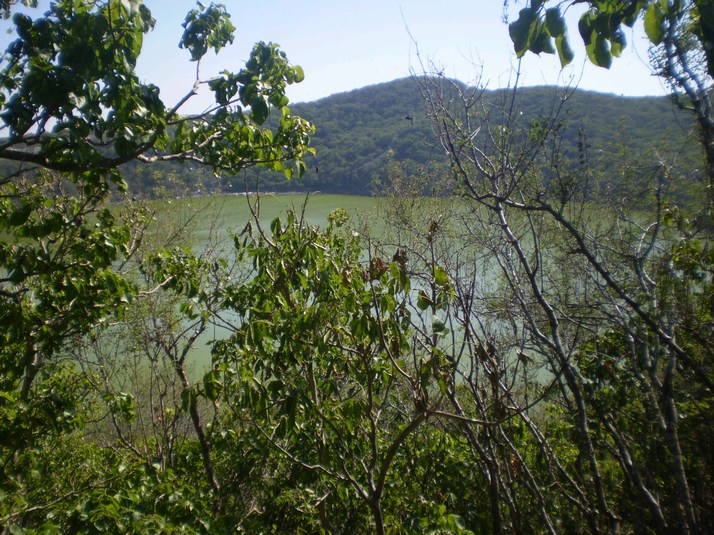 The crater lake.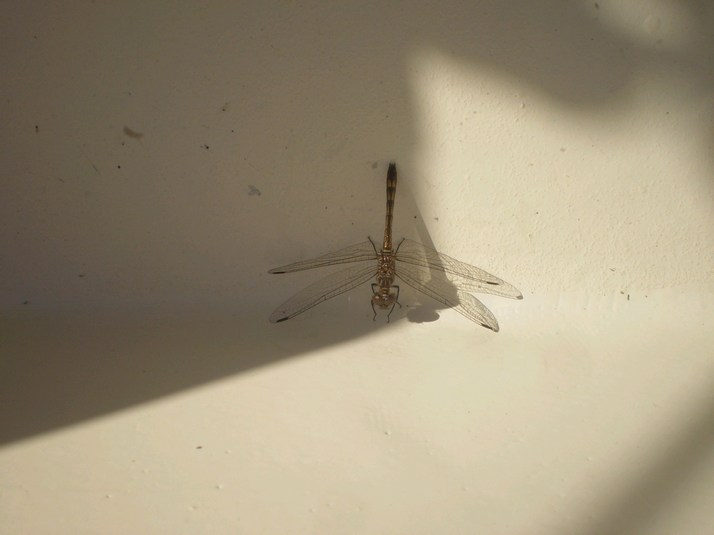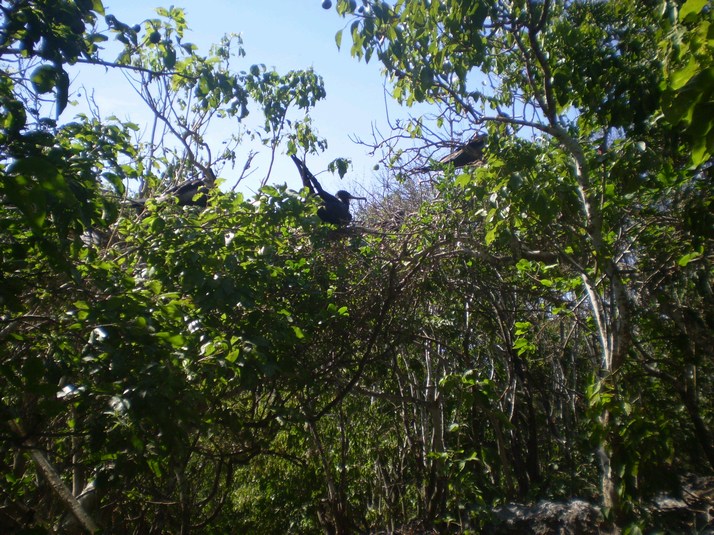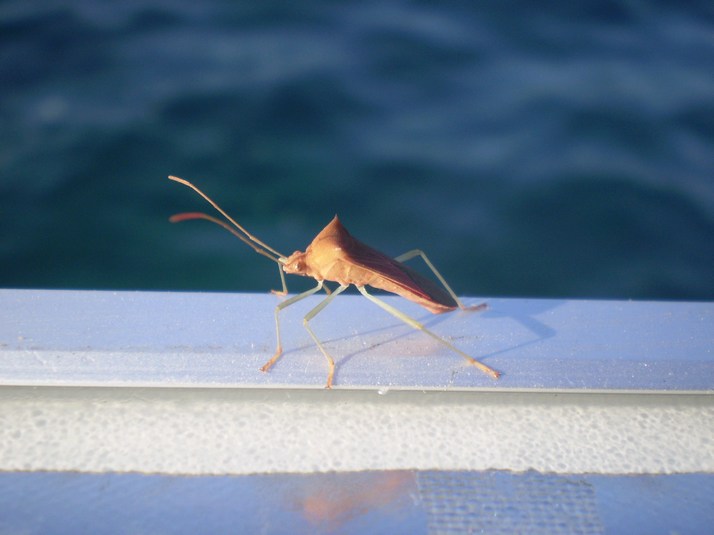 Planned to stay and hang out with the crew of 'Hipnautical' but around 1300 "Miss Cindy' spread her wings on an excellent breeze for San Blas. Worked our way thru the panga net fleet in the dark but snagged one around 2100. Took a bit to pull the rudder shear pins and get it clear but no knife needed or used, which is pretty important to a poor fisherman. Approached the shore which clearly was not where the charts and GPS said but anchored in twenty feet not too far from breakers on the beach.
Next day shifted into Mantanchan bay and anchored well out per the bug warning. Kayaked into the beach and taxied to San Blas for a couple of gallons of gas. Later that morning I spent half an hour in the water scrubbing off our souviner from Marina Mazatlan. 'Miss Cindy' looks happier now.
All afternoon the flies came aboard and there were a number of bees as well. I left them all alone until a bee stung me. My first bee sting in 40 years. I killed 4 more bees in the afternoon. At dusk it was the noseeums turn. Nasty place for bugs.
I did a little internet search and turned up this unpublished verse by Longfellow:
THE BUGS OF SAN BLAS
What say the Bugs of San Blas
To the ships that anchors cast
In the lovely harbour clear?
To them it is nothing more
Than that they are food near the shore,
And the tiny Bugs the men fear.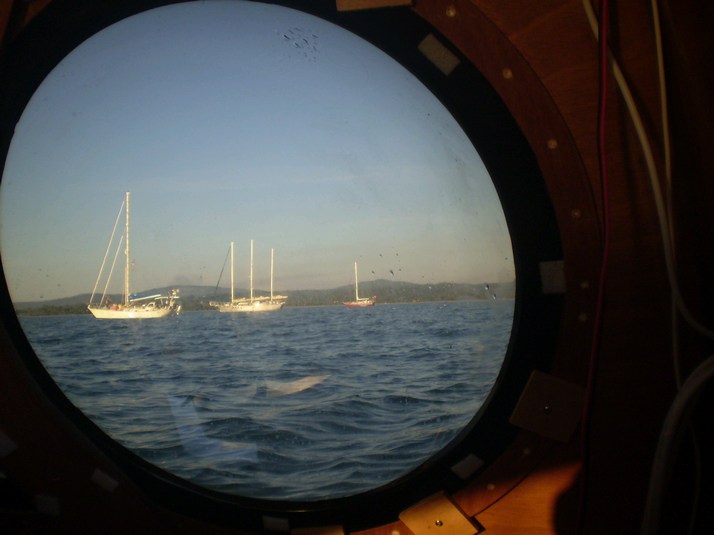 Fellow bug food anchored in Mantanchan Bay.
The other annoying pest in San Blas is the Troll of Channel 16 and 22, 'captain' Norm Goldie. A blowhard who landed here from Brooklyn NY many years ago. He 'invites' cruisers to seek his assistance and lectures them at length insisting that they only use the services he recommends.
The town of San Blas is otherwise a pleasant Mexican small town. The bugs however preclude any possibility of my return.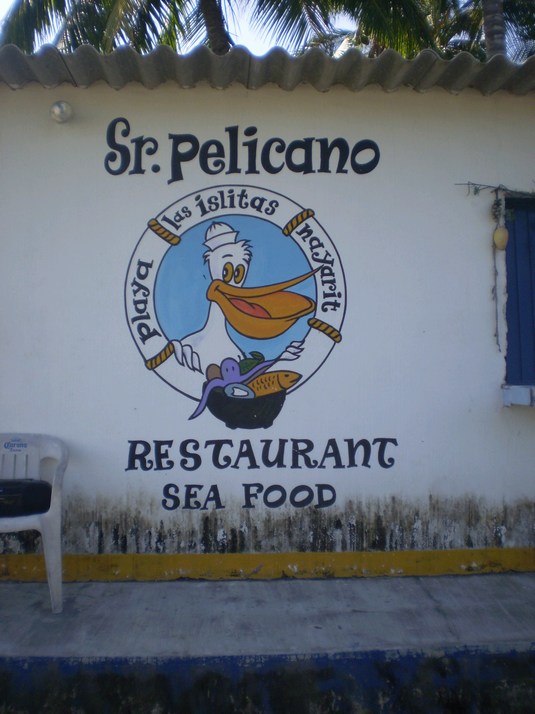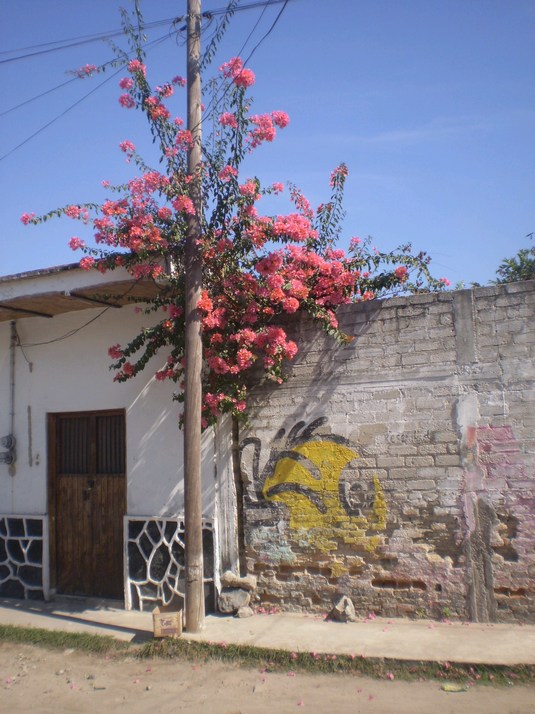 From San Blas we coasted down to Chacala where we anchored for the night. Along the way a high speed Mexican navy patrol boat came close aboard for a good look and we gave them a friendly wave. When their officer smiled and waved the rest of the crew did too, then they turned and headed off at speed.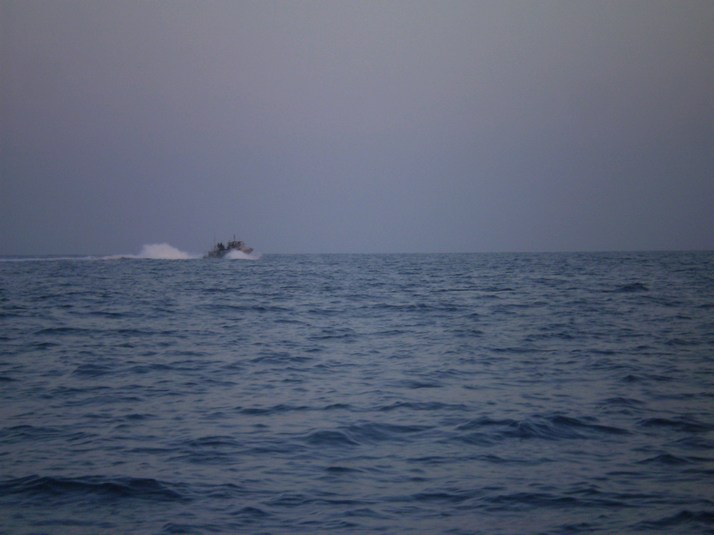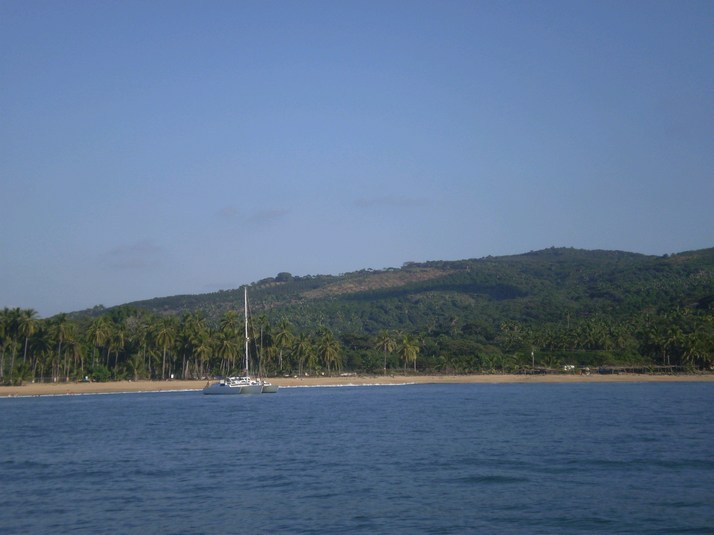 Chacala is a quiet fishing village with a couple of palapas on shore and a nice coconut grove. Lots of rocks off the point on the way in.
From Chacala we headed for Puenta de Mita along a coastline with whales, nice beaches and interesting houses and the occasional shrimper.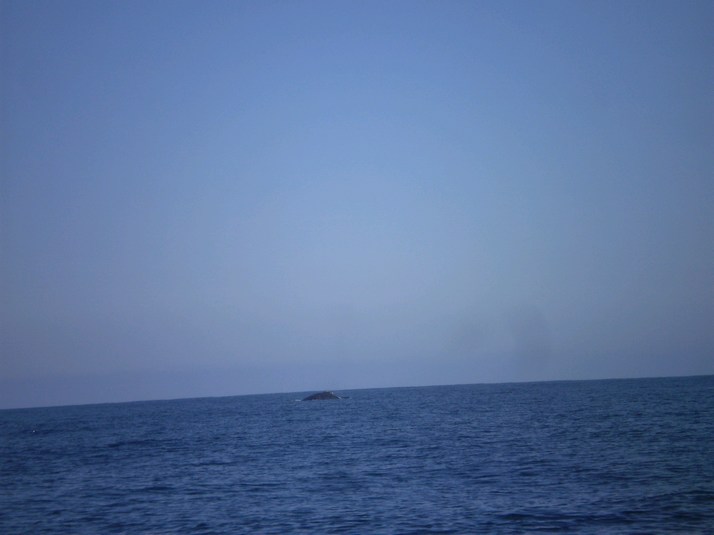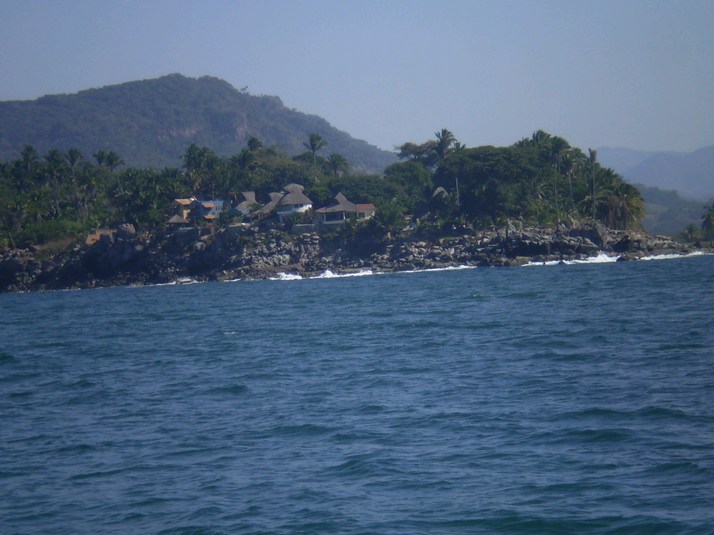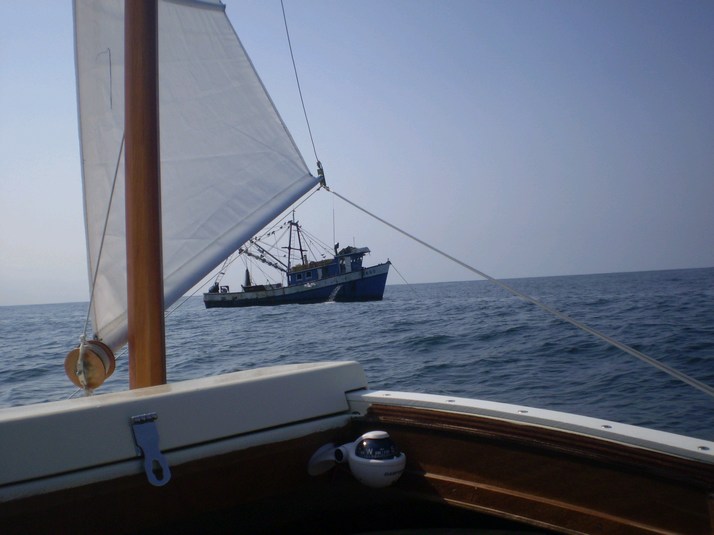 We spent a nice night at anchor and then headed into the big bay towards Paradise Village Marina in Neuvo Varrata. We were off the breakwater around 1100 and called them up on the radio. Spoke with Dick and I asked if they had a spot for 2 to 3 weeks. He asked if we had a reservation. I said no and he said this was their busiest time of the year and they had been booked full since June. I said we were 16 feet long and he said 'I don't think I could even fit in a canoe right now'.
Signed off and headed in thru the breakwater and tied up at the Marina Neuvo Vallarta to a rotten concrete dock with bits of metal sticking out. I called up Paradise Village again hoping perhaps we could shift 'Miss Cindy' there after Christmas. Spoke with Gina this time and there would be no space available during the next month. Dick in the background asked if we were the 16' catamaran. I said yes and he asked us to stand by for a few minutes. Dick said he could fit us in today and would move us to another slip tomorrow for the rest of our stay. We shifted over into our temporary slip. Guess he had seen the pretty lady come in.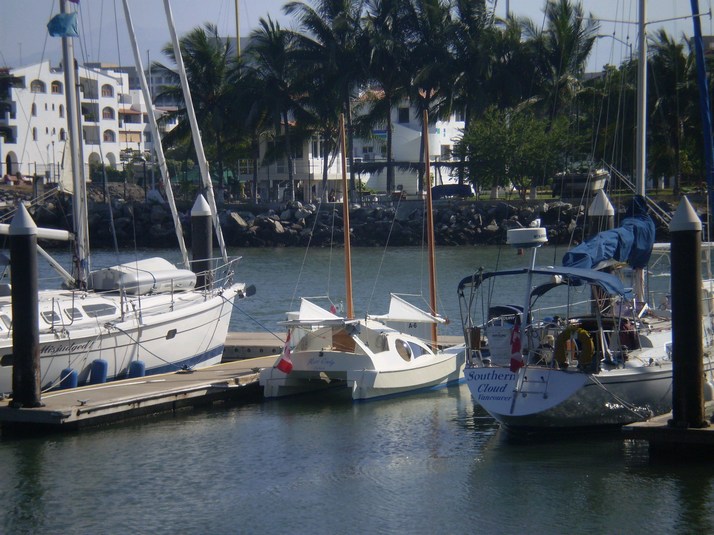 From here 'Miss Cindy's' crew headed overland for a couple weeks of R&R in La Penita (the little reef). Kind of odd traveling by land back the way we had sailed a day before. Have been in this town before and know my way around pretty well.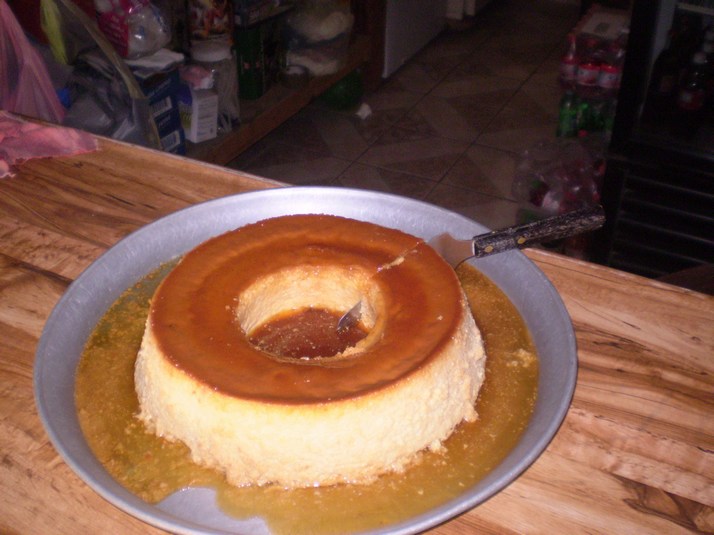 Quickly got a piece of that most outstanding flan from the local shop.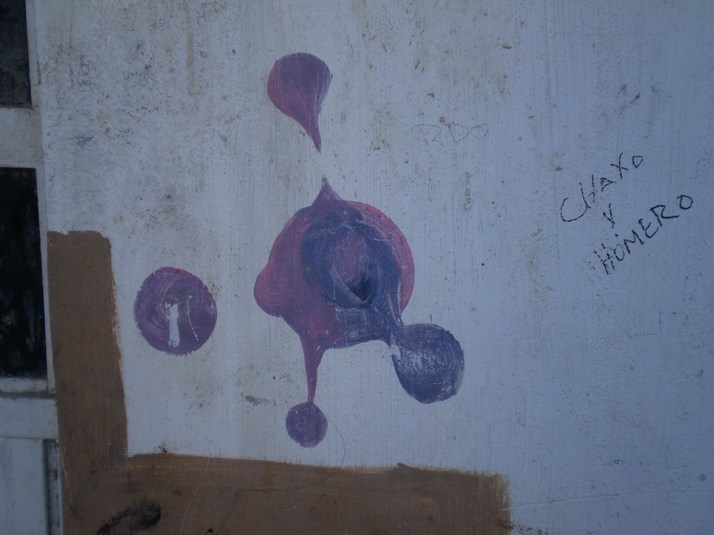 Not much has changed since I was here 4 years ago. The street cleaner is a new addition but looks like it has not moved for a couple of years.

Went to the square for Christmas and enjoyed watching the crowds, the children with their new toys, and the fireworks ( old style ).

Christmas fireworks in La Penita.

And some scenes around La Penita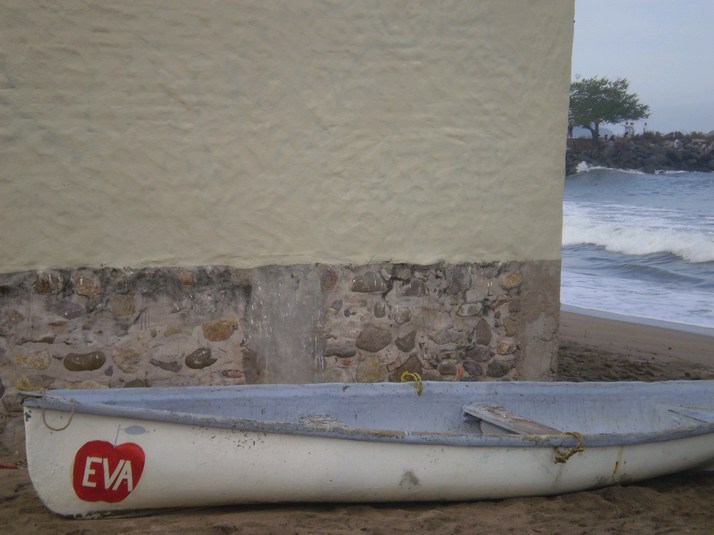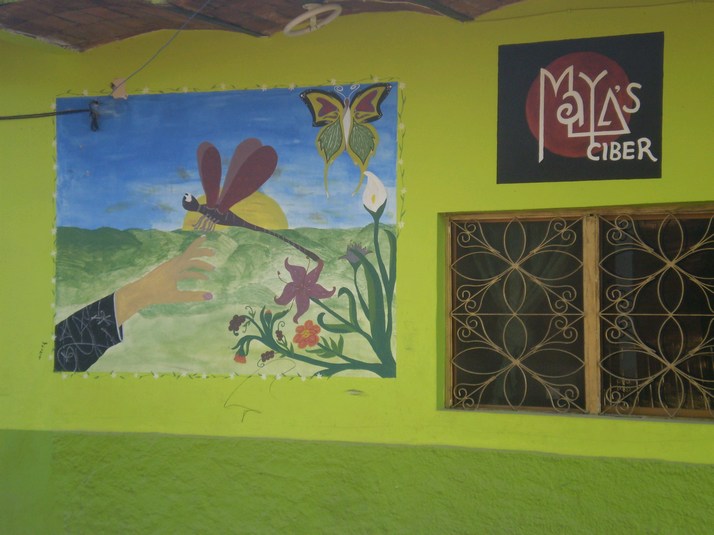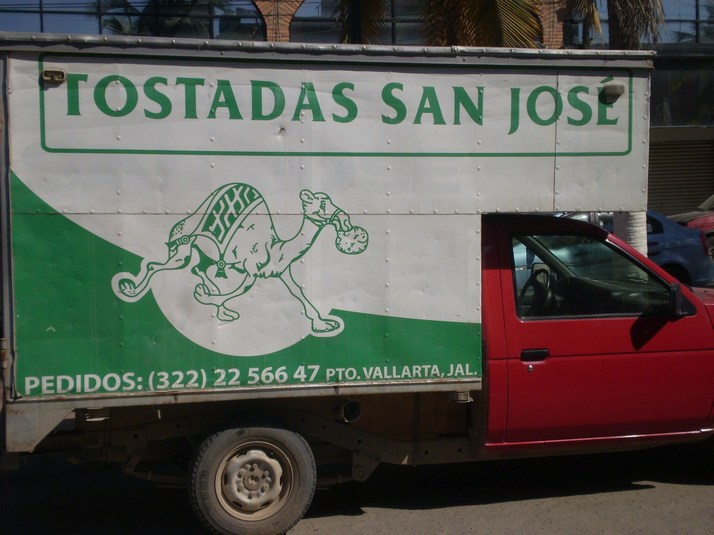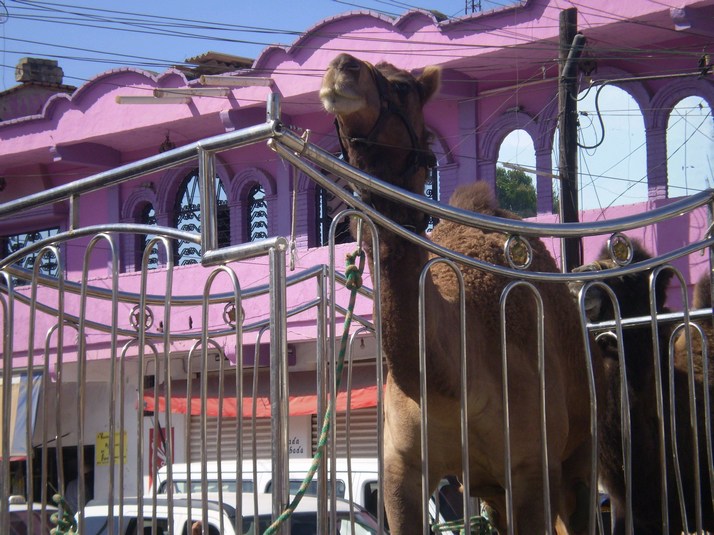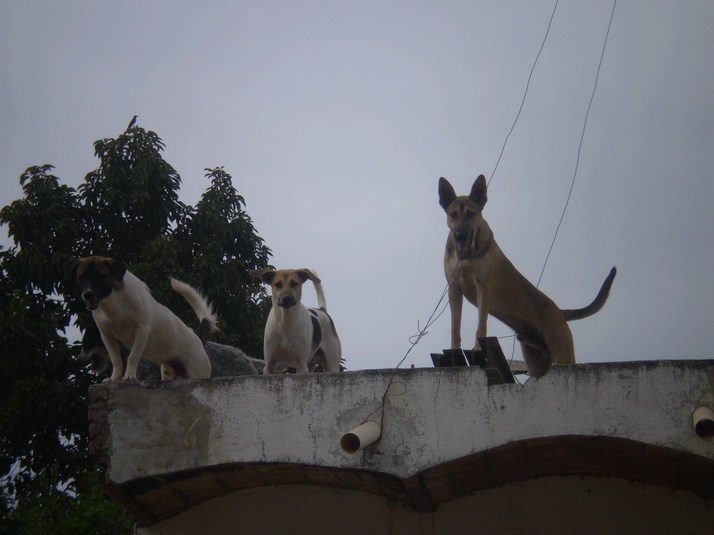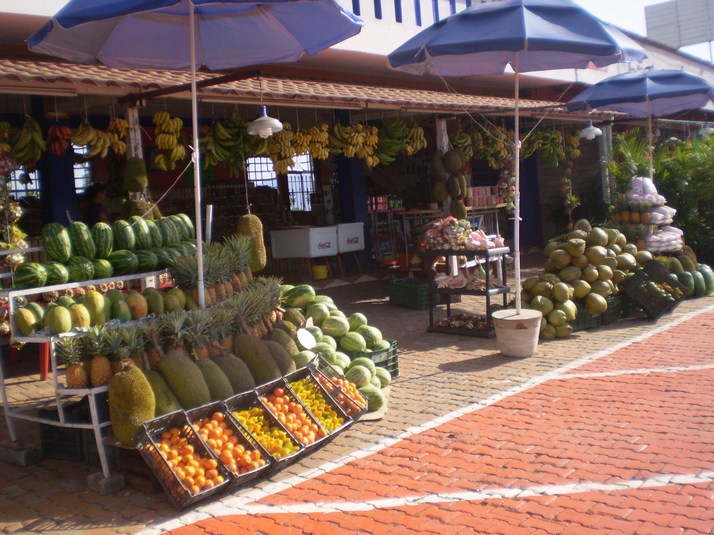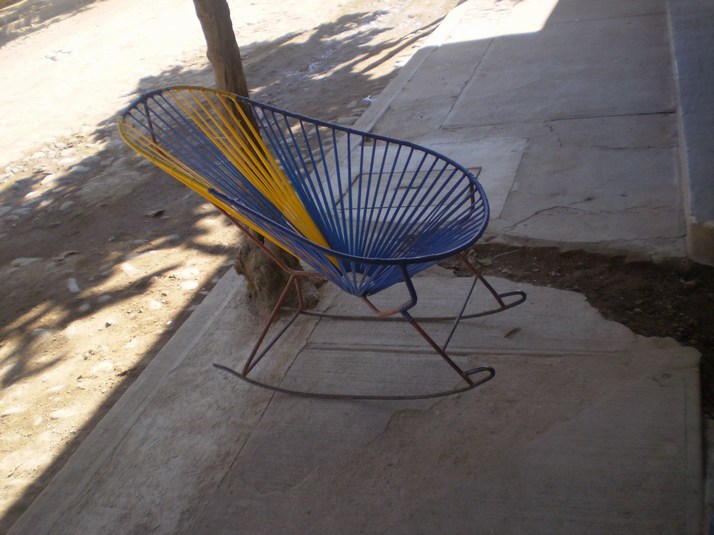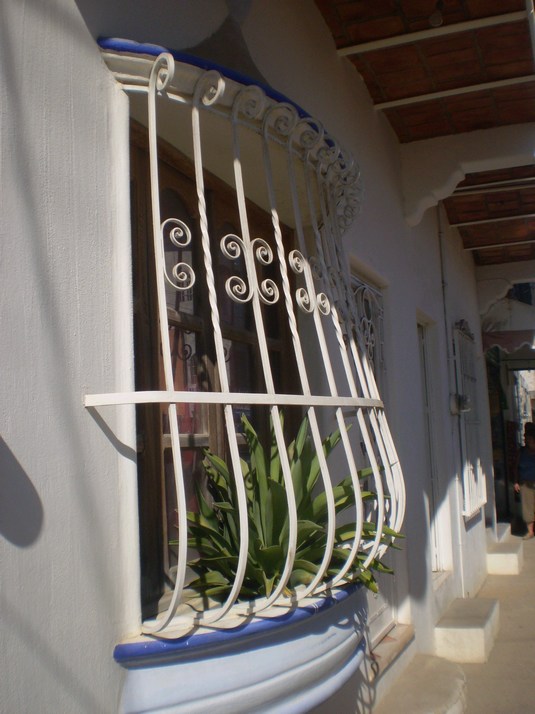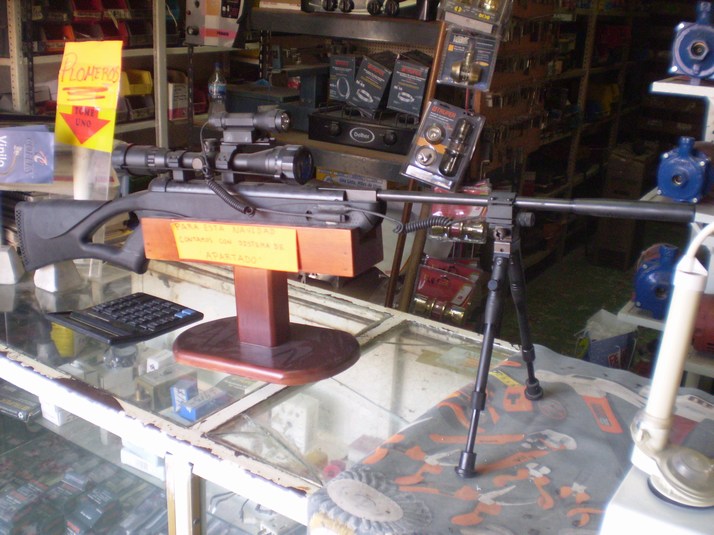 A bit of Christmas advertising in the local hardware store. The sign on the sniper rifle says 'Para Esta Navidad contamos con sistema de apartado'
Something like 'This Christmas say it with long distance'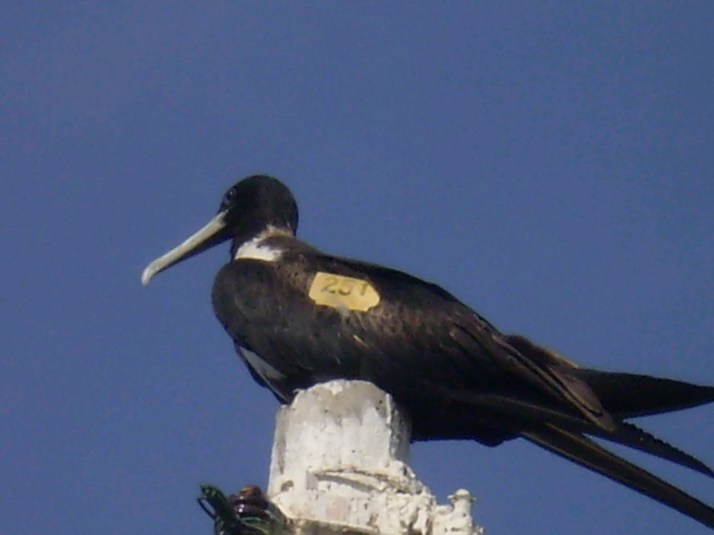 Have you lost your frigate?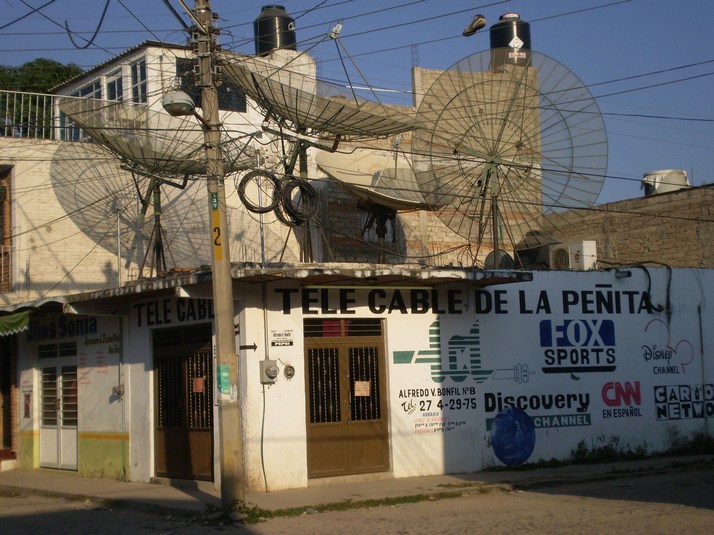 Dug up this photo of the San Juan River's Rapids and the following description of the river.
River and outlet of Lake Nicaragua, issuing from the lake's southeastern end at San Carlos and flowing along the Nicaragua–Costa Rica border into the Caribbean Sea at San Juan del Norte. It receives the San Carlos and Sarapiquí rivers during its 124-mi (199-km) southeasterly course through tropical forests, and near its mouth it forms three arms, the Juanillo Menor to the north, the Río Colorado to the south, and the San Juan proper. Navigation is impeded by rapids at Toro, El Castillo, and Machuca and is limited to boats with a shallow draft.
Looking forward to getting into the big lake.
---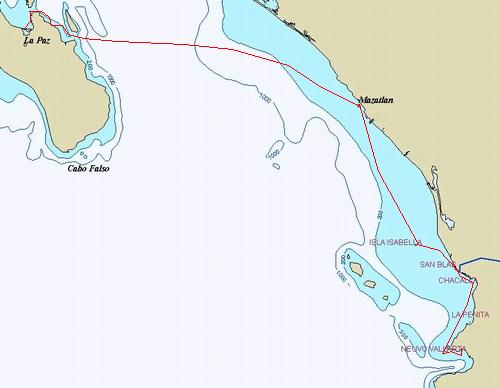 Distance Summary:
---
This Leg: 200 Nautical Miles
Hours Underway: 44
Hours on Motor: 10
---
Total To Date: 945 Nautical Miles
Total Hours Underway: 375
Total Hours on Motor: 19
---
Copyright © 2008, 2009 Tony Bigras.