Travels with Miss Cindy

Chapter 7

La Paz, On the Rocks, Dodging Rain, Baja on Fire, Passage to Mazatlan, Close Encounter with Fishboat.
---
Saturday Nov 25 2008
Shifted out of the marina and down the channel and clear of the current and anchored at Pt Colorado about 2 miles North of the tank farm. Sharing the bay with a couple of barges and the 'Pacific Tuna King'. Nice to be out of the goldfish bowl of the marina and to dress a little more casually.
Quite a variety of folks in La Paz. At the cruisers clubhouse there were long time residents, boats that have gotten stuck in the 'La Paz eddy' for years, cruisers who are spending 2-3 months in town and transients like 'Miss Cindy' that spend a week or two and are gone. It is a large community and there are all sorts. The old biker endlessly boasting of his many young Mexican lovers. Picked up several entertaining expressions from him. He is quite a reasoning and intelligent guy when you can get him out of character. His tales reminded me a bit of Tristan Jones, a kernel of truth in a field of corn.
One pattern I have noticed about ex patriots in Mexico is that few of the 70-80 year olds I have met look their age. The climate and pace seems to agree with them.
The pesky Cal 25 made it in 2 days after I got to La Paz and is hanging out with the other Cal 25. I don't expect it will be following us to Mazatlan.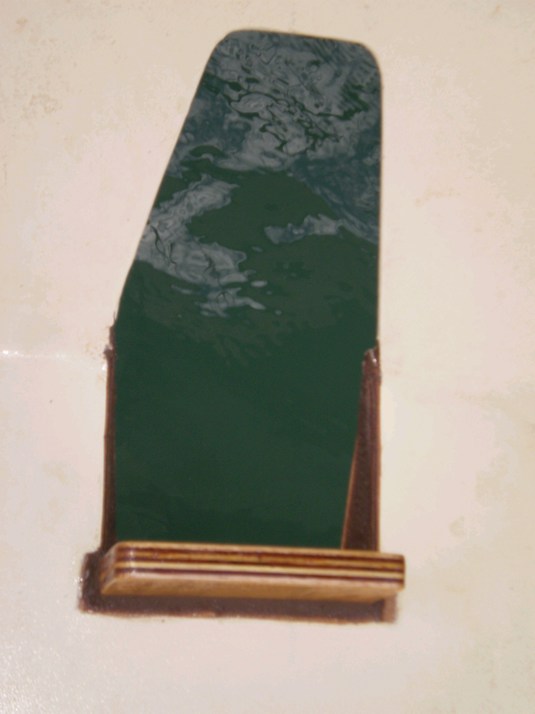 I managed to rebuild the motor mount to take a physically bigger gas outboard but could not find a 2hp. Only one in town was $1200 and 28 lbs. Also failed (again) to get new gaff booms. Met Malcolm, an interesting guy at 'welding specialists'. He is wheelchair bound and has some trouble seeing as well. He runs a shop with 4 workers including his son. I knew when I ordered the 6061T6 3/4 schedule aluminium pipe that it was maybe 50-50 that it would happen. It didn't but I was able to visit 3 or 4 times to check on it and had nice sit down chats with Malcolm and got to see a bit of the variety of work they do. They were trouble shooting a stainless steel pipe polisher they had built. This is common in 2nd world countries, they find ways to compensate for the limited variety available and polish their own pipe and tube from mill finish. It was a clever machine and I saw it improve over the week of visits.
Met one of Malcolm's daughters complete with Chanel sunglasses and cute everything else. She was quite doting on her pop. Malcolm seemed more concerned about his son who had developed a knack for turning 20 minute errands into 2 hour breaks.
Malcolm was genuinely sorry that he could not get the pipe I needed but I was happy to have had the opportunity to see a small Mexican business and family from day to day.
I spent 7 days in marina La Paz. Great little business, run like they should be. One of the senoritas in the office was all excited about 'Miss Cindy' as her name was Cynthia tambien.
I was shoehorned in behind the little Ranger 28 'Marci Ann'. They had just finished the Baja HaHa and finished first or second in their division. Pretty good for a couple of easy going older than me guys. They both wore these T shirts with 'Friends don't let friends drive junk' on them. They run a neat internet based car finding company out of Durango www.autofinderusa.com.
We were also beside the boat 'Jolly Roger' and I spent a bit of time with their fun crew who have a blog at thejollyroger2.blogspot.com .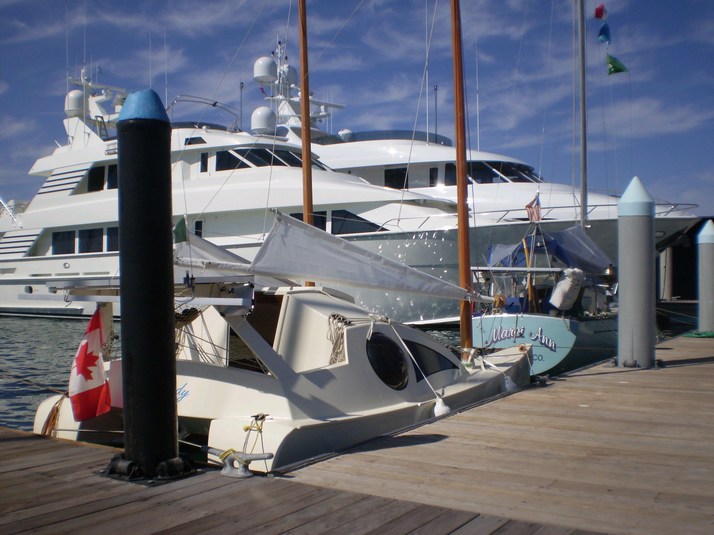 We were also next to a couple of big power boats, one around 110 ft and the brand new 157 ft 'Slojo' launched in September just like 'Miss Cindy' that arrived a day after us. She is an American boat but flies a flag of convenience. She has a crew of 10 that rotates with another crew of 10 every 3 months.
I met an interesting fellow who had been on the San Juan River in Nicaragua though not thru the rapids. He was a photo journalist from way back who was now working on a couple of books and doing a nice job of fixing up a Columbia 26 to sail in the Sea of Cortez.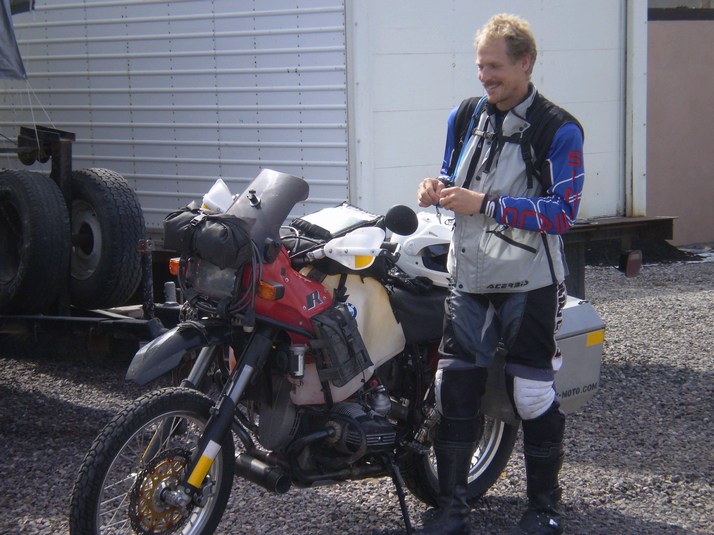 One day while I was jawing in the cruisers club a fellow in motorcross togs walked up. He was looking for a boat ride to the mainland for him and his steed, a BMW enduro. I had heard of him when I was up in Gonzaga bay (I think), BMW broken shock, looking for parts, headed Argentina. Small world. I would have taken him but he and his bike would have doubled 'Miss Cindy's' weight and the bike would probably have been in the way of the sails too. I walked him down to the 157 ft boat and he asked them for a ride. No luck there as they are in La Paz for 3 more weeks. That conversation gave Jason some ideas for broadening his horizons when he learned they were going to Tahiti. He has a blog at art-moto.com
I enjoyed the flavour of La Paz including how half the town turned out for the Revolution day parade.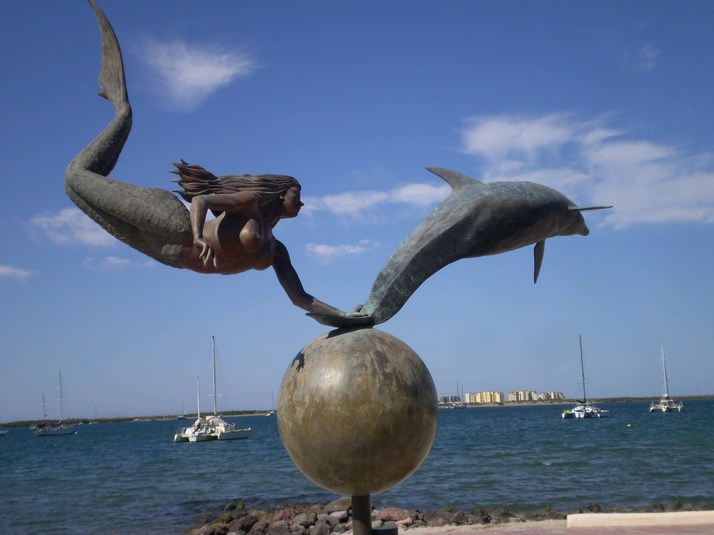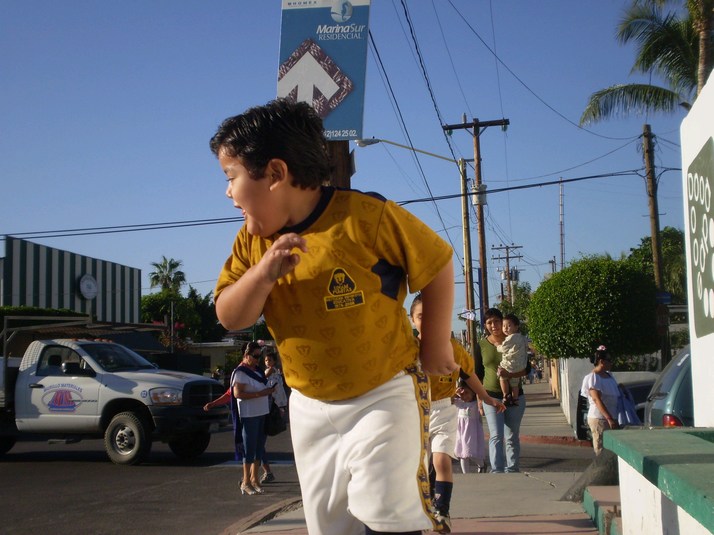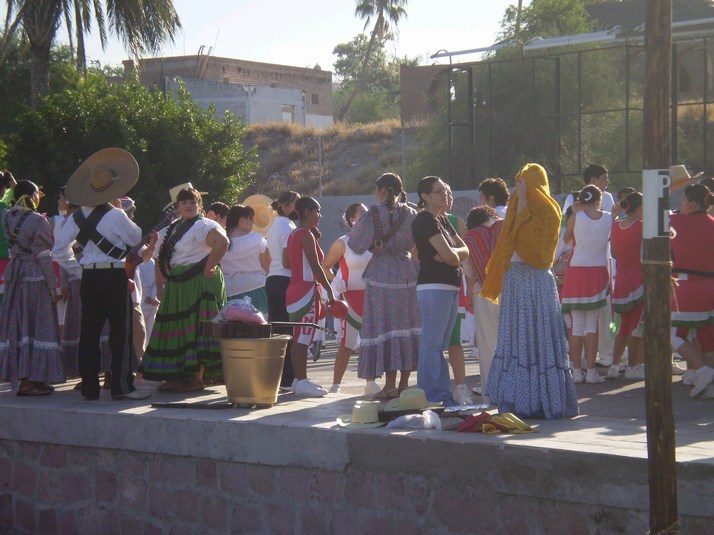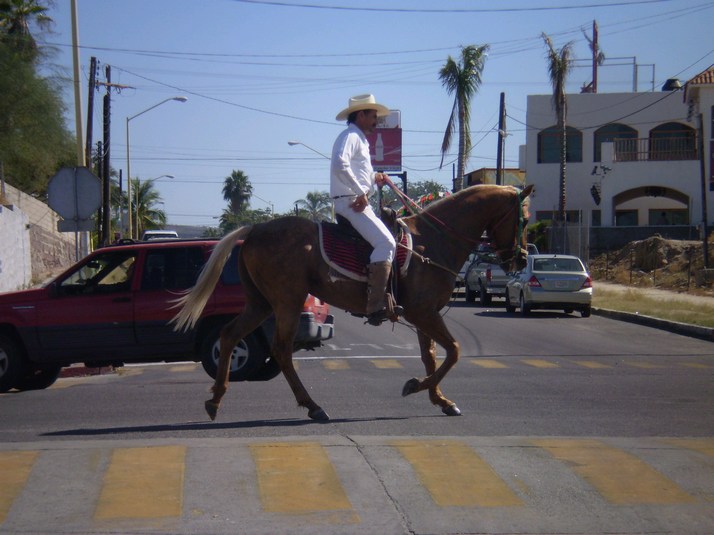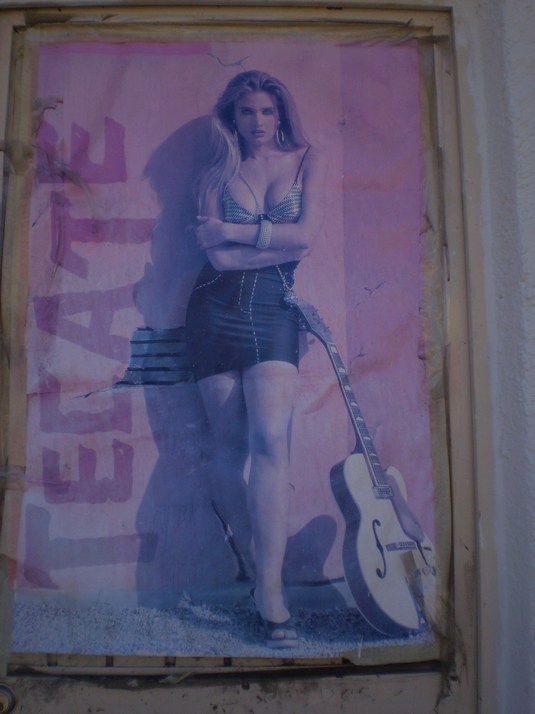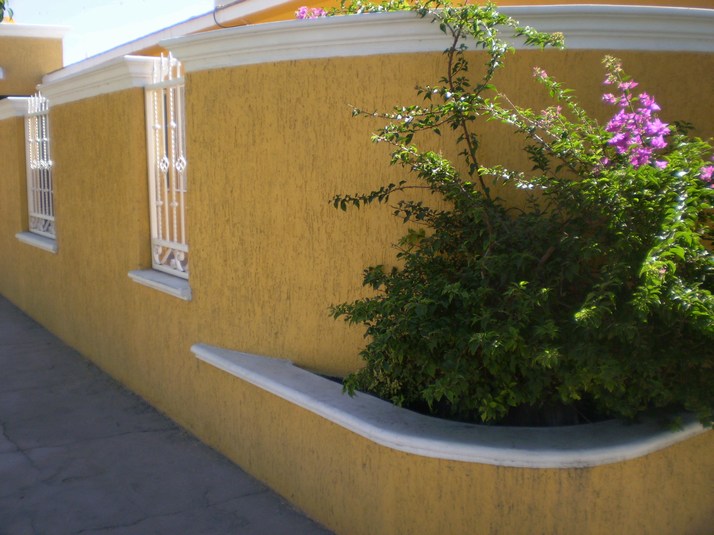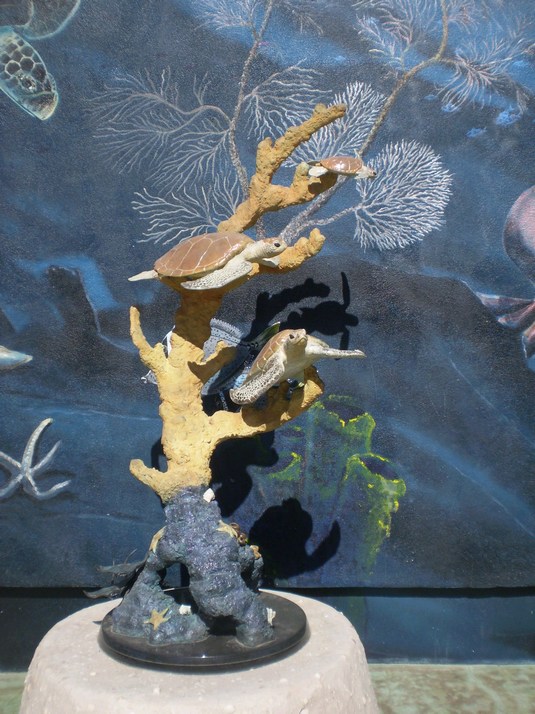 Nov 26 2008
Headed out past the tuna king and sailed till the wind was gone which got me around the peninsula and half way down the next channel. Along the coast we sailed past this unfortunate boat. No one in sight and no response on the radio.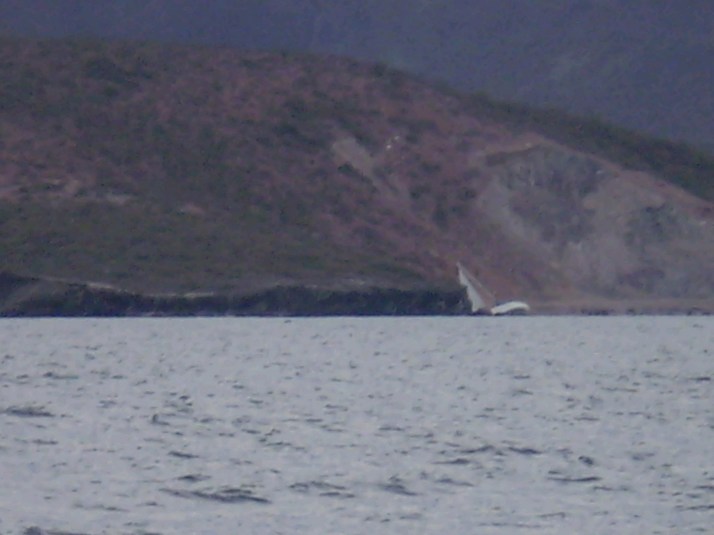 I used half of what was left in the battery to get into a nice sandy cove that a bright sundog pulled me towards. Had some tea and watched the stars come out feeling the warm land breeze as the breakers smooshed on the shore.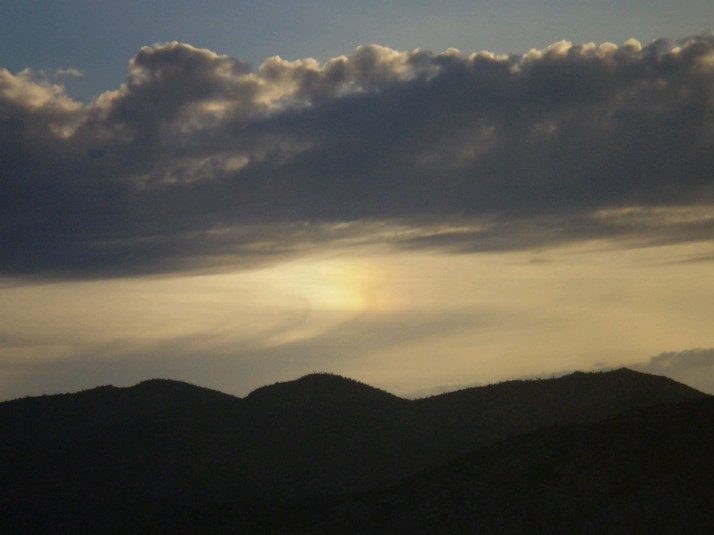 Around midnight a little stronger breeze came up from the North and I headed out on it. As I cleared the wind shadow of the cliffs it doubled in strength. It mellowed a couple of hours later but we still moseyed along. Around 1000 we had left the canal and entered the sea. Dodged some serious rain and watched Baja catch on fire as the sun went down.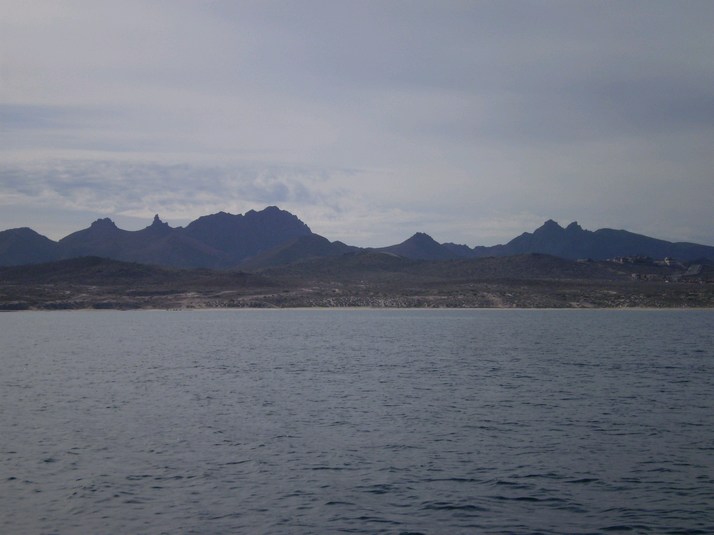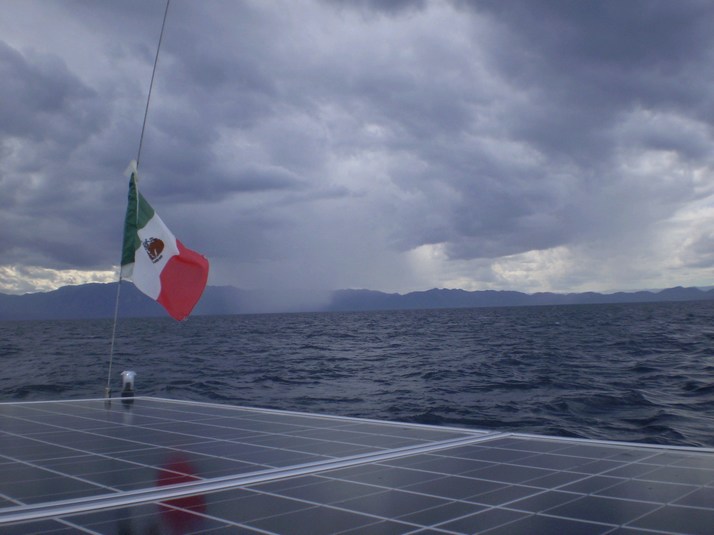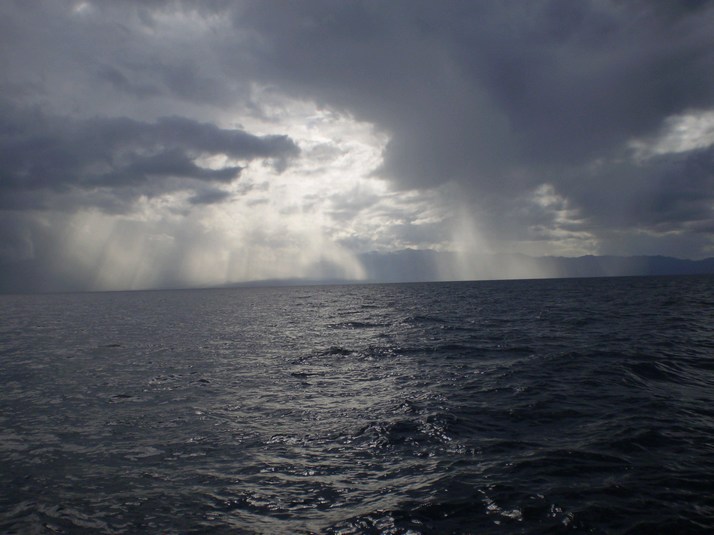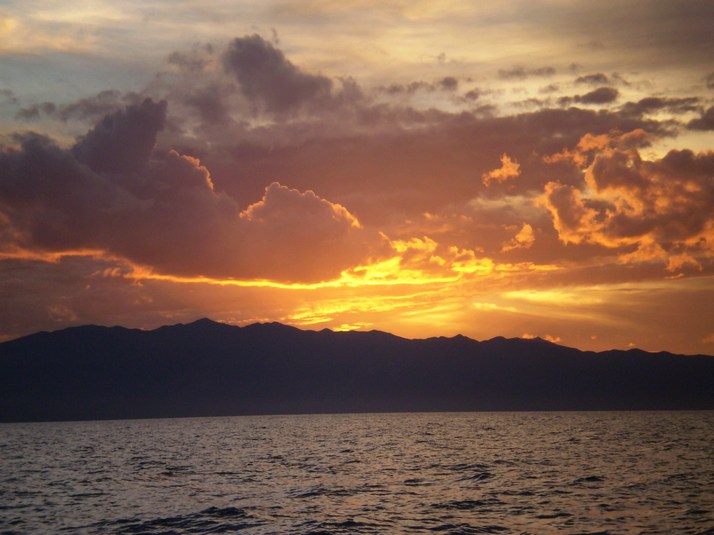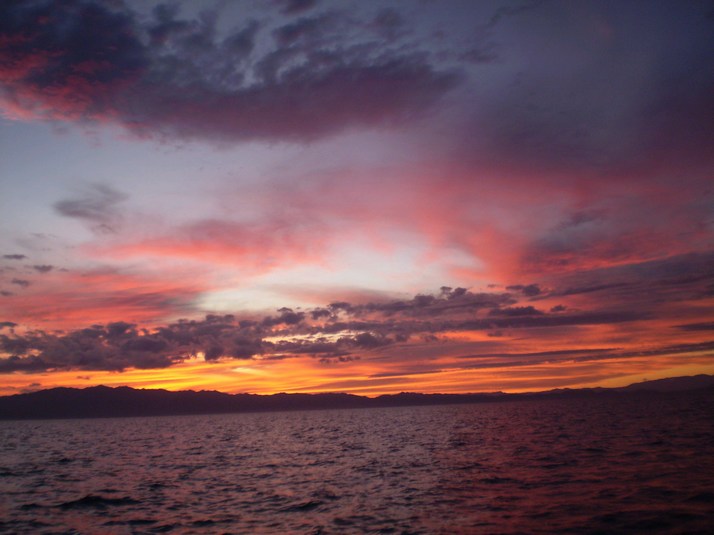 The wind remained wishy washy till midnight when a steady NW 15-25 settled in. Could not get 'Miss Cindy' to self steer satisfactorily with the wind angle and the big swells and surfing. We were beam to close reaching and there was lots of spray and wave slap particularly against the hull sides. I was tired and set the parachute anchor off the bow and went to sleep around 0500. By 0700 was underway again with the waves looking more friendly in the daylight. At that time Mazatlan was 150 nautical miles away. I set the para anchor again at 1030 and got some more sleep. A couple of hours later heading more Easterly I got the sails and helm set to self steer. It was noisy below and wet on deck but we were making a good course and rate and somebody else was steering.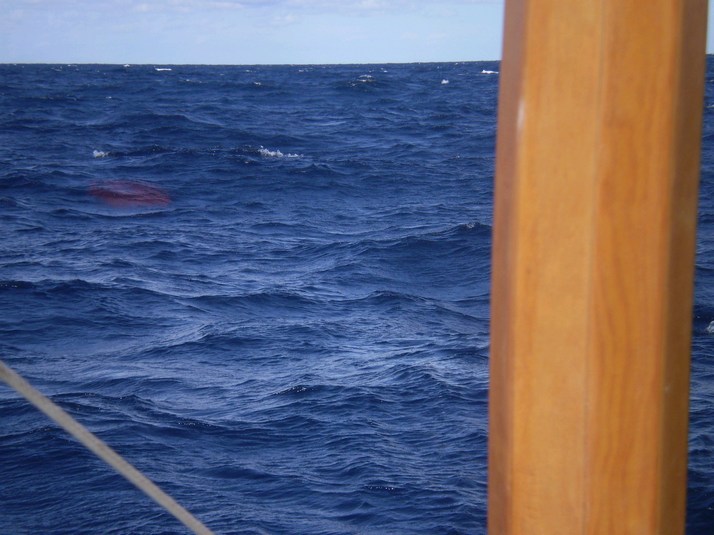 On Passage to Mazatlan, The Movie
Still on Passage to Mazatlan, The Movie
Nov 28 2008
At sunrise sighted the mainland. Still on a reach headed East with 'Miss Cindy' doing the steering for the past 20 hours. We had three gybes in that time which is not too bad. I ate some more of the brownies I got from the crew on 'Swamp Angel' another BC boat in La Paz. After that I ate a giant avocado with salsa and tostadas, yum.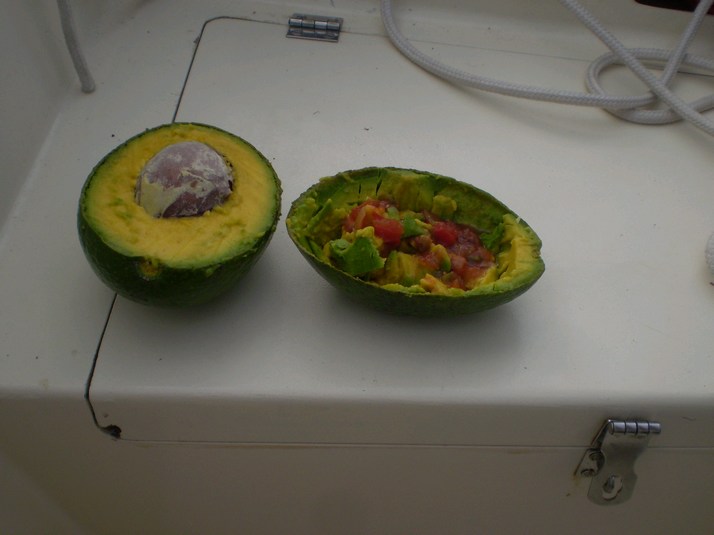 Now a little bit about our entry into Mazatlan. At sunset it was 25 NM to go. We were wing and wing in 10-12 kt of wind. The larger waves from the earlier wind had mellowed into nice long swells and we were surfing on 80% of them. Some we stayed on for several minutes and one for over 5 minutes ( I checked the clock ). When that one finally rolled under the bows it was a glassy flat swell maybe 2 1/2 ft high. The Spot gizmo had been acting up with idiot lights blinking. The forward Nav lights have failed from the spray and motion. We are unlit. I fired up the computer but it had a problem as well. The inverter gizmo that plugs into the 12v light plug had literally fallen apart and was in pieces about the boat. Not having seen it apart before I had no idea how many pieces it needed to put it back together. Naturally I had not noticed this and the computer had drained its tired battery and shut down.
Meanwhile
I am tracking stuff on shore, these islands that still have not gone by, fireworks all along the beach, giant fake Xmas trees ( turns out they decorate the microwave tower cluster), that weird santa sleigh on one of the islands, no now it looks more like a gravel pit with conveyors all lit up. I go below to get a position on the islands from the computer and when I come up a minute later the gravel pit has changed into a big seiner about 200 feet away with poles and lights sticking out in every direction. I turn on my anchor light and shine my headlamp on the sail and turn as far as I can to starboard without out gybing the sail. He swings to port and the wind picks up to scoot us by perhaps 150' away. All happened pretty quick.
Within 15 minutes we are surrounded by the seiner fleet. I have a para flare ready in the cockpit as one boat heads straight for us. It is a looky loo coming by to see what we are. I try to not look at all his lights. I am finally past the islands but need to get visuals on several unlit rocks and also figure the gap between the big lighthouse high on a hill and the lit rock out past it. We are beating to windward below the lighthouse cliffs but we are in too close. The wind disappears, then reverses, then reverses, then reverses. At one point I have a sail on each tack to windward only 6' apart. We get by and head towards the big breakwaters that appear to be well lit. I motor sail with the little electric and creep around the breakwater and look for the anchorage keeping an eye on the sounder. I spy a bunch of yachts and anchor near by at 11pm. Our longest passage to date, 210 nautical miles in 70 hours. The last of Swamp Angels brownies, a bit of rum. Sleep.
---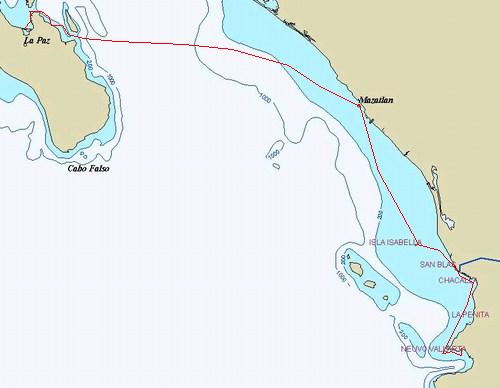 Distance Summary:
---
This Leg: 230 Nautical Miles
Hours Underway: 82
Hours on Motor: 2
---
Total To Date: 745 Nautical Miles
Total Hours Underway: 331
Total Hours on Motor: 9
---
Copyright © 2008, 2009 Tony Bigras.