Travels with Miss Cindy

Chapter 6

Cats in the Bay, Swimming with Jellyfish, Our Shadow, Pushing to La Paz, Lost in the Harbour, Finding Jacaranda.
---
Thursday November 13 2008
Depart El Gato at 0600 on a light breeze. It gets lighter but by 0730 we are still making a knot and a half. By 0830 we have 10kt of wind and are broad reaching at 4.5kt with 'Miss Cindy' doing all the steering. At 1315 we anchor at Punta San Evaristo. Half an hour later the big catamaran that has been motoring behind us comes in, it is the 48' Kurt Hughs design we saw in Aqua Verde. An hour later a Moorings 43' catamaran comes in. All the cruising boats in the bay are catamarans.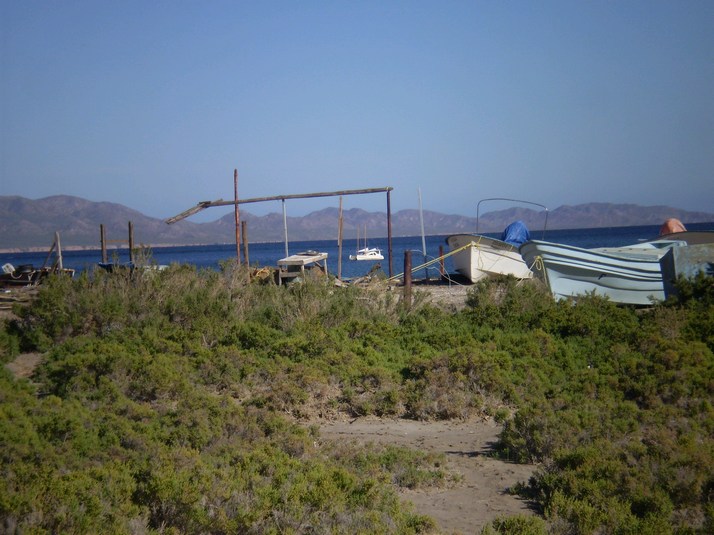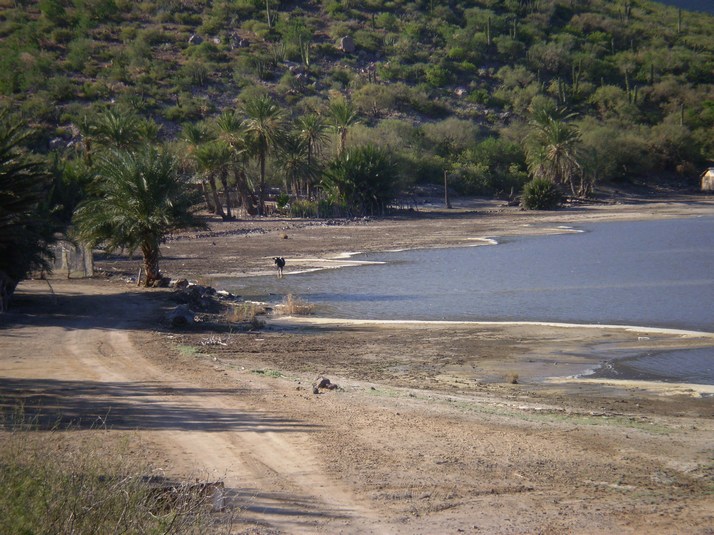 I clean up and head into town. A little town with no store and it seems perhaps 30 people living there. Pretty quiet. I walk past the school which seems to be closed and over to the old salt works where a lone cow samples the brine.
When I get back to the boat in the afternoon the little Cal 25 comes into the bay to end the cat party.
Sunday November 16 2008
0200. I have slept since 1900 yesterday. Orion is above the hatch but pretty washed out by the big moon right beside him. Across the water comes the boom boom boom from the dance club. We are anchored in La Paz.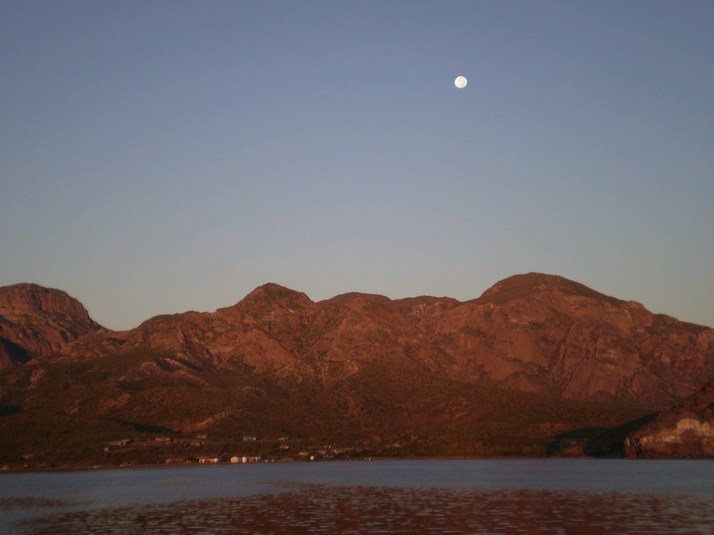 From San Evaristo which was the quietist town I visited we jumped to Isla San Francisco's Hook Bay. We used the electric motor a bunch and covered 6 miles with it.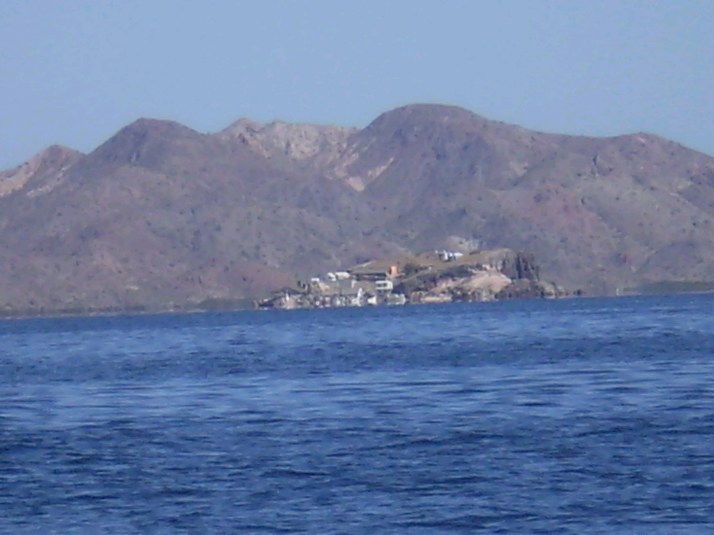 We went by Coyote Isl which is the smallest inhabited island in the Sea of Cortez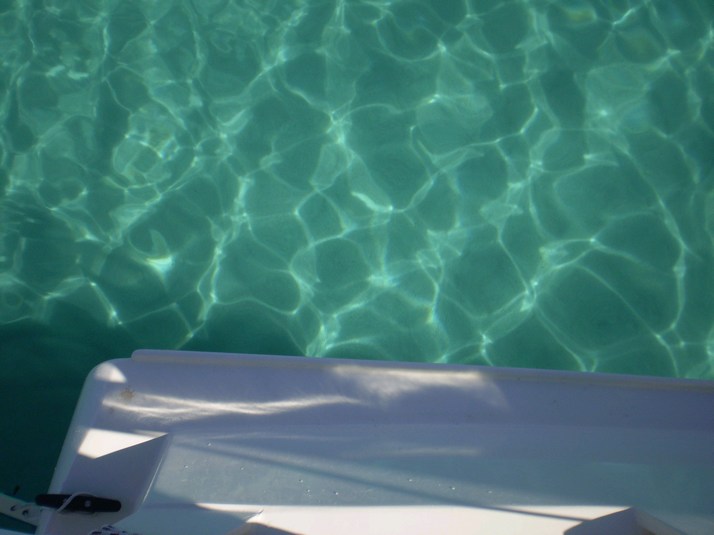 In the lovely green water of the circular bay I put on my fins. When I first got in the water I felt the salt sting on what must have been a scrape on my chest.
I swam around 'Miss Cindy' and sponged off the muck of far away harbours from her topsides and boot stripe.
I swam over to a boat from Oregon a Tayana 37. On the way I had several looks at 'Miss Cindy' all cleaned up in the sun and pretty green lagoon water. Easy to see why the dolphins swim with us.
I was invited aboard the Tayana 37 and had a nice chat with the couple and their little dog. Got some pointers for La Paz and instructions for tying monofilament fishing line. Swam back to the boat and on the way felt more 'salt' on my arm. Turned out to be jellyfish stings, nice welts still a bit of redness two days later.
We watched the boats come in and anchor all afternoon. Watched a couple from one of the boats climb the hill and walk the ridge and sit up there for an hour. Around 1900 our shadow the little Cal 25 comes in and anchors nearby.
We departed very early on Saturday November 15, a big moon and some early light but no sun. We had the running lights on as we reached out of the bay on 5 kt of breeze. Churtle churtle little turtle.
Somebody else was up however as I saw a camera flash go off from one of the cruising boats as we went by. I gave a wave, and I suppose 'Miss Cindy' had a nice smile for them.
I figure I will sail till dark and anchor somewhere in outer La Paz bay. That pesky Cal 25 will have to sail all night to find us.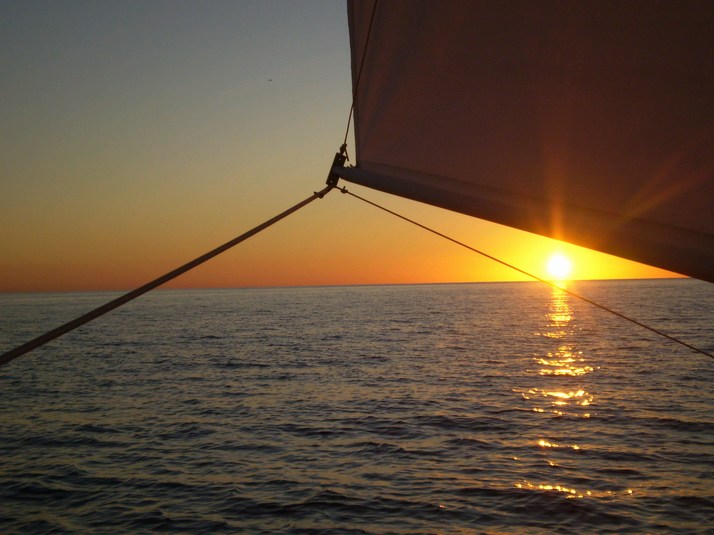 The sun comes up.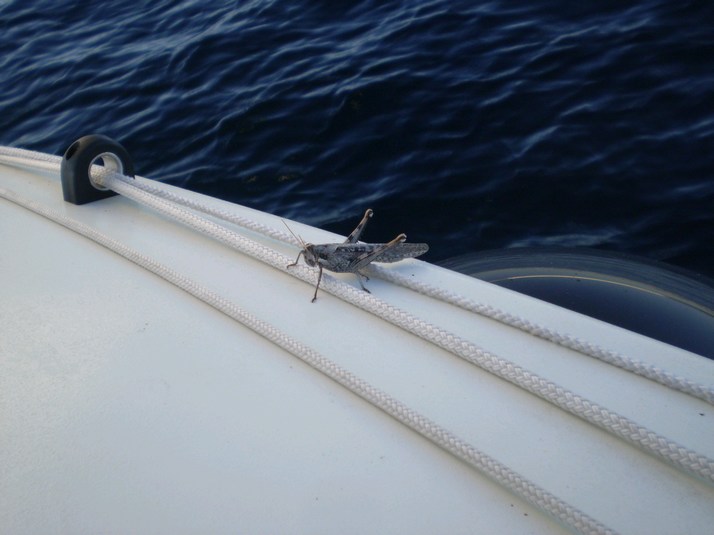 A few miles along this guy lands on deck and prowls around. I give him 5 minutes to rest then send him on his way.
Nice 10 to 12kt breezes most of the day with a little more in a couple of the island gaps where it funnels.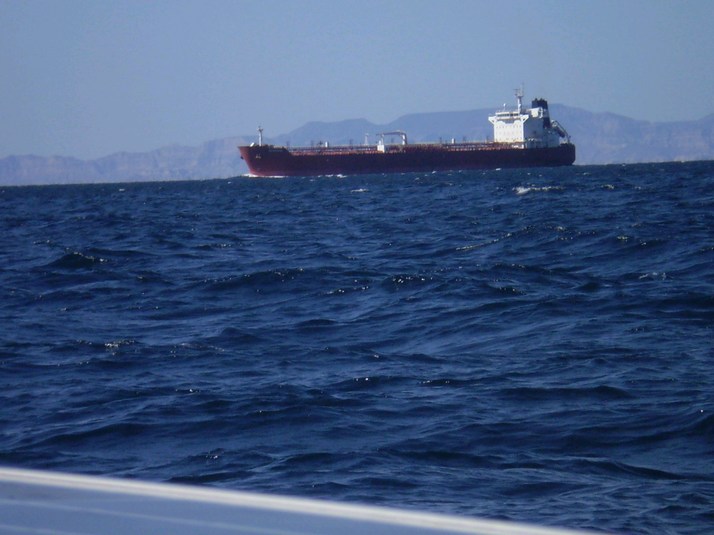 We enter La Paz bay with the big boys.
By 1300 it is looking like we might get into a marina in La Paz. Off the power plant a panga charges over and takes a bunch of pictures. The wind fades but I whistle and it comes back. I keep encouraging 'Miss Cindy' and she charges on.
I decide to save some time by crossing the East end of the sand shoal rather than following the channel around. I know this is a bad idea. The chart shows a minimum of 8' where I plan to go, but charts are always wrong about sandy shoals as they change all the time. I set the sounder alarm for 7'. In we go. We find 6' pretty quick then 4 then 3. I trim the sails for speed so if we touch a high spot we will keep on going. I haven't sailed in 3' before. The sounder finally stops squealing and soon we are in the channel.
I call up marina Palmyra and after several confirmations that our length is 1, 6, feet, and that we are a sailboat we have a slip assigned. The Baja Ha Ha fleet is coming in all 160 of them. I ask how to identify the marina but get nothing useful back.
We are moving fast but our speed over the ground is only 2 kt. There is a big current in the inner channel. Nearing the first marina I call Palmyra to confirm my slip number and to ask again how to identify the marina. 'No not the first marina, it is a long way up the channel, past the Pemex'. Do they have a Palmyra sign? No answer, but they are closing and will see me in the office in the morning. Once I get to the marina my instructions are to: go past the big boats, go past the fuel dock, go in between docks 3 and 4, find D dock, slip 317.
The wind drops a bit so I whistle for more and ask for it from the right direction. It arrives. I sneak us over to the thin water near the side of the channel to get out of the current and soon we are making 3-4 kt. I look for the Pemex but don't find it. I can see the cruising boat anchorage near the next marina about a mile ahead. The harbour goes on forever as I wait for the wind to die but it holds.
There are a couple of cruisers in a dingy fishing with hand lines near the marina. I angle in, close, wing and wing at 5 kt. No problem catching their eye. I ask if this is marina Palmyra? They say it is marina La Paz. I am dumb struck for a few seconds, been sailing for 11 hours and I have overshot the marina by one or two miles. They confirm it is marina La Paz and that Palymra is back there, pointing into 12kt of wind.
I shout thanks and head onto the wind towards the anchorage where I intend to hook in. This 16' power boat with a couple in it roars over and she is taking pictures. We must look pretty good with the low sun lighting our billowing sails from behind. The guy keeps saying 'beautiful'.
I make good speed towards a pretty white sloop and the excited skip is up on deck and shouts, 'I know you', I'm 'Jacaranda'. I hook in nearby. I call Chuck up on Jacaranda and he answers my questions about La Paz and asks a few about 'Miss Cindy' and our plans. I am sure the other cruisers are having a listen too.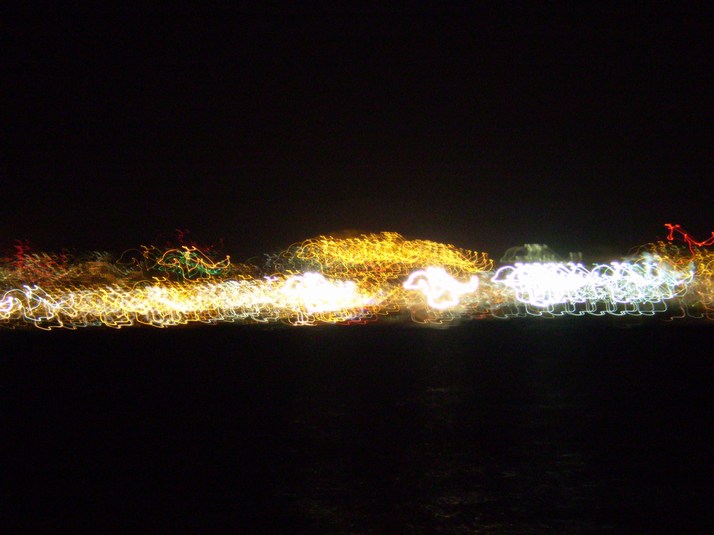 I pour the last of the Cuban rum and sip it, sitting up on the cabin top and lounging in the bow net while soaking up the sights and sounds of what looks to be a pretty nice city.
---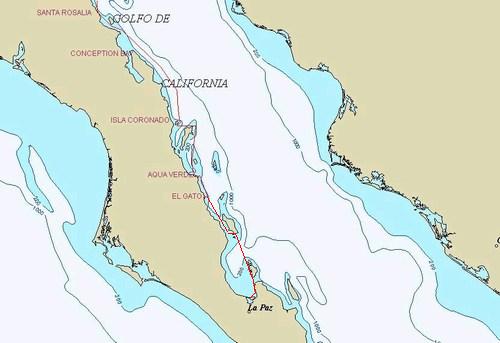 Distance Summary:
---
This Leg: 90 Nautical Miles
Hours Underway: 22
Hours on Motor: 2
---
Total To Date: 515 Nautical Miles
Total Hours Underway: 249
Total Hours on Motor: 7
---
Copyright © 2008,2009 Tony Bigras.