Travels with Miss Cindy

Chapter 4

A Rainbow, Funny Clouds, Dolphins Play a Trick, Beautiful Santa Teresa Beach, A Gaff Boom Breaks, Santa Rosalia.
---
Oct 30 2008
0530 I come alongside 'Sail a Vie' and drop off a goodie bag for Richard in appreciation of his advice. He has decided to head south.
Spend the morning ghosting into light head winds or anchoring against the current. Fixed the corroded and seized shaft thumbscrew on the electric motor with a little olive oil. It probably knows it's days are numbered and has heard the tale of a little gas job coming to replace it.
Around 1630 while becalmed off of Pt Pescador we get a light rain!!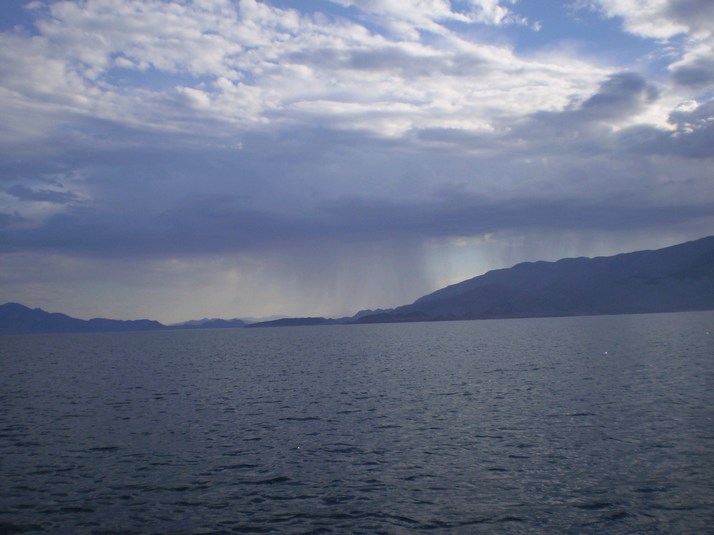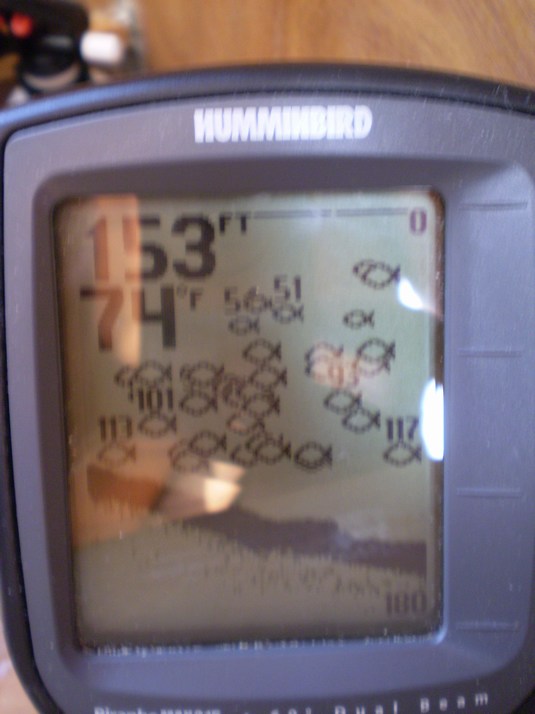 Pt Pescador, lots of fish.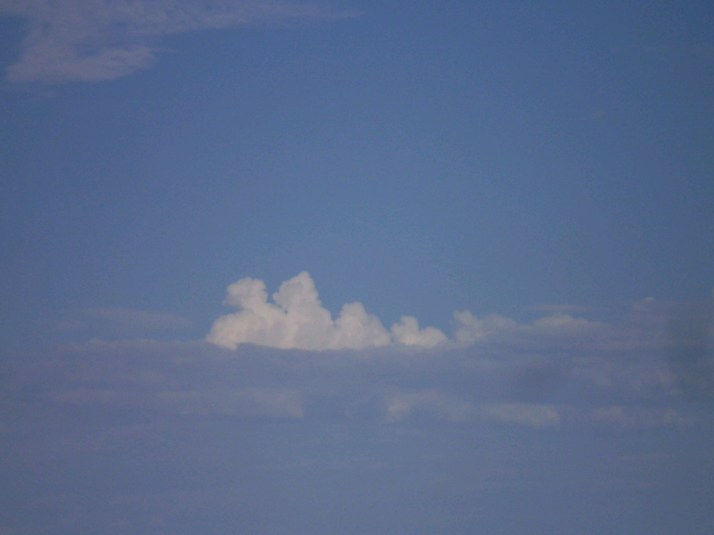 This cloud reminded me of a chicken couple, his wing around her, watching TV.
The night is spent navigating down a 4 mile wide channel with hard stuff at the edges, in light winds mostly adverse but later coming from astern. Kind of peaceful ghosting in calm seas with a little chuckle from the sterns and the loudest thing from inside the cabin is the tick tick tick of the clock.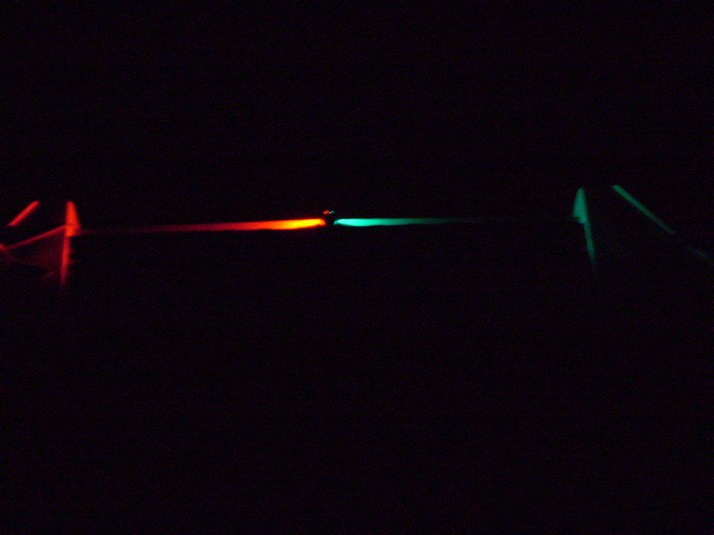 I turn these on only when I nap or if I see other vessels, as they are a bit rough on the night vision.
Around 2200 when becalmed, I got up from a nap to check status and made a small tap sound and this fish zoooooomeeed away from the boat about 50' then jinked left for another 20 leaving a lightning bolt of phosphorescence.
Oct 31 2008
Around 0400 what looked like a big manta ray drifted under the boat with a big square of phosphorescence. That was a bit un-nerving. Turned out to be some dolphins having a joke as they split up and played a bit around the bows even though we were just poking along at 3kt. A few minutes after they left there was another big shooting star, a brilliant green flare falling slowly and lighting up it's smoke trail.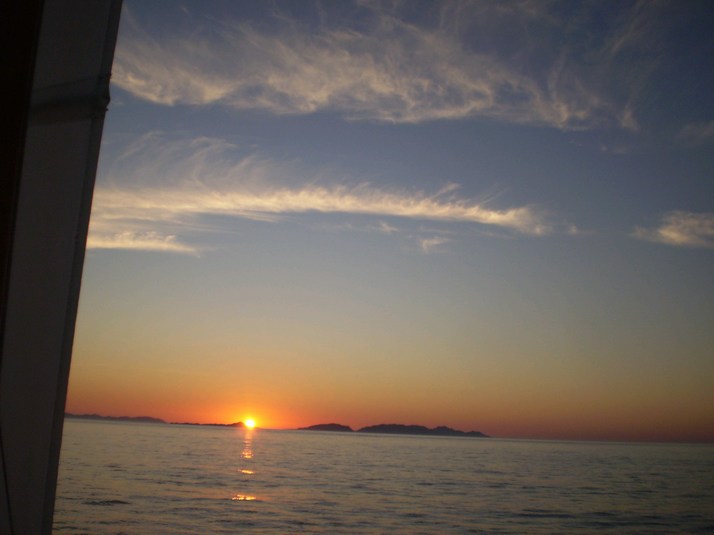 Then the sun comes up.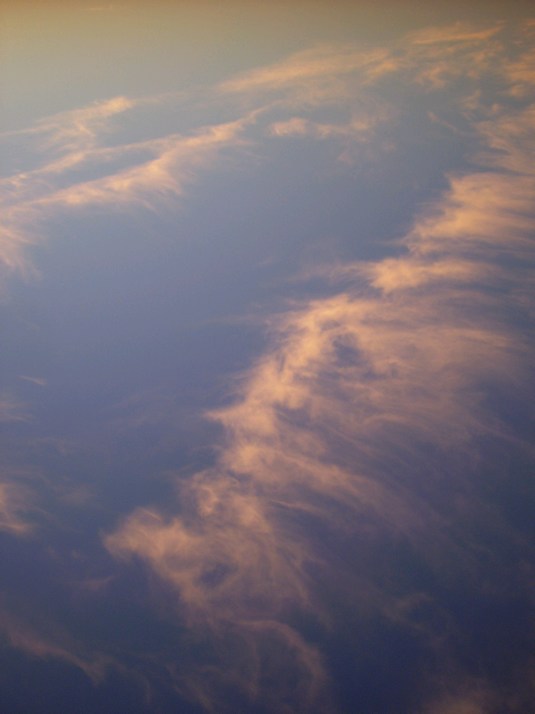 These mares tails indicate a little weather coming our way, probably a Santa Ana, should not be too strong this far south.
1000 we are about 24 hours out of PT Don Juan in the middle of Salsapuedes channel and there is no one here but us chickens. The VHF radio provides some of that special NW Sea of Cortez diversion with the locals unusual call establishment technique:
rita, rita, rita, rita, alice.
rita, rita, rita, rita, rita, rita, rita
rita, rita, rita, alice, alice, alice
rita, rita, rita, rita ( sounding exasperated)
After 34 hours at sea, we anchored off the beautiful beach at Bahia Santa Teresa. We roared around the rocky rocky point with a kick from the current and Santa Ana starting to blow then dropped our tiny anchor in 12' of water off this beach with a steep angle of repose. There are a couple of surges coming into the bay, one from the Santa Ana bending around the point and one from the SE with a big long swell. Tells me that this is a great anchorage in a North wind but maybe not so nice from the South.
Santa Teresa Anchorage, The Movie
The Santa Ana is supposed to be stronger tomorrow and after that weather should return to a light to moderate NW pattern. Time to catch up the travel log, make some biscuits, and some well deserved R&R for 'Miss Cindy' and I.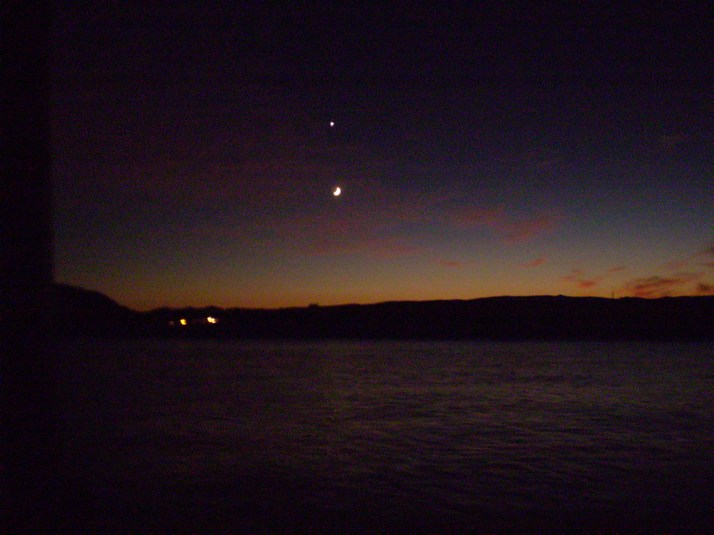 November 1 2008 Dia de les meurtes, Day of the Dead.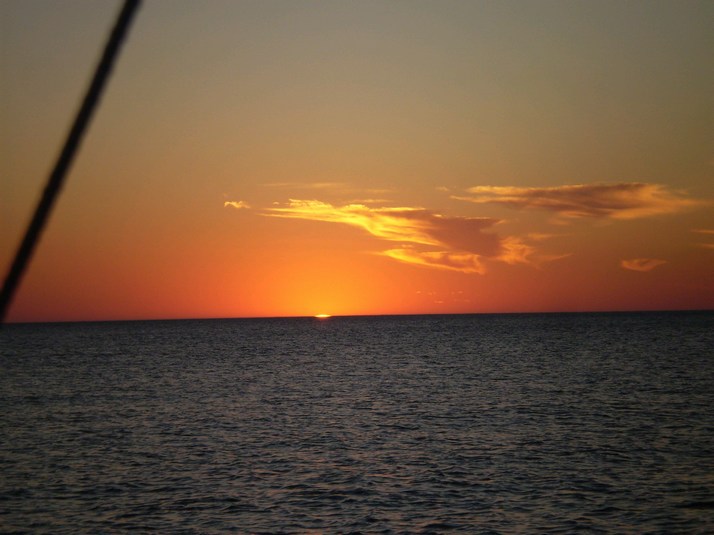 The cook made some pan biscuits and was not happy with them, but the crew had them with tea and seemed to enjoy them. By 1000 the wind is up to a solid 30kt and I am trying to figure out when the current is changing from flood to ebb etc. I want this info for going by Cabo Virgenes which the skip on Raven says I should clear 10 miles off shore. It apparently is a regular malestrom of square breakers in a flood against a North wind. The guide says you can also go close inshore where there is a thin patch for about a 1/2 mile where the current will be a lot less. I hope to go by with the wind and current going my way. Best I can tell from sitting in the bay here and from coming around the point last afternoon is that the change to flood occurs about the same time as the tide change at San Felipe. My instincts tell me that it probably happens an hour of two before that. Yet another thing to ponder on the next leg.
Which reminds me of a question I have long entertained.
Why does wind against current produce these foreshortened waves? Why is a 20kt wind blowing on calm water different than a 17kt wind blowing against a 3kt current. I have not seen this explained anywhere beyond the 'because' explanation. What is the physics that causes this. If you know the explanation or know of a site that explains it I would appreciate an email.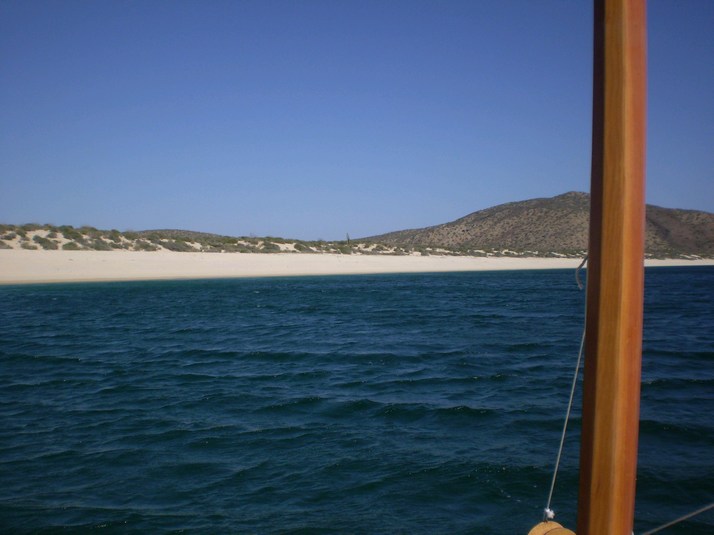 I do some more rearranging of the storage inside the cabin and it continues to get more spacious. I move most all the TP to the aft lockers. Moved some stuff from port hull to stb rearranged this and that and it is looking a lot less crowded. Also did a little mending of a pair of pants that has needed it since brought aboard 3 weeks ago. Reminded me of the 5000 hand stitches in the two sails.
Limes are taking a bit of a beating in the hammock under the solar panels from the dry wind, which in this bay blows right off the land past all kinds of cactus and odd desert plants, occasionally producing a whiff of incense like sweetness. Rather than have those limes dry out I think it is time to make another margarita.
Nov 2 2008
Since 0330 we have been underway in increasingly lighter winds.
Nov 3 2008
At 0300 we have advanced 24 nautical miles in the last 24 hours. We are into the big bay with the next point Cabo Vigrenes but it is a long way off. In the morning a quick breeze comes up on the beam. 25kt. I keep full sail on and we romp along. After an hour or so the seas have built to 3-5' and I have reefed down to 2 panels per sail. We are still moving fast and getting some heavy reaching experience. No green water on deck but the lower decks are washed by spray and the cabin gets it share whenever waves break just as they reach the windward hull. No water gets past the cabin hatch seal however. No pounding of the bridgedeck except when the bigger waves break right under it, but it is pretty soft. The main other feature is the noise, wave slapping, wind howling, wake roaring. I cannot hear the VHF at full volume.
Wind disappears around noon. I eat the last of the coconut covered marshmallows.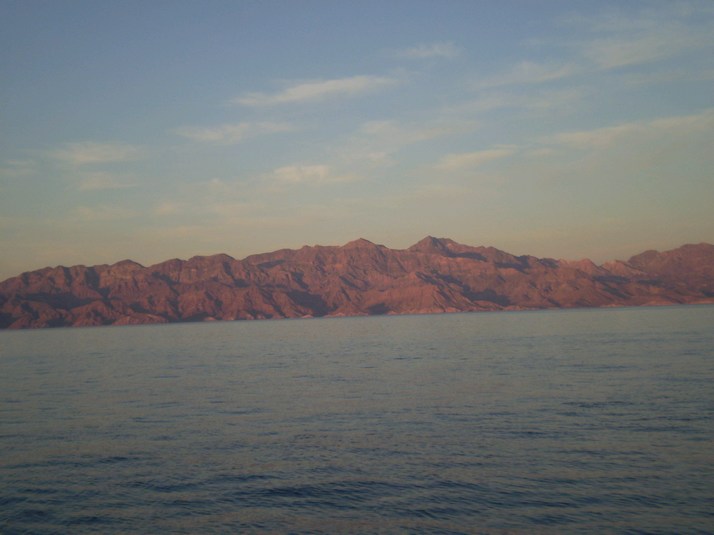 Typical coastline North of here. Where I am now it is starting to get greener.
Cabo Virgenes is 15 miles away. Anchor for the night about 6 miles NW at Pt Santa Ana, about 300' out from a sheer cliff in 40' nice sandy bottom. Took bearing for exit from the bay in case some NW shows up overnight. At night there are about 10 pangas in view all using spotlights to fish. Total time anchor to anchor is 38 hours.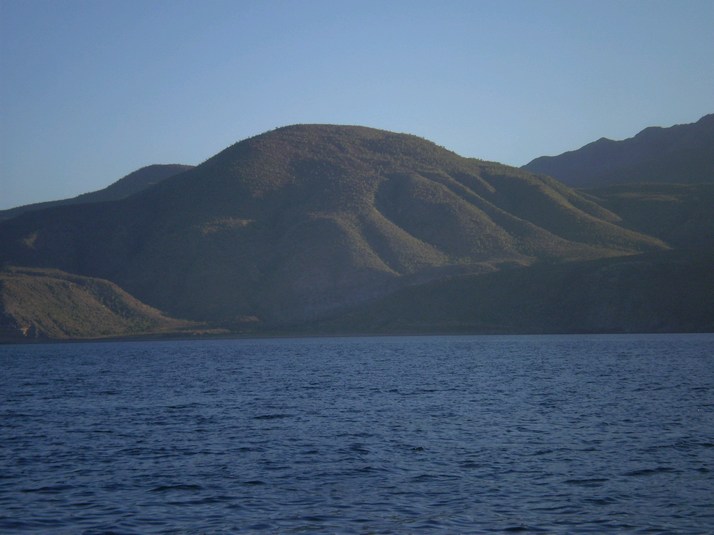 Nov 4 2008
Depart around 0400 and by 0700 there is lots of wind blowing off the shore and we are close reaching. I decide to carry full sail. The port gaff breaks.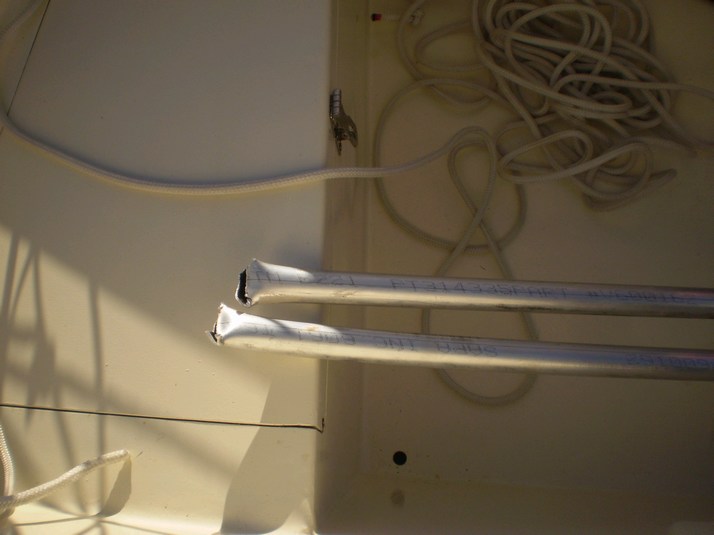 It was the leeward one so was not partially supported by the mast at the time. Carry on with stb sail. By 1100 I have hand sawed a bunch of wood and the broken pipe ends and fished it. Another thing to take care of in Santa Rosalia.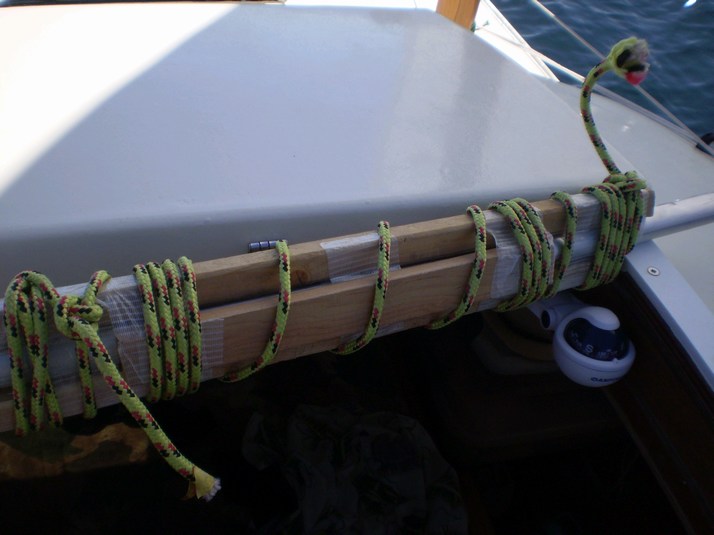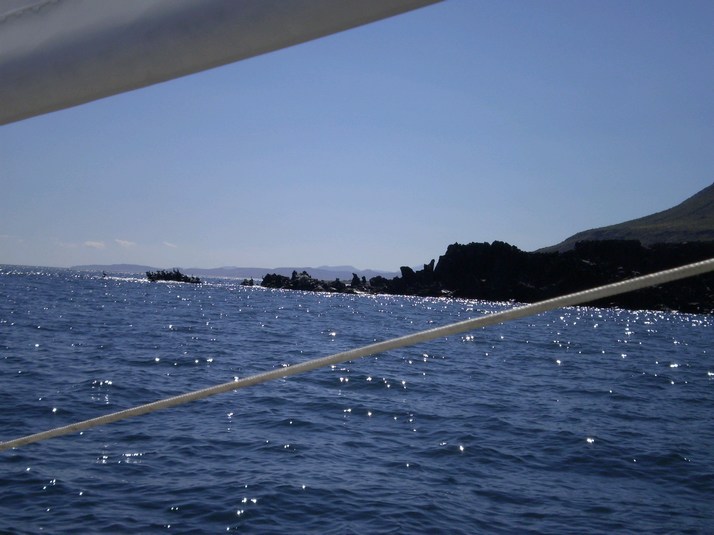 Round Cabo Virgenes close inshore with a small current in our favour. It is pretty calm. Next around this point. How close in should we go?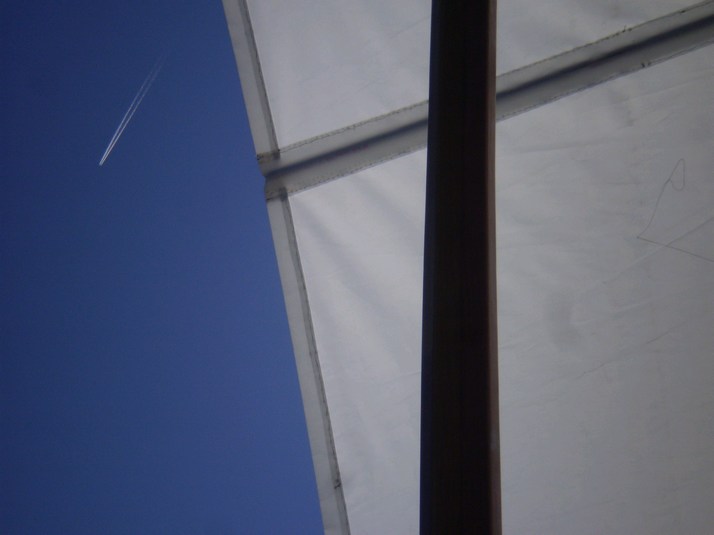 Santa Rosalia is 13 miles. These guys will be in Cabo San Lucas before I get to Santa Rosalia.
The wind is currently alternating from 25kt SE to 25kt W. It seems to switch every 15 minutes. This finally ends as we reach across to Santa Rosalia harbour at a steady 6-7kt. But the wind turns steady SE ( on the nose ) with lumpy seas and a 10kt breeze. We tack for two hours to cover the last couple of miles and head in between the breakwaters wing and wing around 1600. Fellow waving frantically over by the Port Capitan's office but I cannot make out what he is saying, but he is waving me over. Turns out he is a marina shill, but I tie up anyway. Showers, laundry, fresh grub, things to fix.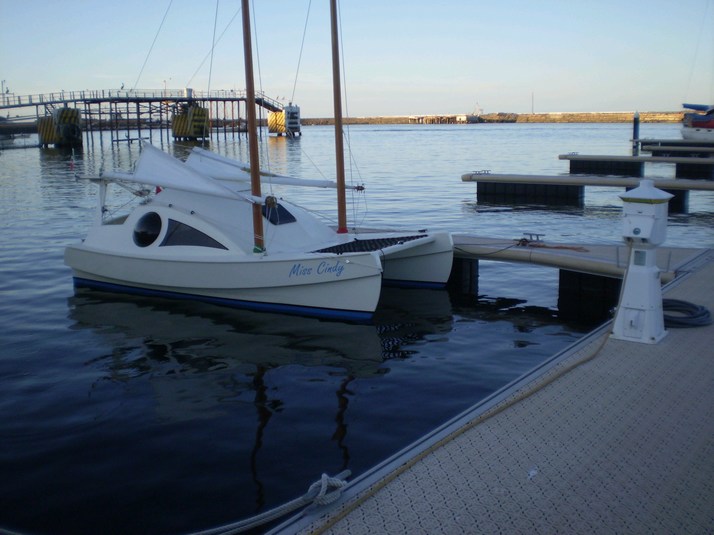 They charge by the foot :)
Nov 5 6 7 maybe 8
In and about Santa Rosilia, very nice town. Pretty clean. Well organized street wise, probably thanks to the French who developed the mine and the town. Able to get most all I was looking for here except the little gas outboard so the electric one not only gets a reprieve but also a second battery. It is a group 24 in the cockpit with about 3 times the capacity of the house battery. In practice however because we always need at least a third of the house battery it should give 4-5 times the practical range, perhaps as much as 10 miles in a calm. We will know soon enough. I have reduced water aboard from 45 to 30 liters ( a 10 day supply ) as we should not need as much with the extra range. So the net weight gain for the battery is around 25 lbs.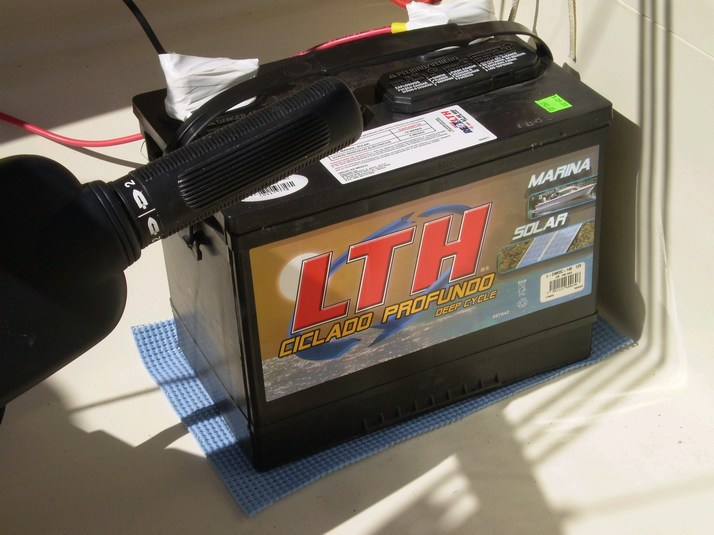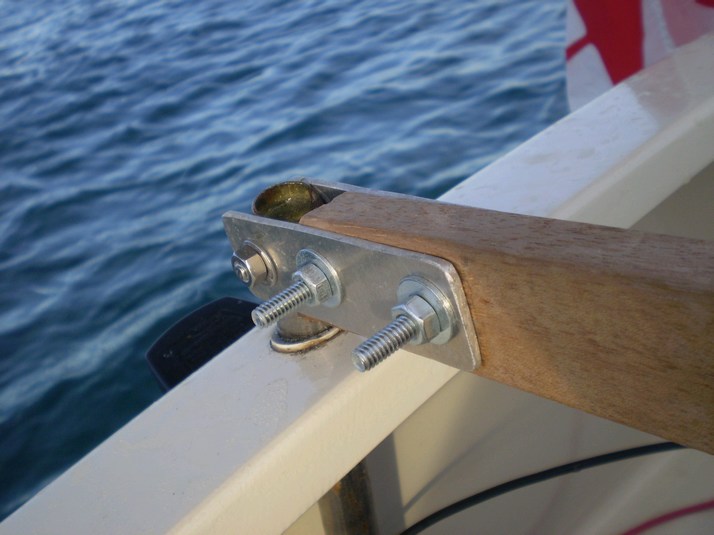 Also repaired the tiller head replacing the 5/32" machine screws which both sheared with some galvanized 1/4" bolts. Seems happy now. Have had to settle for a boom and a spare made from window sash aluminum. Tried to have some made up from wood but the carpenter was really busy and it never happened.
The Santa Ana has been blowing for two and a half days now so I shifted to a inside berth yesterday. The marina at my request added a cleat for a spring near the middle of the boat. Marina here is very helpful and friendly and have been able to point me to the right place for everything from aluminium to flan. The flan here is good but a bit heavier than I prefer, but I know where there is some 5 star flan about 400 miles down the coast. The marina crew were also big fans of 'Miss Cindy' pretty lady that she is.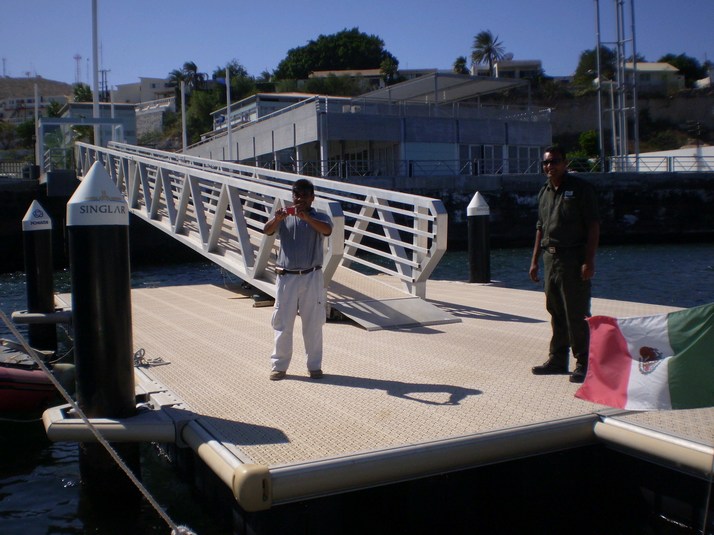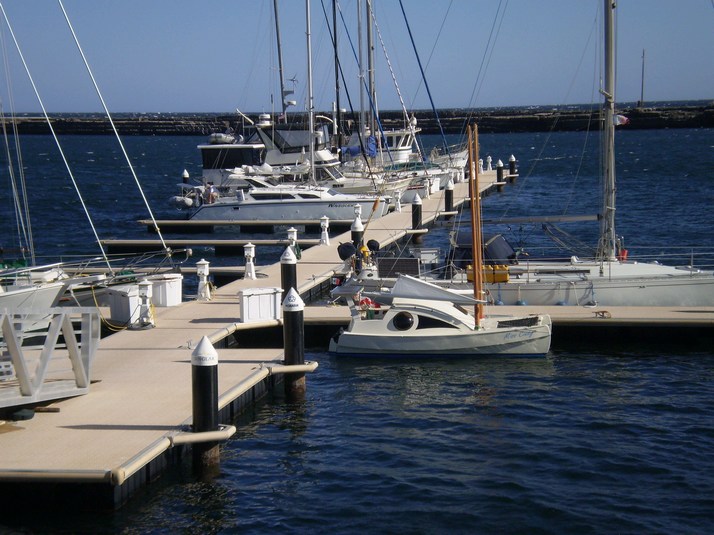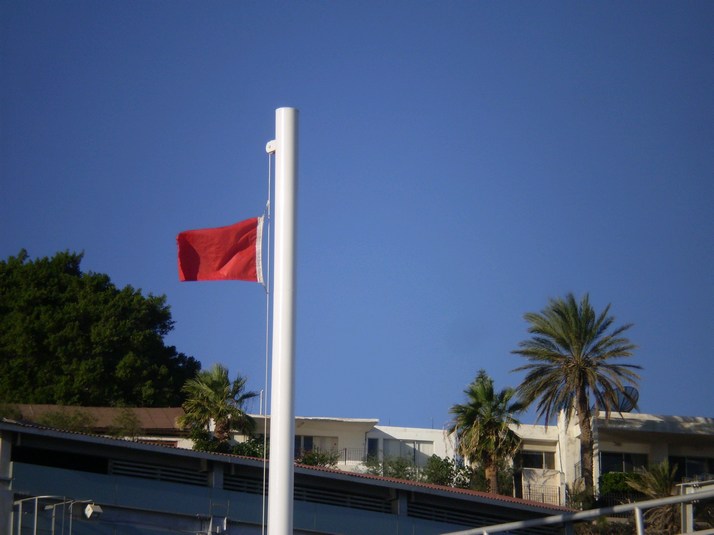 The harbour master has closed the harbour due to the weather so likely earliest departure would be Saturday the 8th or maybe Sunday.
One of the main tourist attractions is the church that was designed and built by Eiffel for some exhibition and was rebuilt here in the late 1800's. It has some interesting design features. It is primarily a regular church and is well attended in the mornings and afternoons by the locals. The catholic influence here is strong and between the nuns I saw and the cute outfits the schoolgirls wear I was taken back to my own catholic school days with the nun teachers and their creative use of rulers.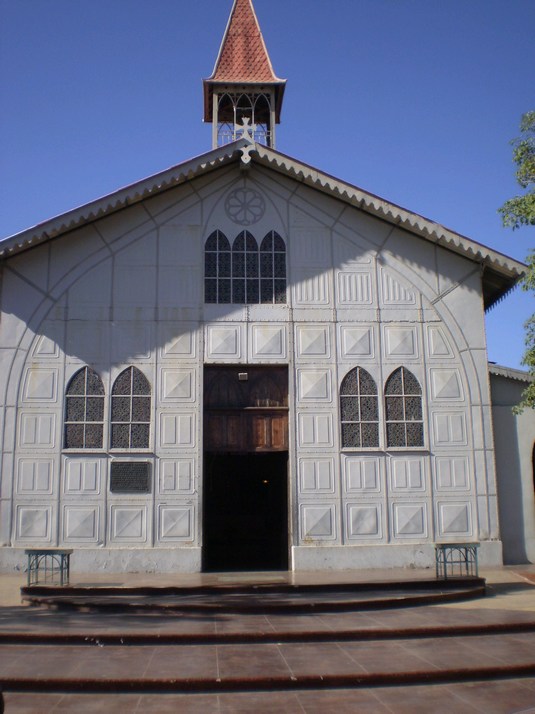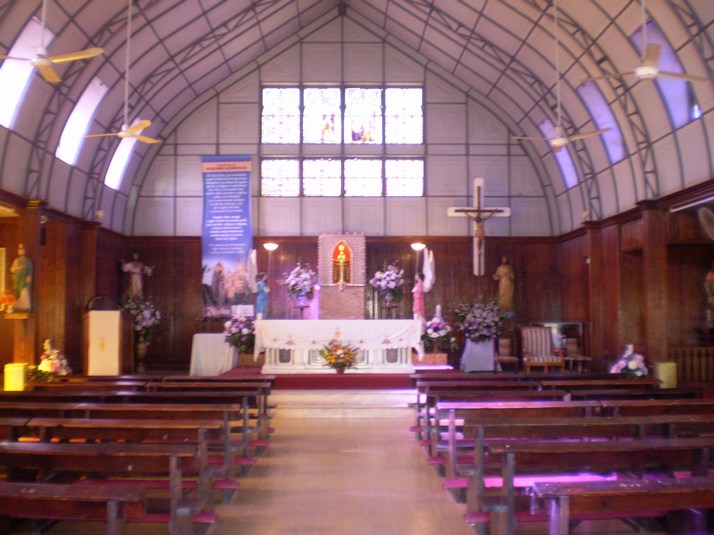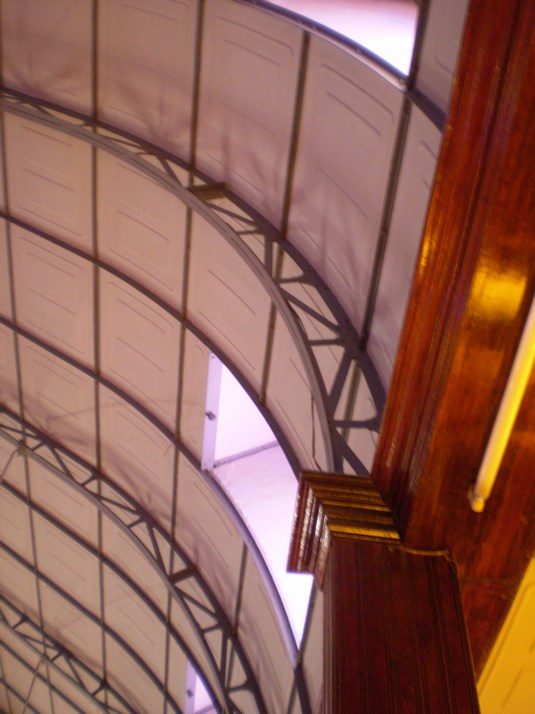 There are many interesting wrought iron pieces in town.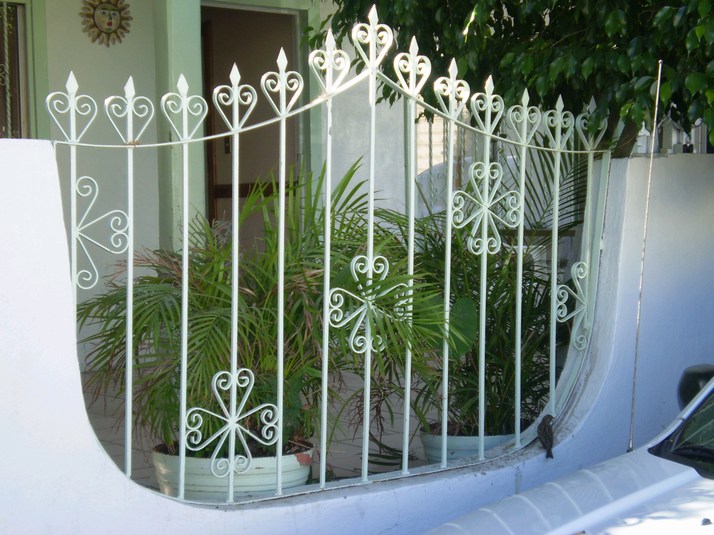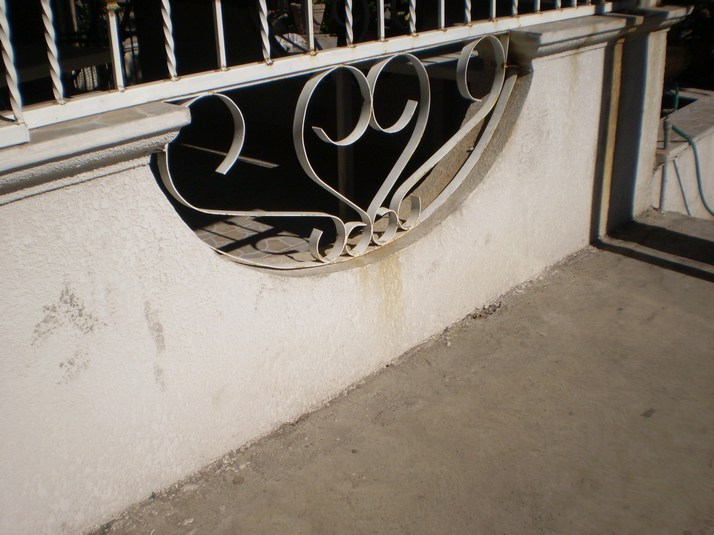 And unusual for a town in Mexico most of the buildings are of wood.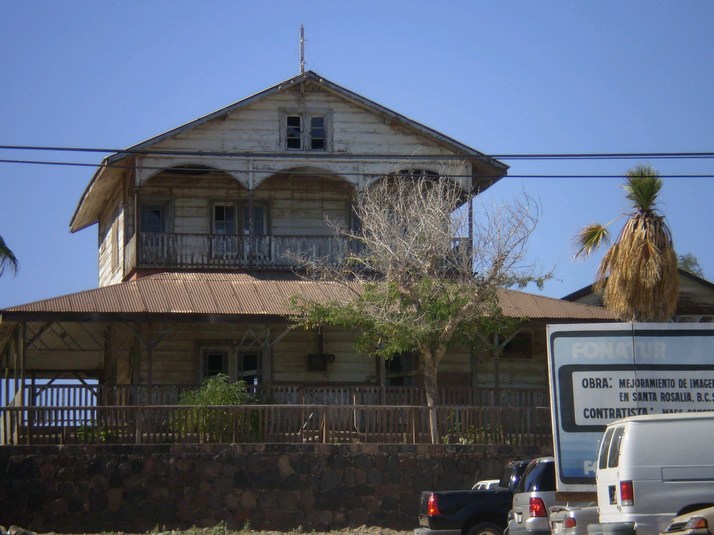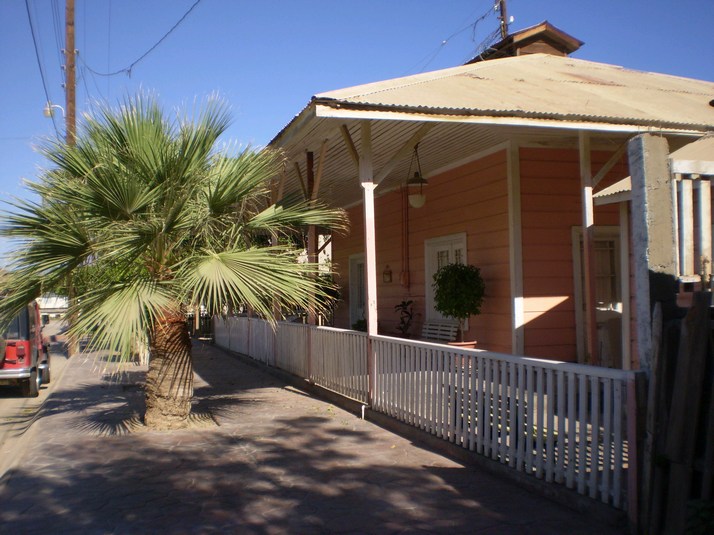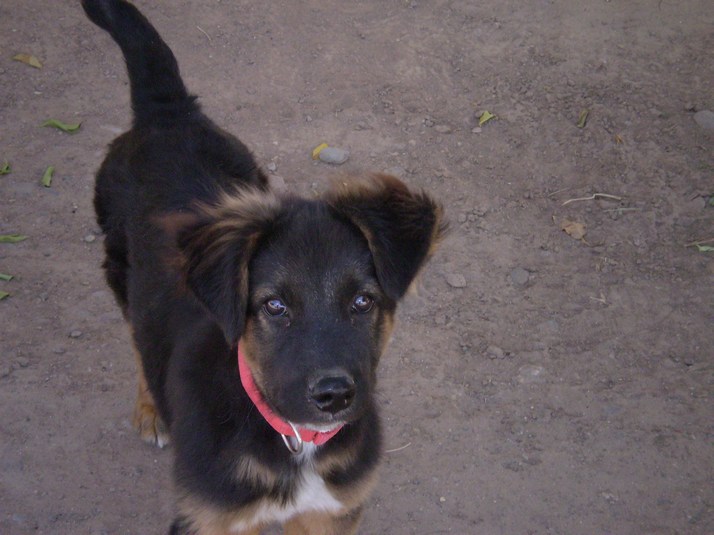 Pretty well all the locals seem friendly and also fairly happy including this curious one.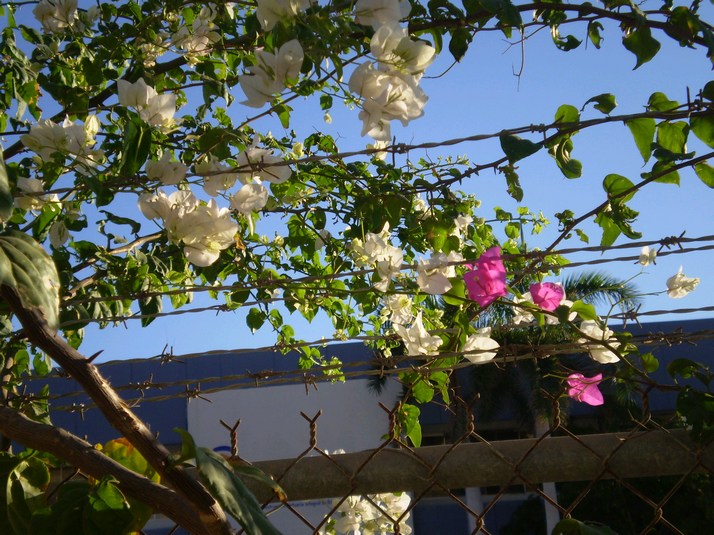 But paradise still has it thorns.
Had a little gathering on the Gemini 105 cat that sailed over with a couple of other boats from San Carlos. The 105 is much improved over the Gemini 32 I sailed from Hawaii to Frisco. Pretty sure I joined the Tucson sailing club some time in the evening. Rex???
---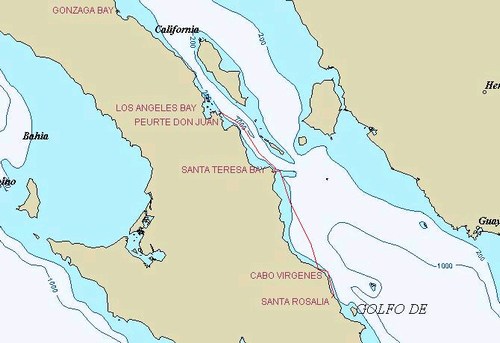 Distance Summary:
---
This Leg: 130 Nautical Miles
Hours Underway: 95
Hours on Motor: 3
---
Total To Date: 285 Nautical Miles
Total Hours Underway: 177
Total Hours on Motor: 5
---
Copyright © 2008,2009 Tony Bigras.