Travels with Miss Cindy

Chapter 3

Shooting Stars, Phosphorescence Dolphins, Whales, Tiller Pin Breaks, Bahia de Los Angeles, Our First Margarita, Depressing Puerto Don Juan.
---
Saturday Oct 25 2008
Just before leaving Carol Anne gave me a nice going away package with some fruit and yogurt and OLIVES. Nice Folks.
This will be an overnight passage of about 80 miles. We pick up a breeze and drift out of the bay thru zillions of jumping mullets. A big lazy seagull spent a couple of minutes trying to perch on one of the gaff booms but finally flew of without leaving anything behind. I got rid of the upper tiller post bearing squeak with a little olive oil. Things keep getting better and better.
By nightfall I have cleared Pt Finale by about 10 miles and am well offshore with a good idea of where I need to go. It is a dark night with lots of phosphorescence and around midnight a number of shooting stars including a particularly bright one that illuminates it's smoke trail. Orion comes up where expected and the milky way provides a handy reference from the bunk while 'Miss Cindy' steers herself towards the channel. The wind drops to nothing for 8 hours so I get lots of naps with the alarm set for 30-45 minutes. It never seems to go off until I have been awake for 5 minutes already. Around 0830 4 or 5 whales are spouting about a mile ahead, maybe finbacks. At 1145 I speak with SV Kalalau on VHF. She is 60 miles away and headed to Bahia Los Angles tambien. My radio range is usually line of sight and with an antenna 4' off the water that is usually less than 10 miles. I learned later that Raven was covering the conversation but could only hear Kalalau. Around noon there were about 20 whales spouting and tail wagging along the peninsula.
Tiller pin busted overnight. Fixed, for now.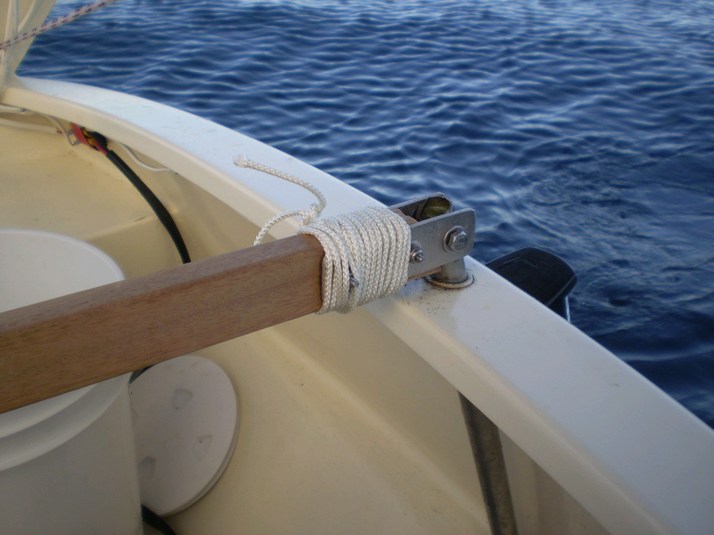 Around 1830 we were romping along nicely and it was looking pretty good for a nice sleepy night on the hook in behind Pt Gringa in Bahia Los Angels. I take a photo of the channel between the island before dark as a reference. The sounder is starting to pick up the bottom around 600'. I put out a radio call and spoke with Jacarandra on VHF and he provided some way points for entry into the bay. There are whales all round with plumes drifting on the breeze, closest is about 150', big guys 40' plus, finbacks. There is also some weird pointy finned thing that crosses my wake about 50' astern a couple of times. Then it gets really really dark.
I go down the channel between Corondado Isl and the peninsula and it is (did I mention) dark dark dark. The computer screen turned right down and in night mode colours is buggin my night vision. There are whales all round going Woooosh. With 3 miles to go the wind dies, completely. I don't want to use the electric outboard because then I will have no juice for the computer. I paddle for a 1/2 hour from 300' depths to about 70' and check the position with the computer on briefly. I should mention that the computer position checks are kinda vague as the charts for Mexico have inaccuracies from a 1/4 mile to several miles. The rock I have been avoiding appears to be 1/2 mile North. Sounder is happy and bottom looks friendly so I hook in.
Nice quiet anchorage and the end of a 36 hour passage in 'Miss Cindy'. I sleep from 2100 to 0530 and wake to find a bunch of mullets swimming around the rudders, and... another nice sunrise.
Monday Oct 27 2008
Nice little breeze from the NW and off we go. As I am setting up the sails I accidentally jybe the stb sail and bonk myself hard on the head. A reminder to always snug up the preventers.
This is where I started writing the travel log so re-read the first paragraph at the beginning of the log for our exciting sail into Pt Arena :)
My journal notes "worked on travel log for two hours, bit like work"
Pelicans are crashing into the water all round and catching lots. Sounder sometimes shows clouds of sardines right to the bottom.
There were lots of these at Punta Arena. They sounded like kids cannonballing at the pool.
Puenta Arena Anchorage, The Movie
Went ashore in the late afternoon after the wind dropped. It was about a mile paddle to shore. Scoped out a bit of the town and got some water and a few other things. Towed the water behind the kayak and stopped by Raven and said hello. Sundeer 64 with pro skipper Rod from NZ and owner and wife Carol aboard. Went aboard for some very late sundowners ( it was dark dark dark ). Owner works as an electrical engineer for the Military Industrial Complex ( his words ) and is based in Tuscon Az. Traded stories and they commented favorably on 'Miss Cindy' . Carol had noticed the raven connection in 'Miss Cindy's' window shapes. Advised to go way offshore off Cabo Virgines near Santa Rosalia as nasty wind current with square waves there. Nice Folks. Paddled back and spent the night so still it felt like we were set in concrete.
Oct 28 2008
Shifted anchorage toward town and got provisions. First real Mexican town, others were mostly Gringo enclaves. Loaded up the travel log from the nice internet site in the mercado where everything worked unlike in the internet cafe where nothing worked, not even the 'M' key. Looking for gas outboard to replace electric. Found some on EBay. Tomorrow will check email and update travel log and head out.
Some views around town.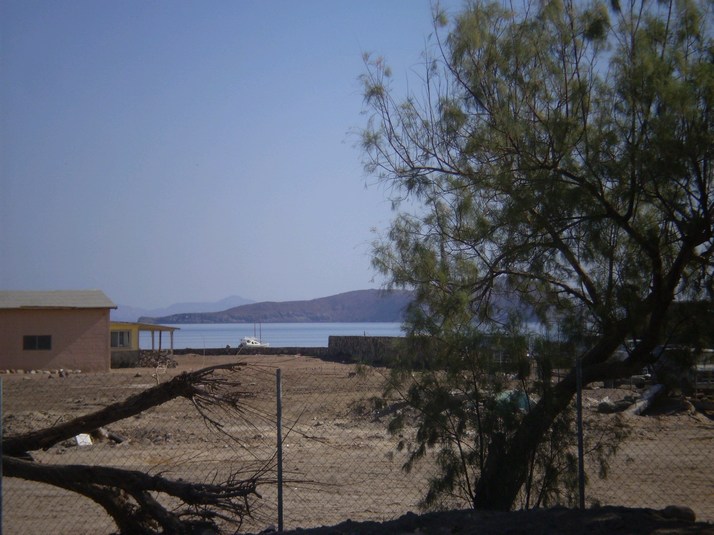 Nice protected anchorage with only one boat in it this day.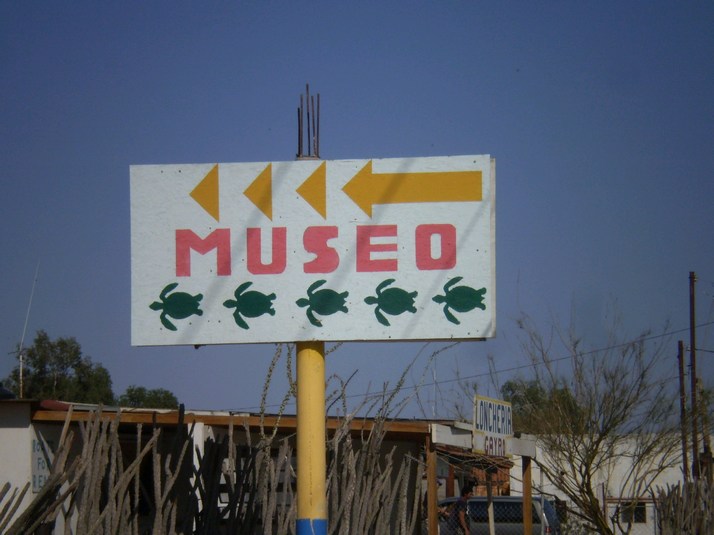 Nice little museum with some local history and lots of fauna.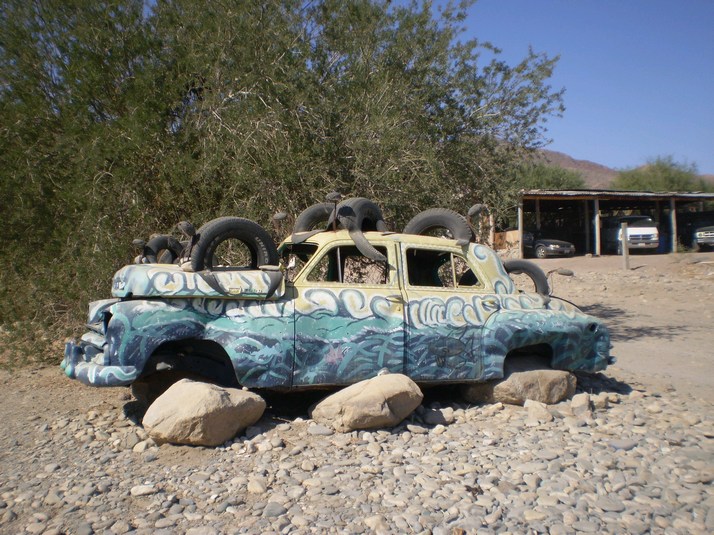 Near the museum, the tires are seals I think, but others may interpret them as tortugas.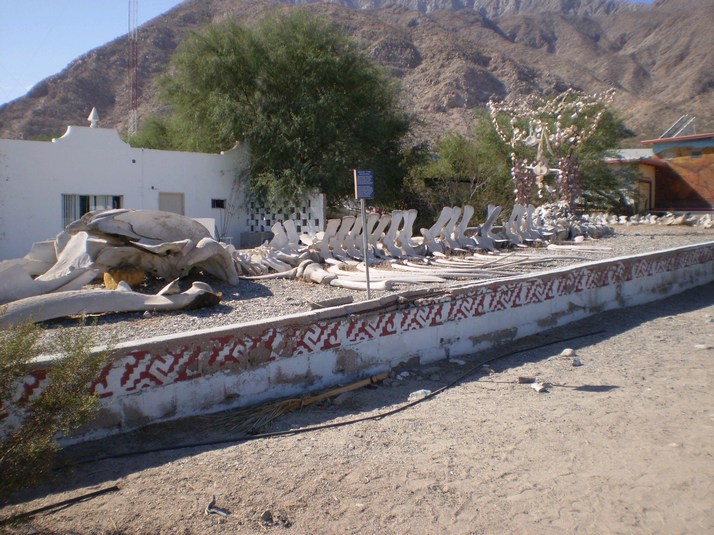 Finback whale, our 'Miss Cindy' is about as long as from the nose to the sign.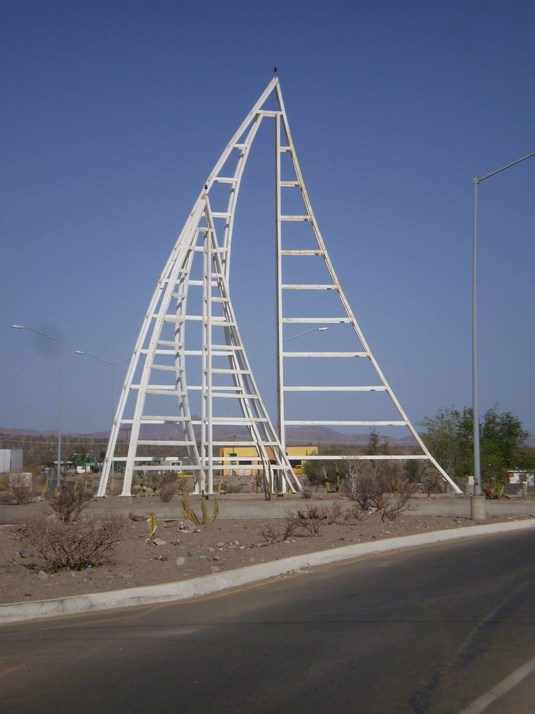 The contrast of a fancy boulevard and this big steel art piece in the traffic circle with the poverty of rural Mexico.
And with some fresh limes our first Margarita, in this special Baccarat Crystal from 1958. Made just how I like them. Yet another contrast.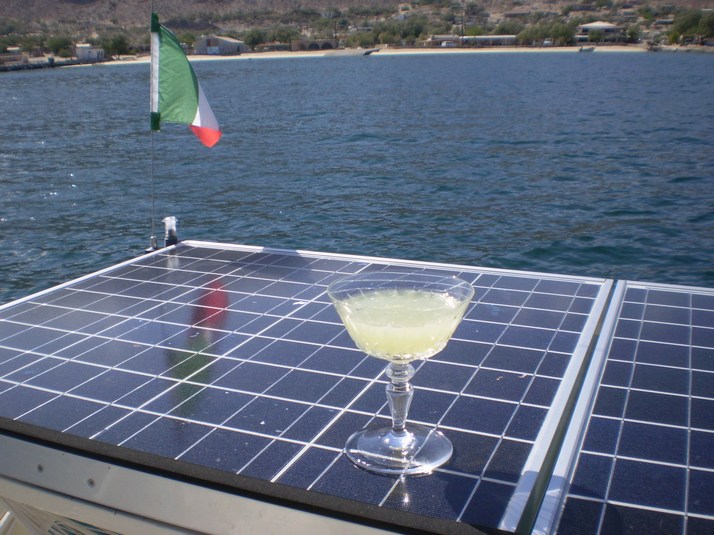 Wednesday Oct 29 2008
0525 I have been writing the travelog for a couple of hours. Computer screen is on low setting to conserve juice and is nicely readable in the dark. For the last hour there have been all these thunking sounds and I figured it was waves but I finally get up to have a look and it is fish. Jumping here and there and banging into the boat every couple of seconds.
Travelog is now up to date, just need to rescan that photo of plumber Bob and upload it all when ashore. Roosters are starting to make a fuss in town.
Took a little while for the shop with the nice internet to open, a combination of a relaxed opening time and the end of daylight savings time some time in the past week. Ships clocks are now correct. We depart at 1100. Yacht 'Firefly' has anchored in the bay while I was in town and as we are heading out on a nice light NE breeze a big wood sailboat is dropping the hook. It is Kalalau who I spoke with a few days back. Skip asks where I bought 'Miss Cindy' and I say I built her, he says 'Nice job'. It is like hanging out with a pretty girl, you get to share in the compliments :)
As we get out into the outer LA bay there was this odd phenomenon of wind from the NE and waves from the E. We hobby horsed a bit. I think it is a current caused effect. After much taxing light airs sailing and some paddling and about 15 minutes on the electric motor we are anchored in Puerto Don Juan. I really don't favour trucking in a mile up some bay to drop the hook but that is the terrain here, big bays for even the small nooks. This 'hurricane hole' would hold a 150 boats in the Gulf Islands in B.C but it is me and 'Sail a Vie' which sounds like either 'say la vie' or 'sail a way' depending on the ethnicity of the accent. She is a tired old boat with a dead engine and baggy sails. I spoke with Richard aboard her when I got into Bahia Los Angles and he gave me some tips on locations in town. She left yesterday headed for San Felipe but today she came in after me to this bay.
Around 2000 a boat comes into the bay and works along the west shore with occasional lights towards the shore. They are probably landing some square grouper (marijuana bales). Around 0300 the coyotes have their say for a bit. I don't like the feel of this bay, it feels like death and despair, I will be glad to leave it.
---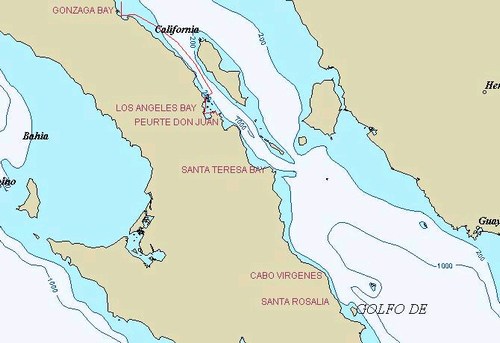 Distance Summary:
---
This Leg: 70 Nautical Miles
Hours Underway: 40
Hours on Motor: 1
---
Total To Date: 155 Nautical Miles
Total Hours Underway: 82
Total Hours on Motor: 2
---
Copyright © 2008,2009 Tony Bigras.