Travels with Miss Cindy
Chapter 2
Panama in Puertecitos, Repairs with Boeing Aluminum, Santa Ana Catches Us, Swimming a Line Ashore, Up all Night, Dash to Gonzaga Bay, Bob the Plumber.
---
Saturday Oct 18 2008

High tide around 0400 but not as high as yesterday so some of the guys from Sacramento help push her in. I anchor out till 0630 and head out at first light, saying goodbye to the folks on shore.

Departing San Felipe. Photos by Pogo.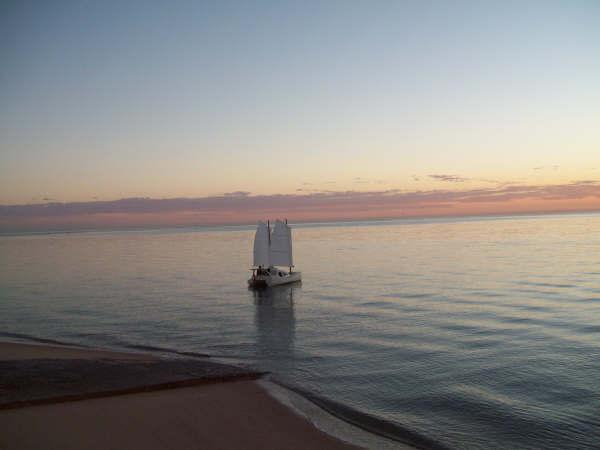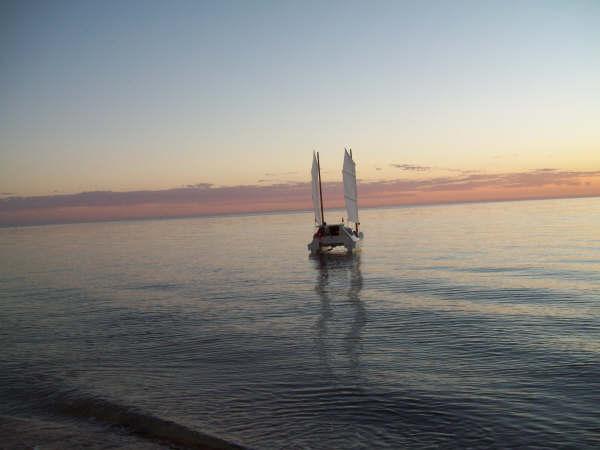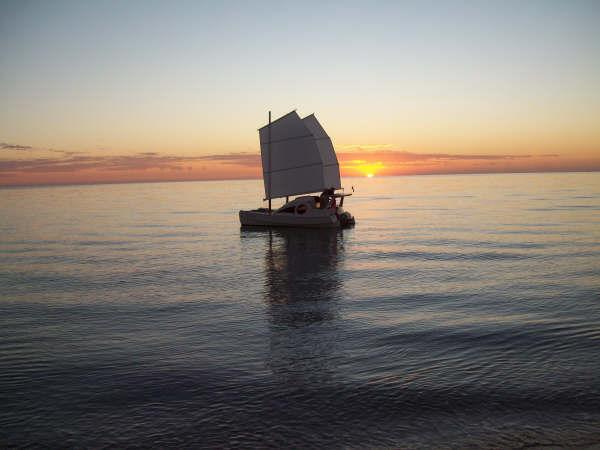 By 1100 sailing on a broad reach on a mint green sea at 2.5kt with the boat self steering with the sails adjusted and the rudder tied off. I rig up the Hella cooling fan in the cabin, will have to do the compass soon too. Boat is a little crowded with gear but some organizing will help. Passed thru the local fishing fleet.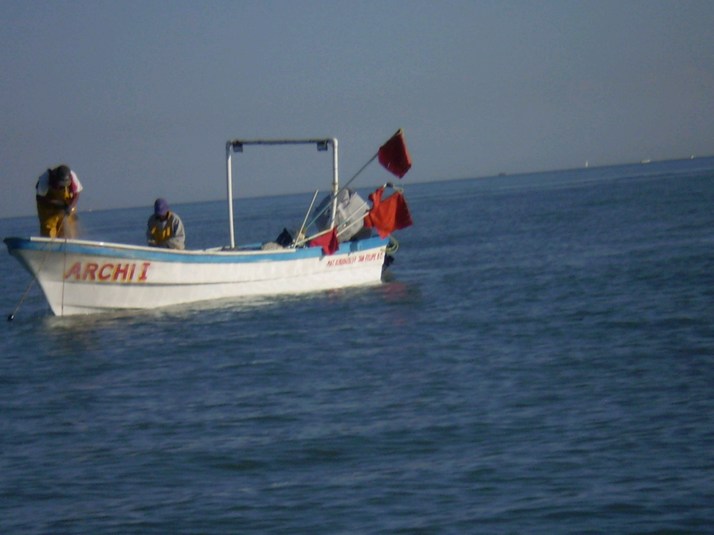 Missing the original Miss Cindy, she would like this. Anchor for the night in 19' of water along a beach around 1630.
Sunday Oct 19 2008
Around 0400 tidy up the boat and store some galley stuff and food. Made tea with local water. Still drinking bottled. Also bleach 10 liters of local water. Bunch of pelicans this morning headed same direction as me. Sailed about 30 miles with the self steering doing it all.
Easy Going Downwind, The Movie
Anchored in another open roadstead.
Monday Oct 20 2008
Wild ride to Puertecitos. Lost shackle pin while trying to reef with the sail well out. Lashed it. Lost the shackle pin despite having used locktite. Overshot Puertecitos before I spotted it ( guide and chart confusion in my head ) and reached in to the shore working my way around the rocky point and using the electric outboard for the last 1/2 mile. Anchored well in the bay in the shallows allowing for the tide.
Went ashore in the WestMarine inflatable kayak which is a tight fit but seems to work well. Met security guy Antonio on the beach, we have the same names so he trusted me to behave. Went to the hot springs hoping for a good wash but the water was way to hot, locals use them when the tide comes into the pools. Walked on down to the second store about a km away and got everything but water. On the way back stopped by the first store for water but it was just a facade, no store anymore. Walking back to the only store met 'Panama' who gave me a ride. He knew I was from the little boat in the bay and chastised me for not answering on channel 16 when he called. I mentioned I had the radio off because of interference from the computer and that I might not have responded to someone hailing ' the junk' rather than 'the cute catamaran'.
He is a long time resident, 24 years, and before that visiting his mother who has been here since 68. We got my water and some more juice and I just mentioned looking for some aluminium of stainless or steel for my boom end thingies. He showed me some rusty U channel at his new shop location ( he is a machinist ) and I said sure that would do for now. We stopped by an elderly couple Don and Marion to drop of some juice and as Panama predicted I was offered a beer. As we chatted along it developed that she had worked the tool room at Boeing for 35 years and he was a machinist too who had worked at Boeing and elsewhere. They had this nice piece of 1/4" aluminium complete with zinc chromate primer just the right size which they gave me. The also gave me some deadly rum balls. We went to another house where I used a drill press and hacksaw to build what I needed. Panama and I chatted about some of the changes coming to Puertecitos and how he preferred it when it was more Mexican. Panama dropped me off and I paddled back with 5 gallons of water and a dozen cans of juice towed behind and a Baja bag full of fresh fruit on top of the bow.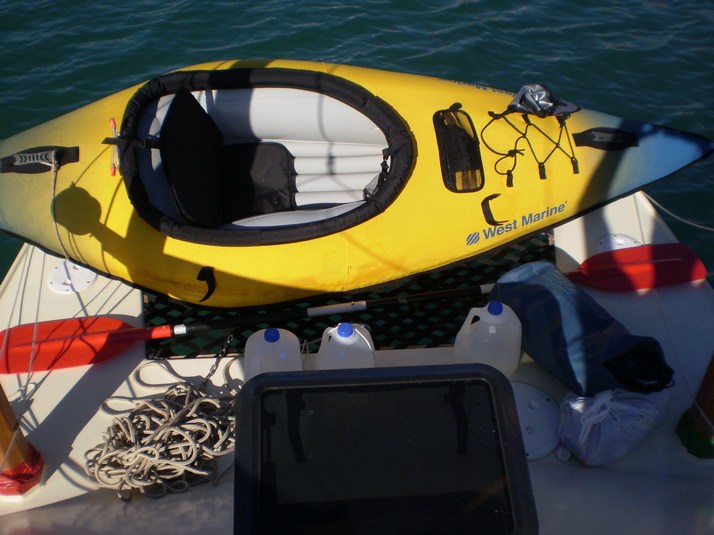 I installed the new roller furling ends and this seems to have helped a lot and they are strong enough to last a while. Panama mentioned that there was probably a Santa Ana coming on Thursday.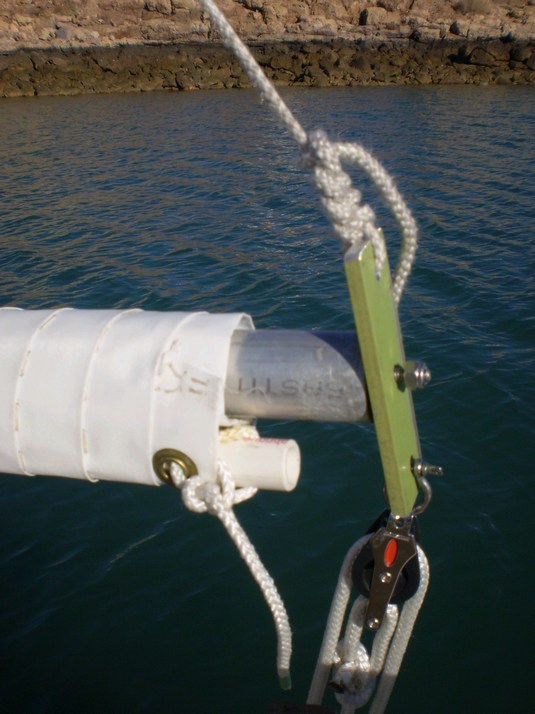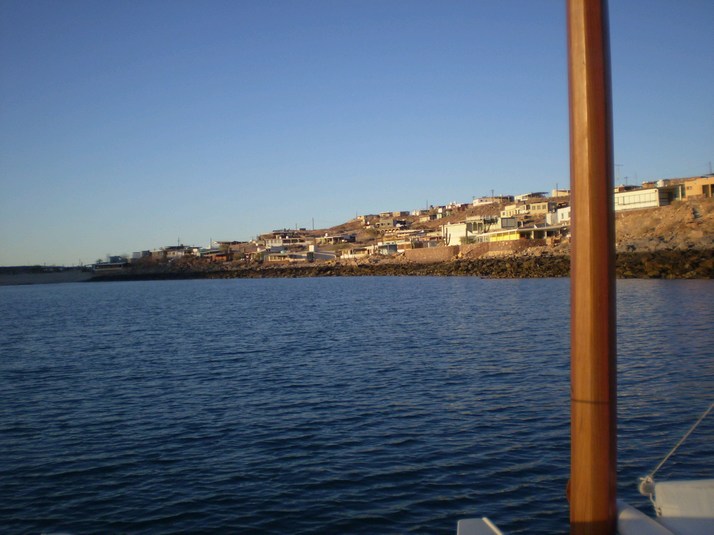 Oct 21 2008
A special someone's birthday, I should have mailed a card, but there are big fish jumping in the bay and a favorable land breeze... time to go. When I bleached the drinking water from San Felipe I overdid it and the water is mega bleachy and not drinkable, at least there is water for washing clothes:) I used three liters of this water to wash my long white (sorta) shorts and some underwear and socks. The bleach did a nice job along with the sun drying.
Sailing towards El Meurto ( the dead one ) in las islas encatadas.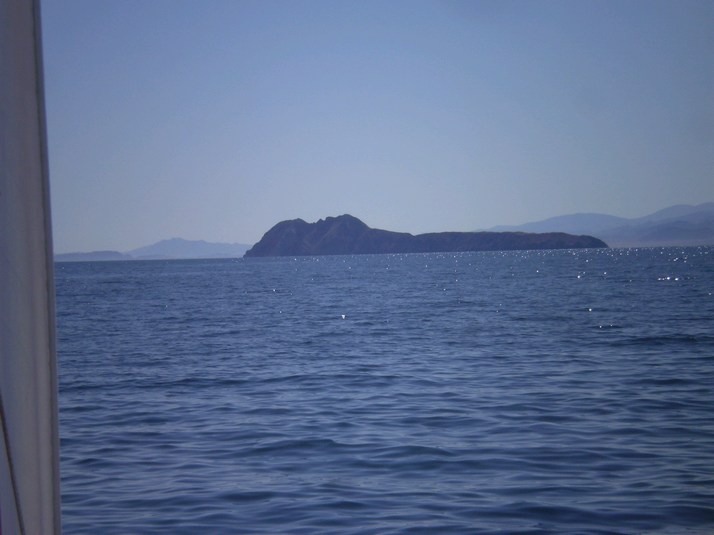 I anchor by El Meurtos head on the south side in a small bay with big cactus, some little bugs and a bunch of squawky birds. A light land breeze blows the little bugs away but I rig a screen for the forward hatch with some masking tape and stuff tissue in the main hatch.
El Meurto Anchorage, The Movie
Wednesday Oct 22 2008
Depart with the waking of the birds and after an hour or so there are only 3 or 4 flies left on death row. I am headed to what Panama calls Seal Island but on the chart is Los Lobos. Around 0900 the wind dies completely and I am drifting North on about 1/2 kt of current. I anchor in about 75' and nap. Around 1000 a light North breeze appears and we get underway. 1/2 hour later it is blowing 35-40kt. The Santa Ana is early.
Santa Ana Starts Up, The Movie
This is of course outside my experience with the boat, but not any longer. I have reefed down to just a single panel on a single sail and we are romping along nicely. My concern is the narrow shoaling pass at the bottom of Isla San Luis, and also that the wind may continue to increase. So I decide to head for Isla Encatada and see if I can find shelter on the leeward side somewhere.
'Miss Cindy' charges right in with me watching the sounder. I find a tiny point with some calm water behind it and drop one anchor. The bottom is very rocky and the shores are full of lava rock, sharp pointy mean spirited lava rock. I drop a second anchor quickly and determine that this might do for the night and maybe longer. I need to reset the anchors to play keep away from the pointy bits near shore. I also need to put trip lines on the anchors as they snaggle up in the rocky bottom. I finally get chain and trip lines on both anchors and now I am looking at shore lines to hold me in place. I consider two shore lines but settle on one. There is now a nice surge coming over the little point with a 2' swell. The rocks are 25' away. I put on my life vest and shoes and gloves and swim a line in to a nice rocky pinnacle and tie on a fat line to take the chafe and loop my 3/16" shore line thru that, then back to the boat where I adjust the bow bridals and use them to climb back on board. We now have a nice three point tie for the evening.
I stay up all night adjusting those three points as the tide goes thru its 14' range. The wind picks up. I have packed the abandon ship bag with the essentials in case the winds shifts to the West but it does not. The boat has a nice rumble in the gusts. I have experienced this type of fun before in Macintyre Bight near Rose Spit in the Queen Charlotte Islands (September 83) but tonight I am not so anxious, perhaps because I have a lot to do with tending the lines and looking at the rocks all round.
Thursday Oct 23 2008
We live to sail another day. I determine to leave early in the morning before the sea breeze reinforces the wind. It is blowing about 25-30 and we romp along in 6-8' seas with a single sail with two panels out. The main concern is the spit gap between Isla San Luis and the peninsula. I am concerned about these big waves coming into shallow water with me in the middle of it. Turns out my charts are not clear, the guide book less so and my fears unfounded as the channel carries 120' throughout. We surf to 10kt from time to time and get that nice, your should have faired the rudders better... buzz. Boat is happy, and so am I. We round up into Bahia Willard and beat in on just the windward sail to the anchorage. Drop the big hook and wait for the wind which jumps 10kt about 1/2 hour later. Anchored by 1015 averaging over 7kt for the run.
Gonzaga Bay Anchorage, The Movie
A Shampoo, a shave then ashore around 1500 after the wind dropped a bit. Met Bob and Carol Anne. Had brewskies, and played crib. Showed them Wolf which they seem to enjoy. Met some of their pals. Decided to give them the Thermo Electric cooler as I don't have the electrical budget to run it all the time and it weighs to much for occasional cold beer.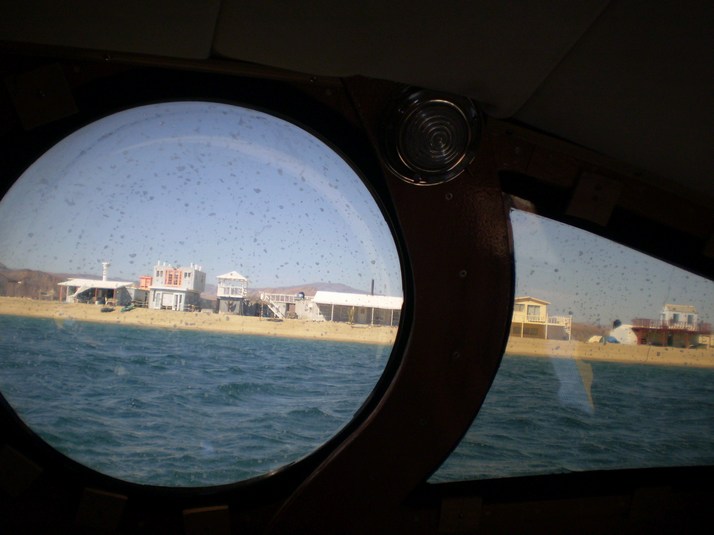 Bobs a retired plumber.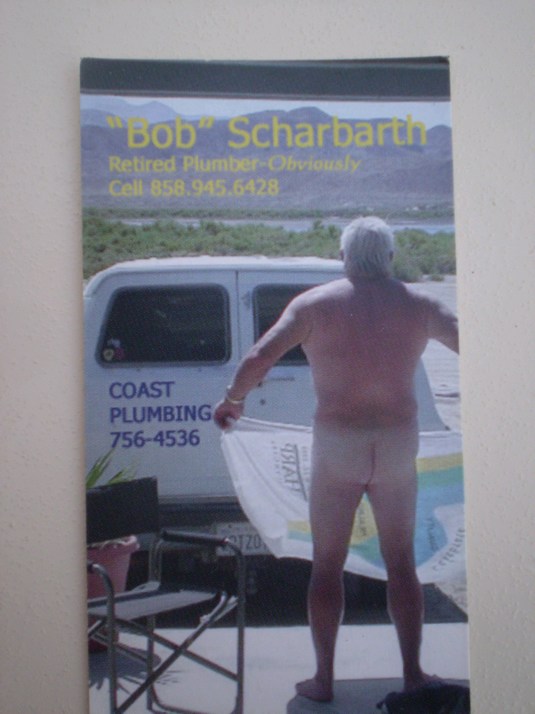 Friday October 24 2008
As I was planning on shifting to Gonzaga Bay to cut some distance off the run to Bahia Los Angles I determined I was already in that bay. Willard was the cute looking bay thru the cut to the North. Another compliment to the navigator. I increased the diameter of the spools on the roller furlers using a hand saw, knife, five minute epoxy, some sand from England I had on hand and some flour. I had to tune the alignment of the furlers with the hoist and downhaul lines but they work pretty nice now. Good internet access in the bay after I shifted about 50 yds South. Went ashore to see Bob and Carol Anne and took them to dinner at the cantina. $35 for shrimp and fish for three.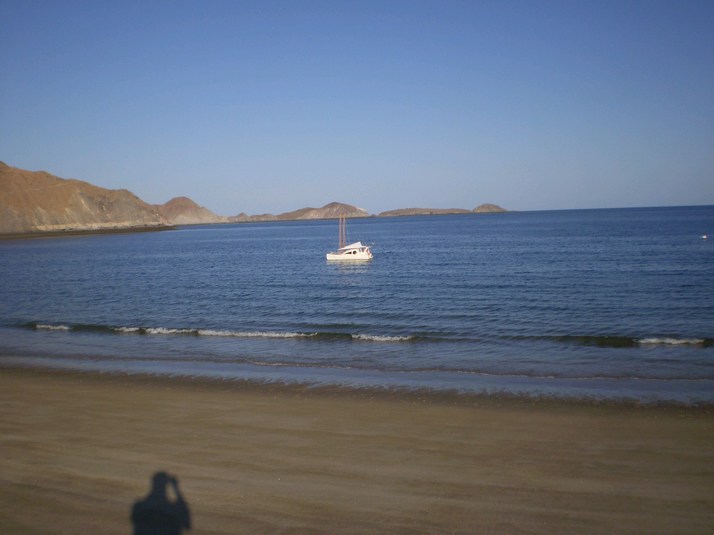 Wired in the compass in preparation for our first night passage.
---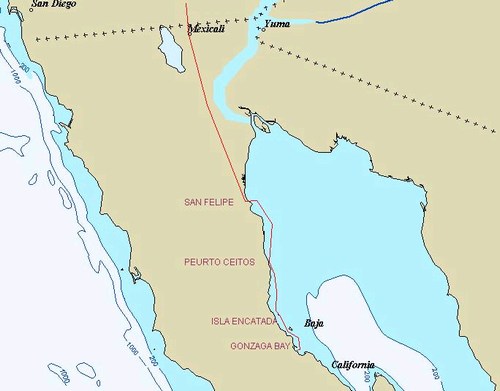 Distance Summary:
---
This Leg: 85 Nautical Miles
Hours Underway: 42
Hours on Motor: 1
---
Total To Date: 85 Nautical Miles
Total Hours Underway: 42
Total Hours on Motor: 1
---
Copyright © 2008,2009 Tony Bigras.