Travels with Miss Cindy

Chapter 19

Preconceptions, Cayo Largo, Thin Water, New 24 hour Record, Helping Out, Meeting Fishermen, Marina Hemmingway, Gulfstreaming, La Florida.
---
The photos in Cuba and sailing near Cuba were shot on disposable film cameras I got in Cayo Largo. They have a different visual quality about them.
Cuba is my last 'destination'. What I know about Cuba I have sponged up over the years from TV and the press and from a few people I know who have been here. Friendly place, good social care system, US embargo keeps it poor, sends doctors to some countries, sends troops to some countries, cigars, rum, Castro is dying, the US embargo is going away and soon Americans will travel here in large numbers.
I have come here to see it before it changes.
We check in bright and early to Marina Cayo Largo.
I arrived with my computer printed felt pen enhanced paper courtesy flag snapping pretty good in the wind.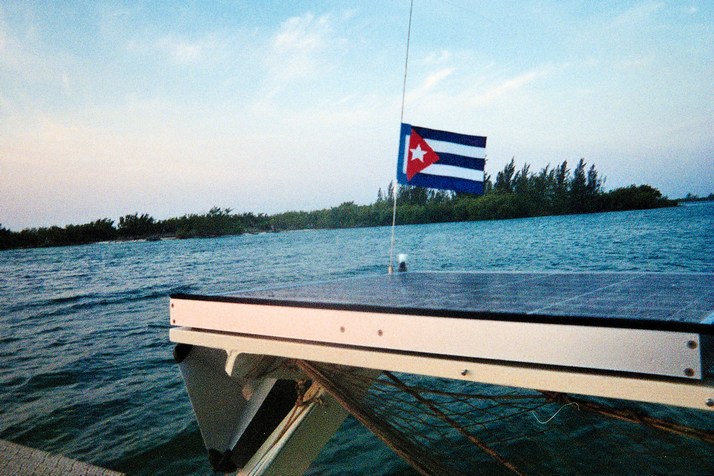 Interestingly the docks here are the exact same prefab type as at Santa Rosalia in Mexico. The assistant port capitan helps me tie up and after I step onto the dock tells me I cannot go ashore until the doctor clears me. I have my Q flag flying so this is not unexpected. A whole crowd shows up. There is a guy with a cute dog that everyone pets. A guy from the marina who explains the check in process and fees. It is fairly long winded so I don't pay that much attention to it. Figure I will see him in the marina office later. There is Immigration and Customs and the 2nd women Port Capitan on the voyage.
The doctor arrives complete with white coat and crushing handshake. Lets hope I am not contagious. He asks me a bunch of questions including where I have been, how do I feel, have I been sick etc. He explains I should come to the clinic after clearing in and pay my bill for the medical clearance $CUC 25, and that wherever else I go in Cuba I will not be charged any additional medical fees if I show that clearance.
Next aboard comes the guy with Sniffy the drug dog who runs around in the cabin but does not bother to check the cockpit lockers or the foredeck lockers or the bow compartments. Sniffy seemed to enjoy himself, nice to be doing what you have trained for I guess.
Next comes the PC assistant complete with hair net and shoe covers. He goes thru everything in the cabin, opening almost all the containers and moving stuff around. Like the drug dog he does not look in the cockpit lockers etc and like the drug dog seems to enjoy himself, nice to be doing what he has been trained for I guess.
Next the agricultural and the veterinary inspectors come aboard. The both have a look below but do not opening everything. The agricultural inspector notices the box of fish hooks for the PangaPaks and asks if I have some spare. I say we can discuss that when they have completed their inspections. He looks at my Florida grapefruit from Cayman Brac. He uses a loupe and has the vet guy have a look. I show him my eggs. I have options. I can keep them provided they are cooked before I leave port, and provided any trash from them is put in the special 'foreign trash' bin. I say they are a little busted up from the trip here ( some lightly squished ) please throw them out for me. I say I will get more here. They are reluctant. Perhaps as it turns out, because it is hard to get decent eggs here. They also inspect my rice for cooties. The vet guy cannot find any parrots, snakes, lizards, cats, dogs or elephants so finishes quickly. They too seem happy to be doing what they are trained for. They give me a piece of official paper each and say they will return around 5 pm for their $CUC 10. ok.
The agi inspector left with a half dozen SS fish hooks, he thought they would be great for Mahi-Mahi.
Immigration does not come aboard but scampers off with my passport.
A Customs guy is eager to come aboard. He rifles thru everything in the main cabin as well and has the same shortcomings re searching the rest of the boat and similar enthusiasm as Sniffy.
I am told to lock up and see the Port Capitan. Now would be a good time to mention the high level of familiarity many of the officials had with each other. Hugs and cheek kisses were common place, and, while I would not swear to it, I am pretty sure the PC kissed somebody on the lips.
Anyway. We start into the paperwork. Clearance from Cayman Brac. Not Grand Cayman. Clarify that a few times. Boat registration, yes it is tiny but a good sea boat. Now I am told to go get my $CUC . These are funny money for tourists in Cuba. Originally intended to not be used by Cubans they are used by everyone now. However in tourist enclaves like Cayo Largo it is only CUC not Pesos Cubano. Official exchange rate 1.08 $US to 1 CUC. However at the bank, which by the way had surly tellers, I pay 1.15 .
Back to the PC to pay my $CUC 10 entry fee, and my $CUC 15 navigation permit which comes in cute postage type stamps. Contrary to my initial concerns I am pretty free to navigate anywhere I want. Need to report in to PCs or Guardia units where they exist but free to anchor anywhere else. I get a big fat form with lots of entry and exit stamp space they will fill in at ports as needed. I give them my estimated last port of call in Cuba , Marina Hemmingway near Havana. I get a 30 day visa to stay. They fill out big forms detailing the boat and it's equipment, motor, dingy, etc etc etc. I sign my parts of those forms and she signs her parts. She keeps it all. I will get it when I clear out of Cayo Largo.
Next over to customs, next door. A bunch more paperwork there too. Three guys in the office, happy like Sniffy. While there Immigration brings me my passport. It is not stamped for entry into Cuba. Apparently like Israel they don't stamp as some countries take offense to you visiting Cuba or Israel. I ask for a stamp. I explain I would like a record in my passport of having been in Cuba. He goes and gets the stamp and practices on a piece of paper first, then stamps me in. He seems happy to do something he does not get to do very often. Customs fee is I think $CUC 15.
Next up to the Marina office to pay for my tourist Visa $CUC 15 and do my paperwork there. It will be around $CUC 7 per day for moorage.
Total entry cost is around $CUC 90 and takes about 2 hours.
Everybody except money changing staff was friendly and helpful. Marina manager shows me around the facilities and takes me to the store and introduces me. They have no public internet but I may use his computer to check mail and what not. I may not plug in my laptop to his network. It turns out his computer is pretty heavily firewalled but works for hotmail. There is apparently an all inclusive hotel that I can rent internet at for $CUC 10 per hour. I try it same day and they will not let me plug in my laptop either and it has very limited applications and heavy firewalling.
Marina Cayo Largo was an excellent place to enter Cuba I think. Very friendly and helpful staff all. Facilities not too bad. Laundry was broken ( probably for quite a while ) , they lock up the bogs at night for some reason but security is never far away :( Enough other yachts to garner intel and other experience. Supplies and provisions were pretty poor, but that is Cuba. Only fresh veg was onion. No fresh fruit. Some marginal bread. Poor eggs. Marina Cayo Largo had far better provisions and everything else than the next two 'marinas' I stopped at in Cuba. But that is offical Cuba. There is also the omnipresent black market. Virtually all Cubans participate in it. A limited selection of fruit and veggies of medium quality was available there though we did not partake.
I saw no children in my two days in the area. The whole island is a tourist enclave. The staff work here for 3 weeks then a week back at their home which is on the Isle of Pines about 50 miles West. These are the Cuban residence areas.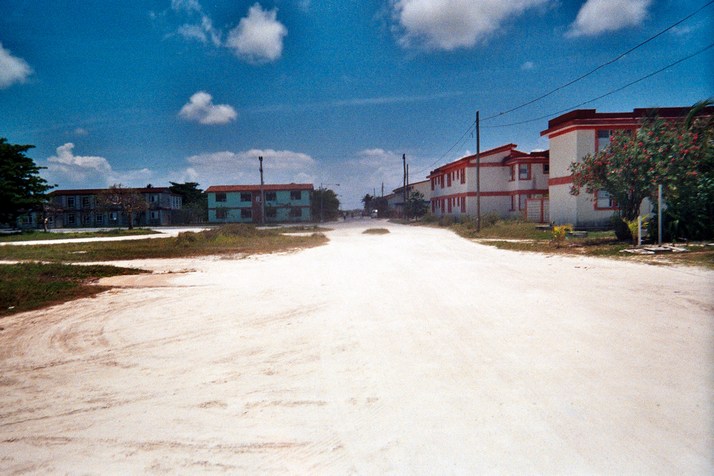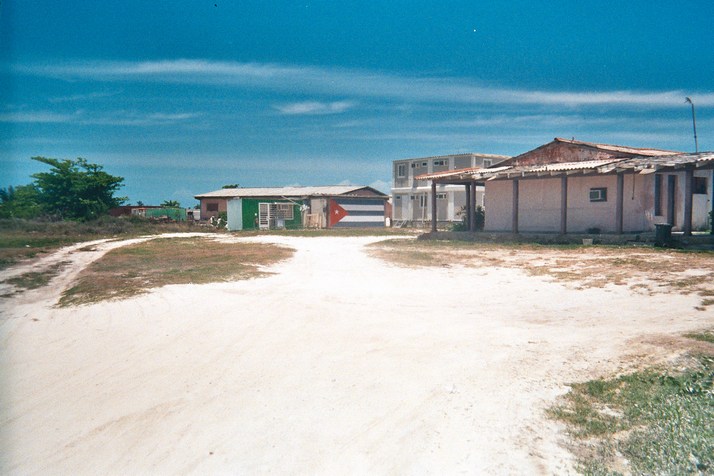 One of the other cruisers lent me a guide for planning my Cuba trip and I wanted to photocopy parts of it. The Marina has a nice photocopier and they were quite willing to but could not do the 70 pages I wanted because they did not have enough paper or toner. They called the fancy hotel to see if they could but it was the same story.
Since Cayman Brac the mosquitoes had been a problem and they continued to be in Cuba too. The start of the wet season. One morning when I was out the roar and cloud of a mosquito fogger went up and down the streets. I had not seen one of these since the 60's on the prairies when all us kids would ride in the cloud on our bikes.
I practice my covert photos with this side arm shot of some police activity.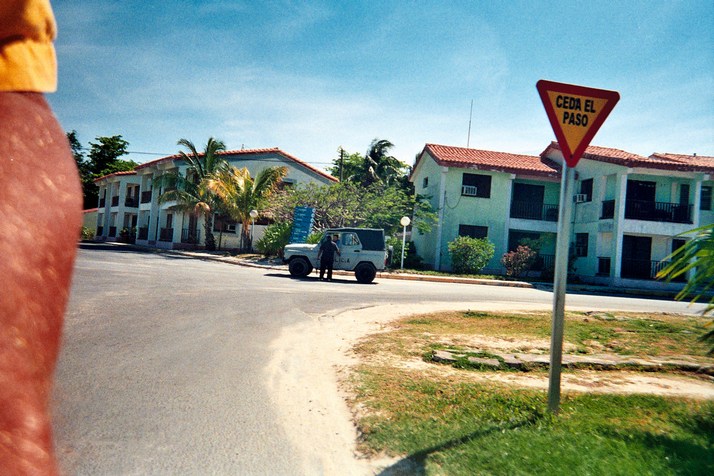 They have a tortuga farm too that you can visit for a small fee.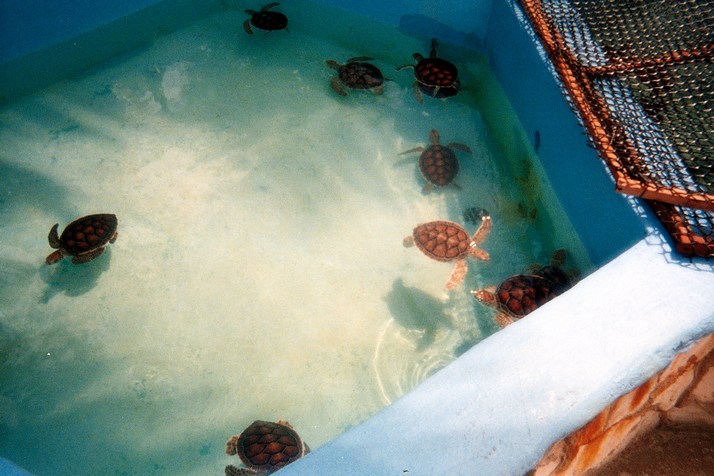 There was a bar/restaurant just off the dock. Beer decent value at $CUC 1.10, mojitas pretty bad all round. No fresh limes you see. Plus tiny in tacky plastic disposable glasses. Cuba Libres without merit as well. They only had one kind of beer, Crystal. Food consisted of chicken legs/thighs with greasy fried potatoes or a pizza. Supposedly one of the better pizzas to be found in Cuba. On a scale of 10 perhaps a 4. Cheese or cheese and ham. The chow was reasonably priced. They did not have Cuban flags for sale anywhere there. Some nice Cannucks from Kirin VI who are serious Cuban veterans gave me a spare flag they had. About 12 x 18 inches and the whip antenna took a beating till I added some string stays. Nice Folks all round.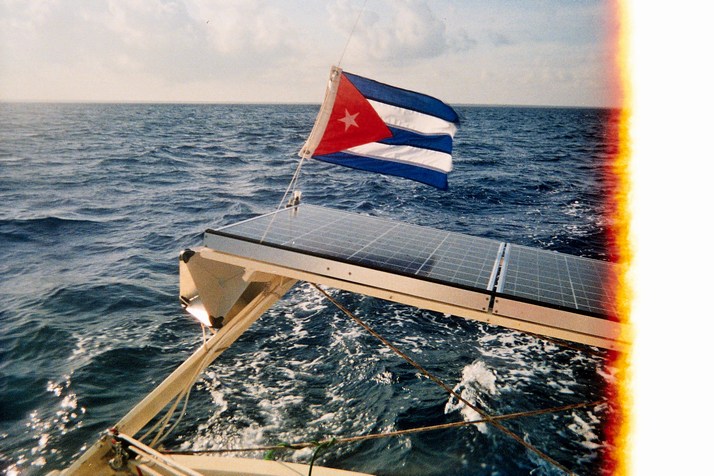 It is a big tour and charter base. There were scads of big cats there doing day trips, and these really spindly trimarans.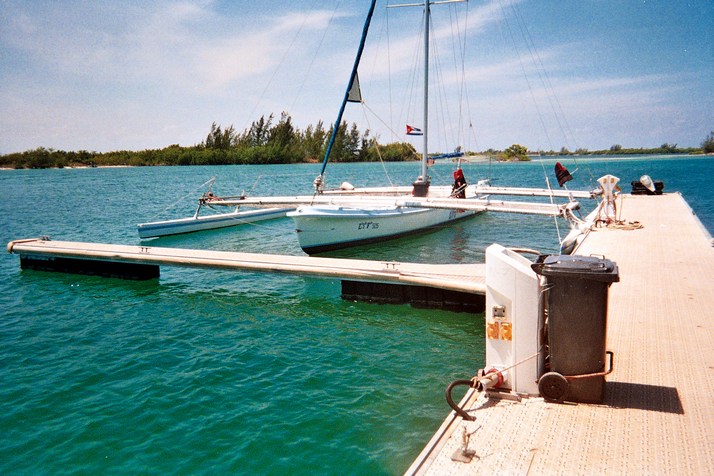 Four big charter cats came in later in the day. They all had Austrians on them. I spent my first evening enjoying the camaraderie of one boats crew. I gave them my last two Nicaraguan cigars and enjoyed lobster dinner and great conversations. There was a father and son, a prison guard, a semiconductor engineer, and a money guy, plus some more. I got to ask simple questions like 'what is the difference between the German and Austrian languages' and watch 10 minutes of passionate discussion. I got to tell my Arnold Schwarzenegger joke. I have told that original joke perhaps a couple of dozen times, but clearly this was the right audience. Belly laughs from 6 out of 8 and smiles from the other two. They are proud of Arnold, they said he is Austria's second most famous export politician.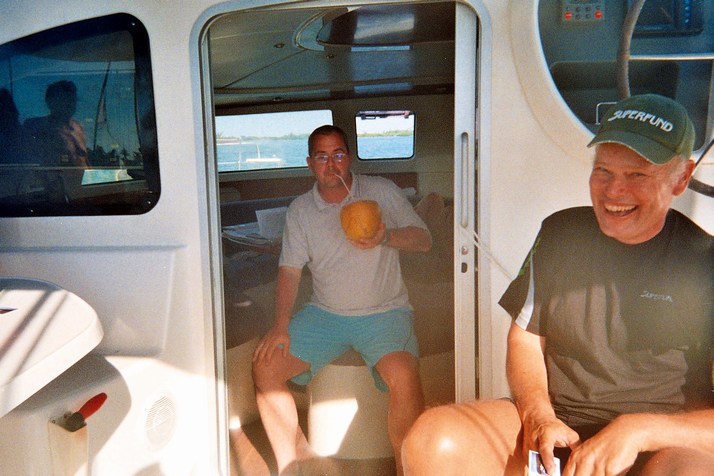 Nice guys and interesting discussions. They had been in Cuba about 2 weeks and they likened it to a planned economy Eastern block country in the 60's. You cannot get anything except on the black market and not a whole lot there either. I asked you mean like East Germany? No no no, East Germany was never this bad, one of the other states.
I clear with the Port Capitan after two nights here. Next port will be Maria La Gorda ( Fat Mary ) about 200 miles or so West. I expect to anchor at a few places along the way. My cruise plan is to sail in the thin water of the cays and go North around the Isle of Pines. The PC has told me to radio her when I leave.
It is blowing about 20kt and I let the boat point into the breeze on its bow bridals tied to the dock and hoist the sails with a pretty good reef. One of the other yachteros mentions that 'the waves will be bigger outside the bay'. The Port Capitan has come down to see me off, and Immigration, and Customs, and a couple of yacht crews and a bunch of the Austrians. Most everyone but Sniffy it seems. I set my harness to long mode, and like Mark Twain advises cast off the bowlines. We sail out of the marina and romp out into the bay.
The thin water is very challenging. There are shoals where there is supposed to be 6 feet and sand where there is supposed to be 2. Three hurricanes in the past few years have made a joke of my charts. I am a little concerned sailing downwind at 4 to 5 kt not knowing what to expect ahead. We manage to drag the rudder tips at one point where there was supposed to be 6 feet. I am quickly deciding that perhaps the big blue would be a little less of a problem. That decision is helped by this tree sticking out of in 6 feet of water.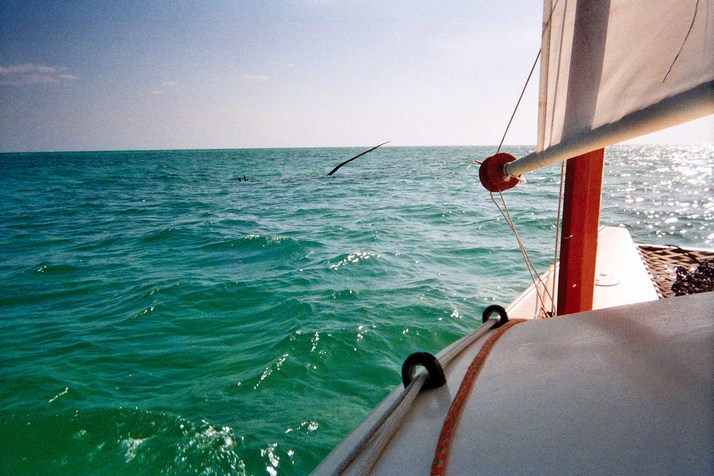 We stop at the Cay of Women and tie to that scruffy pine and let the tradewind hold us off the classic beach.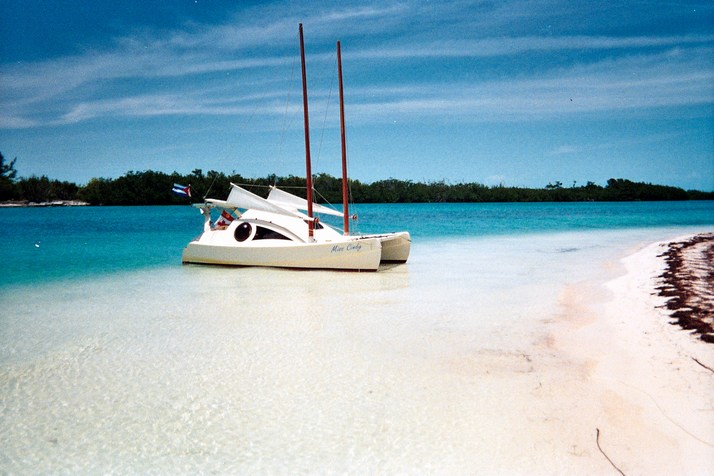 The iguanas don't seem to mind us.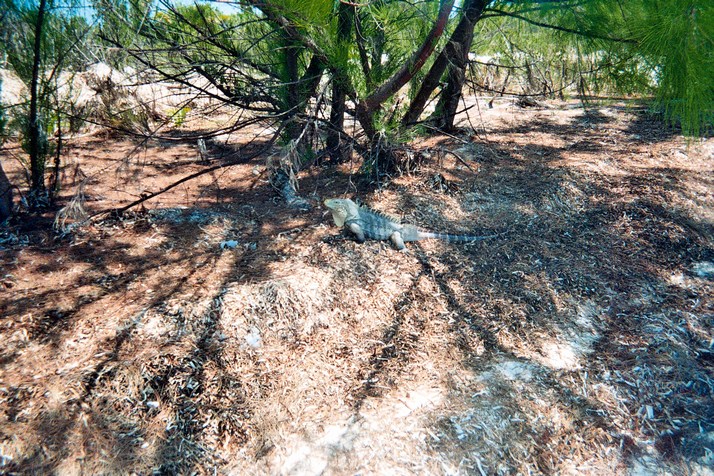 After a bit of rest I decide to head for the next likely nice spot about 10 miles away. Again we struggle with the thin water and when we try to approach the lee beach to anchor it is too thin. We spend the night chucking about in 7' or water and 2 1/2' waves. That settles the plan. We will move towards the barrier reefs and deeper water. Next stop Cayo Matias. We head out at first light and cross into deep water outside the reefs. We see this lone boat slogging into seas we get to romp on. I angle over to him and give a wave. He returns with a soulful toot on the ships whistle.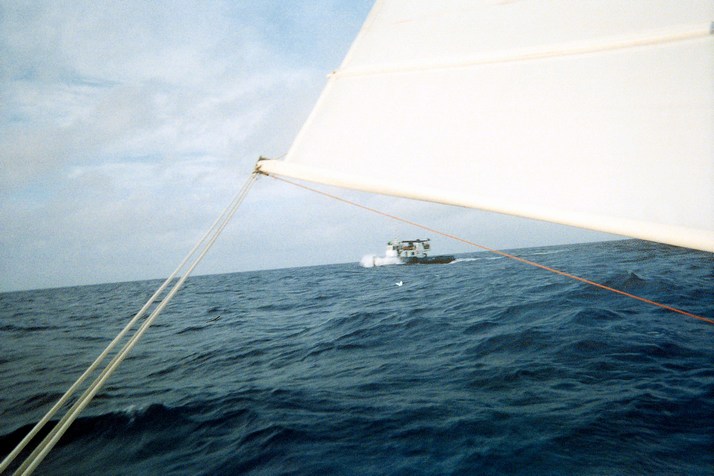 As we approach Matias in mid afternoon I am a bit anxious. I have a hand copied GPS coordinate for the reef entrance but, you can't trust those things. As we angle in it looks like there is a pretty decent entrance about a 1/2 mile before the coordinates, well in the range of chart error. But we press on. The sun is high and over our shoulder, the water colours are textbook, greens, blues over the sand and yellows and browns over the reef. The gap is about 100 yards. We sail right on thru and into the lagoon. It is another first for me, entering thru a barrier reef. There is a wrecked sailboat on shore. We sail towards it till the water is 4' then motor in close for this photo.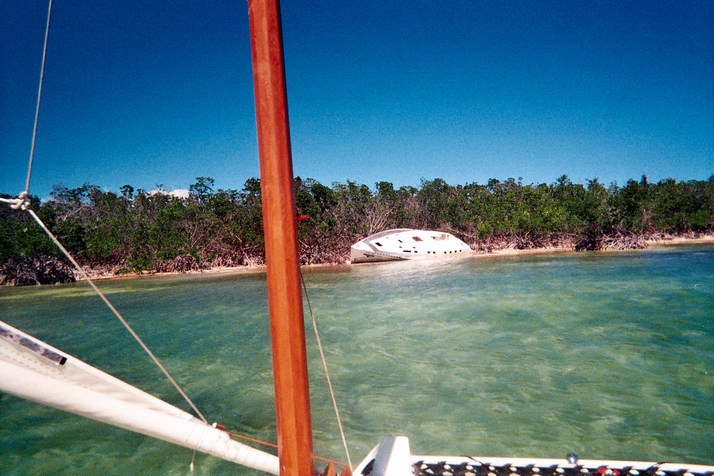 We spend a lazy afternoon and rest up for the jump tomorrow. Fat Mary is 125 miles but it looks like there is a little bay on the bottom of the Isle of Pines about 40 miles from here. We might nip in there.
We head out at first light thru the thickening water and clear the end of the barrier reef. The wind is on our stern or quarters. Mid afternoon I approach close in to the bay at Isle of Pines. It is not a friendly coast. There are endless uncharted rocks extending a quarter mile from shore. The swell is our friend and points them out for us. The little bay which looks sweet on my charts has a barrier reef right across it. We won't be getting a good nights sleep in there. We press on. I work on helping Red the bungy cord with the downwind self steering. We are basically broad reaching to let the lateral plane help with that. I throw out some lines and buoys to see if they can help keep us on course.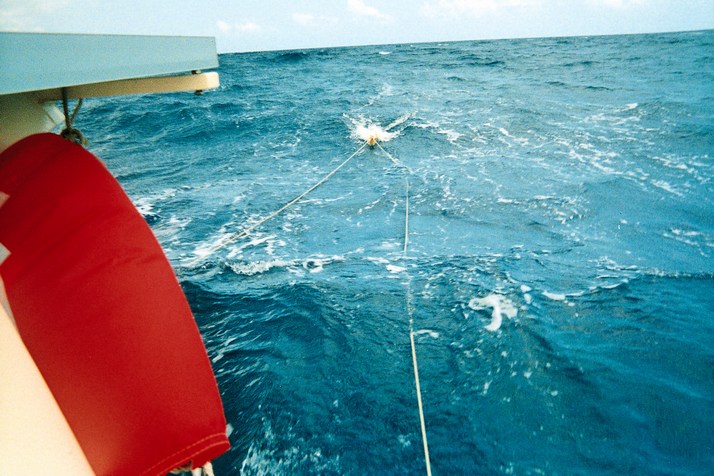 They don't help enough to merit dragging them around in the dark so I pull them in. We are moving well and Red is letting me doze from time to time between backwinds and gybes.
Dawn comes soon enough as we race past Cabo Corrientas. We dash up to the 'marina' at Fat Mary and are told to tie along side a dive boat at the pier by the Port Capitan. We covered the 125 miles to Cabo Corrientas in 24 hours. A new 24 hour run record for us at an average speed of 5.2kt.
The PC comes aboard for a look around and goes below but does just a cursory inspection. In speaking with him I sense an affinity for rum. We go back to his office/home and while the TV behind his makeshift desk runs a soap opera we do the paperwork. His Sniffy lies outside the door enjoying the shade.
I arrange to have my laundry done by the hotel staff and will pick it up later in the afternoon. There is a dive shop, a hotel, two restaurants which are only open part of the day, a gift shop, and a bar. Nothing of note in the gift shop so I retire to the bar. Beer here is $1.50. They have food. You can have a grilled cheese sandwich or a grilled ham sandwich or a grilled ham and cheese sandwich. The grapevine had told me you could get decent bread out the back door of the restaurant if you asked. That proves to be the case and the other yacht in the bay makes that arrangement. Quite odd to go into a restaurant and talk hush hush to the waiter to arrange your bread pickup time.
'Carlos' when asked mentions there is a fishing village in the bight of the big bay to the West. He says you can cab over or bicycle up there pretty easily. I ask about sailing there. He tell me that would be dangerous and the Guardia would not let me go ashore. I ask what danger. He says in apparent seriousness that the fishermen might slit my throat. He does not appear to understand the inconsistancy with me going there safely by bicycle. I come across this type of warning a couple more times in Cuba. Those that say it actually seem to believe it.
April 30 2009
We check out with the PC in Maria la Gorda and sail off. On the recommendation of 'Carlos' at la Gorda I plan to stop in Marina Morro. Lovely broad reach to run. Modest well behaved seas and only 35 miles to the marina. We are there in 5 1/2 hours. zoom zoom zoom. We pass two wrecked keel boats near the lighthouse 5 miles from the marina. The lighthouse hails us on VHF 16 'catamaran catamaran, Canadian catamaran'. Are we headed to the marina? Perhaps, but if the wind is good for Hemingway we will carry on. We sail in the lee of the shore in 8 to 10 feet of green water. There is something up ahead, lawn chairs on the beach, a few huts, a couple of big antenna towers. It is the little hotel about 2 miles from the marina. I tack close to the beach perhaps 50 feet from shore, still about 6 feet deep. I am tempted to hit the beach. Carlos from Maria la Gorda says the marina is nice. I get a radio call from the hotel, 'Catamaran Catamaran' 'Are you looking for the marina?' No just having a sail I say.
I get around the point and the wind is snotty. The Hotel beach looks even nicer in hindsight. But on to the marina. A little motor sailing. I enter between red and green and get a hail on VHF from the only boat at the quay. A big sloop 'Saudade' He suggests we tie up behind him. I douse the sails and mosey on in. There are big black rubber tubes hanging from chain along the quay. I get my fenders and lines on and motor in. The wind is blowing off the quay and I realize after I cut the motor I need a little more. I start it and go to turn the motor to swing us in. for some reason it does not turn. As I briefly ponder that I hit a rubber bumper at a good clip and bang my head on something. I shake it off and stop the motor and throw the docklines to shore. Don't know what I was thinking. Boat is fine, I am more embarrassed than anything. `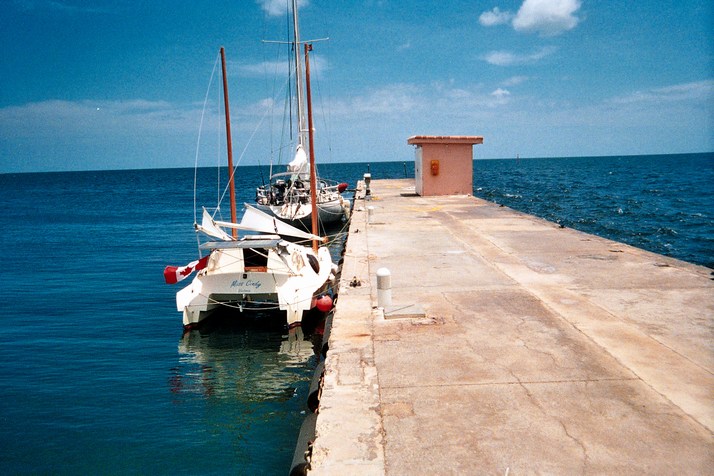 'Saudade' has been stuck there for 6 days with a broken lower shroud ( rod rigging ). The marina is oh so odd. They have gas and diesel but no 2 cycle oil. There are showers and banos but no laundry. The little store just has cigars. There is a bar slash restaurant where you can get mahi-mahi ( Not ) or chicken with rice tomatoes and cucumbers. That's it. There are 4 staff who watch TV unless you need something. They lock up the bathrooms at night and open them if you knock on the lounge doors. They have a generator that runs all the time burning 60 gallons of diesel a day. Even if they fit in the 4 boats that could tie to the pier and everybody ate ashore and bought cigars every day they would not cover the cost of the diesel. The pier has surge and salt spray blows over it with just 20kt of NE. A place without any purpose it would seem. I think I will shift to the little anchorage 3 miles east tomorrow.
It is an odd marina. If Carlos was here I would ask him what was so good about it. There is a pier with these big rubber things which of course make my fenders black and in the evening when the tide drops a foot 'Miss Cindy's' toerail gets a similar treatment. They charge me $10 per night which is about standard fare for a real marina. But the water on the dock is intermittent at best. There is no power. They have showers and toilets but no TP or laundry facility. The staff are pretty friendly for sure but, why are they here. Why is this place here. The PC and Immigration arrive on a bus 45 minutes later.
I have a shower and bring some brewskies back to 'Saudade'. The water goes off a few hours later and does not come back on before I leave next day. 'Saudade' broke a lower shroud coming over from the Isle of Youth (pines). She is a 70's Admirals Cup winner. Some Cubans from an oceanographic vessel tried to frog up something but no joy. I tell them I will help them get jury rigged and they will be fixed up before I go. Jolanda and Jan know a bit about 'Miss Cindy' They saw her in Mazatlan in December. Jolanda tells me she wrote an article about her that was published in the Netherlands and I am famous there.
A night of food and wine and conversation and music and rum. I bring out some crackers from Mexico and Doug's smoked salmon from Alaska that he gave me in Hualtuco. It is very nice. Thanks Doug.
A couple hours earlier Jan had helped improve 'Miss Cindy's' tiller head by drilling it out for a new 5/16" bolt which he provided. We also worked on a plan for his stay problem which involves going up the mast which we will do tomorrow when everyone is sober.
I have been working hard on 'Miss Cindy's diet. Been giving away stuff and watching the waterline rise up. Gave the laundry lady in Maria la Gorda a bunch of food from Mexico, Nicaragua and Cayman Brac, and some PangaPak stuff. Gave the Port Capitan some salsa and tostadas from Mexico and a bottle of Flor de Cana from Nicaragua. I noticed the day before at check in he had an interest in rum. He however seem keener on the chow.
At Marina Morro I have been hard at work too. One of the fellows asked if I had any spare rope. He got a 2 kilo anchor, 20 feet of chain and a length of poly pro. I also got to give some stuff to the crew of 'Saudade' who particularly like the few eggs I could spare. Jan plays guitar and I heard from him and Jolanda that one of the crew at the marina played quite well but did not own a guitar. I have one aboard that I have been trying to learn with but that has not turned out to well so now I think it has a home. Next day I ask him about his guitar playing as we go to the pump for gas. They have gas but no 2 cycle oil but Jan has given me enough for one of our Mexican gas cans. When we talk about guitar his eyes which are already pretty bright and animated light up even more. I tell him I have one aboard and would like to give it to him. He seems pretty happy with it.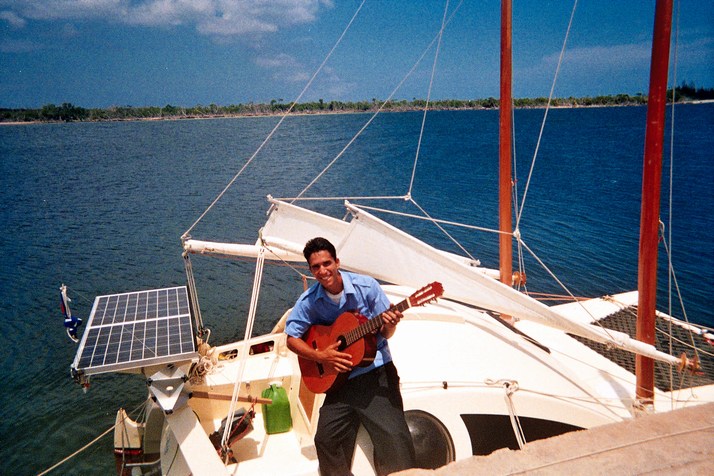 Jan and I go to work on the mast. I sew together the two 6' pieces of webbing I pulled from the bow net and he goes up the mast and with several turns makes a strop around the spreader base to a big block he had spare. We use a spare dynema halyard and get four parts on that then to one of the 18 winches on the old race boat. Seems to do the trick. ( Jan later improves it with a reaching strut ).
I had seen the PC earlier in the day and he was aware I wanted to leave at 1400 but after several phone calls from the other staff showed up around 1500. While I was waiting for him the local agi inspector and doctor showed up to ask 20 questions. Swine flue in Mexico gives them a chance to do what they have trained to do. I get to answer the same questions I got asked in Cayo Largo. When the PC shows up he processes me quickly and I ask him some questions. Does he expect much to change in Cuba in the next few years? He looks at me with puzzlement. What do I mean? Well Castro will die? Raoul. The US embargo will go away and lots of American tourists will come? We already have tourists. So you don't expect any changes? Why would I want changes?
While we are talking he is constantly correcting my Spanish pronunciation and suggesting alternate words to my clumsy expressions. A patient but firm teacher. I ask him about his rank insignia and he draws on the back of a 'Miss Cindy' card a major and capitan insignia. Typical of my experience in Cuba, helpful and friendly.
I say goodbye to the good ship 'Saudade' and say I will see them in Havana. Push off for a nice late afternoon sail to the little islands. Nick in behind one so I am out of sight of the marina and anchor in 4' by some mangroves.
Next couple of days are sailed inside the reefs, fairly pleasant but all on the nose as we are headed East. Anchor off a nice island for the night. It rains hard that afternoon.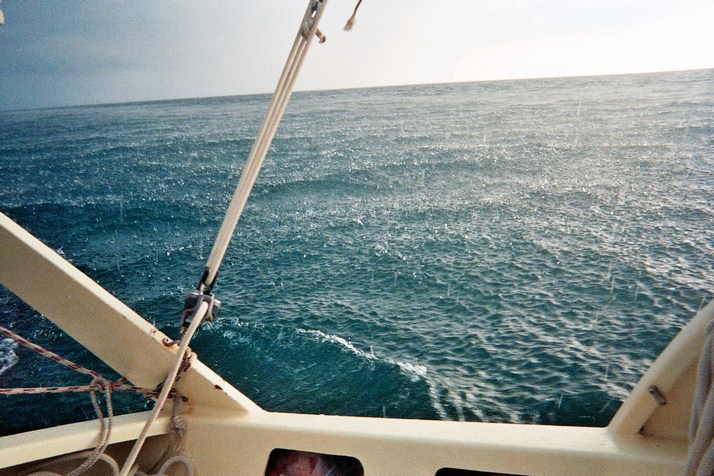 Next day carry on towards an anchorage near Santa Lucia.
Along the way I come across these three men in a boat. They hold up some big lobsters they want to sell me. I decline but give them some PangaPaks and they trot out the list of things they would like. First up some 1/8" cord for their spear gun lines. Don't have any but I give them some line shorts I have. Next rum. Sorry guys. A hat? I give them 3 flag bandanas I have from the PangaPak stuf. Rum? Sorry guys. Water? This makes no sense to me as free potable water is widely available in Cuba. I give them 4 litres of Mexican bottled water to lighten us by 10 lbs. Rum? Sorry guys. They want to give me a couple of lobsters, thanks but no. Say our goodbyes and sail on.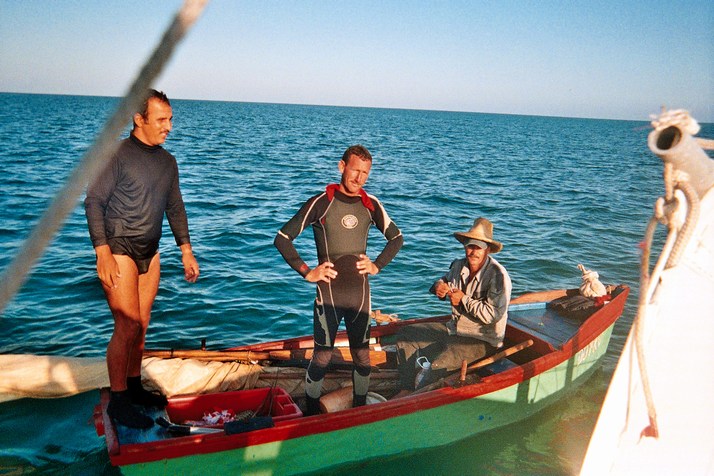 The water changes from a pretty blue to a green. It is still clear and the same depth, all I can figure is the sand has gone from white to yellow???. As I sail past the big lighthouse I notice some floats on the water. They are connected to snorkel fishermen. We are 2 miles from shore. I suck the air out of a PangaPak and toss one of them it. He has a look thru his goggles and gives me a thumbs up. Santa Lucia is noted for it's sulphuric acid plants and the scorched red plumes on the hills to the West testify to that. I anchor further East by a little island.
Just before sunset a 12' wood boat with a couple of fishermen and a little dog comes along side. They ask where we are from, who Cindy is etc. They have just come in from their afternoon fishing. They go out a couple hours in the morning and again about 3 in the late afternoon. It is a 12' rowboat made of 1/2" planks. It has what looks like a big slab of concrete covering the whole floor. I ask. It is foam in a heavy plastic liner. Later another identical boat comes along side. Some committee thought it would be a good idea to put flotation in all these boats they made. Should have put it under the foredeck and side decks as it would not want to turn upside down when swamped.
I ask my 20 questions about change. Same puzzled look. Fidel? Raoul. Raoul is 76 he will be gone soon too? ( In Cuba they don't say Fidel, they just motion a beard with their hand under their chin. ) The fisherman says, Another person-- beard gesture. American tourists? Tourists don't come here.
I offer them some rum and suggest he pour out the couple of inches of water in a old pop bottle and I will pour some in there. There is a bit of confusion. Ahhhhh. It is not water but home brew rum, Ron Cubano! He offers me some and I partake. Yeasty, strong, but clearly rum. We have a swig of Havana Club Especial to compare and chat some more. There is only one fish in the boat, pretty small too. There is also a sack that moves a bit from time to time. He shows me. It is a giant rodent. 'Tastes very good'. The dog caught it on an island.
We talk about change and how things are in Cuba. He is very happy, plenty of food, likes fishing, no pressure to catch a quota. I realize as I am talking to him that where I am from there are 60 year old guys waiting to retire so that they don't have to worry about the cost of housing food health care etc, and so they can go out fishing every day and share the catch with their friends. This guy retired long ago.
Another identical boat comes along side and we pass the rum around and chat some more. It has a young guy and an old guy. The young guy chats and the old guy keeps working a hand line between swigs of rum. In half an hour he has boated three small fish. They invite me to come to their village a couple of miles away in the morning. I tell them it will depend on the wind. If it is unfavourable for Easting I will come on over. They row off into the dark and I can hear them over the water for quite a while.
May 5 2009
We head out before sunrise and use the remainder of the land breeze. Later it comes up nicely 15 to 20 from the East and we beat our way along. When we head offshore the waves get nasty but we get a 1 kt current bonus. When we tire of that I tack inshore. We do this all day. I decide to tuck in beside the point by Honda Bay to catch a few hours kip and let the breeze drop before heading the 42 miles to Havana overnight. I hear the Port Capitan on the radio. I do not want to go into port to check in and out. I anchor in 5' in the lee of the point just before dark.
An hour an a half later some boat is along side and wakes me up. Neither guy has a uniform but one does have a clipboard. I had heard from other yachts that if you anchor in a bay with La Guardia they will want you to anchor right in front of their barracks. The guy with the clipboard tells me it is dangerous to stay here. Emigrants might attack me and kill me and take my boat to get to the United States. I say I am not concerned. He tells me it is dangerous to stay here as big waves come in here. I say if the waves come I will leave. I say I only wanted to stay a couple hours to rest before heading to Hemmingway. The guy with the clipboard tells me I have to check in. I say I am not in the bay and do not want to check in and out. I just anchored along the shore for a small nap and want to set sail now for Havana. I have to check in. I ask him to check with his boss. His hand held radio does not work so I offer my radio. I have to check in. I object and he has an insistent ordering type voice. I say ok. He says it will be no problem. I say it is a problem for me, in two or three hours the breeze may have changed. I tow their skiff behind and follow the clipboard guys directions.
We get in front of the barracks and he wants me to anchor. I say we can anchor in closer it will take less time to travel there and back in the dinghy. He looks confused. It develops he thought I was one of those annoying yachts that argues about anchoring in front of the barracks. He did not realize I just wanted to leave. He is all appoligetic about his poor English. I say it is my responsibility to be understood in Spanish, my fault for not being clear. No need to check in. Handshakes and off I go. There is no wind. We motor all night and arrive near Havana just after sunrise.
I am looking for 'Tubos Fishermen'. I read about them in a novel. They use truck innertubes for boats. All I see are a bunch of guys on styrofoam block boats. Apparently things are already changing.
I call up the marina on VHF 16. It turns out they watch 7. Official Cuba however watches 16. I am told to pull in to the inspection pier. An hour and a half later. Two drug Sniffys and their handlers have been aboard. One explosives Sniffy and it's handler. Two Customs guys have rifled thru the cabin. The assistant PC has rifled thru the cabin. Another customs guy has been aboard looking around. They have taken my flares ashore in a plastic bag I have had to provide. There are two pages of paper work for the flares that I have signed. I always read them slowly as they repeatedly tell me to 'sign here'.
Another form is for equipment. How many GPS? Three. They ask more detail. How many handheld GPS. One plus SPOT. They want to seal up my old garmin in a plastic bag I provide. After I put it in the bag and they wrap it with CUBA ADUANAS tape I demonstrate how I can operate it inside the bag. I suggest maybe we should take out the batteries. They agree. They don't care about SPOT. No display screen what could it do? Maybe in tracking mode I could walk near Cuban nuclear missile sites, oh hang on those were taken out in 62.... boy are these security protocols old. Guess they don't know about Google earth.
During all those inspections nobody asked for anything that they saw. 'Miss Cindy' is really light and not much is left aboard. Another yacht tells me when they were 'searched' the PC asked if he could have the 8GB thumbdrive he found. Skip said no.
Already I do not like Hemmingway Marina. Also got 20 questions from the Doctor. Felt like telling him to....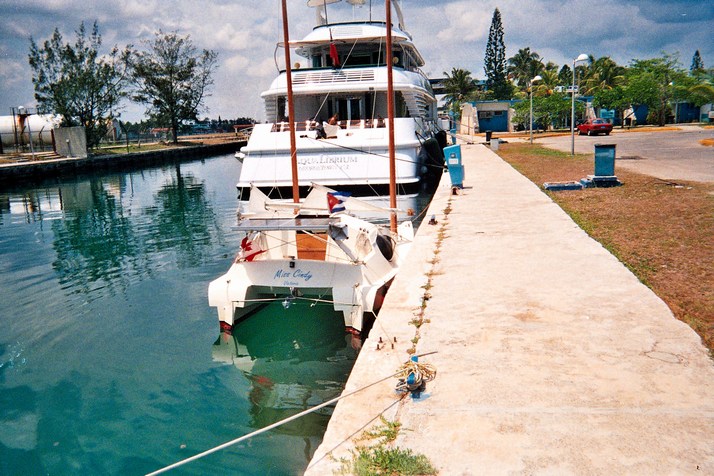 In Marina Hemmingway. I meet a Canadian boat that was in Providence Island about a week after me. They say that Agent Bush told them a 10' catamaran had come there the week before. Perhaps a 14' catamaran with two blonde Swedish girls but not a 10' catamaran, who would believe that?
Internet access in Cuba has been a problem. Woodenboat forums are blocked for example. Had not found any wireless to use my own laptop which is needed to update my website. I use the hotel on the next pier over. It is good for hotmail, and pricy and a hassle. I get a friendly 'where are you going' from the same guard I walk by 4 times in 2 days. Money changing or hotel are the answers he expects and needs. He also inspects trucks and has them open up the back and the driver sign in and out. I take a Cuban taxi, one of those old cars. 10 cuban pesos 40 cents. It is a bit of a squish with all the people but nice to do once. I find the hotel with wireless and get 3 hours for $21 and pump up the web site.
It is May 6 2009, one year to the day from the start of construction of 'Miss Cindy' and we have sailed about 4500 miles and arrived at all of our 'destinations'. Cuba is a disappointment but if you never taste sour you cannot fully appreciate the sweet.
On a regular taxi back I talk to the driver who has excellent English. He is 72 years old. His wife is a doctor, his two daughters are doctors. Between them they make $90 per month. The number one reason people become doctors in Cuba is that they get to travel to other countries like Venezuela where Cuba trades doctors for oil.
He is surprised I know all about the black market. He asks if I have been to Cuba before. I explain it is like any fully planned economy, they work poorly and need black markets to work at all. He agrees and sites the example of everyone getting a cigarette allocation even if they do not smoke. Naturally those are traded for other things they want. He does not expect change but would like a little bit. Better wages mostly. AND .... Interestingly.... he blames the big bad US embargo for Cubas woes.
Another yacht introduces me to a Cuban they have known a while and we head out to his house to visit. He does nice custom fibreglas work and lots of other things. We have dinner and chat a bunch. He comes down to the Marina the next day to have a looksee at 'Miss Cindy'. As we approach he tells me he cannot go aboard. I know this from the nasty set of rules I was handed when I got to Hemmingway. When we are fifty feet away a security guard is moving quickly towards us. By the time we are 10 feet away and standing and talking he is on our shoulder.
A quick note about corruption in Cuba. Unlike Mexico where they extort money from the visitor, in Cuba they steal money from the state using the visitor.
For example if I wanted my pal to be able to come on the boat say to fix a whatsit, I could pay $45 for a one day permit. After he leaves I take my permit back and the guy I got it from tears up my copy and his copy and gives me $35. There is now no record of my having the permit.
For example when I checked in at Cayo Largo I paid the PC $10 for country entry and $15 for a navigation permit. I got stamps stuck on my nav permit but nothing on my entry permit. At the next marina the PC asked where are my stamps for my entry permit. I shrugged ( that is good for a lot pretty well anywhere by the way) and he moved on. At the time I thought he was scamming me but it looks like the PC at Cayo Largo was perhaps scamming the system.
For example when I checked out of Cuba ( See joyous experience below ) I paid for two $5 exit stamps which were carefully paperclipped to my receipt for that and my receipt for marina fees by the ladies who wrote up the three copies of my despacho. They told me one was for xxx and one was for yyy forms. The PC carefully put both stamps in his shirt pocket. When I later asked for my copy of the marina fees receipt and my exit stamp receipt ( both of which I had to sign ) I was told that they are kept by him. In fact I did not get any paperwork back except for one copy of the despacho. Nice little fiddle. Destroy all the copies and recycle the stamps with the next yacht.
Checkout time. The assistant PC comes aboard and searches thru everything. The Customs guy comes thru and rifles thru everything. We get the last Cuban search party off the boat around 1215 and the Port Capitan gives us our despacho a few minutes later. There are a few more pleasantries. The PC asks how I liked Cuba. I say I like the Cuban people, and the flavour of Havana, but I did not like the restrictions on my liberty or all the searches and surveillance. A minute later the customs guy has come back and asks the same question. Then it is the immigration guys turn. I am about to cast off when another fellow in white with a lot of shoulder braid shows up and asks the same question. The PC sees the pained look on my face and smiles and tells the guy.
He does not understand. He explains that in Cuba everyone has a home, is fed, free education and health care... as he is saying this is crosses my mind that we have places in Canada with all of that too. They even pay you way below what your labour is worth when you work, just like Cuba. And just like Cuba everyone who comes to visit is searched when they arrive and when they leave. And just like Cuba you cannot leave. We call those places prisons. I keep that thought to myself.
He asks, ignoring my flag, my passport and the dozen references on the mound of paperwork, 'Are you an American'? I say, No I am Canadian, but like Americans I value my liberty. He asks, incredibly, would I come back to Cuba? I say, Yes when the government has changed. Puzzled look.
I cast off and motor to the sea buoy at the entrance to the marina then set the sails and strike the Cuban courtesy flag. Our course to Key West is due North but I peel off a couple of points West for the extra knot of speed on a reach. Two hours and fifteen minutes later we are in international waters and I head up and set course for the land of the free.
Later in Florida I cannot find my little thumbdrive MP3 player. Must have fallen off its ledge into someones pocket during that last search. The only thing stolen the whole trip. I later learn that 'Saudade' had a digital camera stolen during their last inspection as well.
No need to rush here before it changes. Without the Embargo Cuba would have been a bigger basket case. All the sympathetic foreign aid and tourists would not have happened. Cuba would not have been able to use the Embargo as an excuse with it's own people. The Castros will go away, the Embargo will fade away and Cuba will not change. Cuba will not change until Cubans want it to.
While I was at Marina Cayo Largo this young lady was doing some modeling on the docks. She was attractive for sure but she had a number of behaviours that were not so pleasant.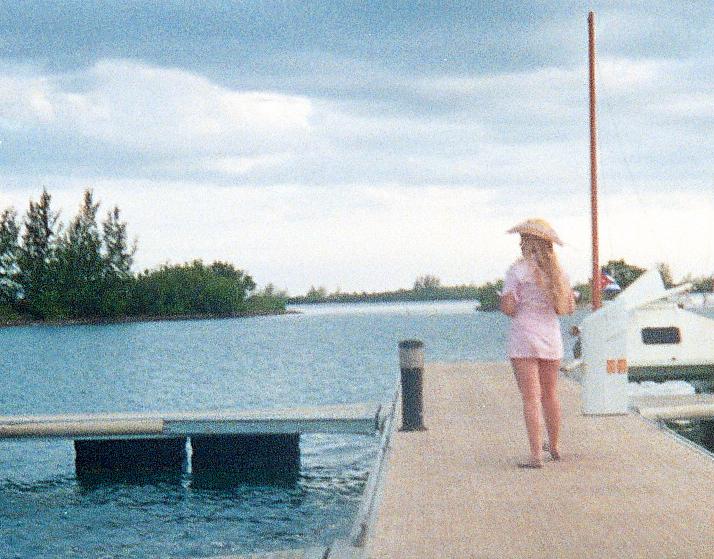 The Canadian band 'The Northern Pikes' has a song called 'She ain't pretty she just looks that way'.
Cuba ain't pretty.
The Gulf Stream awaits. Forcast is for F3 in the day and F1 at night, all East. I have a nice chat with 'Miss Cindy' about our strategy for the Gulf Stream. Plan is to head North and let the stream do the 30 miles we need to the East. We will pick up the stream in another 10 miles or so. If the wind stays around 10 kt it should be fairly pleasant. We get F2-3 in the day and F3-4 at night, all Easterly.
Our good fortune holds. Red is able to steer for the next 80 miles except for one hour when I reef us to a single sail to windward. We get 15-18kt during the night but it stays Easterly. Lots of motion but spray on the cabin top only a couple of times. The Moon is a stand up guy, high beams on all night long. Shipping is light too. I get plenty of snooze time in 20 minute chunks. I speak to a carnival cruise ship when we are two miles off her port bow. She can see us nicely on her RADAR and says she will be sure to keep clear! As the sun comes up we make our way toward the entrance to the ship canal off Key West. By 0830 we are in the area and have crossed the 95 miles from Havana in 20 hours. We skip the canal and head thru the fishing boats and shoals to the West.
The Southern Gulf of Mexico reminds me of the Northern Sea of Cortez. Thin water , milty green colour, lots of wildlife, little wind, land and sea breezes with calms.
A couple of days later we are off Naples with about 30 miles to Bimini Basin where we are headed. We motor for 10 miles in the morning calm. We have enough fuel for 10 more miles so a little sailing will be required. A light sea breeze fills in from the West and we skip the channel to save a couple of miles. We sail between a couple of shoals in 6 feet of water towards the big bridge. We continue sailing right between the piers and start going from green marker to green marker.
There is lots of power boat traffic. We now are close enough to motor in but the breeze is favourable so we sail on up the narrow channels between the manatee refuges. As we approach the final turn we furl up the sails and motor slowly in. There are expensive waterfront homes all around. Pretty well all of them have electric boat lifts with yachts on them. The houses that don't have one have two or three. We chat with the only cruising boat in the basin and head in to the dinghy pier by Four Freedoms park. We tie up and I stow the motor and lockup. I chat with Eddy the fisherman. Nice accent. He is looking for a mango snapper.
The park has a big modern playground and moms and kids abound. Head to the restrooms. Wow, back in the USA. Air conditioned, clean, spacious, toilet seats, toilet paper, soap, running water, mirrors, towels and a hot air drier. Haven't seen most of this for 7 months. Within 3 blocks I can find all kinds of stuff. I get some chain at the hardware store to lockup the dinghy, food including fruit ( haven't seen that since the Cayman Islands ), cold beer, ice cream etc..
I call up customs. They clear me on the phone and set an appointment for a face to face for paperwork and fees. Next day ask directions for the bus terminal. Friendly town. Off to the airport for customs and immigration. I get my $19 money order upstairs for clearance fees and trade in my $201,000 Columbian for a little less in US $.
Customs guy has that US customs gruffness. Paperwork is all in order. My passport is not stamped. I ask for a stamp. No. I ask again saying I would like it as a record of my trip. No! I say please. No!!!. He has the pouty/angry look of the 7 year old ferry boat capitan in Saballos Nicaragua. I have a half hour before the next bus so I chat with a Canadian couple who have just brought their boat here from Mexico and are doing paperwork too. They are from Thunder Bay. I have met more people from Thunder Bay than any other city in Canada. About 10 minutes later the customs guy beckons me with his finger from the booth. He has gotten permission to stamp my passport and puts the Homeland Security stamp right beside my Cuba exit stamp.
Back to the boat and start work on fishing up the swallowed mast wedges. Go ashore to get some tools. You can get tools here! Ask for recommendations for a local watering hole. Head over to 'Bikini Joes'. Small U shaped bar, a bit dark, only food is the daily special in the chafing dishes, beef tacos today. Pretty good cross section of clients. Barkeep asks me what I want. A dark beer I think. She is wearing a bikini, a tan and a smile.
---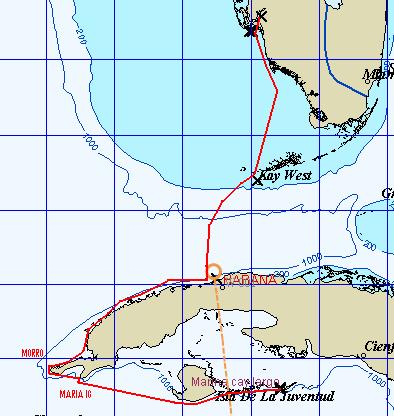 Distance Summary:
---
This Leg: 740 Nautical Miles
Hours Underway: 202
Hours on Motor: 16
---
Total To Date: 4105 Nautical Miles
Total Hours Underway: 1581
Total Hours on Motor: 221
---
Copyright © 2009 Tony Bigras.