Travels with Miss Cindy

Chapter 18

Getting out of Town, Across the Bar, 200 Miles on the Nose to Isla Provedincia, 530 Miles on Port Tack to Cayman Brac, Mast Problems at Sea, The Pilot Comes Aboard, Teignmouth Electron, Cable and Wireless Helps Out, Surfing to Cuba.
---
April 6 2009
0530 working on the travel log. This is the Moskito Coast. Once the giant mosquitoes go home I will wash and shower with the river water, and do up a final bunch of laundry. I will check the dinghy as it may have a leak in the floor. If so I will try out my repair kit. Next I will print up some fallback port charts and courtesy flags when the sun gets up enough to add some amps to the battery. Then off at 0800 to clear out. One last call to my Sweety on a local cell phone then push off the black sand beach.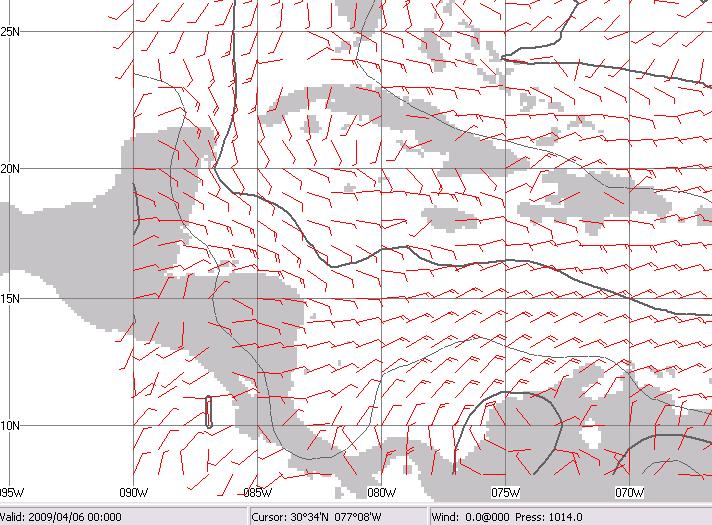 GRIB map for April 6. Looks favourable.
If the bar is still looking good we should be in the Atlantic by around 1000.
0630 It is calm. The quite roar of not too big surf comes from a quarter mile to the east. The mosquitoes are gone. Time to get to work.
0800 We get our passport exit stamp and our Zarpe for El Limon Costa Rica.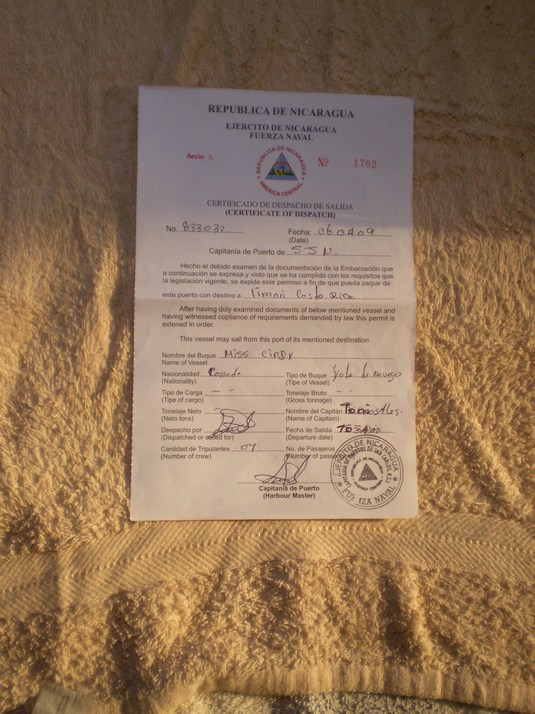 0930 We head towards the bar that has destroyed ships and men for 300 years. 'Miss Cindy' looks towards it warily. I tell her it looks pretty sweet today. She trusts me and she trusts herself and the little turtle heads into the foam and breakers. The hatch boards are in and we are buttoned up. As we cross from the fresh water into the denser salt she wiggles her toes and floats 3/4" higher. The decks get a coat of salt . We are in the Atlantic.
The wind is light SE as forecast and we motor due east until the 10 fathom line then sail slightly North of East. In a couple of hours we have decided the wind is unfavorable for El Limon Costa Rica and we change our destination to one of the Columbian Islands 150 to 200 miles NE. It is 'Wrong Way' Corrigans 1930's story all over again. By early afternoon there is little wind at all and we motor due East for a couple of hours. Then the wind comes up from the NE. North East, that was not supposed to happen for two more days. We were supposed to get East and ESE.
We start beating to windward and I am reminded that back in September it seemed like a good idea to take 'build wind vane self steering' off the list of things to do before the trip. It looked like it was a bad idea when I crossed from La Paz to Mazatlan and had to hand steer for 30 straight hours close reaching in hard, wet conditions. It is looking like a bad idea now too.
It is nice to be on the ocean again, nice to be sailing. The water is getting into that pretty blue. I get out some special paper and envelopes and write my Mom and Dad a letter. Appreciation, longing, love...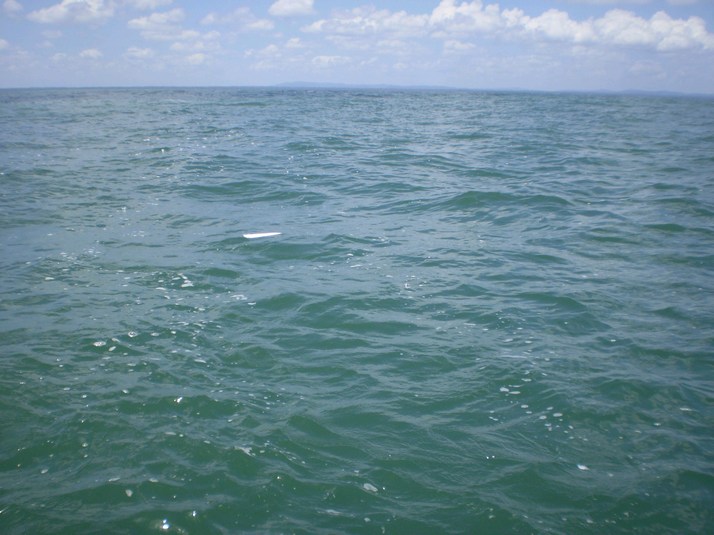 I post it in the wake. Same day delivery where they are. Definitly back on the sea, my cheeks are salty.
Around 2100 I pull the plug and throw out the sea anchor and flash up the anchor light. I sleep for 8 straight hours.
April 7 2009
We continue to beat to windward and head East. I start messing with all I know about getting a boat to self steer to windward. Leeward pulling sheets to tiller, eased off lee sails, over hardened windward sails, various combinations of all of that with bungy cords. Some progress. Conditions are nice. Mostly force 3 with a little 2 and 4 from time to time. The waves are well behaved with some big swells 6 7 and 8 footers. Occasionally a bit of foam break on them but they are friendly waves, not a drop of meanness in them. The wind chop is comfortable too. 'Miss Cindy' is active. Bobbing on every wave and climbing all the swells.
Lee Bow thru the Waves, The Movie
We are on a 200 mile beat to windward and I don't mind one bit. Nice to be at sea and romping along. A new challenge for the little lady. Lots of power up the swell and fall diagonally over the back side stuff. Serious ocean sailing and only another 100 miles straight to windward to Isla San Andres. The decks are wet but the cabin top is dry, much nicer than our Mazatlan crossing where we were buttoned up and drying sea water to salt on the solar panels. We have maybe 2/3 of the easting we will need for San Andres.
But it is nice. The water is cobalt blue, no, it's better than that. If you have never been out here, it is worth the trip just for the colour.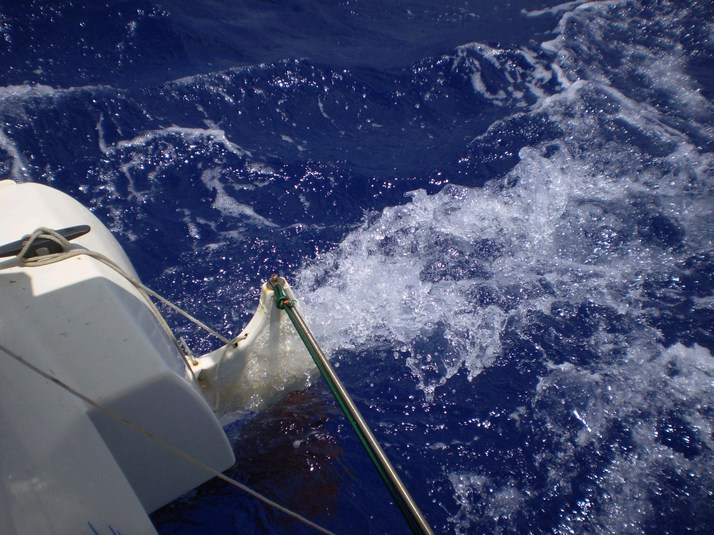 And we are not alone.
There has been lots of flotsam. I took a small log between the hulls and was his pet fish ever surprised, looked like a 10 pound mahi-mahi. I past what I thought was a childs toy but it was a sailing jellyfish with an inflatable purple sail with little dimples on it. So neat but in the wake before the camera was ready.
And there is lots of Sargasso weed. Sometimes in big mats that look like gold shag carpet from the 70's.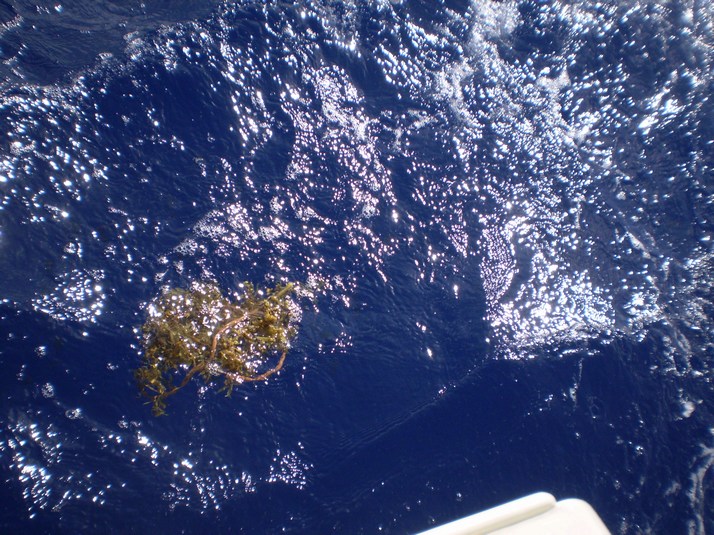 As the sun drops into the ocean to the West I take the helm. I am much better to windward than the string tugging at the tiller all afternoon. We pick up another 1/2 kt average and 10 degrees higher too. A wind vane would do better than me I am sure. I check the lockers one more time. No definitely not one aboard.
That evening I say hi to the man in the Moon who is a bit above the horizon lighting the waves. 'Miss Cindy' and I dial in the sails and power along up big swells and follow the shiny silk road before us in the East. It is wonderful to be at sea. I get out my mp3 and headphones and play some tunes out on the big ocean.
I have noticed my old friend Orion seems to have lots of new pals. There are lots of new stars. The sunsets are however un-remarkable. I finally figure it out. The sky is really clear. No dust from the continent. The stars don't even twinkle, but there are many more than in the Pacific.
Around 2000 I put the lady to bed for the night on her sea anchor and hit the sack myself.
April 8 2009
We tack north. I have figured out some passable self steering arrangement. It is the simplest one. A bungy to windward of the tiller. Adjust for wind speed by moving fore and aft on the tiller to vary pull. As she speeds up some weather helm builds and she moves the tiller to centre pulling against the bungy. As she heads up she slows and the tiller unloads, the bungy pulls it to weather and we fall off. I have also eased the lee sail so it will start to luff as we head up. She wanders about 30 degrees and gets in irons or falls off once or twice an hour. Lots of time for naps. But not too many. We speak the container ship Solent Star.
April 9 2009
We stay on starboard tack for 33 hours. It is still all force 3 with a couple of hours of 4 mid afternoon. Noon to noon is 74 miles. Best 24 hour run is 79. After 100 miles we switch to port tack. I notice one of the chafing patches I put on 2000 miles ago has worn thru. Fix that up next stop. We think about heading in to San Andres tomorrow. It is a duty free port and I am thinking , new camera, internet, we have been at sea 3 days.
There has been one pod of dolphins and not much else except for a kazillion flying fish. Whole schools take flight sometimes. Only one comes aboard. He is too tiny for the pot so I put him back.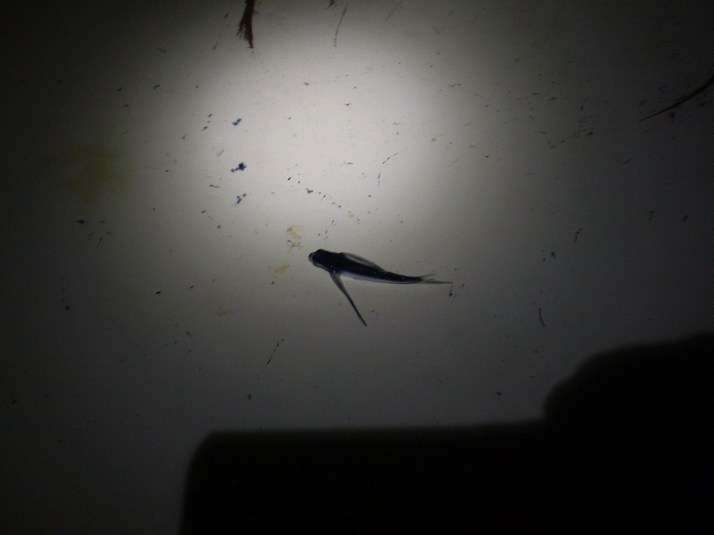 April 10 2009
We tack away North towards Isla Providencia. 50 miles North and 15 East. It brings us closer to Cayman Brac. That is our next 'destination' and this is why we are going there.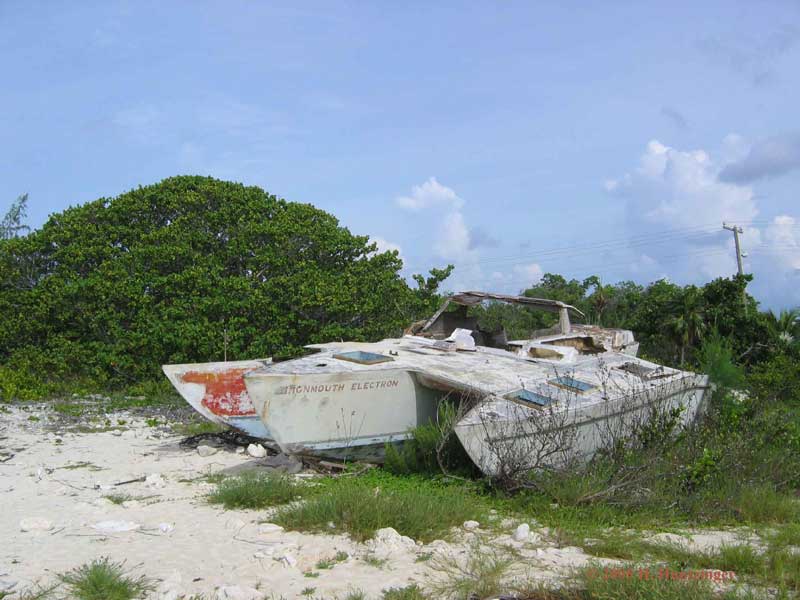 Donald Crowhurst's boat. Falling apart on the beach. This photo was taken about 4 years ago. I have some sand from its home port aboard, they will be together soon again. Within a couple of months of my arrival at Cayman Brac it will have been 40 years since Donald was last aboard. I read the story of his voyage in the early 70's and the story of his sailing efforts and his efforts to hide in the Atlantic and fake his round the world voyage. He discovered a mathematical answer to the meaning of life then wrote in his log it was time to end the game and after 243 days alone he stepped off his boat into the Sargasso Sea.
April 10, late afternoon, land ho! After 5 days at sea this is easy to spot.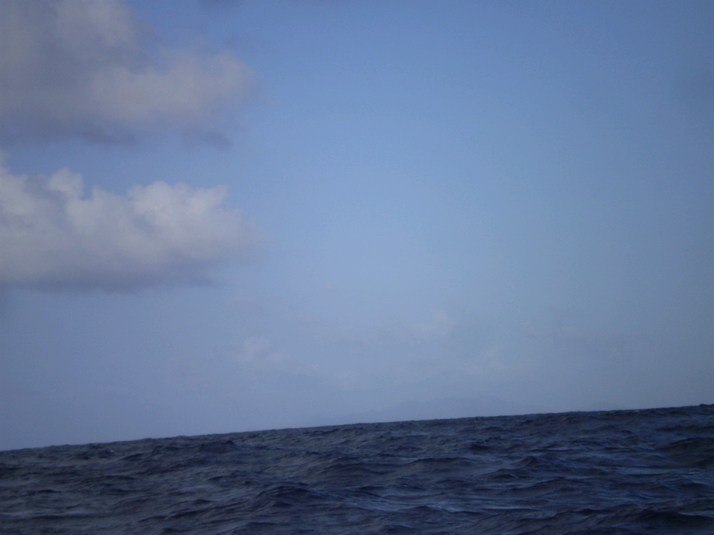 Isla Provedinca. After a couple more hours of sailing we motor due East. Another shear pin fails. The new ones are slighty smaller diameter and have been lasting about 15 hours on average. I have 7 more spares. The replacement Attwood bi-colour light failed last night. Bummer. Looks like it had about 50 hours on it, supposed to be good for 50,000. I entertain a fantasy of getting some fedexed to Cayman Brac. More likely we will just run with our all round white and turn on the nav lights when we sight traffic. This harbour has an interesting entrance. Port and Starboard lighted buoys close in to shore. When you get thru them, hard to Port into the harbour. Rocks straight ahead if you forget to turn. There is a reef off to Port before the buoy too. We chug in.
The Moon won't be up for another hour. He shows up for work 50 minutes later every day. I have talked to him about it, but it is a previous arrangement he made with someone else and will not change it for me. He shows up at the appointed time and has this big orange look and a smirk on his face as he rises thru a wispy cloud. I say 'yea yea yea that is impressive, I saw the same act yesterday, how about tonight you get up high to show me the reefs and don't play with the clouds.' 15 minutes later he is behind a giant wild turkey in full display that takes up a third of the sky. Next he is chasing a big mariposa-papillon-butterfly. Then he is backlighting some of those ceramic decorative salt and pepper shakers. One is a mushroom another a small loaf of bread and of course a chicken. We are on soundings so I tell him to fly straight and do his job.
I sashshay North and South finding the edges of the channel with Bob the sounder. I have been calling him that for a couple of weeks. Dunno why. I have only ever known a couple of Bobs. I think he is named after the reliable guy who worked for the Coast Guard up in the cold North. The sounder does its job very well and has never let me down. It is much more dependable than the Moon.
As we worked in to the island the big swells went away, blocked by the reef to the North. Suddenly they are back, and mean. There must be a gap in the reef and having seen their pals dashed to death on the rocks they are in no mood to play. We get hit on the bow by a couple of breakers and the wind, which by the way is up 10kt as we approach the tricky entrance with the Moon lollygagging, chucks the spray straight into the cockpit. We go thru the gap showing 9 feet and turn North. There are a bunch of anchor lights ahead. All but two of the dozen sailboats have anchor lights. I have never seen so high a ratio of anchor lights. I putt putt putt in and anchor. It is 0015, actually 0115 local time. In case there are daily port fees we arrive early morning not late night.
A bit of Flor de Cana rum with water and lime. Music with a Caribe beat from the shore. 200 miles to windward. A good windward boat would have sailed about 290 miles to get here. 'Miss Cindy' dialed in tacking between 120 degrees to power thru the swells, with something better than a bungy cord doing the steering would have to have sailed about 340. I figure with bungys mediocre steering we averaged maybe 135 degrees between tacks and only 80% speed compared to a steering gear. Then there is that 15 hours on the sea anchor. Looks like we have sailed 400 miles in 5 1/2 days. The distance log at the end of the page will however only get credit for the point to point 200. Bet with a steering gear we would have been here a day earlier and have arrived in daylight to boot.
I call up the Port Capitan on the radio, no joy. In the morning I speak to one of the yachts about the town and check in. An agent is required and there is only one in town. I arrange to meet and off we go in the kayak. I ask directions in town, what is that language. Not Spanish, not English.. Pidgin, definitely in the Carribe.
With the agent who has been doing this for 25 years I fill out a reason for exception form for the zarpe discrepancy re why we did not go to Costa Rica. Uunfavourable wind, hey it's a sailboat. Port Capitan is happy with that. This island is at the crossroads between Panama and the world. 26 boats here last week, 12 this week. Only one boat in the bay has been here more than two weeks. Agent tells the Port Capitan we are the smallest boat ever to arrive at Providence Island.
Later that afternoon our Chief Engineer is working on putting in our last spare bi-colour nav light. He notices moisture inside the sealed bulbs of the failed unit and recalls maybe seeing that on one of the earlier ones. He looks into it and checks the other dead one aboard and concludes the epoxy pottent used to seal them is not bonding to the plastic lenses. The salt water hose job is getting in causing the failure. It is not run time that kills them but sailing time. There is no point conserving them by intermittent use. He installs the new one lathered in silicone. He does not think it will stop the failure but should delay it a bit. The Capitan tells all and sundry 'We will use the running lights at night until they fail. If we become bow fodder on some 600 footer headed to the gulf coast it won't be because they were switched off.'
Providence Island is a nice place. We nose tie to the dinghy dock and the locals hang out and chat.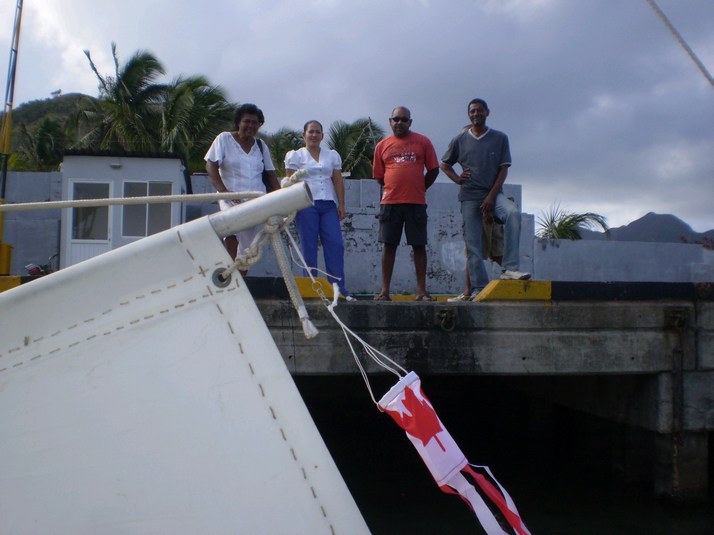 Most people, me included just buzz thru here, but it has a lot to offer. One quick recommendation, the little green and white restaurant just South of the dinghy dock.
If it looks like this inside you have the right place.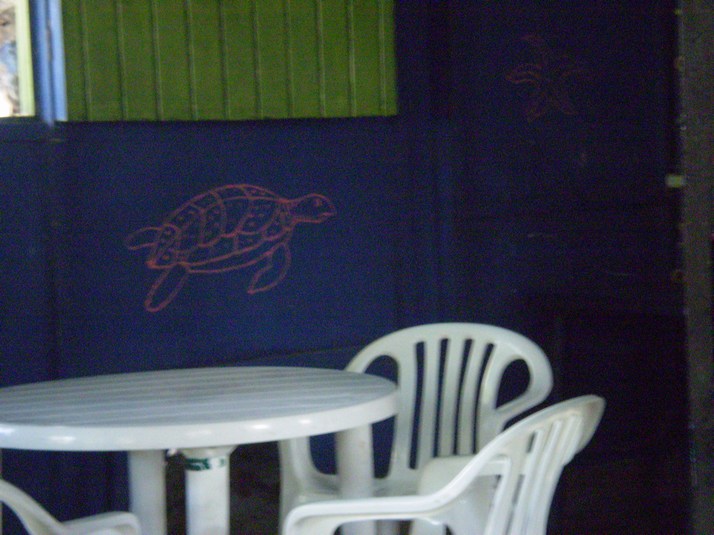 Great food fast service. Did not really understand the menu as she recited it but I took the third thing as it was not fish or chicken. Got a great bowl of thick soup with beef and chicken chunks, followed by a plate full or rice, cabbage, carrots, and a pork chop just like Mom used to make. They throw in a glass of some fruit punch that everyone gets and I had a beer to boot ( American ). All was good and came to just $10,500. Thats about US$5.25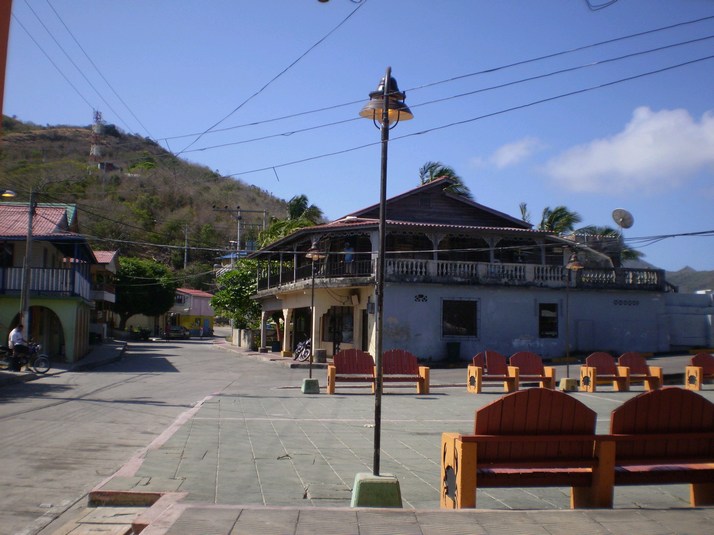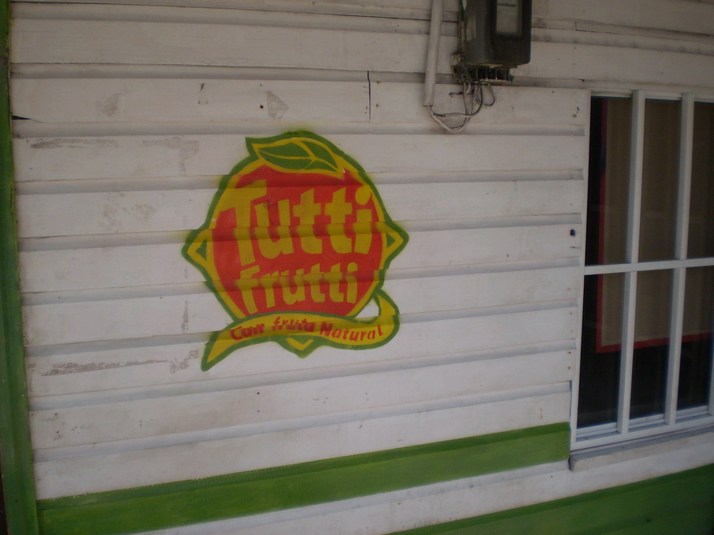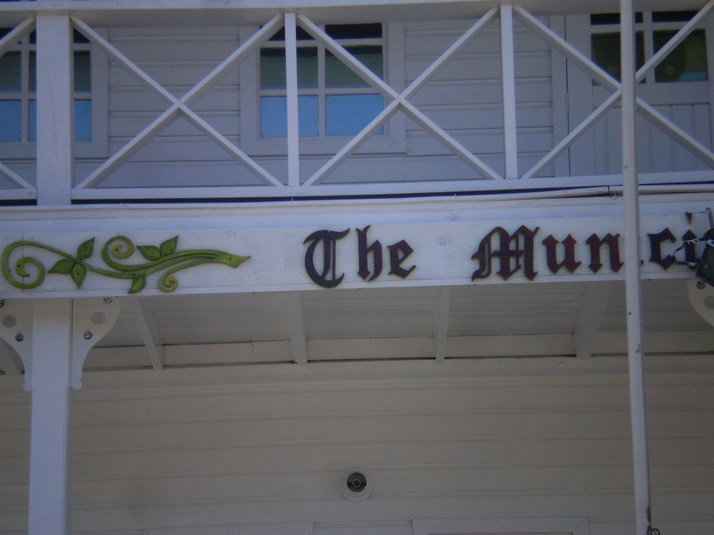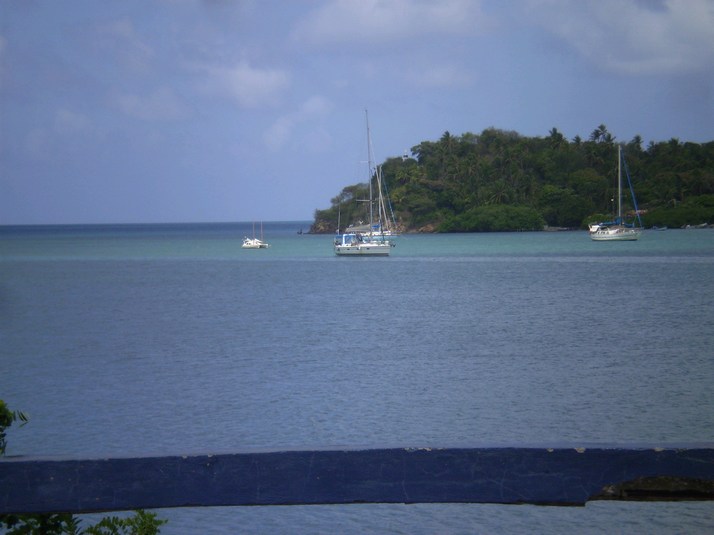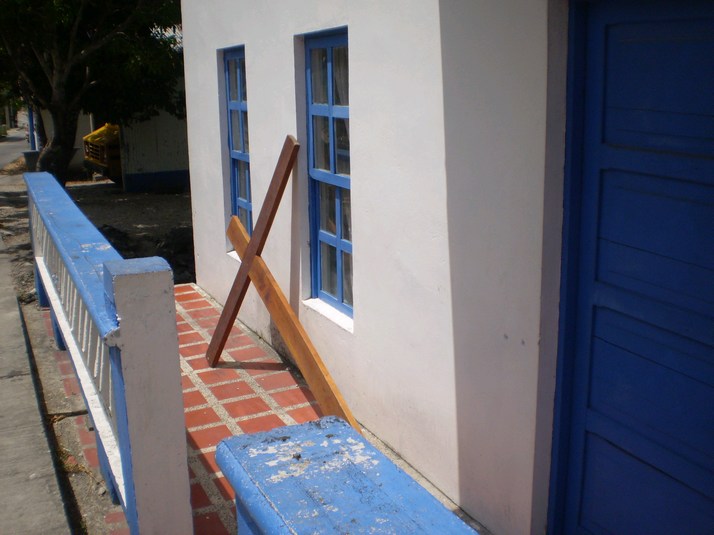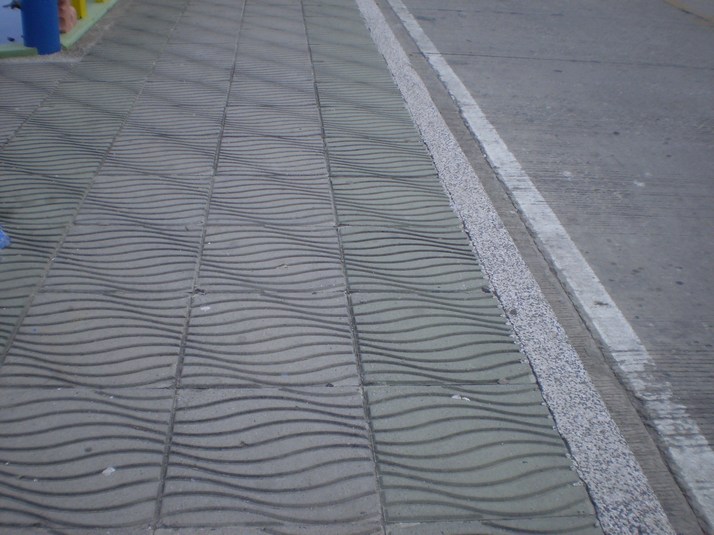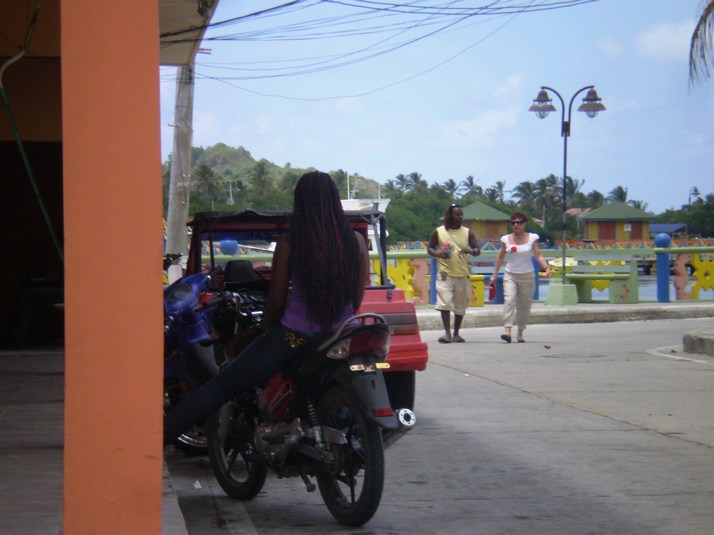 Arranged our clearance with Agent Bush and told him I would definitely stop by for a longer visit if ever in the area again.
Our zapre was for 0600 the next day.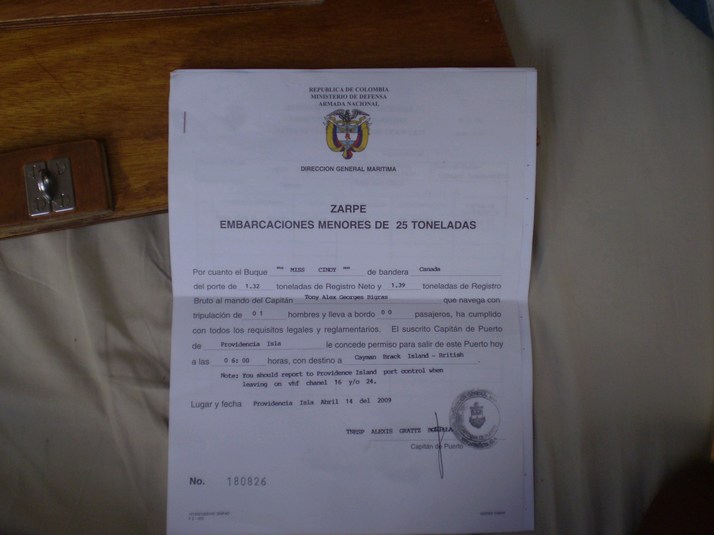 Bright and early turned on our shiny new nav lights, hoisted sail, contacted port control per zarpe instructions and hauled anchor. There were 4 other sailboats leaving that morning but they were all still at anchor as we sailed thru the fleet upwind at a good clip to the entrance bouys then gybed North and romped along on the fresh breeze. One of the sailboats gammed us on the VHF to ask how fast we were going. We followed Bobs advice for the next 10 miles till clear of the big reef to the North. The other sailboats appeared one by one and peeled off to the West. We are the only boat headed North East.
The sail to Cayman Brac is one long port tack, 430 nautical miles as the crow flies, about a hundred more along our path as we follow the wind. Six full days. 7 hours on the motor in light or no wind. 137 hours close hauled into everything from Force 3 to 6. Tough sledding. 'Miss Cindy' minded it a little bit, I didn't mind at all. Nice to sail a long and challenging passage in the big Atlantic.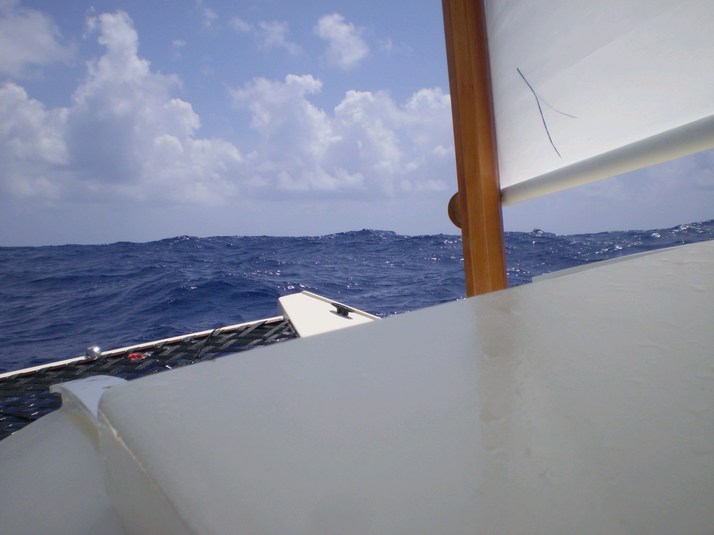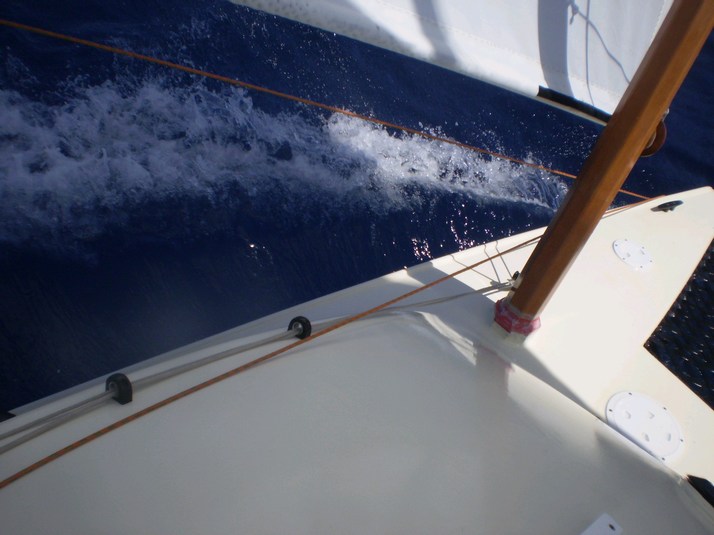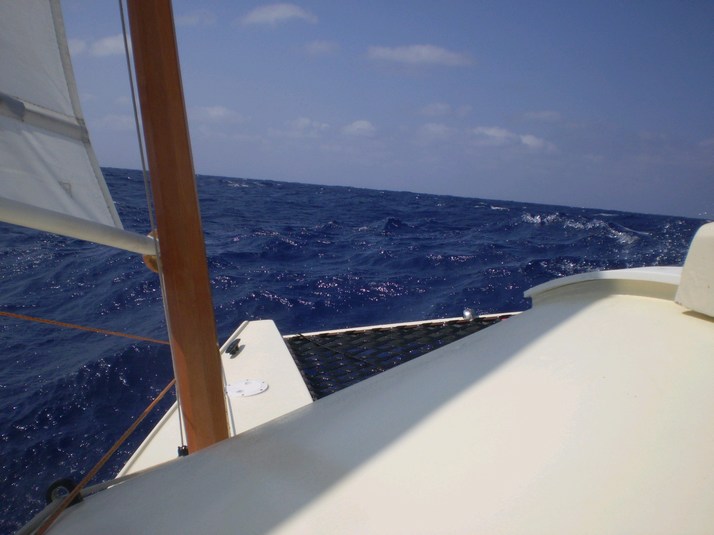 Once we clear the reef on Providence Island I push hard East. There are two banks with reefs North East with about 30 miles between them. Our aim is to go between them. If we can't get East of the first one we will have to go 20 miles North North West to get around it. We get there just before dark. The chart show 7 ships wrecked on it. We are only about 1.5 miles east of the South shoal. I would like more. Bob tells me there is no bottom in sight. It is very dark, Moon is not available till later in the night. We see a flashing white light about two miles away where the edge of the shoal should be. My chart only shows a light on the North end. We make no assumption about the light but continue to eke out our Easting while Bob watches for the shoal. By the time we clear the North end of the shoal we are 5 miles East of its light and do not see it.
One of the odd things about cruising is the food is from all over the place. Today I am drinking water from Costa Rica and had tuna from Mazatlan, crackers from La Paz, peanut butter from Barra, juice from San Carlos, peanuts from Providencia Isl and the last of the jelly candies from Victoria. Boat is slowly getting lighter.
A couple days later we are about a hundred miles West of Jamaica. The wind has died, maybe 3-4 knots. We motor to burn off some of the 14 gallons somebody has put aboard. One of our new Columbian gas jugs has been leaking out its cap as we slosh about. Not my favorite thing a gas leak with a locker full of firestarter. I air it all out, mop it up and we motor. The sails are up, optimistically scouting for a breeze. After 3 hours the port sail falls into the sea. I roll it up with only a little new antifouling adornment. The 1/4" stainless steel eyebolt that holds the halyard and topping lift at the masthead has failed. The Designer is quick to note that it failed for that most common reason. The know it all Cook says 'Stress Corrosion Cracking'. The Chief Engineer groans and the Designer says, No, it was not big enough.
Carry on or try to fix it here. There are about 150 miles to go. Much discussion. Pros, Cons. The Capitan makes the call and there is ( surprise ) unanimity. The Chief Engineer lays out the plan. All the tools are put in the foredeck locker on a cloth. We remove the pad eye on the mast boom hoist. That will be used for the new halyard hoist. We put in a smaller strap to replace it. Thru all this the Chief Engineer reminds all not to put anything in their pockets or on deck. Only in the locker. We do not have spare tools or parts to give to Davy Jones. We go to work. Even the Cook helps out. We pull the sealent tape, pull the mast wedges and wait for a calm bit and hoist the mast out and onto deck. We lose one of our good luck coins to the 2 mile depths. It is the 1 cent Euro I got when visiting my brother last summer.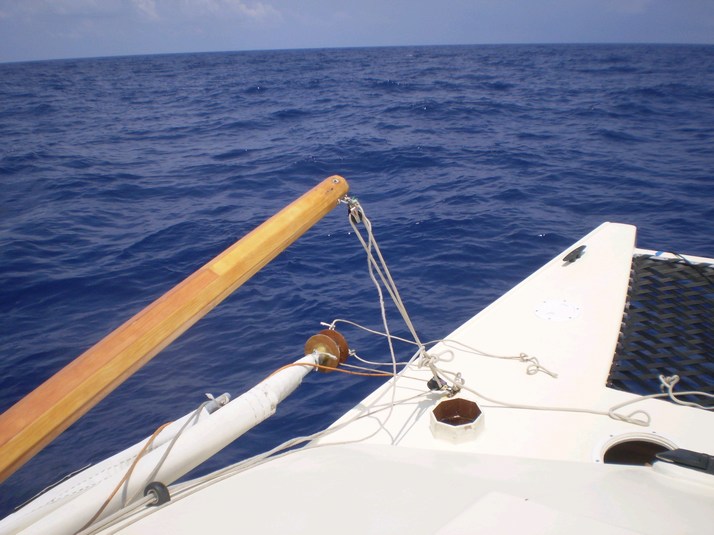 We install the pad eye, the halyard block and locktite it. Time to put it back in. It goes well. In with the wedges and seal it up. 'Miss Cindy' says 'Three Cheers for the Crew'.
We motor another hour and it is back to sailing on port tack. Just North of Jamaica a nasty South West current show up. Looks to be about a knot and we are now making North West. This carries on for the rest of the day. We have the heaviest weather in this period. I reef to keep enough power for driving into the 10 to 12 foot seas but not so much we launch off every one. We only launch about every 10 minutes. The launch is not too bad but the falling thru space, sometimes at a diagonal angle is not too much fun. Nor is the landing. I remind myself that I have tested the design of the glass tape joints and they are stronger than the plywood they hold together. By this point we are almost as far West as Grand Cayman. I however have no intention of pulling in there and advise 'Miss Cindy' we will tough it out together.
Thrashing to Windward , The Movie
It Looks Slow Till You See the Wake, The Movie
Check out the apparent wind on the flag in that movie. She is holding a pretty good course here. Mostly due to this guy.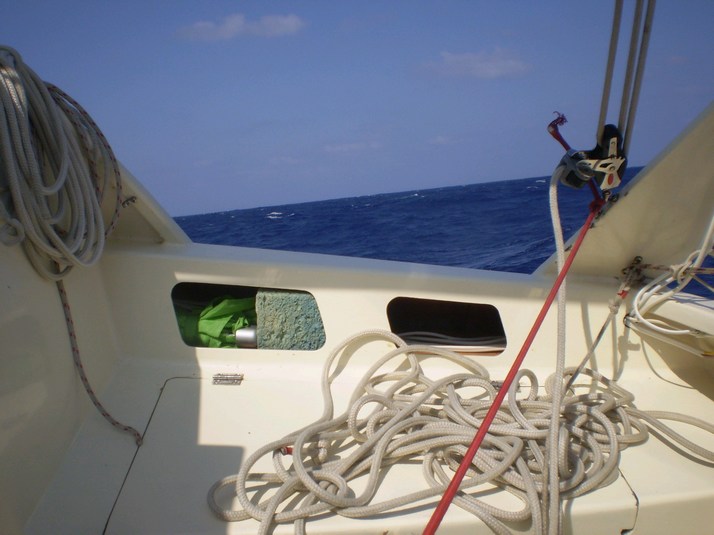 On the final day the wind starts shifting towards the East and we get lots of NE in. A few hours after night fall I can see the glow of Little Cayman ahead. I have been optimizing my naps and take them whenever we are able to self steer. It has been a while since I have had one. The wind now has some South in it. We are perhaps 10 miles from the West end of Cayman Brac. 'Miss Cindy' and Red the bungy are steering well.
I hit the hay after a look around and set the alarm. I sort of wake up twenty minutes later. We are headed due East, straight for Cayman Brac. There are lots of waves bashing us from all directions due to the wind clocking around. I doze some more and twenty minutes later we are still pointed due East and making a good clip. I can see the string of pearls that lights Little Caymen out the Port bubble. After twenty more minutes in and out of a sleepy haze I watch the compass. It is rock steady on East. It does not waver one bit. Waves are making all sorts of noise as they hit us from 24 points of the compass. Spray is raining on deck. East. East. East.
Suddenly out of my stupor I realize. East. We are headed directly to the South West tip of Cayman Brac. Right towards the Aero Beacon. 'Miss Cindy' never tracks perfectly straight when steering herself. In the best conditions she will wander 10 to 15 degrees. We are in a pile of wave slop and have been tracking perfectly East for an hour. I remember Slocums account of the Pilot of the Nina taking the wheel at sea. The hand on our tiller is guiding us directly East. Directly to the Aero Beacon, directly to where Teignmouth Electron lies on the beach. I know whose hand guides us there.
Slocum spoke to his Pilot. I wonder if I could speak with ours. With that thought there is a loud bang as a wave slaps us and we are knocked off course. From the bunk I cannot get her to steer any course now let alone East. I get up. The winds is dying fast. The waves are gone in a trice as well. We motor the final 15 miles to the anchorage at the far East end of the island.
90 mile per day avg. 96 mpd for two days. All on the wind. Speedy little turtle.
Tuesday April 21 2009
It is 2 am as I write this. We are tied to the quay at Scotts Anchorage at the West end of Cayman Brac. I left all the hatches open when I went to bed and have killed about 15 mosquitoes since buttoning up. I am careful not to kill them against the headliner. The ones that remain aboard do not appear to be hungry.
When I cleared into Cayman Brac it was at the North end a place called Creek.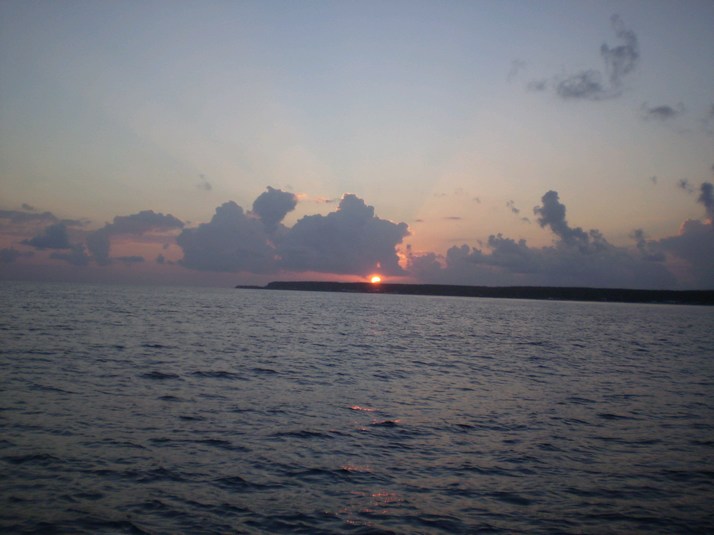 Sitting on the customs mooring buoy I had a nice piggy back wifi signal. Customs called me up on VHF 16 and asked me to bring 'Miss Cindy' into the little boat basin. I had not even noticed it thinking there was only a boat launch ramp there. It is a tiny little cut in the coral about 20 feet wide opening into a basin about 50 x 100. It felt very tight for me going in but they claimed to have had a 40' sailboat in there. The health inspector sprayed something in the boat related to their mosquito control and monitoring program and collected his CI$25 ( US$31.25) fee for that. Customs and Immigration had no fees for entry, but I had to fill out the forms myself rather than my experience in Mexico and Central America where the official fills them out. After the declarations the Customs guy came aboard. He had the full uniform except for the black boots, he wore more practical sneakers. They thought my home made flag was cute.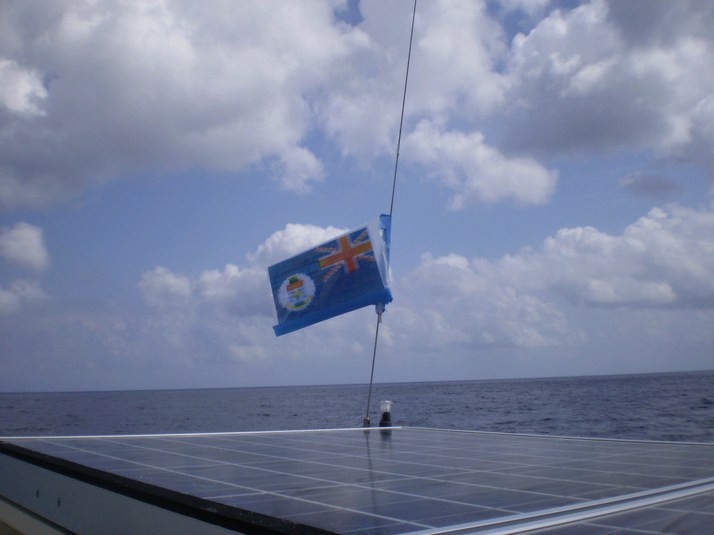 I asked them about Teignmouth Electron and they both knew of her. The Customs guy said it had been there since 'He was a little girl'. That phrase caught my ear as interesting culturally. One of my correspondents tells me that Webster's 1951 dictionary states a 'girl' is 'a youngster of either sex' a usage that has long fallen from favour but not in Cayman Brac apparently.
They had both played on it when they were younger and neither of them knew the story of the boat and were a little shocked to hear it. I asked if they knew who owned the boat. Nobody owned it, it had just been abandoned there. They suggested as all the places I wanted to go ( bank, Teignmouth Electron ) were at the other end I should sail down there and tie to the quay. They could clear me out from there, all I had to do was radio the harbour master.
My passport stamp says I am 'on shore leave' until 'Miss Cindy' sails. I really feel like a sailor now.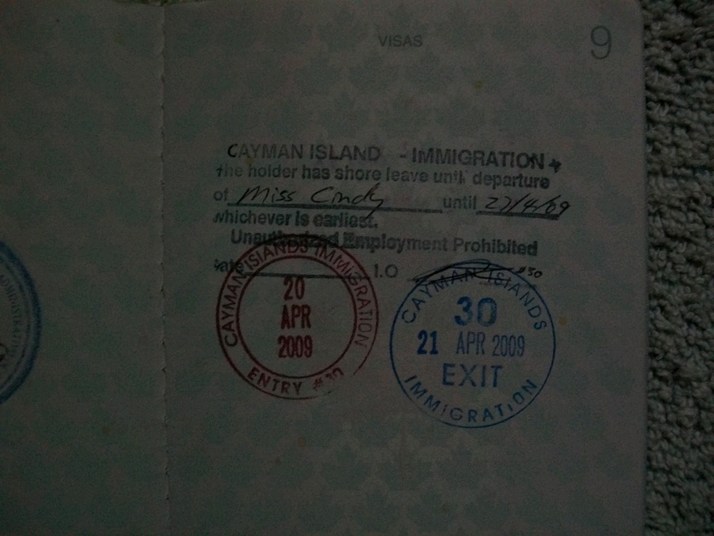 We had a nice sail down close to shore and saw many houses without roofs or repaired or undergoing repairs. Hurricane Paloma hit hard here last November while 'Miss Cindy' and I were lollygagging in the Sea of Cortez. The water here is clear clear clear. I could see bottom at 80 feet. It is also a very pretty blue.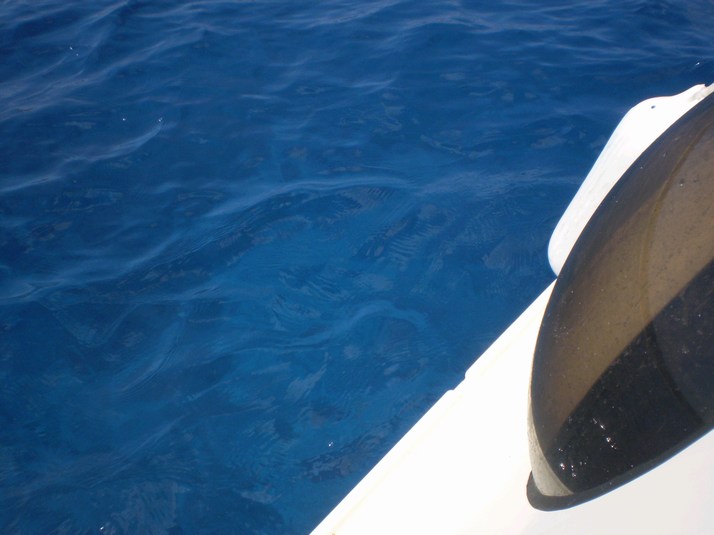 The quay here has a bit of surge. I have long lines fore and aft with chafing gear where they cross the concrete of the pier. It is a different motion than at sea. The strength of the surge comes and goes. Taking the other mast out here even with the surge will be easier than at sea. I will get someone to lend a hand so as not to loose the special coin overboard. I don't see any rats but there are lots of land crabs and at least one tries to board 'Miss Cindy'
I got some pretty Cayman Island money and some Yankee for Cuba. They would not change my 201,000 Columbian Pesos. I am thinking if you can't do a banking transaction in the Caymans, you probably cannot do it anywhere.
There is a little grocery store here and the old trimaran is just a few miles. But there is nothing else except a couple of little stores and a bar. From the boat I head out with my bag of salty laundry and start walking East. A fellow had given me a lift from the boat to the bank. It turned out to be all of a 1/4 mile. He had been working here steady since the hurricane, fixing stuff. He was originally from Grand Cayman. The total population on Cayman Brac is variously reported as 700 to 1600 plus a few expats burning in the sun. The consensus seems to be around 1500. As I am walking up the road, which BTW is just like in England, backwards, the same fellow picks me up. He reiterates that I should hitchhike as it is a long way and I will have no trouble getting a lift. It becomes clear that except for the bank and Teignmouth Electron everything else is at the 'Creek' end rather than the 'West End' end. He drops me off at the laundry, which is a free washing machine with no dryer at a public washroom. I wash and spin the salt out of my laundry and following his good advise stick my hand out as I had seen others do.
I get the first car 30 seconds later. Mom would be proud. The driver will drop me off at the hardware store where I am looking for some eyebolts. He was here for the big hurricane. It is the worst one he can recall in his life. The noise,trees everywhere. Hopes he never sees another like it. Hardware store sells everything from candy to soap to knickknacks to hardware. I cannot find the eyebolts but lots of other fasteners including stainless. The clerk does not know and suggests I ask Mr Tibbets ( this is Tibbets Hardware ). He is the grumpy looking guy in the back room unpacking stuff and tossing it into a shopping cart. Back room might not be the correct phrase. More like one of the chambers on the North side of the maze. I find him and while he still looks grumpy he is really friendly chatty and helpful. He has some galvy and SS eyebolts but they are only 5/16" and not welded just bent to a loop. I have brought both our Designer and Chief Engineer along to deal with these sort of decisions and neither is happy with the size or the lack of weld. We decline but get 4 2" long stainless screws to replace the 1 1/4" ones currently in use on the Port mast and for the Starboard. We will use those for the Starboard one and if still energetic pull the Port mast and replace the shorter ones in there.
I get my booty back to the boat and spread out the laundry, talk to a couple of looky loos, then pick up my English sand and the balky camera and figure I will look for Teignmouth Electron. There are a couple of guys cleaning a boat load of fish under a canopy at the head of the quay. The guy doing most of the work is skinning them whole. In my experience fish are usually skinned after filleting. I ask what kind of fish they are ( ocean triggers ) and about the skinning etc. There is a stack of skinned fish with there eyes looking at me on the right. Both the guys are wearing vote for Moses K for MLA shirts. I ask if they voted for him of just took his shirts to go fishing in? They voted for him and also campaigned. He is a good guy, for a politician.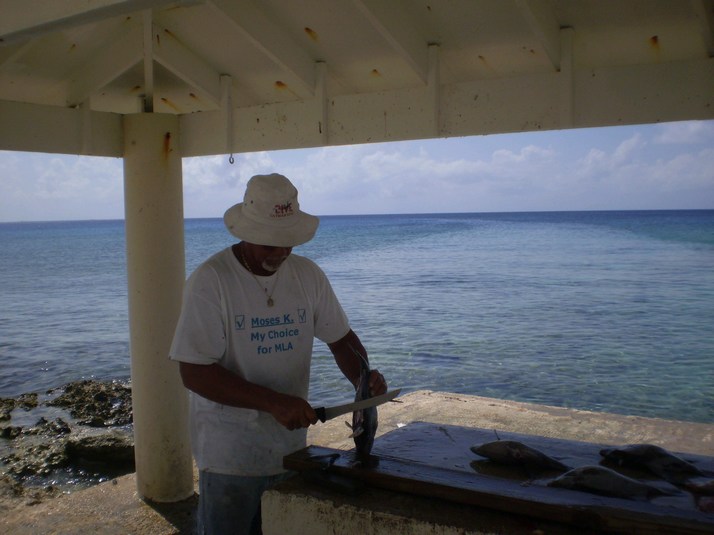 I ask if they know where the trimaran is over by the airport? Terry the skinner says yea, him and his brother in law pulled it out there after they were done with the dive business!
We chat. When all the fish are peeled he says he is heading out for a shower but will meet me up at 'Eds' bar when he comes back and we can go see the boat. He says he might have some bits off it at another location that might be what 'Miss Cindy' is looking for to fix the eyebolts. 'Miss Cindy' 75 feet away has a big 'I'm so lucky' look about her.
'Eds' bar is a classic United States style bar. They serve booze and beer. No food. It has booths like a 70's restaurant in molded ply and melmac veneer. There is about 12' of actual bar. All the style and ambiance comes from the barkeep and the customers. If there was a pool table in the corner and a deer head on the wall it could be Oregon. Beer is $3. I ask for the local Caybrew like the mirror beside the bar advertises. Don't carry that anymore. I have a look in the fridge and get a Red Stripe from Jamaica in a 60's style stubby bottle. I chat with the barkeep. She is smiling but it is not a happy smile. She is from Honduras and works 6 months in the Caymans then back home for a month. She has been at the bar 3 weeks and has a couple of young kids back home. The barkeep on the other shift is from Cuba.
It is now 0330 and the rain is banging hard on the cabin top. The bugs inside are happy to be out of the rain.
Terry and his pal get to Ed's and I buy a round. We chat a bit and finish another round then head out. I have seen Google earth photos, photos taken by others and some by that English artist who visited and made a film a few years back. Before we get there Terry mentions the hurricane beat it up pretty good.
I see it. It lies on a pure white sand with chunks of coral lying about. There is a bunch of vegetation overtaking it. It is broken apart and twisted, but it is what I have come so far to see.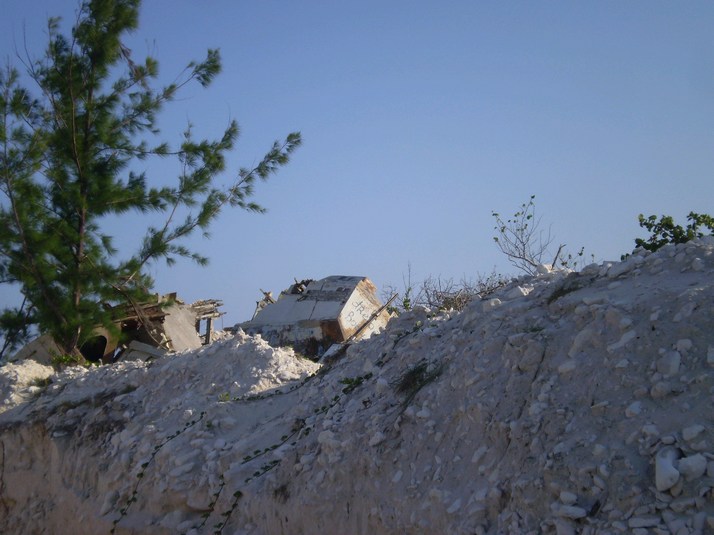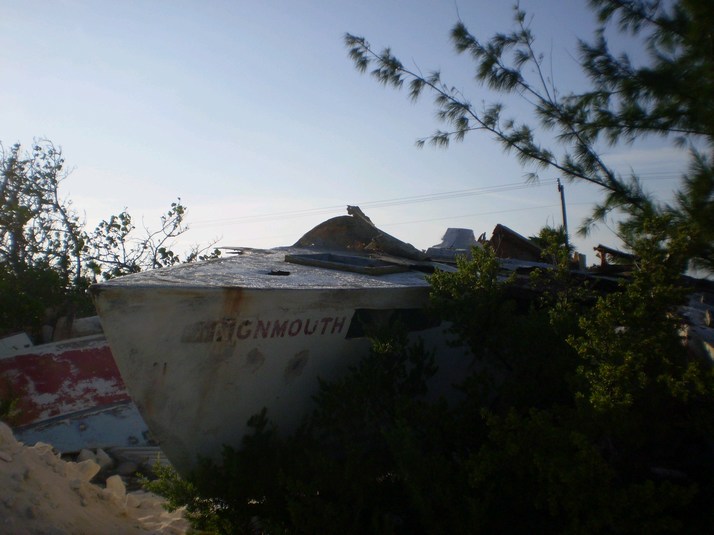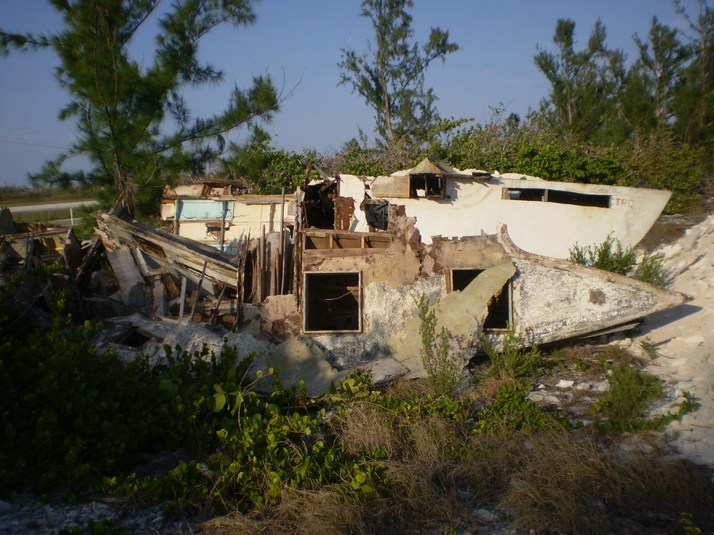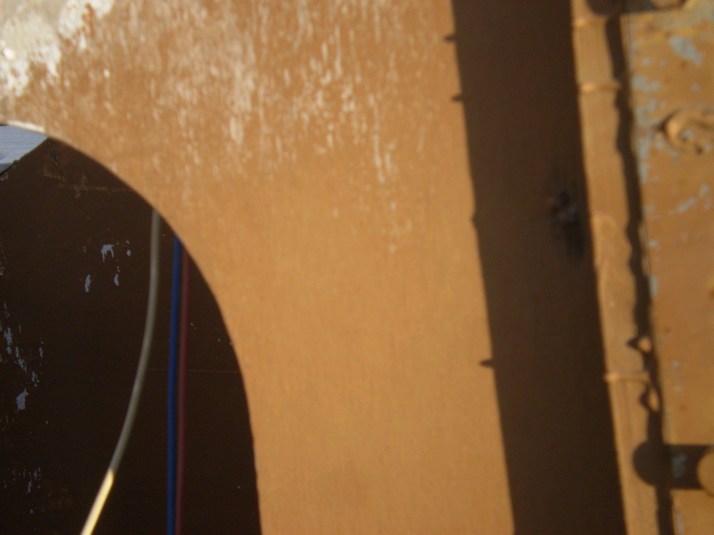 Wires from Donald's computer controlled anti capsize system.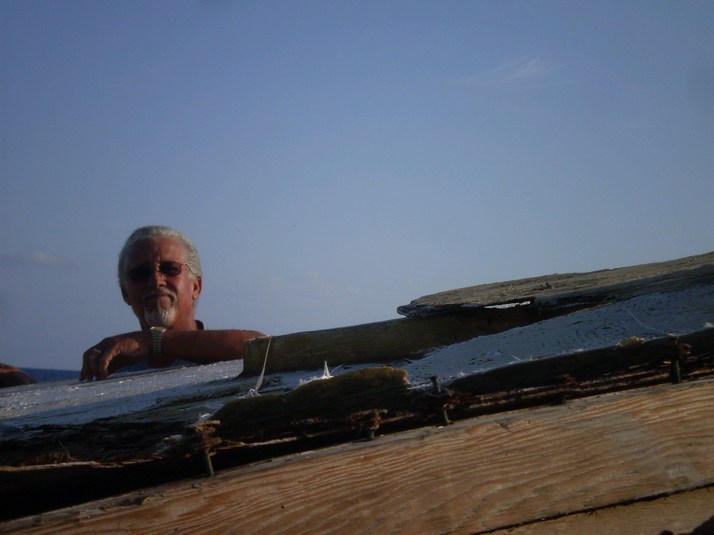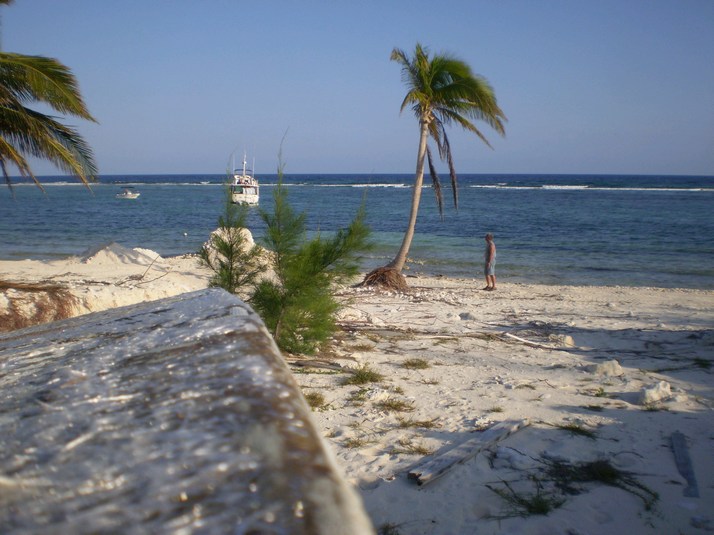 The View from Teignmouth Electrons foredeck.
I tell Terry about my Pilot to Cayman Brac. He tells me of a time he was sleeping aboard her in the forepeak and had just re-read part of 'The Strange Last Voyage of Donald Crowhurst' before nodding off. He heard steps on deck and they walked back to the cockpit. He hear the companion way hatch slide open and then the sound of someone in the galley. The sound of a spoon stirring a mug of tea. Then the hatch closed and he heard steps on deck walk forward.
Terry loved the boat. They bought her in 75 for a dive charter business. They ran lots of dives and also some sunset cruises, 'Spaghetti and Wine'. He told that story to the many guests. You may naught believe it, but I do. A bit tired, an altered state, things are possible.
Terry feels bad about how the boat has ended up. I think, nothing lasts forever, this is not a bad way for a boat to fade away. Better than crushed to death on some mean reef. She has a nice view and strange people still come by to pay their respects.
Next morning rather than having to call customs to clear out I notify them as they are launching a boat at 0730 to take them to Little Caymen. It is a giant panga they found adrift with 2 200 HP and 1 250 HP motor. Its fuel tanks are 440 gallons. It starts up in a cloud but the good news is that customs will clear me as soon as they get back from Little Caymen, around 1700.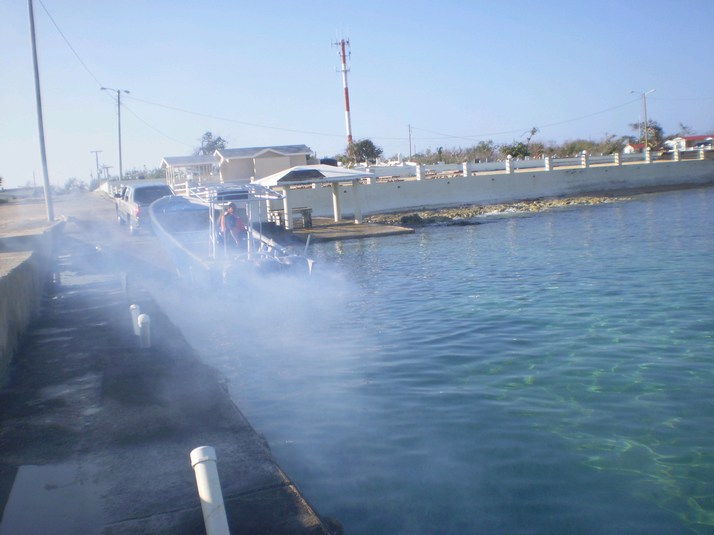 About an hour later a fellow drives up in a non-descript van and flashes a customs badge at me and mentions there has been a report of an oil slick. Have I been pumping my bilges? It feels like a touch. We know how to deal with these guys. No! I don't have a bilge pump! Hmmmm. Maybe it was that boat that was here about an hour ago. It was big and blue, I think it's name was 'Interceptor'. They just launched it and when they started it up there was a huge cloud of oil smoke. Perhaps that was what caused the slick? Uh Ummm , well if you don't have a bilge pump it could not have been you. I have a photo of the other boat and the smoke. If you want I could print you a copy? No thats all right, thanks for you help.
A bit later I am pulling the starboard mast to put the pad eye on before the eyebolt fails. It goes badly. The mast water dam is too close to the mast and the wedges cannot be fat enough to work and not fall into the mast step. Some dufus has frogged up a system were the wedges are thin enough to fall into the mast step but it is prevented by a little string tied to the wedge. Well after 600 miles to windward not only has the wedge slid down inside the step but the strings are a bit chaffed. In trying to pull the wedges out I break the string and 3 wedges fall down inside the step. Arrrrrgh. What a cockup.
I figure I will try to pull the mast, maybe the wedges won't matter. The mast gets stuck after a foot.
Long story short. After running around like a headless chicken for a bit, I know I need to bounce some ideas off someone. Our luck improves. The quay is a popular lunch and coffee break spot. Cable and Wireless has parked their cherry picker truck and is taking a break. I chat with the guy and ask him. 1) Try to pull the mast with the picker, concern is I will mangle the step due to the fallen wedges? 2) Push the mast back in and use a ladder or cherry picker to put on the new hardware? We chat. The path of least problems is to put the mast back down and if that goes well to put on the new hardware. He checks with his boss, 'Ok to help this guy out for 10 minutes'? Yep.
I push the mast back down and that seems to work. The masts are the same height. Norman Clark goes up in his cherry picker and installs the pad eye and block following my explicit instructions.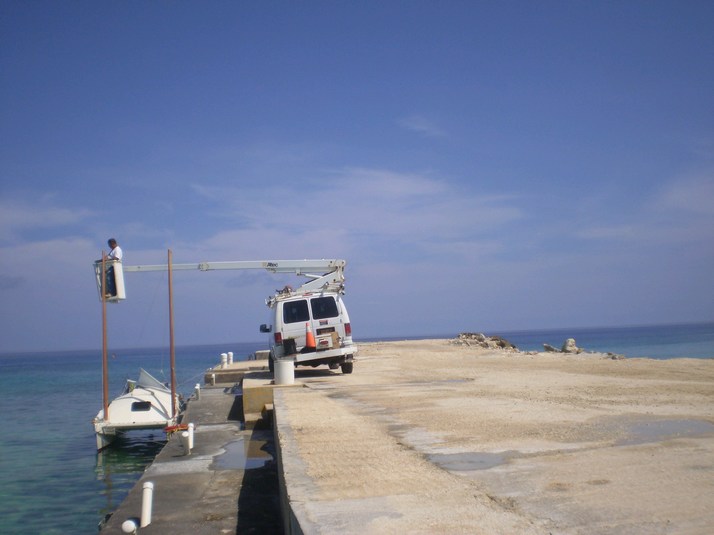 He also takes some photos for himself and for me. Thanks Norman. Thanks Cable and Wireless.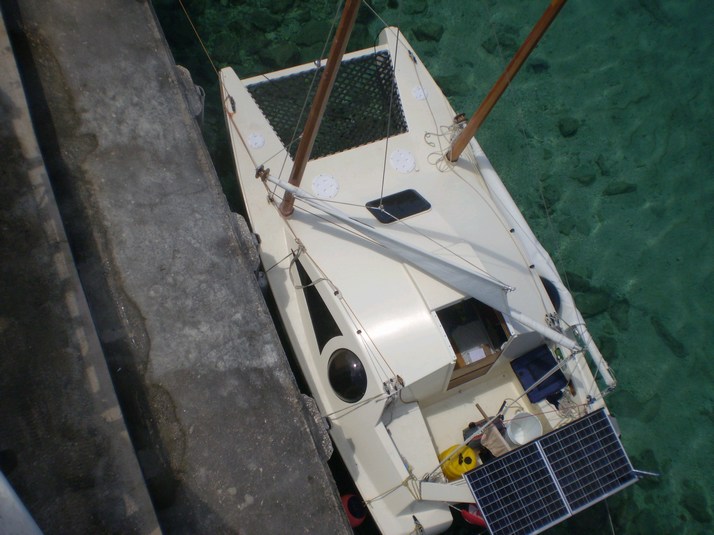 I go to the post office to use their internet kiosk and send a couple of post cards. It is a huge post office and the post mistress when asked says it was built for the future. It is not at capacity even at Xmas. This is the last photo the tired Olympus camera takes. I give the camera to Davy Jones on our romp to Cuba. I figure it takes about 2 hours to reach the sea floor.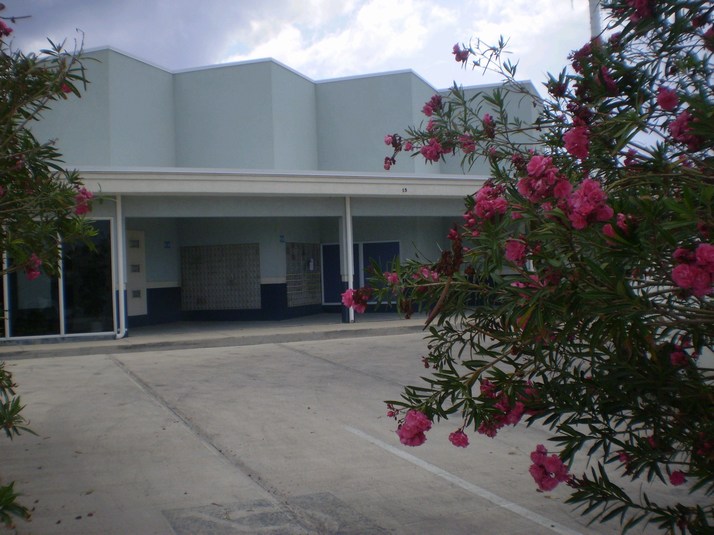 The Interceptor is back around 1730 and they stamp my passport out and write up my clearance. They are a little concerned that I am not planning on leaving till tomorrow but I assure them I will be moving off to the mooring buoy promptly and will be gone before the first rays of the sun colour the pretty blue water. Works for them, works for me.
0400 we depart on a close reach for Cuba. 180 miles. We arrive 38 hours later. The last three hours the wind died to F1 and we covered 15 miles with the motor. The other 165 miles were done in 35 hours, an average of 114 miles per day. An average of 4.8kt. Me and Red did the steering.
We were reaching for most of it with the wind about on the beam or a little ahead. I set just the windward sail at 2/3 hoist overnight as it was blowing pretty good and big seas were hiding in the dark. Red seemed to keep course very well with that setup and I got lots of naps. In the morning when I saw the waves and the large breaking crests I pretty well steered the rest of the way. We needed a bunch of Northing so I close reached along the big valleys and when I saw bad guys who thought they had our number I bore away and took them square on the stern.
For the first time this whole trip we got pooped. No green water aboard but the breaking crest exploded against the quarter ( I was not quite square ) and soaked me and dumped 2" of water into the cockpit. About 5 minutes later while running square we got pooped again. I rolled out another foot and a half of sail and that was the end of that.
This was all fairly hard steering and lots of heavy boat motion. At one point when a crest exploded on the quarter, I was thrown off my seat onto the cockpit sole, getting a nice bruise on my lower back. A little reminder to put some more serious non skid on the sole. The boat was at times surfing very fast, uncomfortably so, using lots of rudder. The GPS told the tale. Our previous maximum speed was in 30 kt, full sail, 6 -7 foot steep waves on the run to El Gato. Here we were in 22 to 25 kt, 40% sail area, 8-9' seas fairly well behaved with occasional sets of bad guys around 12-13'. We clocked off 12 knots surfing on the first set I checked. Then 12.4, 13.5. After half an hour we had done 15.0. and shortly after that 15.8kt. I rolled in a bit more sail after that one.
The tiller head was worrying me too. It is also under designed. Not enough bearing surface or a big enough bolt. It has egged the holes on the tiller post and on the tiller head itself. Before every major passage I have been disassembling it and gooping it up with epoxy to tighten it up. On the long port tack to Cayman Brac I did it at sea about 4 days out. By mid morning it is pretty sloppy and does not produce the crisp steering the conditions require. Around noon the breeze drops to 15kt or so. In an hour the waves are all more friendly and surfable with out excess speed.
I have done the math and we should be able to get in around dark. We have averaged 6+ kt all day. That changes around 1500 as the wind drops. Now with full sail we are only doing about 4.5kt. By 1600 about 2.5. Time for Yammy to burn some of those 8 gallons we have been lugging. We run medium fast for a couple of hours averaging about 5 with little surfs. As the light fades and the buoys don't light up we run full speed. The last 20 minutes are at a fast idle as we crawl around a bar in the dark and find some poorly lit sailboats behind it. Hook in, Rum for the Lady and Neptune and tea for me.
---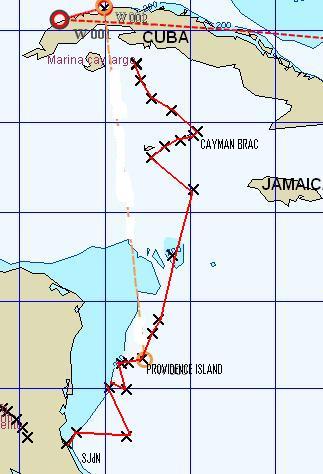 Distance Summary:
---
This Leg: 810 Nautical Miles
Hours Underway: 322
Hours on Motor: 18
---
Total To Date: 3365 Nautical Miles
Total Hours Underway: 1379
Total Hours on Motor: 205
---
Copyright © 2009 Tony Bigras.