Travels with Miss Cindy

Chapter 17

On the River, Boca de Saballos, Monte Cristo Lodge, Zarpe Zarpe Zarpe, Tow to El Castille, El Diablo Rapids, Pedro the Guide, Camaron de Aqua Dulce, Crocodiles Attack at Trinidad, Iquanas Monkeys Birds, Stuck on Sand Bars, San Juan del Norte, Old Greytown.
---
San Carlos, Nicaragua. It is still April 1.

My Olympus Fe 170 camera which for the last couple of years has had some balky buttons, and for the last couple of months makes interesting grinding sounds with lens movement, has now decided I don't get to see its display screen. There is no view finder either. Lucky for me I know the button sequences I use a lot. I assume it is still taking pictures and that I cannot see the display. The idiot lights seem to flash properly when I take a photo. If the next 400 photos seem a bit odd, it is not me being creative, but just shooting blind.

I drift on the 1/2 knot current and put the rusky binocs on the piers and what not ashore looking for a place. I ask a passing dugout where immigration is. There is a big riverboat in there I could come alongside facing into the current. When I start up Yammy the shear pin fails. All of the shear pin failures I have had were on startup. I anchor, pull the motor aboard and put in one of my 10 spares and head in.

We have tied alongside a riverboat next to Immigration. I ask the two guys on the boat how long before it leaves. Three of four hours. I grab my pack and my list and start with Immigration. They say no problem to clear out at San Juan del Norte. I find the equivalent of the Port Capitan. They find the permit to navigate interesting as well. The cost of the permit may be worth it for entertainment value alone. They issue me a national zarpe to SJdN for 20 cordobas. I ask about river conditions. It is very low down stream. I ask about the power lines and how much clearance there is and where they are. I am asked how high I am, 17', that will not be a problem. How high are the lines? No problem. Where are they, are they before Boca de Saballos? They are no problem. Near Boca de Saballos? Before. I check my hotmail and scout around town for a tourist map of the river. The one I want is pinned to a wall and they don't want to sell it. I get another with less detail for just putting our names in a registry at the tourist info centre. I pick up some juice and lots of peanuts. When I go to drop this off at the boat, the riverboat alongside is full of people. I ask when they are leaving. 15 minutes. I get aboard and we push off. One hour and fifteen minutes in San Carlos, perhaps a new record. It seemed a friendly enough town with a bit of a cement plant look to it.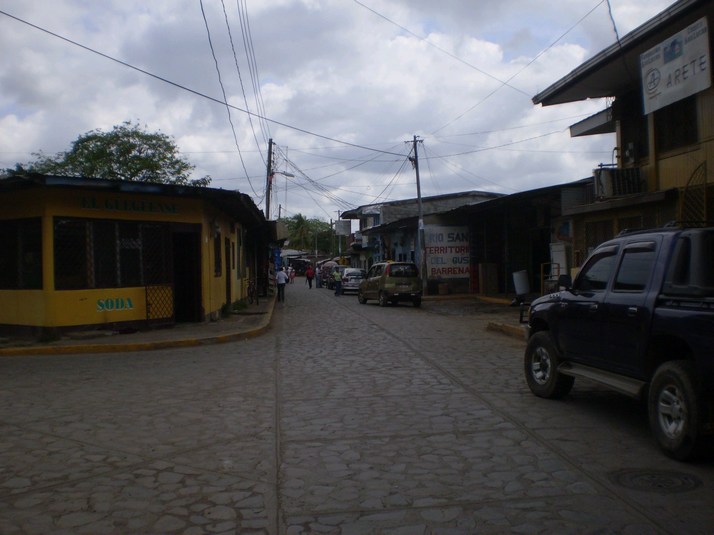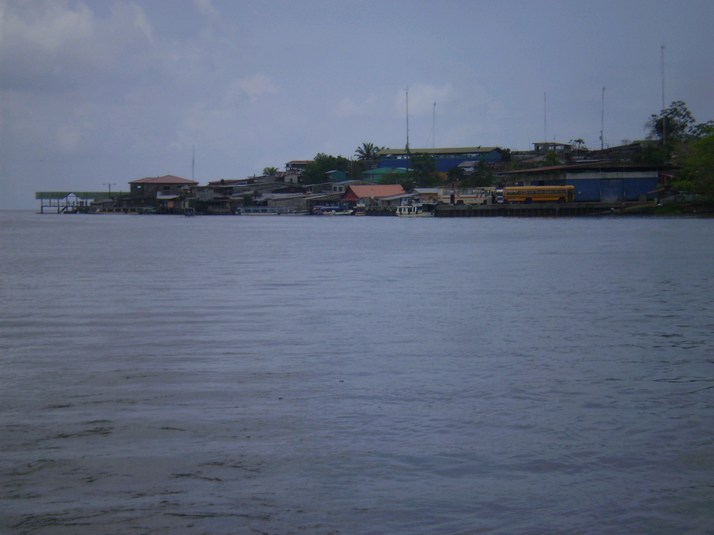 Down the river we go. Taking it easy on the motor but still doing 5 1/4 kt. The river is described as being very wide at this point but to me it seems I could with a good effort throw a rock across it. There are lots of long legged white birds.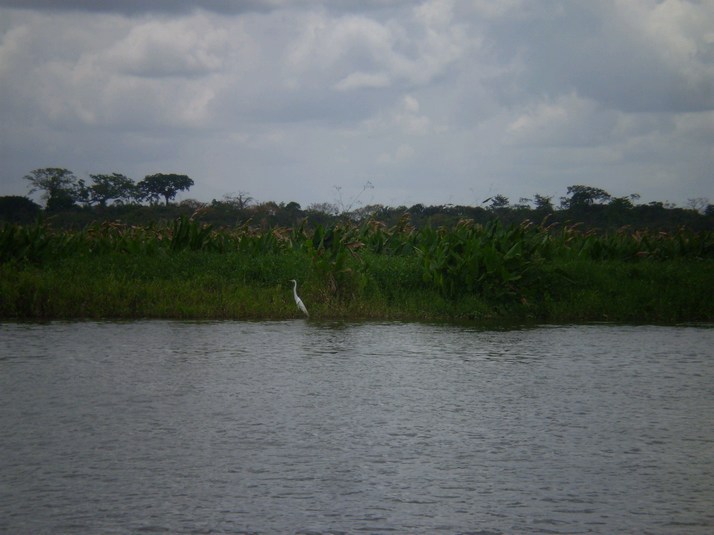 We carry on downstream enjoying the river and thinking about those that have gone here before. Pirates, Spaniards, Indians, Military Adventurers. The depth of the river is comfortable and there is little in the way of log snags and rocks. We see quite a few people along the way. About a third of them return waves and most of those are people on the South bank. This is still Nicaragua on both sides. There are small groups of 2 or 3 at odd isolated places doing odd things. Some look like they may be poaching with long lines, maybe that is why they don't wave back?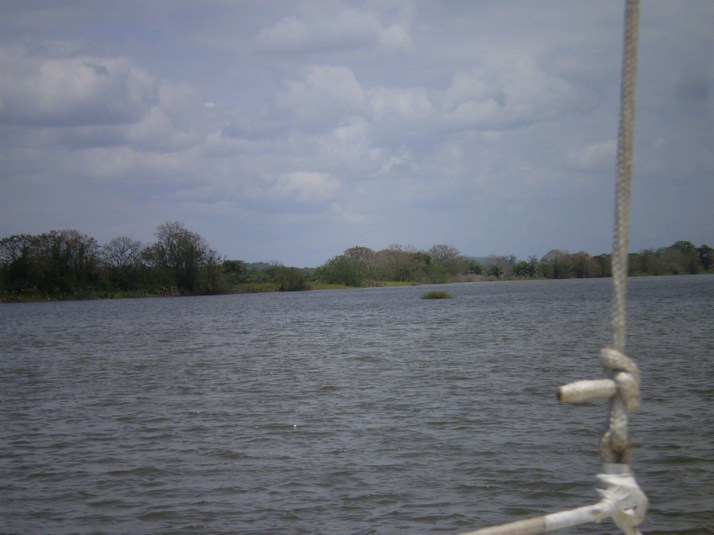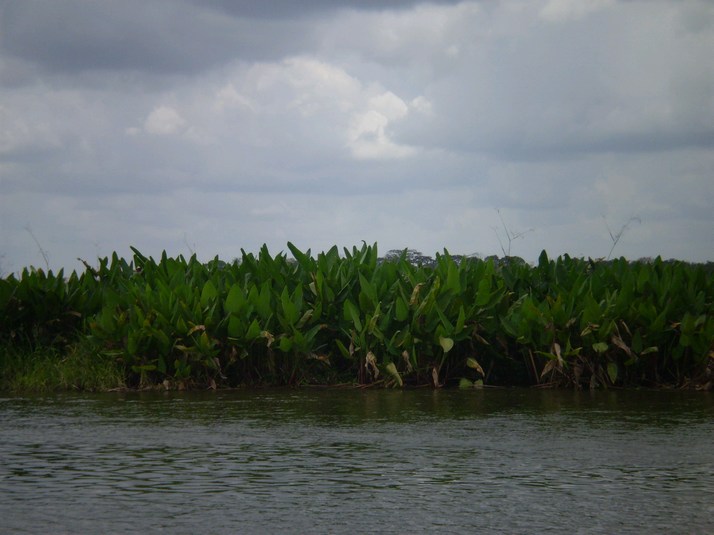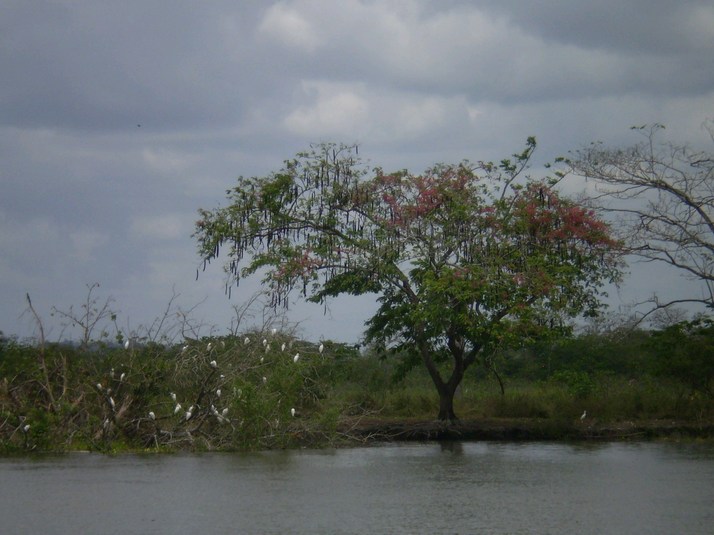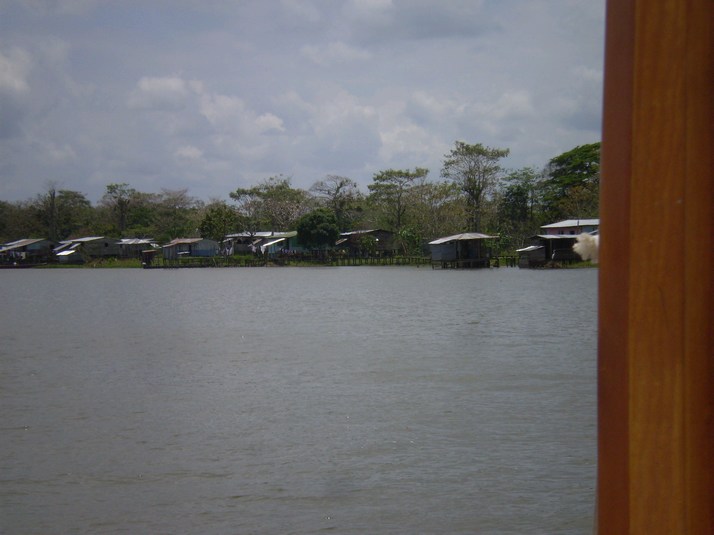 An hour and a half along there is a chain ferry on one bank. The power lines are overhead. We clear at the centre of the river by about 3 feet.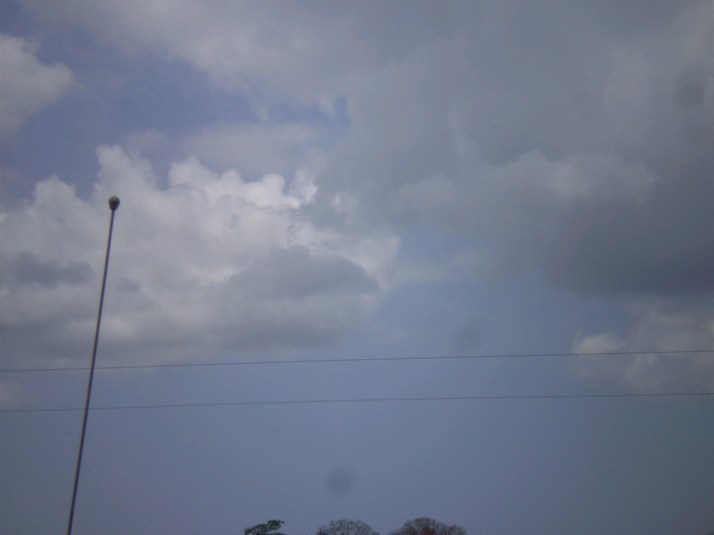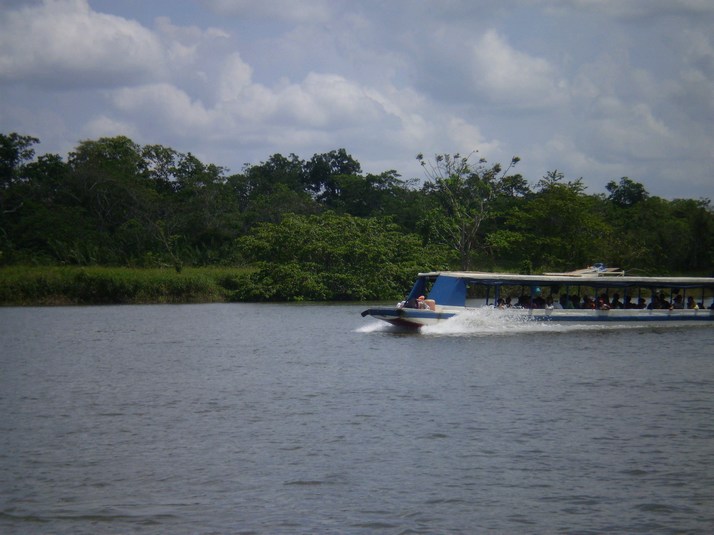 I go past a crowd on the South bank and there are 3 guys paddling a tin cartopper. They wave me over and I stop there and give them a PangaPak and we chat a bit. They are just out for some fun in the afternoon. A few miles further along there are 3 young boys standing by a dugout at the river bank. We all wave. I get a beach ball I have blown up from below and wave it in the air. They seem keen. I drop it in the wake and they paddle out. They are on their way back to shore with their catch as I go around the next bend.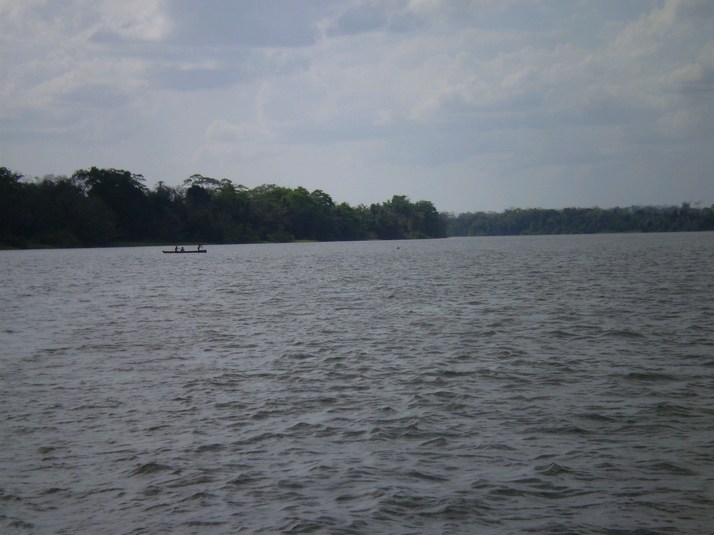 Just before 1400 I meet a fishing skiff planing up the river. It is one of those situations where I have not seen a boat for an hour, he probably has not either. Do we slow, do we stop, do we just wave. I can see him coming off the plane so I shut down the motor and angle over towards him. We chat briefly and he switches to English. I give him a PangaPak. His name is Alphonso and he has a lodge just past Boca de Saballo. He offers me a free stay for a photo of 'Miss Cindy' at his lodge. His lodge is just below the El Toro rapids about two miles from where I had planned to spend the night. I was intending to pick up a guide in Saballos for the run down to El Castille. He says he will send a guide to meet me a Saballos. He will call his daughter and arrange it all when he gets to San Carlos and gets cell service. He is headed to Managua and won't be back till Friday night. He asks me to let him do this? He will send a guide to take me thru El Toro rapids and my boat will be safe at his lodge, they will feed me supper, give me a room and feed me breakfast in the morning.
I say sure, I will wait in Saballos after I check in at the control point. He says he will send the guide, I believe him don't I? I sweep my arm around and say if we can't trust each other who is there to trust?
It is April 1.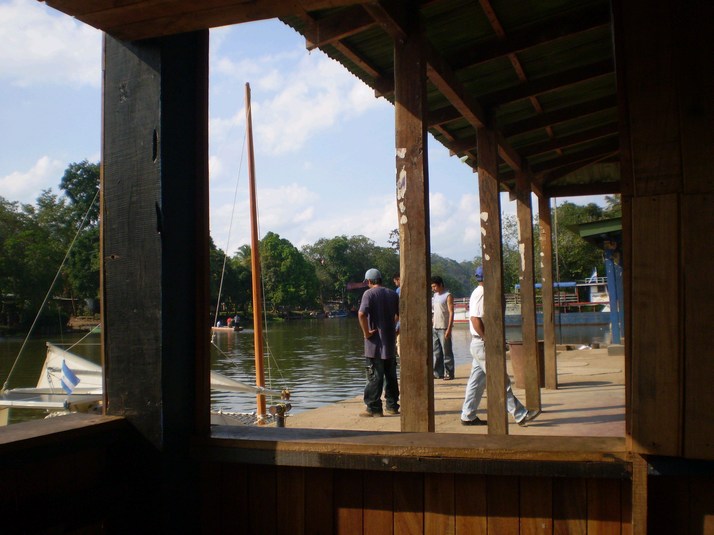 1500 Tied to the concrete quay at Saballos. Stiff interaction with the military point control guy. He is from the Atlantic side of Nicaragua. I hand in my San Carlos zarpe and he issues me a zarpe for departure at 1700. That is the latest for departure from here as night travel on the river is not permitted. I ask if he smokes cigars and yes he does. I tell him I will get him one from the little boat. When I get back he is pretty chipper and we chat a bit more.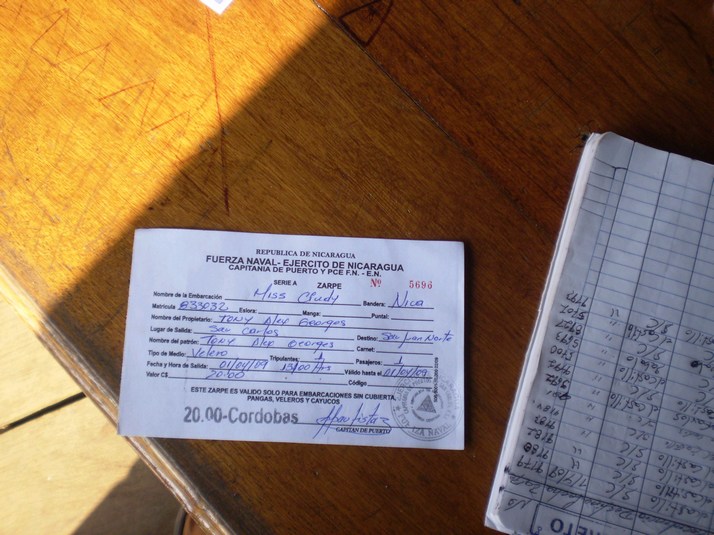 A tourist office guy has pointed me around town. I go across on one of the little ferry punts to the other side of the river for gas. It is 2 cordobas each way I understand and I give my guy 5 and say for return too. They have no gas and it will arrive at 1700 on the next boat. I go back and wait for my punt and a young boy wants me to get in his. I explain I am waiting for 'Princessa' as I have paid for a return trip. He gives me his best 7 year old pout/glare and I watch the old man paddle the even older prow of his punt onto the mud beach. He knows of another place with gas and paddles me there. I bail about 5 gallons of water out of 'Princessa' along the way. They are out too. He takes me back to the other side. He gives me my change, 3 cords as it is only 1 cordoba each way. I thank him and take it.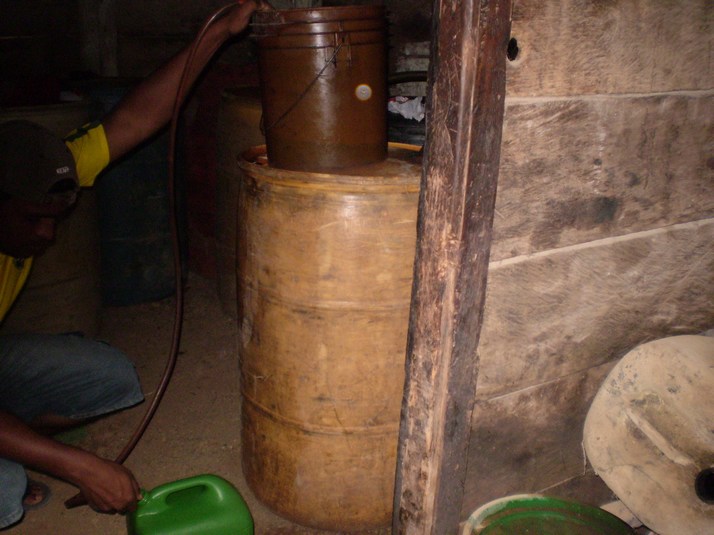 The tourist guy takes me up the hill to another gas stop. $5 a gallon.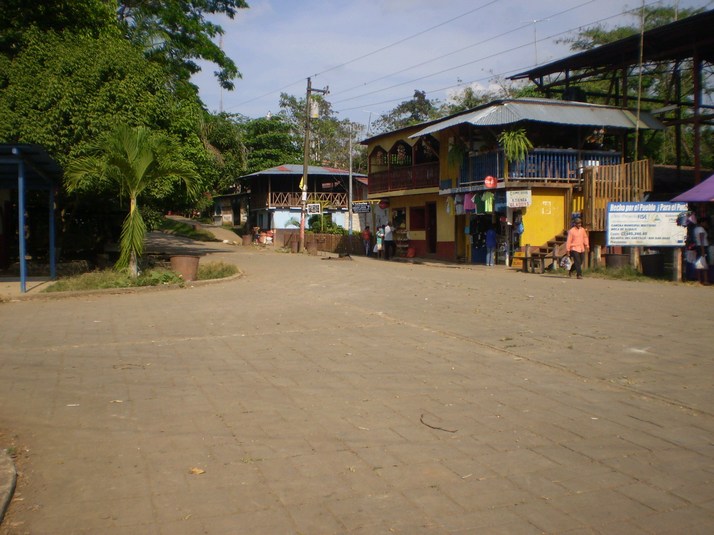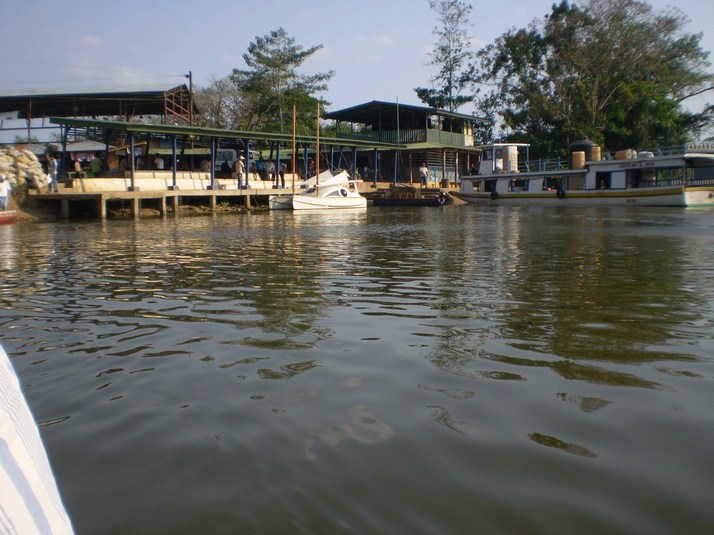 I have a coke, some pastry and a quick walk about town. There are lots of people asking about 'Miss Cindy'. I pass out a bunch of her cards. Around 1630 the guide from the lodge is there. He is also picking up some stuff. I pull away from the quay and the crowd to loiter in the middle of the Saballos river and wait.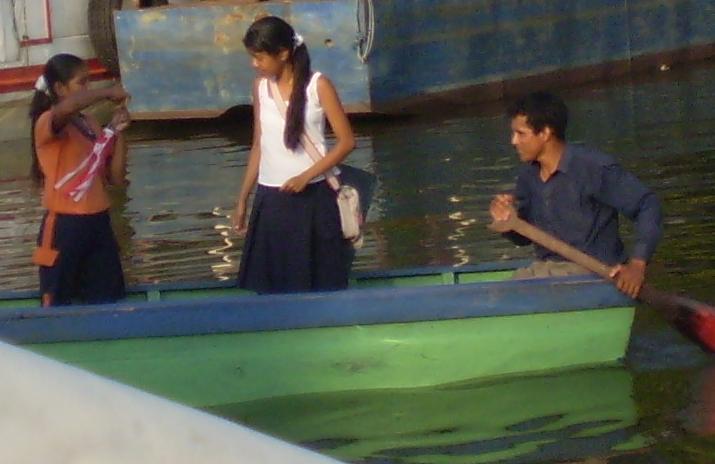 I give some PangaPak stuff to some kids on another river crossing punt. The guide, a young woman and a little boy are ahead in the skiff and out we go. He starts in very close to shore and I follow. We wander thru rock and rapids and from outside curve to outside curve on the river getting down to 4 feet at one point, then we are at Monte Cristo River Lodge.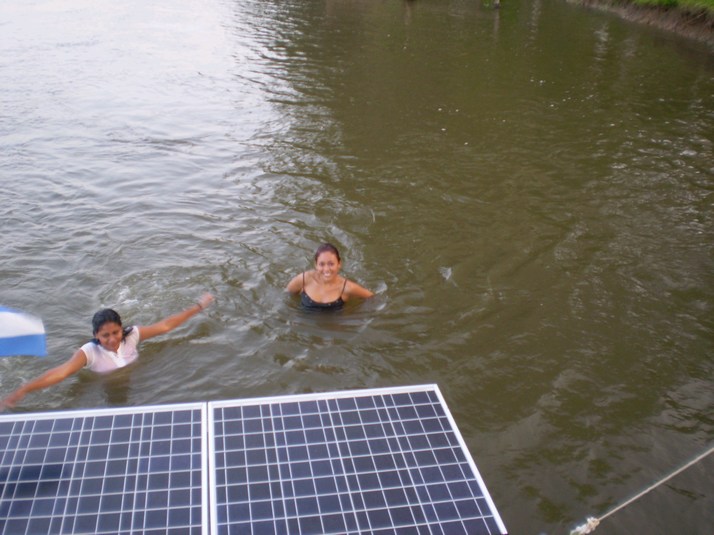 More young ladies swimming around 'Miss Cindy'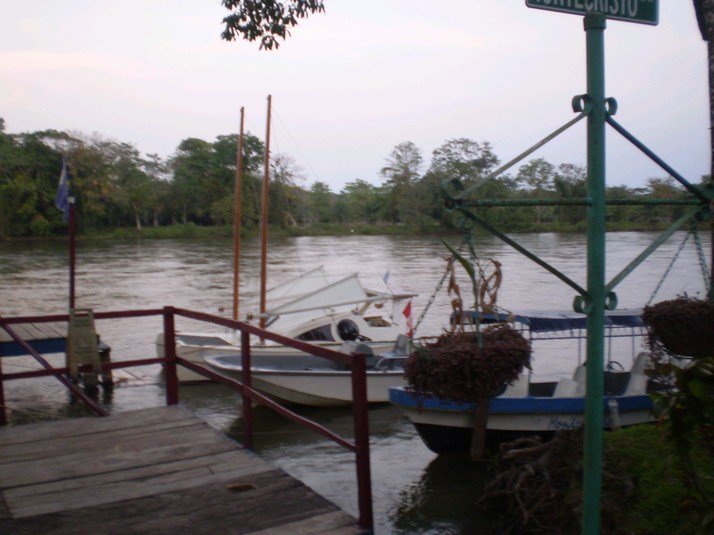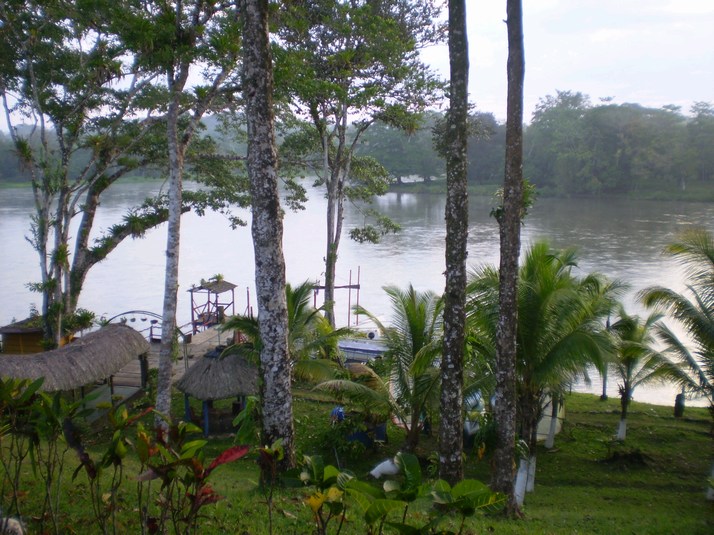 All these props died 'Learning the River'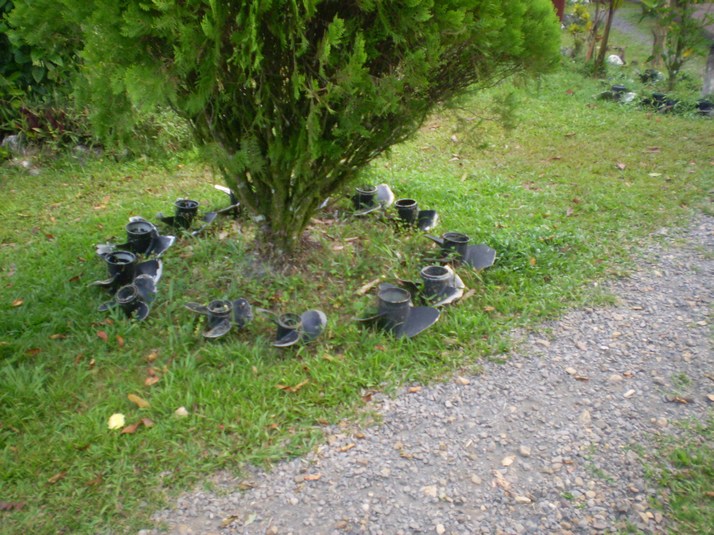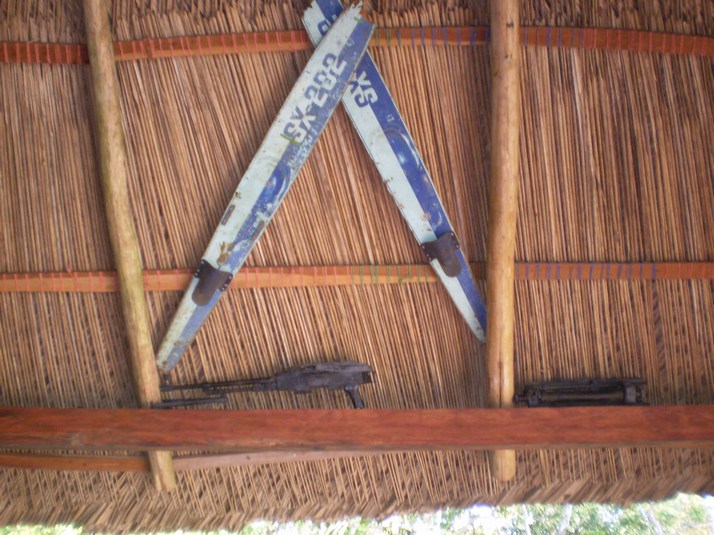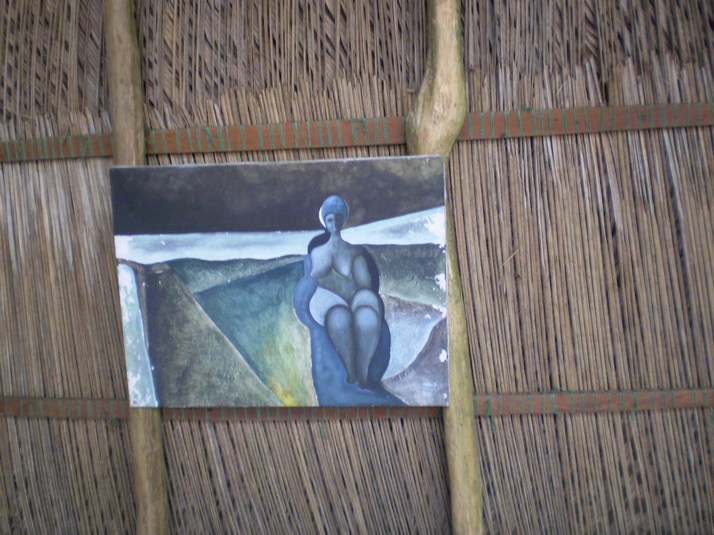 I talk with the staff, then hit the showers. Later I meet the daughter. Young, living in Florida, visiting Dad for 4 months, reflecting. Her Dad is Nica but moved to the states in the 80's and joined the US Navy. Came back here about 10 years ago and started building his dream lodge from scratch. Lots of historic stuff and antiques from the area incorporated in that work. Quite a nice lodge. They offer a choice for dinner and I go with the fish. They set it out in the main dining room overlooking the river but I take it over to the little bar by the kitchen and eat there with the staff.
It looks like a bigger version of the fish I got at the Solintaname Islands. It is much tastier and with firmer flesh. It is a Tilapia from the lake, the same as the two smaller ones I did not like. After dinner I talk of plans for the river and guide and transit options. Take a guide with me, follow a launch with a guide, guide all the way, guide from here to Matucha. The river has nasty rocks and rapids between here and Matucha. A guide would be a good idea. Problem is there are only two boats a week south of Matucha ( which is not a town but just the name of the rapids ). So how does the guide get back. Guide with launch maybe. Another option might be to tow 'Miss Cindy' behind the packet boat that leaves El Castile at 0500 on Friday. The daughter knows a guide at El Castille and gives him a call. He thinks that might be doable.
I stay up with the daughter and the pretty Nica and play cards. The Nica has that tooth framing dental adornment that is popular with many here. It looks a bit like braces but grows on you. We play Gasmatche. I played this a bit in El Quixote bar in Granada. It is a strange sort of rummy with an odd turn sequence and the objective of having 10 cards on the table when you do your last discard. Though you can keep drawing and discarding with no cards in your hand to try to achieve that objective. I win about a third of the time.
I head to bed in the Mark Twain cabin and pull a book from the shelves and read a detailed account of the life and adventures of William Walker . He was basically king of Nicaragua for a few years and wanted all of Central America. Amazing what one man with a mercenary army of 50 and a lot of vision and drive can do. For Walker , in the chaotic system of Central America at that time, the sky was the limit. I drift off to sleep in the 1850's.
In the night I record some of the sounds of the jungle.
When I wake I decide to test tow 'Miss Cindy' to El Castille and if that works well to see about towing her to SJdN behind the regular packet boat. I eat a breakfast of beans and rice with the staff and then hoist a sail on 'Miss Cindy' for some morning light photos.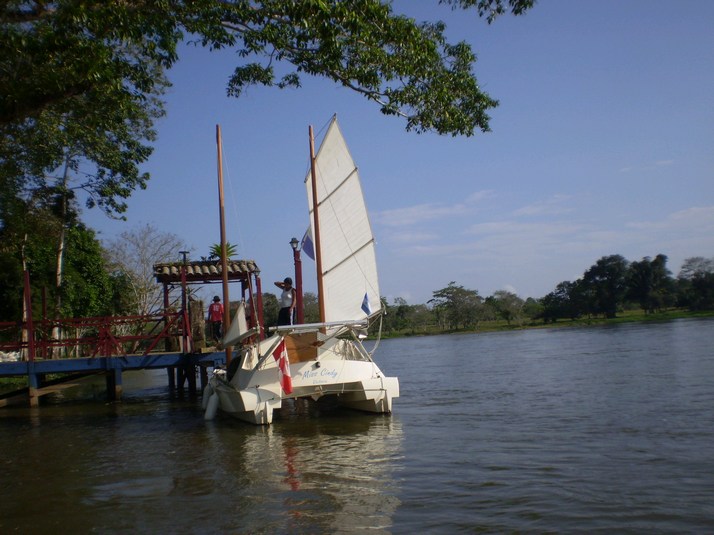 We go out in the skiff and get those and after a bit on shore we head back to Saballos on the skiff where I buy some gas for the trip to El Castille. We tow her and she sits on the upslope of the skiff wake till around 10 kt being a bit of a drag. By 12 she is sitting pretty nice and flat on the wake and an easy pull. We try up to 16 kt but by then she is surfing on the wake and the tow lines are pretty slack and she oscillates a bit.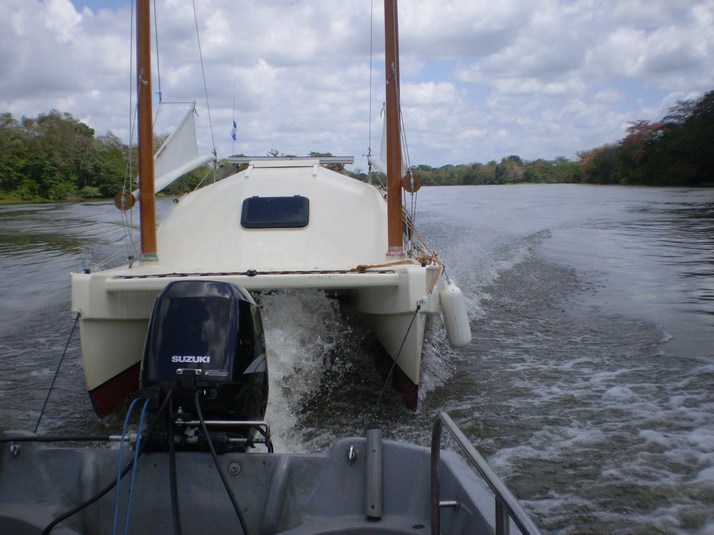 Towing 'Miss Cindy', The Movie
We stay around 12kt and are in El Castille in half and hour. We tie along side the quay with some tires and fenders between us and the concrete. A bunch of kids swim around and under 'Miss Cindy'. At some point I notice the rudders are fully up, later they are back down. I talk with the friendly guy at the control point and after we are done and have arranged for a zarpe for tomorrow at 0500 I ask re cigars and get him one from 'Miss Cindy'. The daughter has the guide friend there and we talk. No way would they tow us behind the packet boat. They carry kayaks on top but would not tow. He suggest a guide he knows for the rest of the river. The next 20 miles have lots of rocks, then there is maybe 30 of nice stuff then 20 that is very dry then 10 just fine. We may have trouble getting thru because the river is so low he says. The guy a the control point says we will have to shift as there is a big boat due in soon. He suggests going to the military post rather than staying here overnight. It will be safe there, here some kids might cause some accidental breakage while playing about. I say ok.
Both guides hop aboard for the trip around 'The Devil' rapids. One guide rides on the foredeck holding onto the bow bridals and leaning back like riding a team of circus horses. The other guide Pedro Rayot takes the helm.
We hold about 2/3 throttle and she does just sweetly. Thanks for the photo Diana.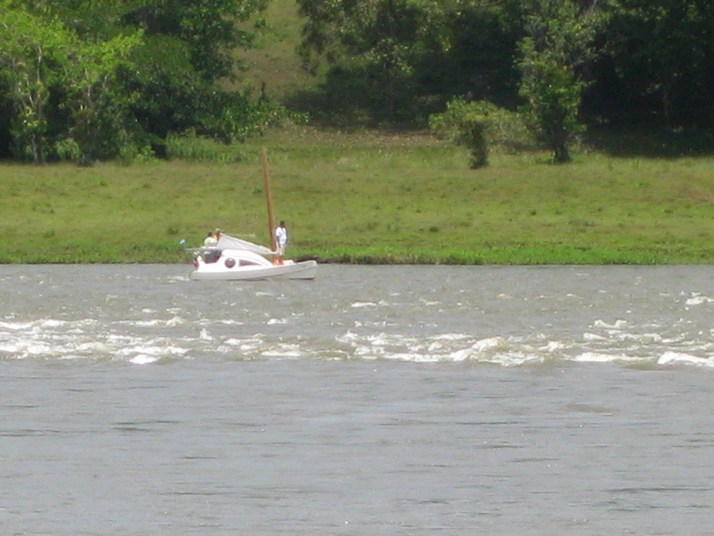 Soon we are prow in to the muddy bank by the camo painted military post.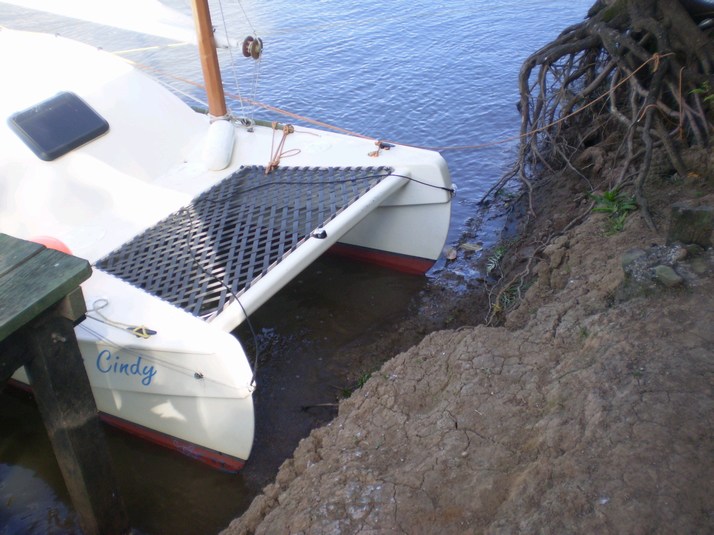 I tie her off upstream and down and chat with the guard and his boss and give them a couple of cigars. As 'Miss Cindy' seems to like Pedro I ask the price to SJdN. It will be two days on the river, I will pay for food, his lodging in those two days and he will cover his lodging and return costs at SJdN. He says $120. I confirm $120 by writing it on my dictionary back page and we shake.
I offer to buy him lunch. The camaron de agua dulce is famous here. We stroll up the concrete walkways in this nice little town and he enquires at a couple of places for the giant crayfish and he takes me to see his house and family including his growing family of river boats and outboards. We head back to the restaurant and settle in to a mini feast. We eat it messily with our hands. Pedro does not smoke or drink but still knows how to enjoy himself. yum yum yum. They don't taste like chicken either, more like a sweeter more delicate lobster, lighter fare if it were not for all the garlic butter. If you get to this part of the world you don't want to miss these. Pedro says in SJdN at Martha's they are at least as good but less expensive.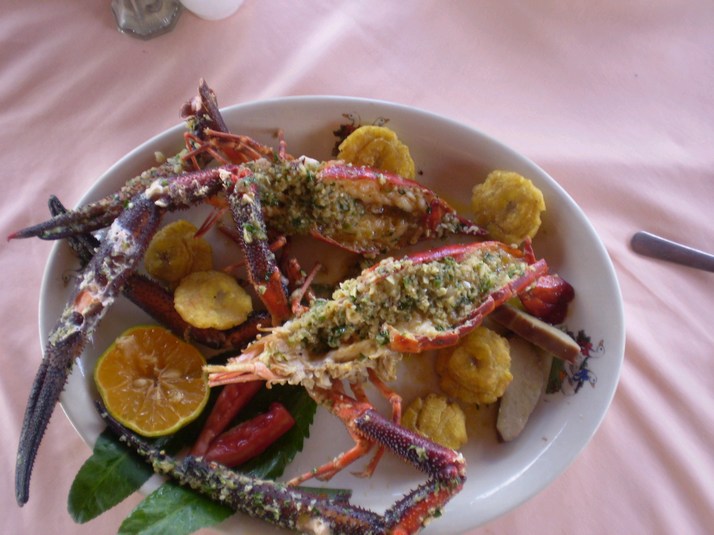 We get some grub and drinks for the trip and arrange to meet at the control point for our zarpes at 0500. I go up to the fort. I am here. Nelson was here too.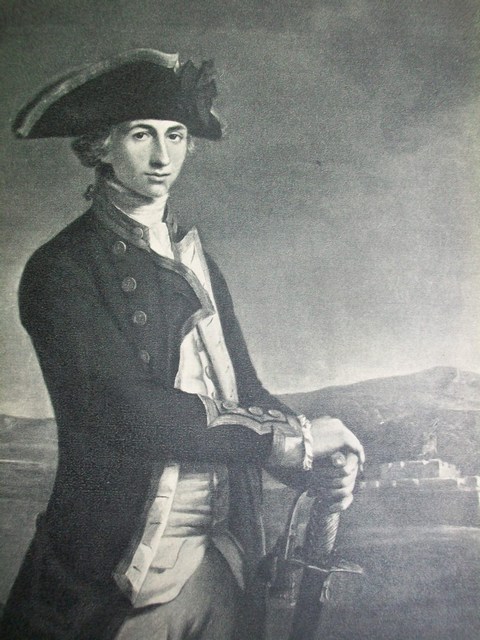 Depending on the story this is where he lost his eye, or his arm, or his virginity. This place feels old. El Castille is one of my destinations too. I am glad to be here.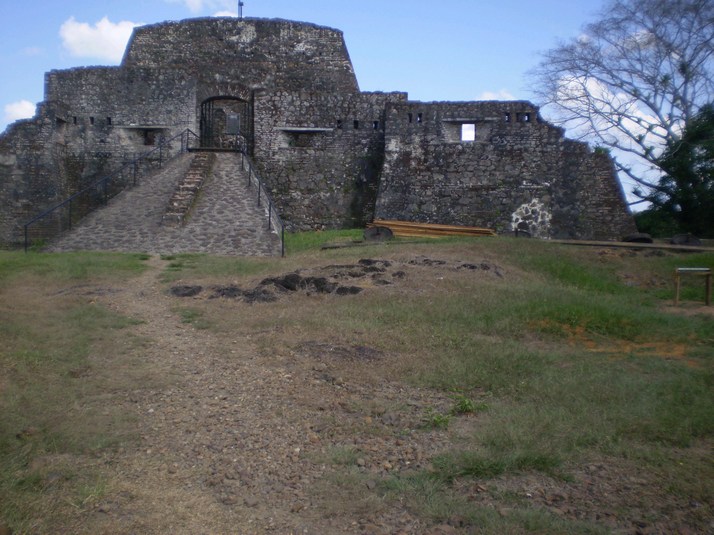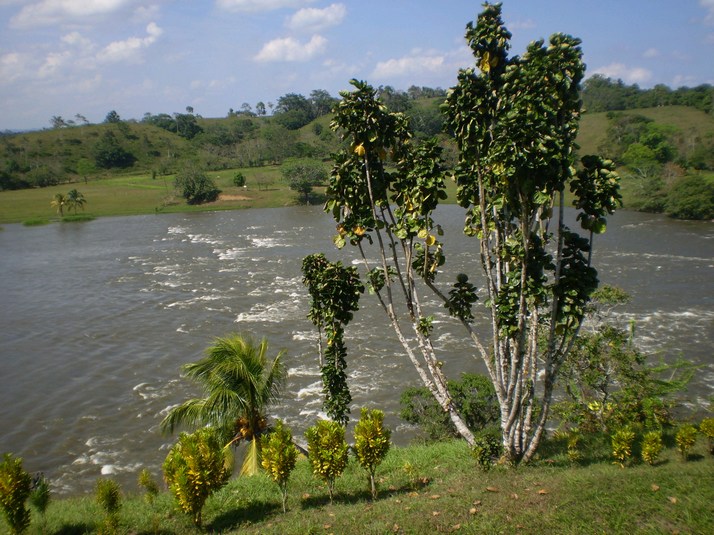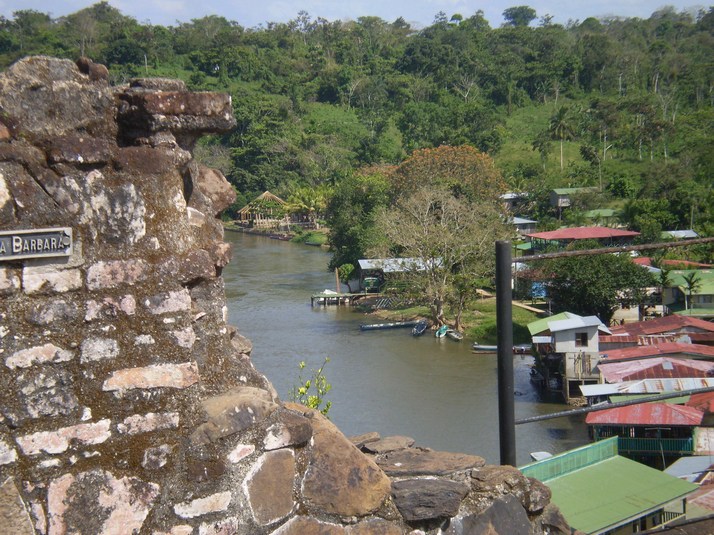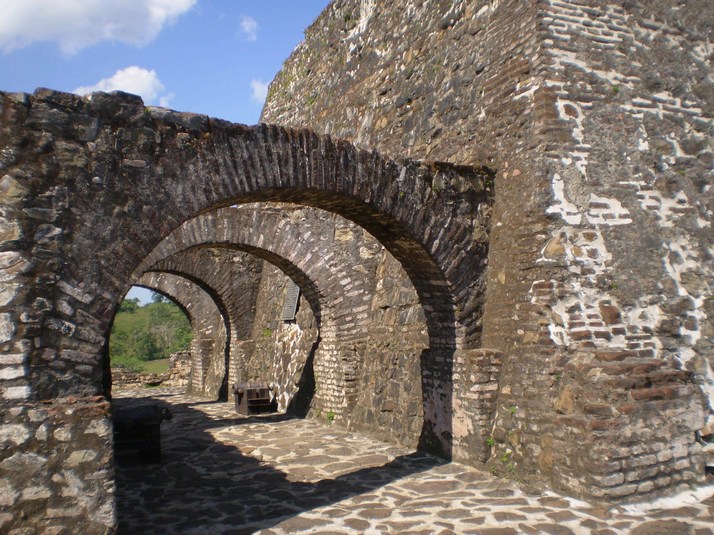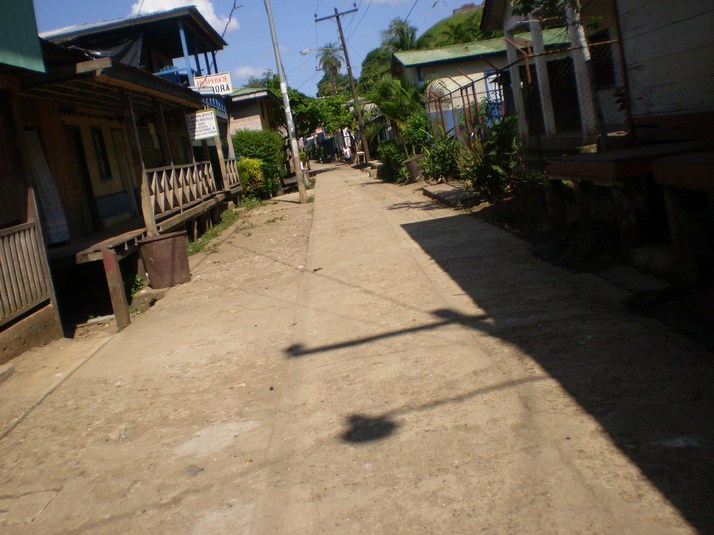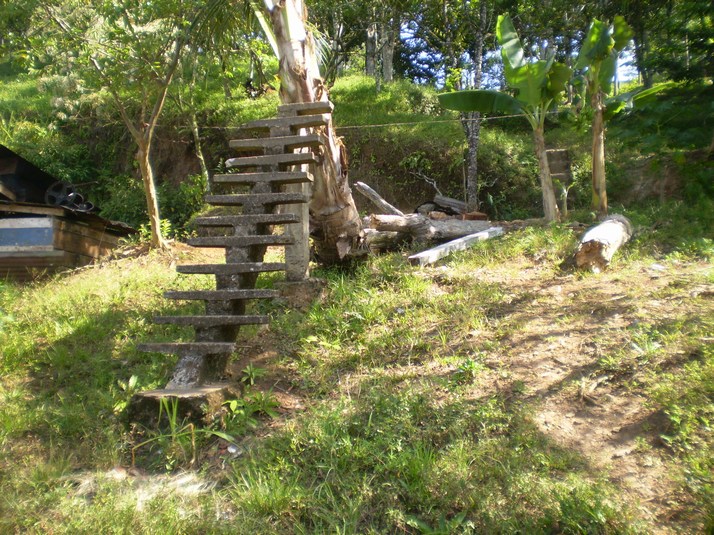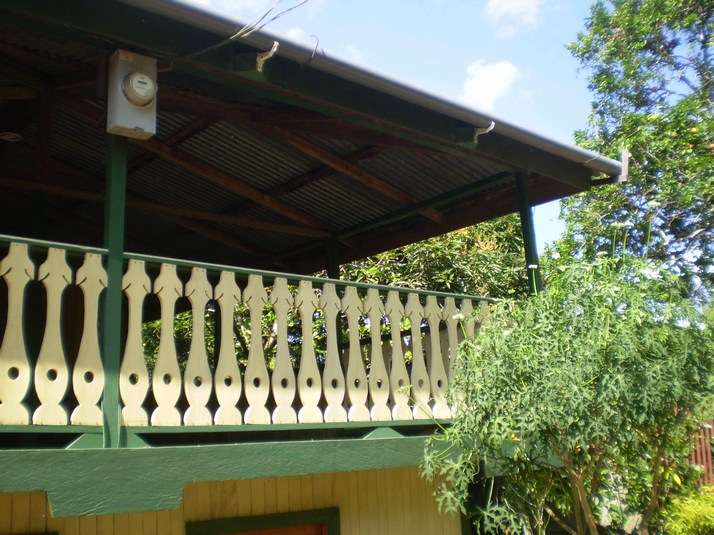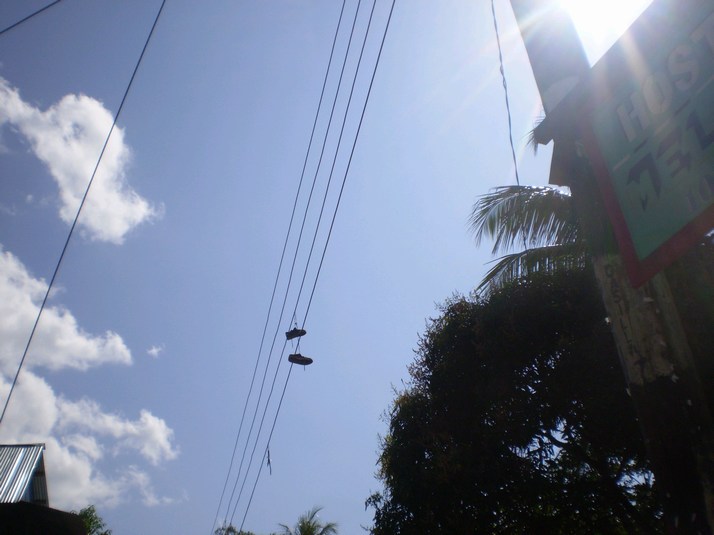 No. It is not me chucking shoes over wires everywhere I go.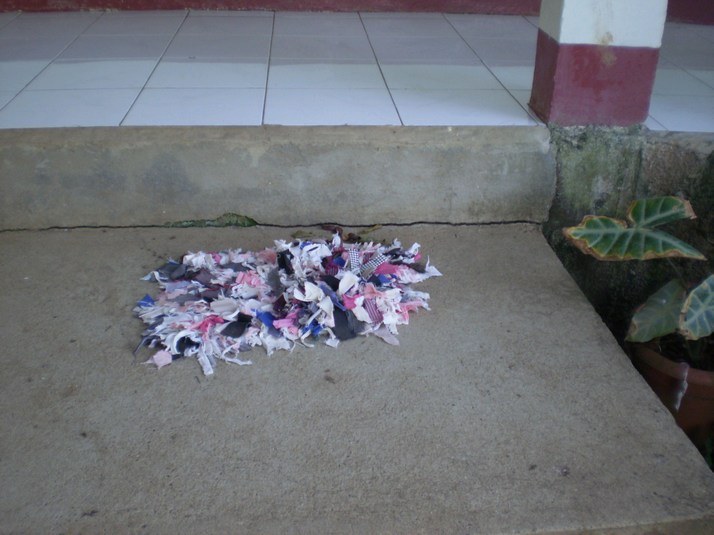 Most people here wear wellington gum boots all year round. It must be a muddy place. They have these cute door mats.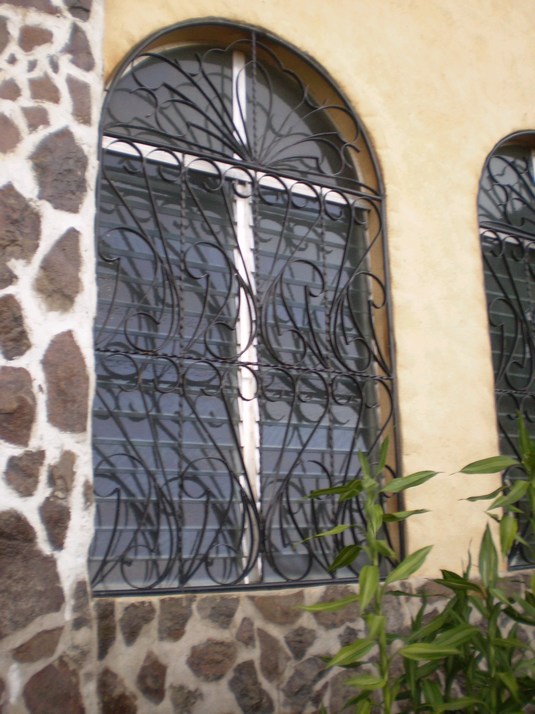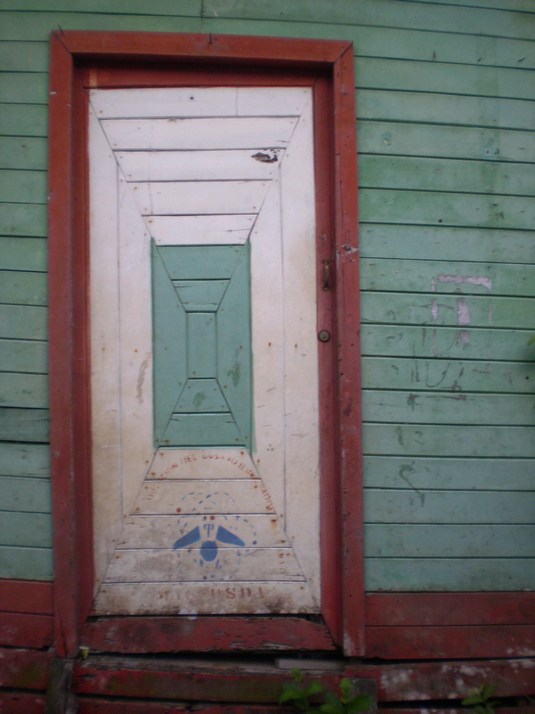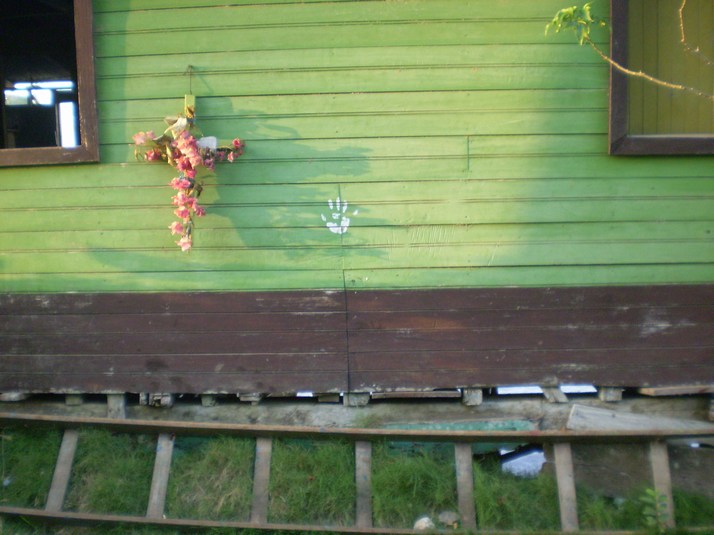 I chat with some different guards when I get back. One older guy asks if I was in the navy. We talk about army life and my time in the reserves. An hour later there are a couple of lovers sitting on the end of the dock squabbling a bit. It is a small village and locals have easy access to the army post. Friendly but still secure
Next day 0500 the zarpe point control guy is not there. Get someone from military post, he finds him and wakes him up. On the water by 0530. Lots of rocks, lots of little rapids, very glad I got the guide. Boiled up some eggs. Pedro does not want to try them with HP Sauce, he does not like sauce Englais. On his second one he decides to give it a try and likes it.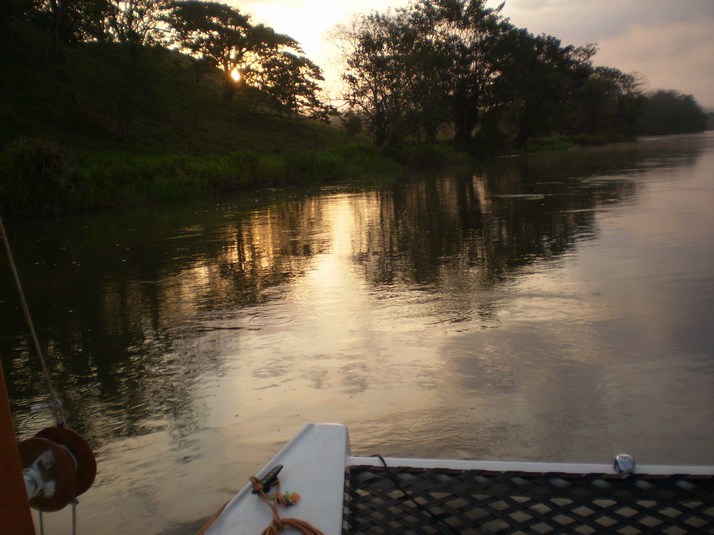 We reach our first control point and stick the bows in towards a little pier. 4 guys come down in various states of dress and look at our zarpe and wave us on.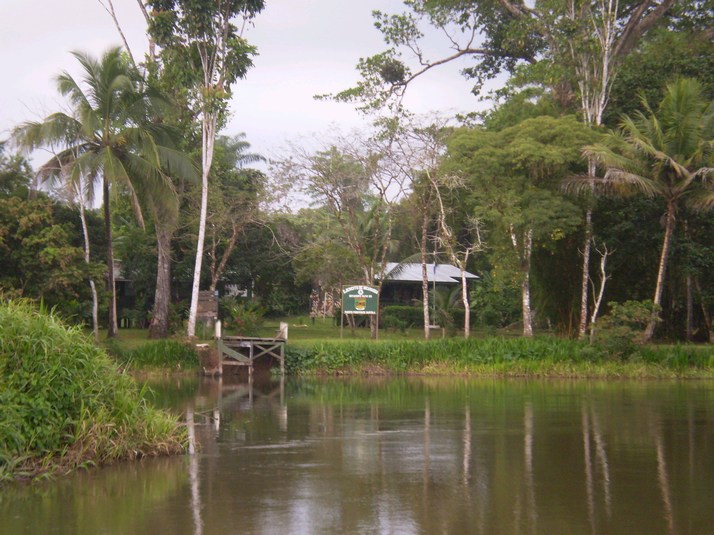 Next towards Mancuta rapids and past a sunken Transit Line ship from the 1860's. We go really close to some rocks time and time again basically heading towards the downstream side of them. Very glad I got the guide.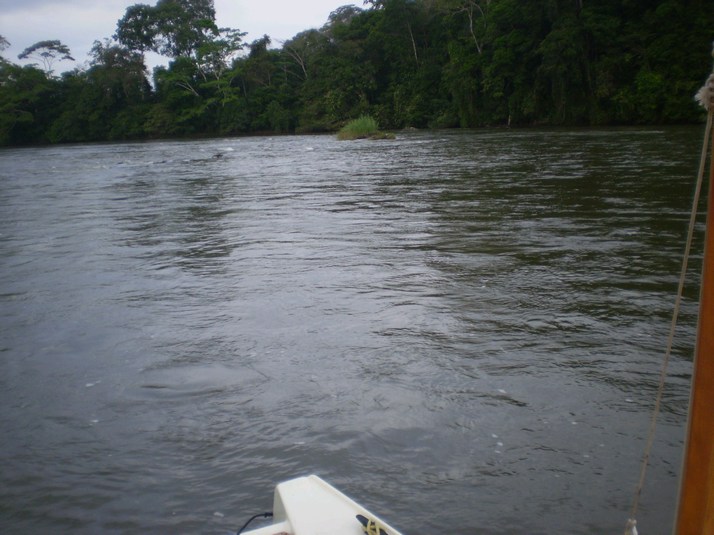 We are clear of the rapids and the next 30 miles are pretty easy going, decent amount of water and basically just heading from outside curve to outside curve.
Easy Going on the River, The Movie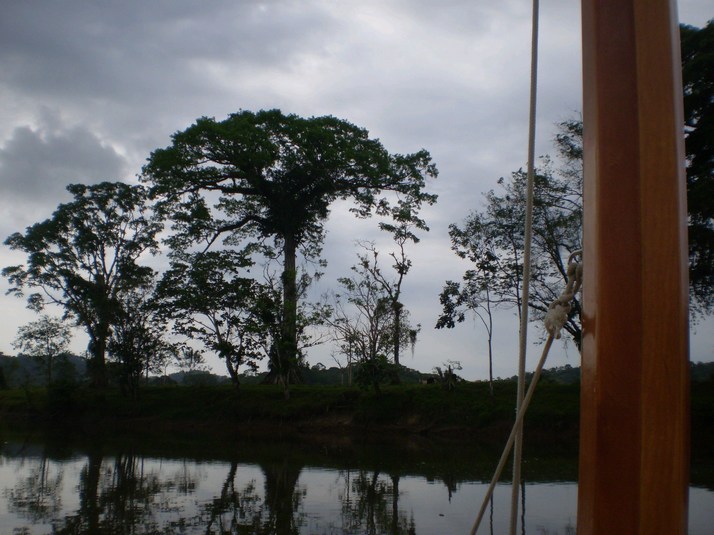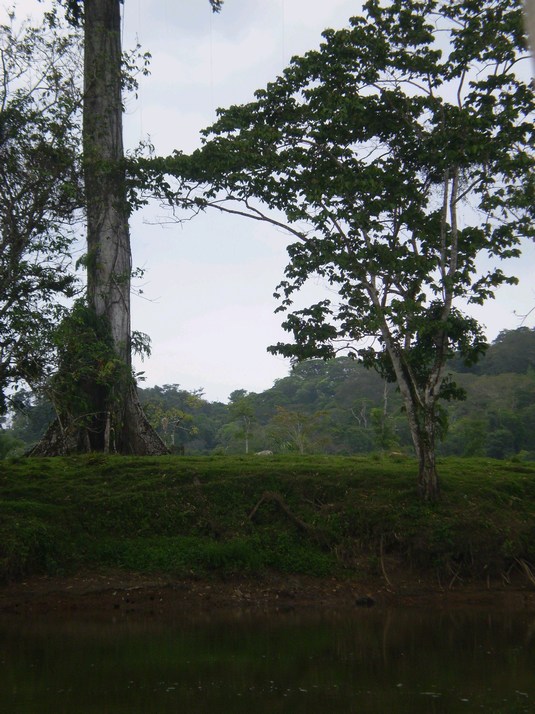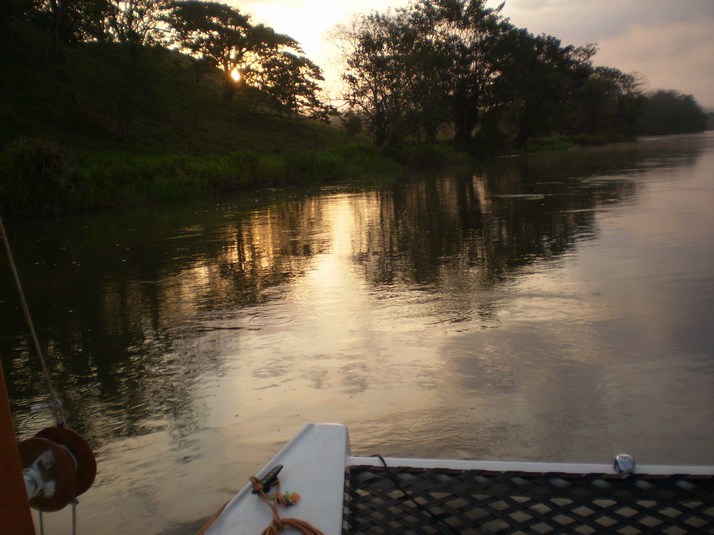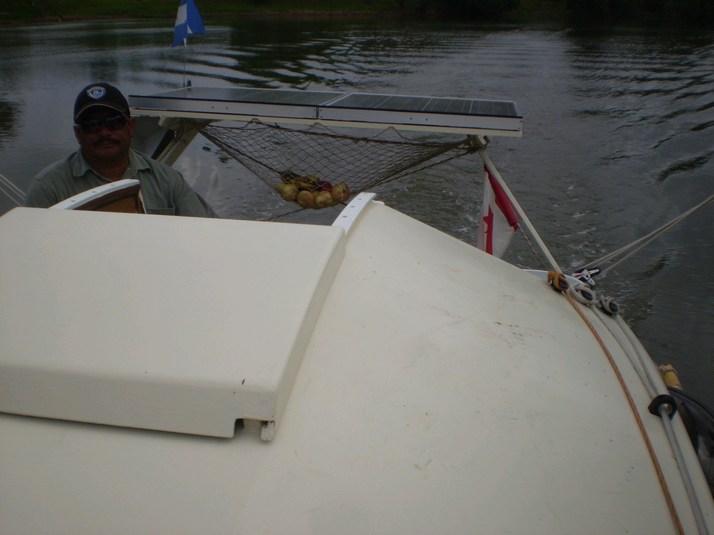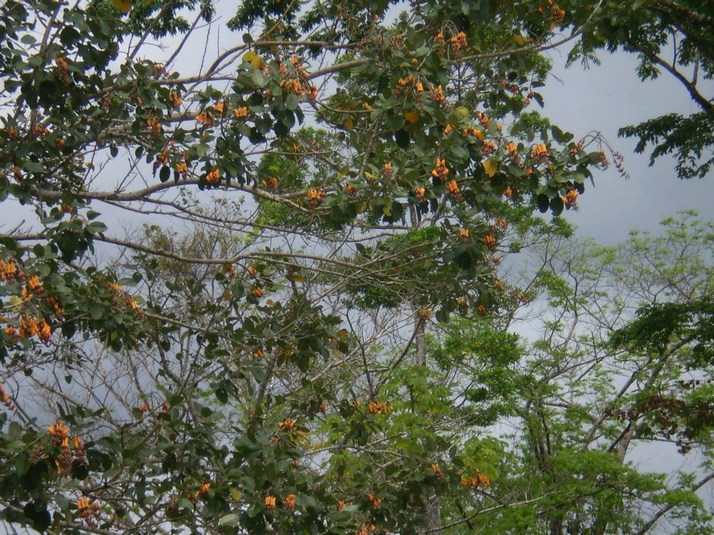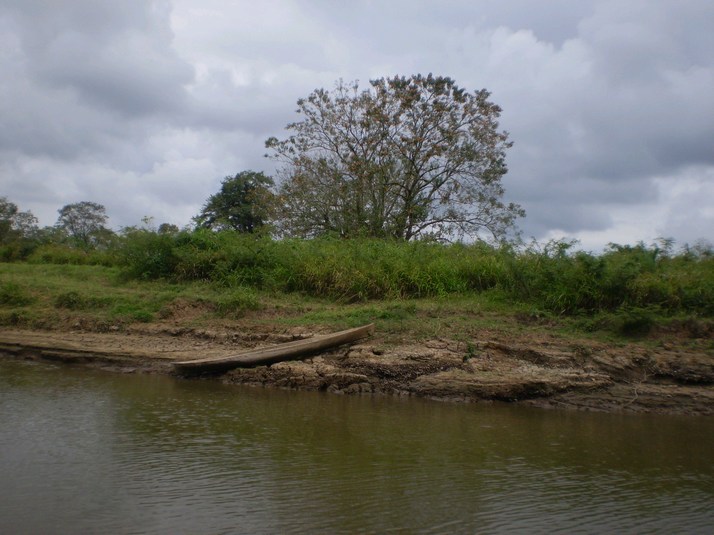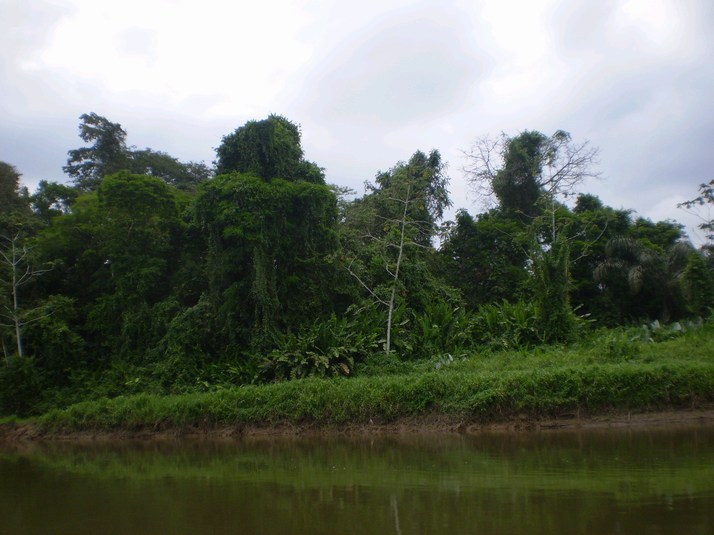 See if you can find the big Iguana in the tree below.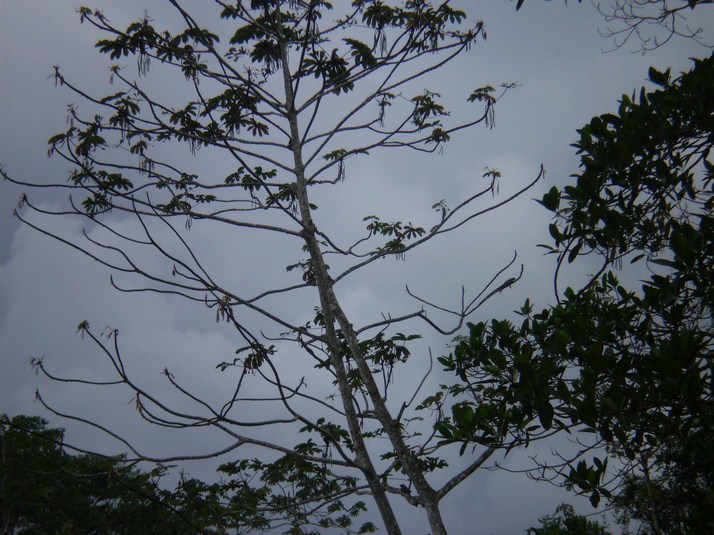 At the next checkpoint we stick our noses into the mud. Some chat about 'Miss Cindy' and a look at our paperwork including passport by immigration. I ask about a photo.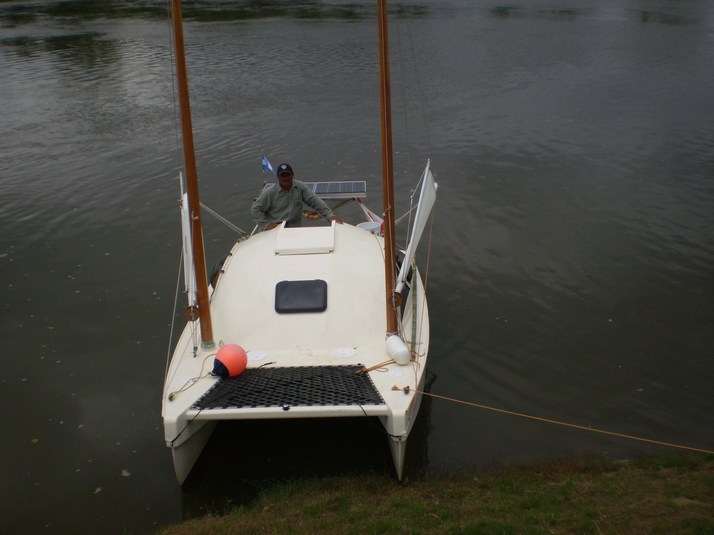 But I can only take this picture of the boat as it is a security issue. I say I have a couple of cigars and who is the oldest and youngest here. The guy I am talking to and the guy holding the line. They are both pretty happy. Off we go.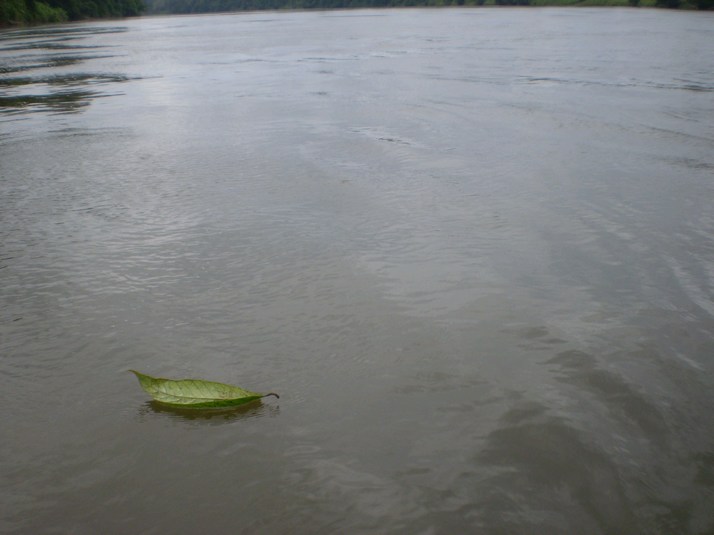 We come across this Iguana swimming from the Tica side to the Nica side. This precipitates a couple of days of jokes about Iguanas not having to get zarpes, how many wives and children he has on each side, if he gets paid in cordobas or colons etc. Pedro started it.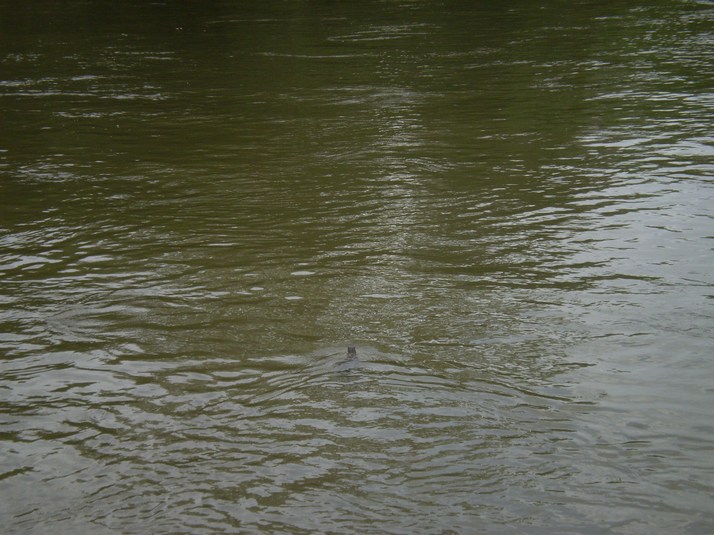 Next stop will be Trinidad on the Costa Rica side of the river. Pedro will bunk on shore and we will take a meal there.
A few hundred yards downstream is a furious splashing of fish fins in the water. When we get to it there is the back half of a 80 lb tarpon floating on the surface. The rest is in a crocodile nearby.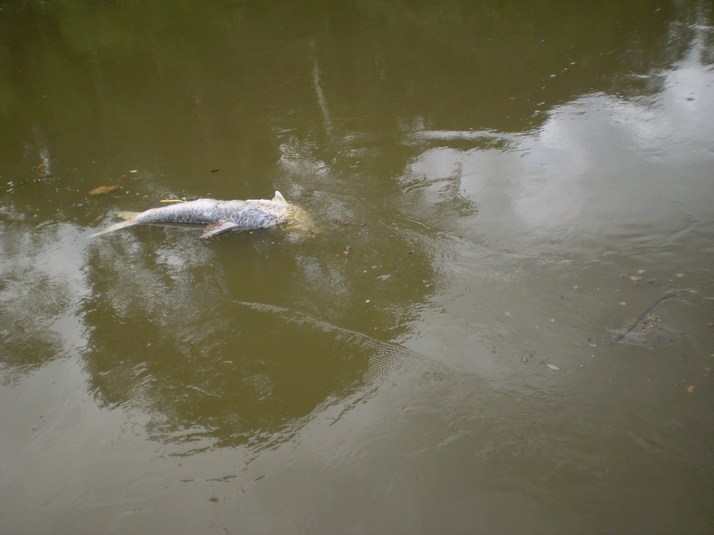 On to the control point on the Nica side. They take our zarpe as it is only good for one day and will issue us a new one in the morning. Immigration here too. Next over to the control point on the Costa Rica side. We hit a Palu ( submerged tree trunk ) at low speed then work the nose in to the bank. Just National police here. Don't notice any guns, must keep them in the shack. Just boat registration and passport. They ask the guide his name, no passport needed for him. After business I give them a couple of cigars and jokingly apologize for them being only Nica. Next over to the Trinidad lodge were we butt our prows up against a log on the bank and tie up good under a big tree.
A shower and some cool ones for me and a siesta for Pedro. We go for dinner at 1800. Pedro has been here before. This is Dona Adilia's place per the guide. They have limited choice. Chicken for two they can do. Half and hour later they come back and it will be chicken for 1 and beefstek for 1 as perhaps they don't want to kill the big rooster. An hour later Pedro and I are making up jokes about why we haven't got our supper. He makes the best one. They are serving the others first. There is no one else in the restaurant. Our food finally arrives and it is nice. After I go to pay the bill for the food, brewskis, lodging, and to pick up the laundry I dropped off 7 hours ago. They forgot to do it. Oh well. Off to bed under the big tree.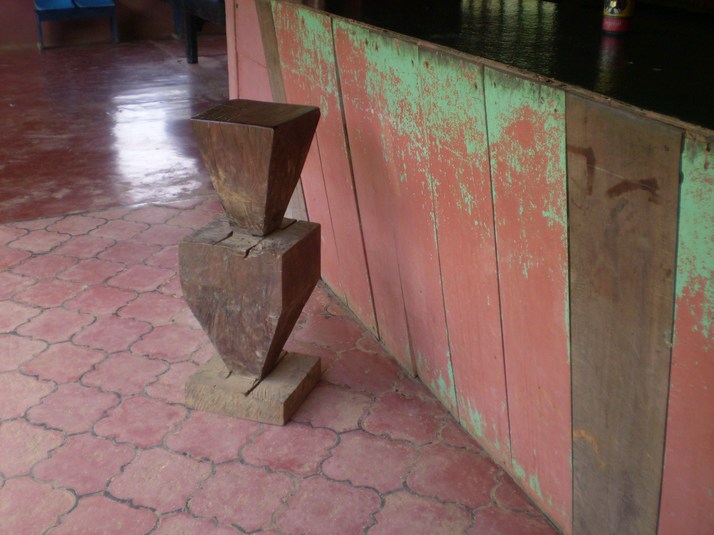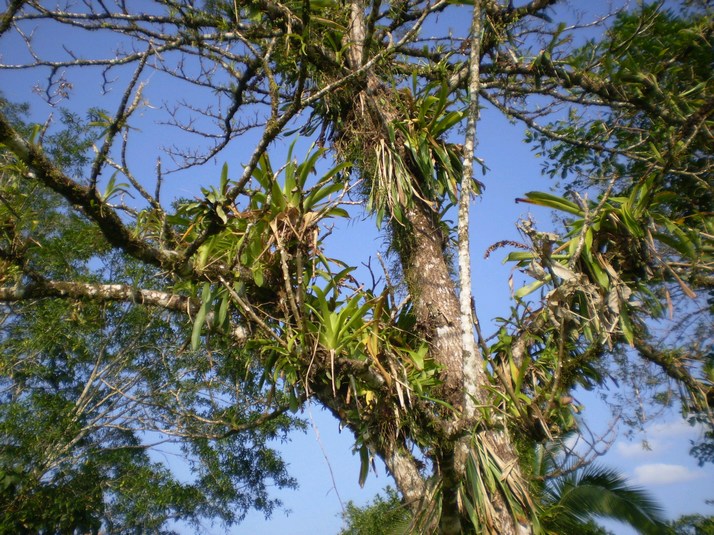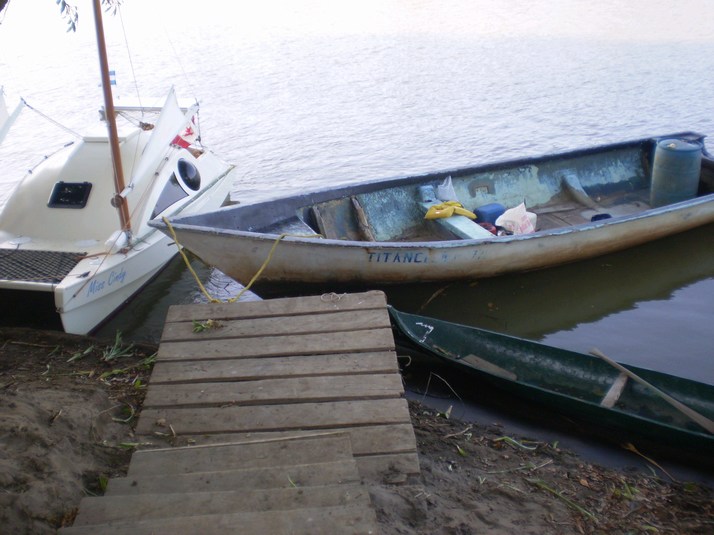 April 4 I guess. Probably my last day on the river. I like the river. If we don't get thru today it will be because I am stuck on a sandbar till the rains come. Around 0430 I do my laundry with the river water and drape it around the deck.
We head over to the Tica checkpoint with our nav lights bright. They wave us on. Next stop the Nica point for our new zarpe. There is a desk under a tree and with the faint light he writes it up. Twenty cord. As I am about to untie the older guard asks 'Cigaro', I say sure. They either had radio chat with the post up river or chatted with the guys across the stream. I give one to the older guy and the young guy who did the zarpe is 10 feet away looking pensive. I give him one too and what a smile. They both get a couple of flag pins they won't be able to wear till they leave the service. I find these pins tacky but everyone I give them to seems to love them. I also give the young guy a bandera windsock. I ask for a photo and get this fuzzy one in the poor light. The old guy brings his gun around in a nice pose and the young guy clutches the windsock. It feels great to do a little something for these guys stuck out doing this boring service. They are lucky to see 8 boats a week down here.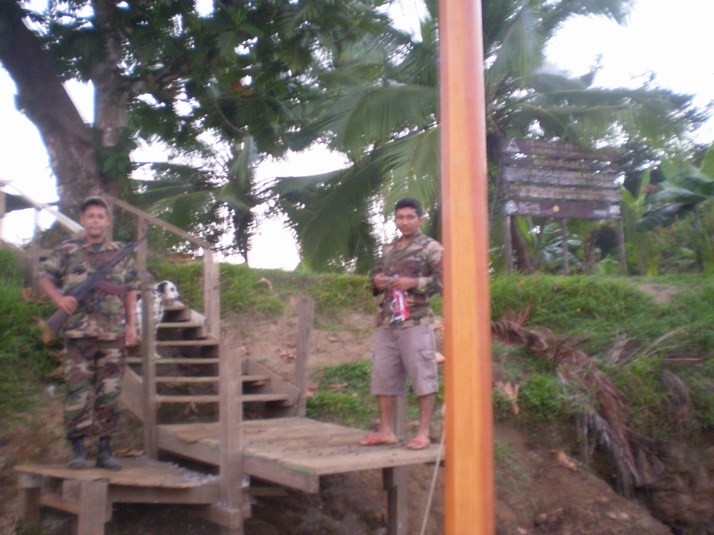 If you have a close look at the Zarpe you will notice where it says 'Bandera'. This is Flag in English and in Zarpe speak means 'what country is the boat registered in'. In this case however the guy filling this out took it literally to mean what flag is on the boat. He notes we carry two, Nicaraguan as a courtesy and our Canada flag. He writes in Nic-Canada.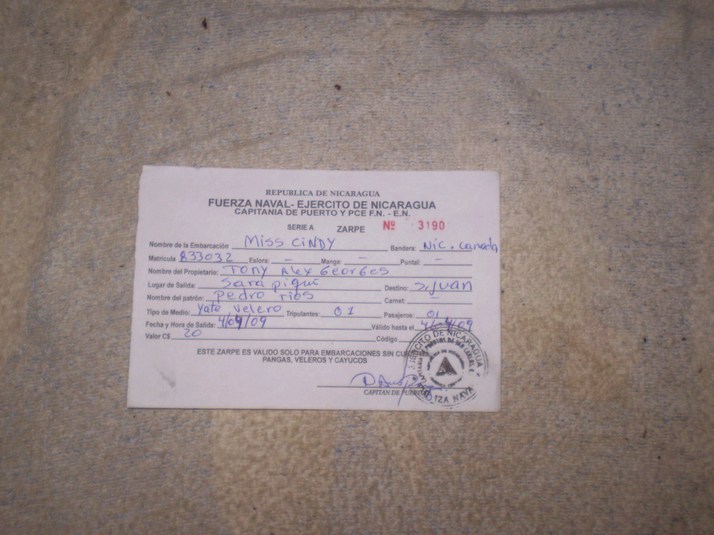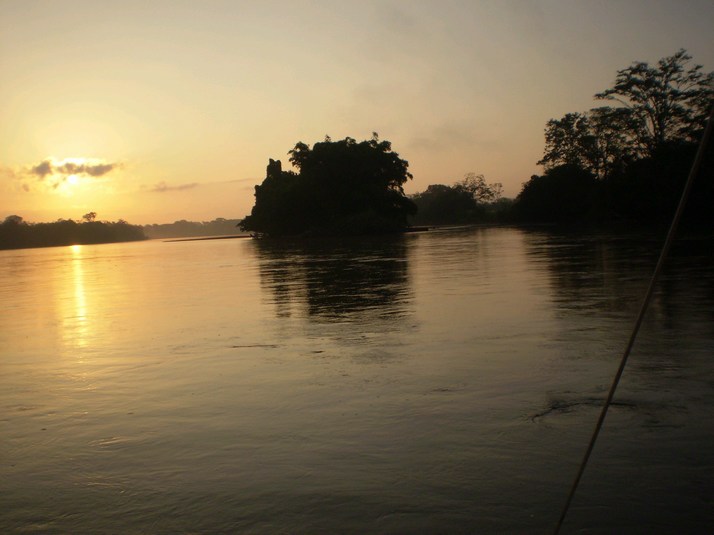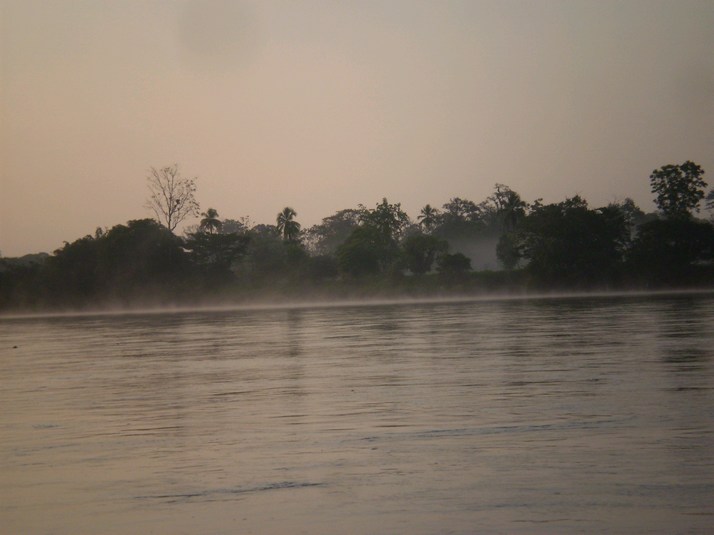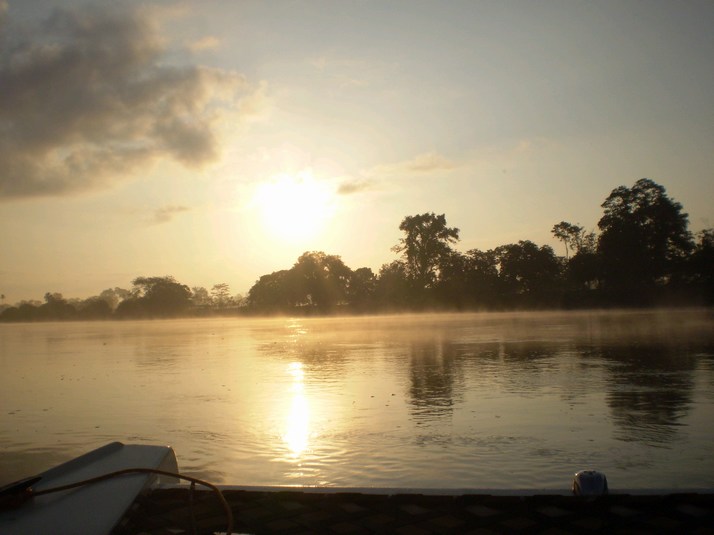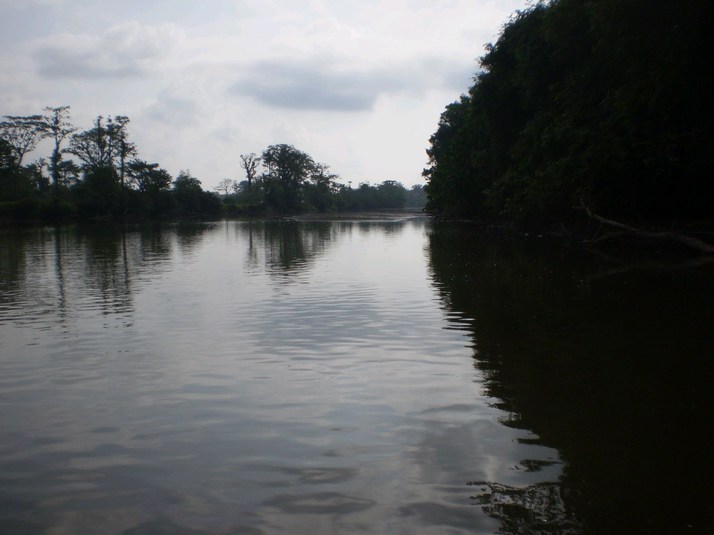 We continue along this easy stretch for another 15 miles. This is where the Rio Colorado splits off and takes most of the water to Costa Rica. Delta checkpoint. This is as far South as 'Miss Cindy' and I go. Only North and East and West from here. We show our stuff and get some intel on the river. It is very low. Guy says 8" of water in one spot maybe for 10 meters. Lots of other slightly less shallow spots. Don't remember if I gave them anything. One hundred feet downstream we hit our first sandbar. I pole off with the bamboo pole from the Solentiname Islands and off we go. We are at times very close to shore, tree branches snap off on the masts.
I am reminded of when we launched Osram VII the big aluminium cat. We went down the road and it was like sailing thru a forest. There were branches littering her decks too. We go from side to side on the river often bouncing over a bar in between. At some point the prop hits a palu. We are moving around 3 knots thru the water and perhaps 4 over the bottom.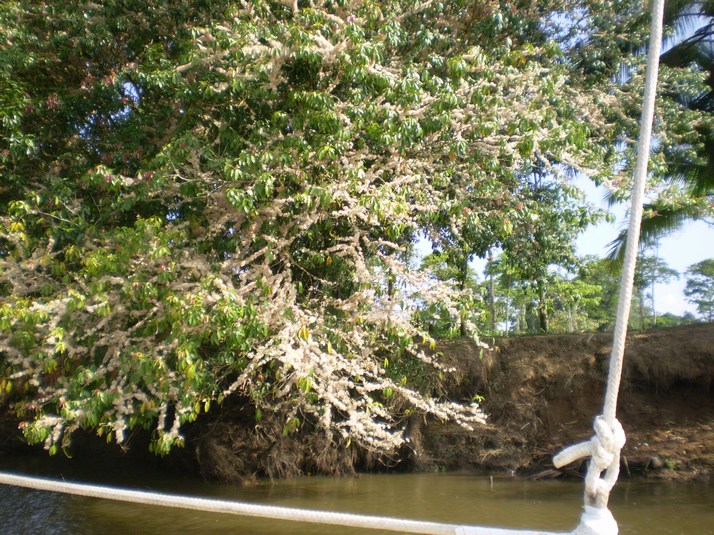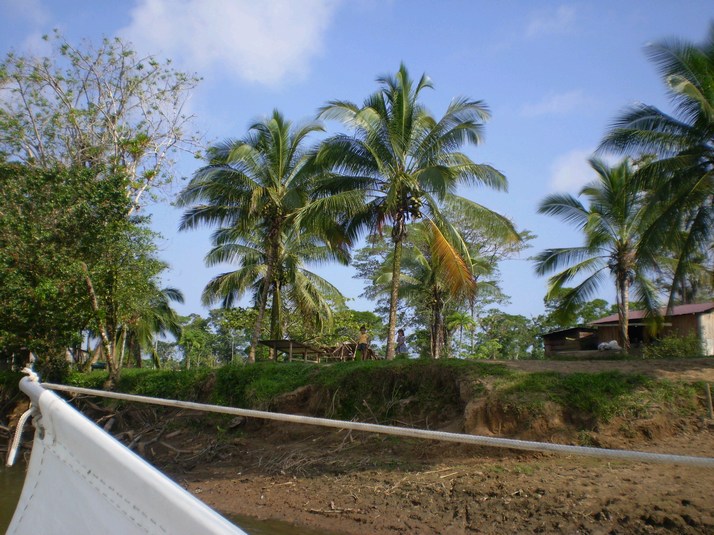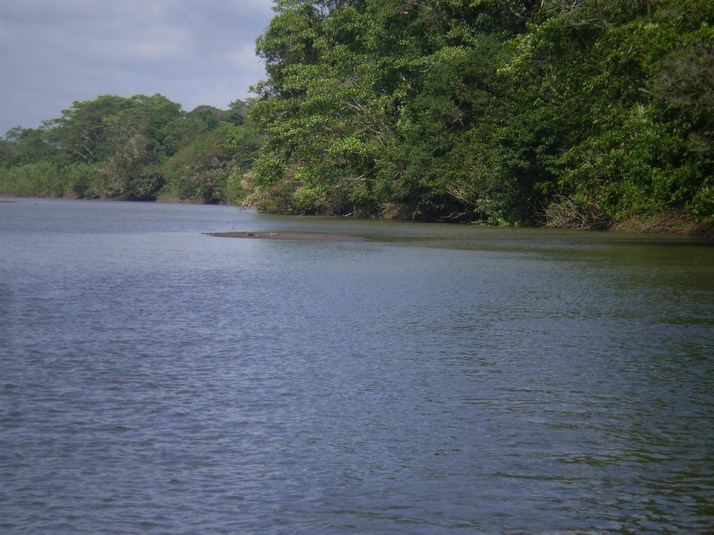 We get stuck again and we both step into the river. I think briefly of the tarpon and have a look around. 'Miss Cindy' bobs up three inches and is floating . We push her till the water comes up and Pedro tells me to get back on and go forward. This happens many many many times. My arms are sore and my legs are scratched from the sharp volcanic sand on deck. This happens many many many times.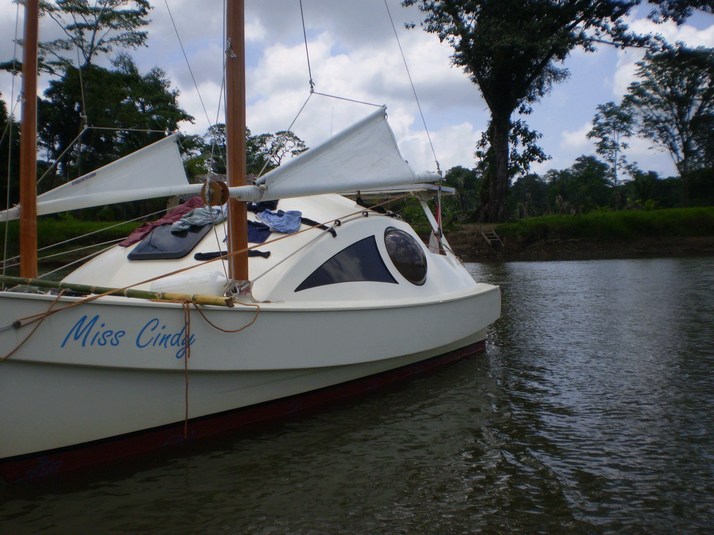 We finally get stuck and cannot proceed. We are in perhaps 10 inches of water. We wander about the river slogging against the current looking for a deeper channel, and me looking for crocs. There is a channel that starts about 100 yards back up stream. We push 'Miss Cindy's' keels thru the sand and against the current. It is very hard work. We get into the deeper water and I drag myself aboard. We don't go aground for another 5 minutes.
At some point in all of this instead of pushing we use the bow bridals to pull her. Pedro ties his around his waist and gets on his hands and knees in the shallow water and pulls like that barking and saying he is a perro. He has done this sort of stuff before. For me he is fun to be with, it is an adventure, and my arms and legs ache.
There are lots of critters, Toucans, Mariposas, Monkeys. I am learning to read the river for logs and shallows. Most of the time I know where we will go thru a section. At one point while we are walking along side right near shore the current catches her and turns her sideways then pushes her mast into a tree. At the same time the water turns about 5 feet deep. We straighten her out and get her out of the tree and throw the big branches overboard.
Perhaps four hours of this then we get a break. We are stuck hard in about 8 inches of water. It is like this or worse all across the river. We can't budge her.
This is the shallow patch. It looks to be about a 100 feet long. We have something to eat and drink and cool off in the river.
I puff up the dingy and put it in the river, 20 lbs. Next the anchors and chain go in the dingy, 70lbs. Six gallons of water, 50 lbs. 2.5 gal of gas, 20 lbs. Cans of food and drinks, 40 lbs. 200 lbs off. The waterline was already 5 inches out and still is but now we can budge her. We work hard and gradually get into some deeper water. She is still not floating but can be pushed thru the sand at a slow steady walk. And finally we float off. It will be our last sandbar.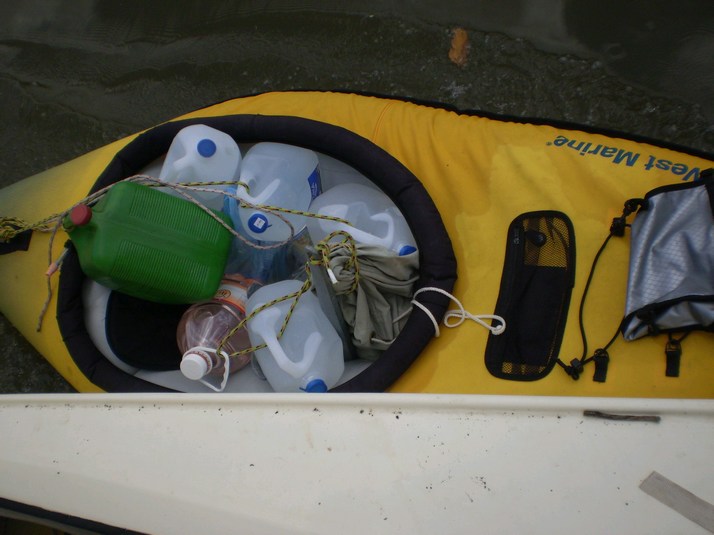 We head on down a widening river with different vegatation, more like you find by the sea which is not too far away now. Finally SJdN comes into view.
Originally named San Juan del Norte by the Spanish, it was renamed Greytown by the British during their imperialist period. It remained San Juan del Norte until 1991 I think. Conventional wisdom says that the change to San Juan del Nicaragua was done by Nicaragua to clarify their ownership during the recent phase of their 160 year border dispute with Costa Rica. The people that seem to care the most are in the big cities. When I trolled out San Juan del Norte in Granada I got lots of bites. South on the lake and on the river both regular joes and officials use them interchangeably. Predominantly it is del Norte. When I got my passport exit stamp it said San Juan del Norte.
I think the reason for the name change has little to do with the border dispute. San Juan del Sur ( South ) is actually North of San Juan del Norte ( North ). What would have worked best naming wise would have been to switch their names. However that would have resulted in boat loads of surfer dudes showing up on the Atlantic coast by mistake all disappointed by the lack of the expected offshore breeze to hold up the wave peaks. Hence this naming compromise.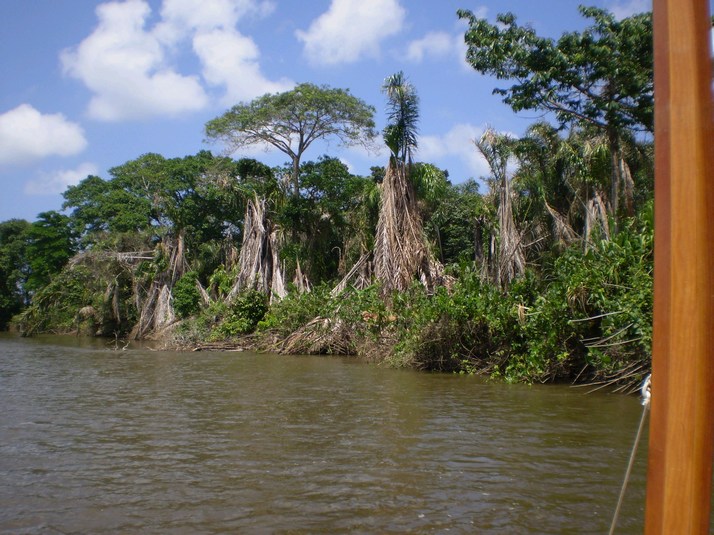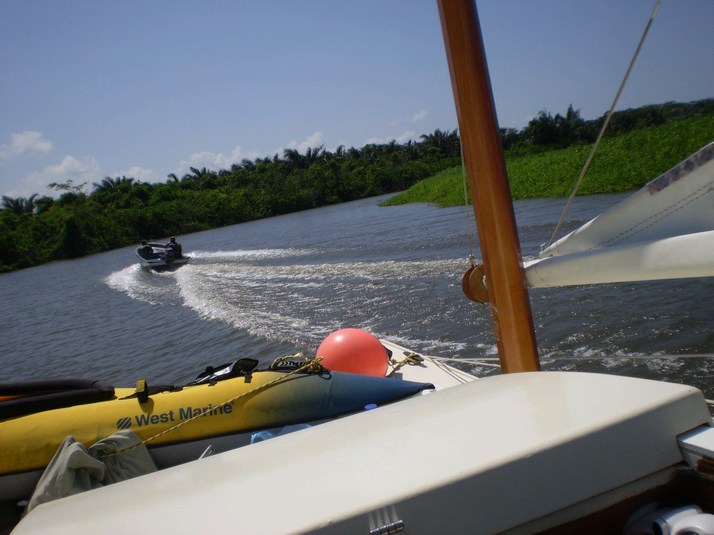 We clear in with Immigration and the Port Capitan in SJdN. Apparently we cannot leave tomorrow ( Easter Sunday ) as the Port Capitan will not clear us that day. They will clear us Monday for Cayman Brac.
We tootle back a little bit and hit the beach at Martha's.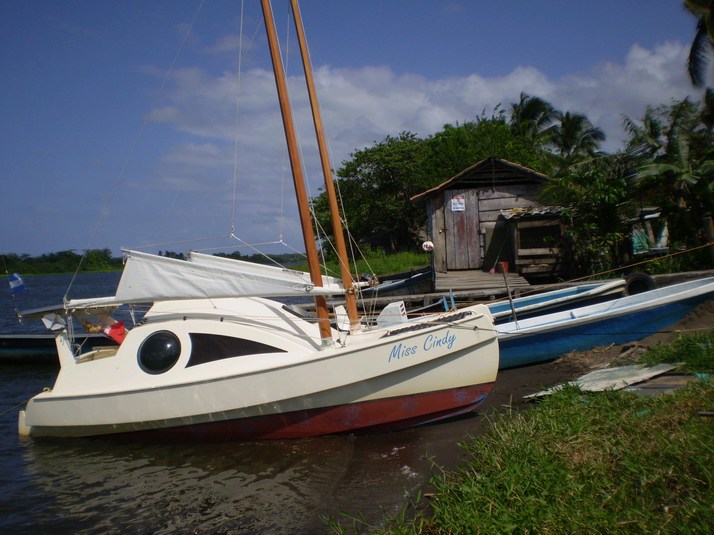 And a view of the sandblasting from the river.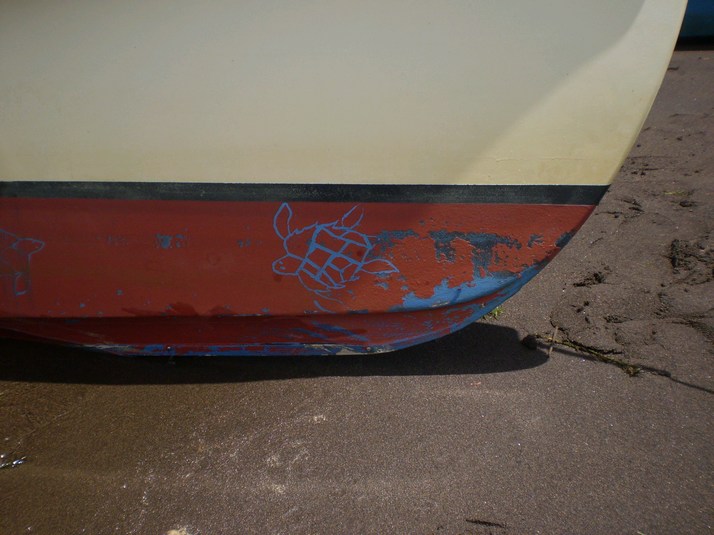 Martha is not there however. Pedro will bunk there but with no Martha she won't be making supper and more importantly no fresh water shrimp. She will not be back till Monday. I give away a slew of PangaPak stuff to the adults and kids at Martha's. Lots of hooks, beach balls, wind socks, pencils, soap, incense. I want to buy gas but they are out and will not have any till Monday.
I head into town with Pedro. He is well know here. The town was basically built in a new location in the early 90's and people from Greytown who had been refugees in Costa Rica during the Contra war have been returning.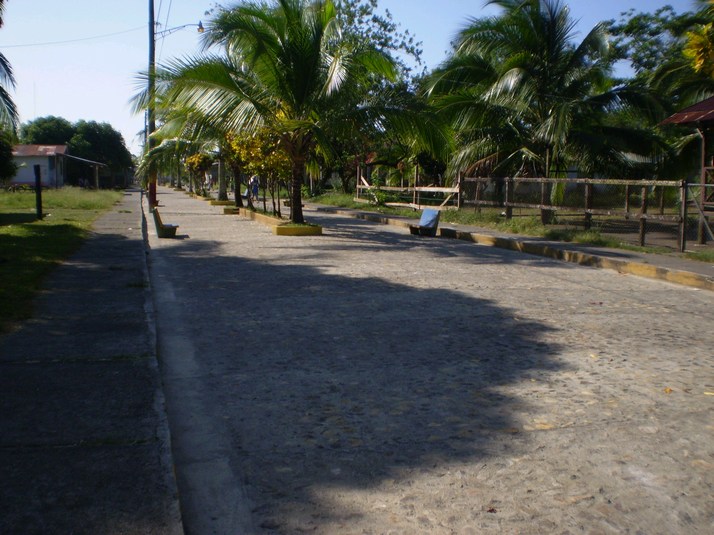 Perhaps one of the side effects of that war are a fair number of people zoned out on booze and drugs. 90% of them are 'tranquilo'. During our walkabout we meet a couple who are not. They are what are known as 'molestos' people who hassle other people. They probably want money for drugs, or maybe they have just gone weird. Before I cottoned on to all of this a fellow offers his hand and I shake it. He is odd looking with ears sticking out and a flat face with dark sunken eyes. His speech is not clear and I don't understand a word he says, but he has a strong grip and is not letting go. I wrench my hand away and head off as he mutters something. Another fellow pesters Pedro and follows along for a couple of blocks with Pedro telling him to be tranquilo. A while later while Pedro and I lunch he shows up and leans over the balcony by our table. He stays there for the rest of lunch. We don't talk with him. The rest of folks here seem pretty normal. There is a girls soccer game going on and a 100 locals hanging about cheering on their teams.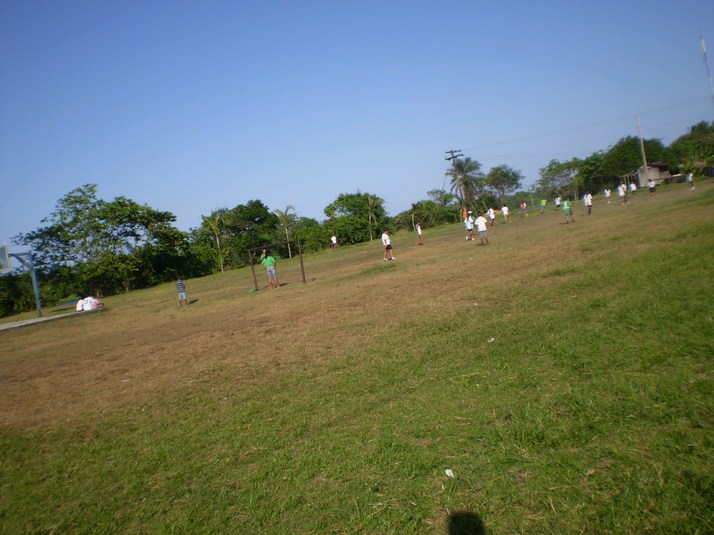 Lots of friendly and helpful people, just ignore the stoners and keep a weather eye on the crackheads. Hey just like home.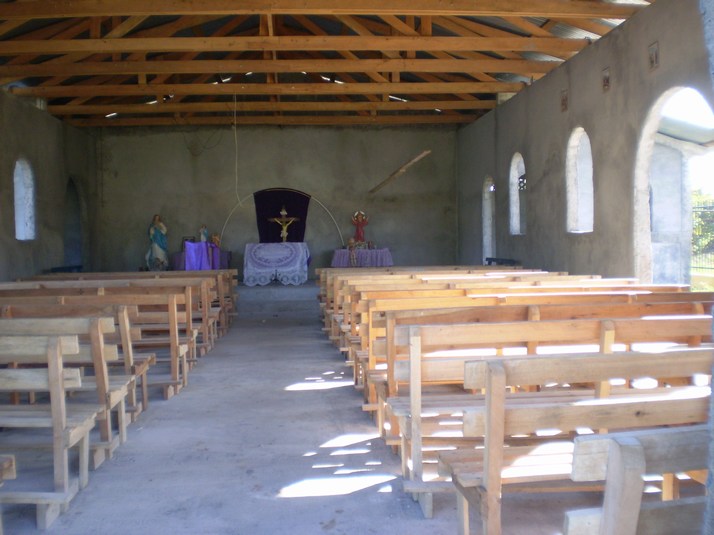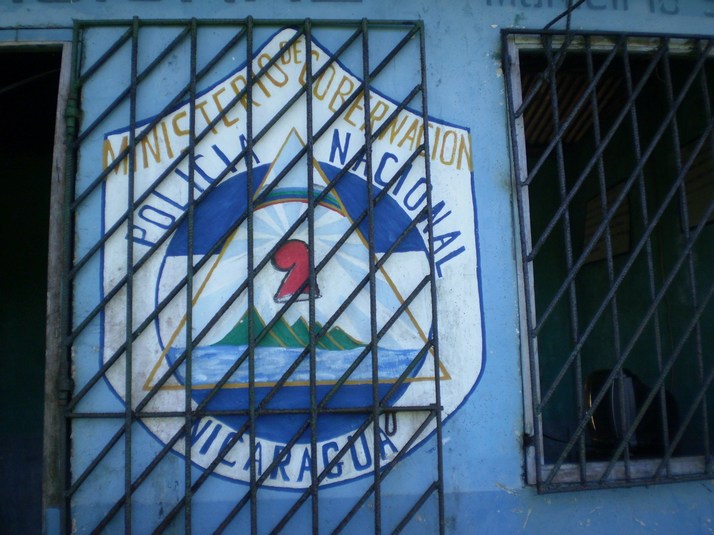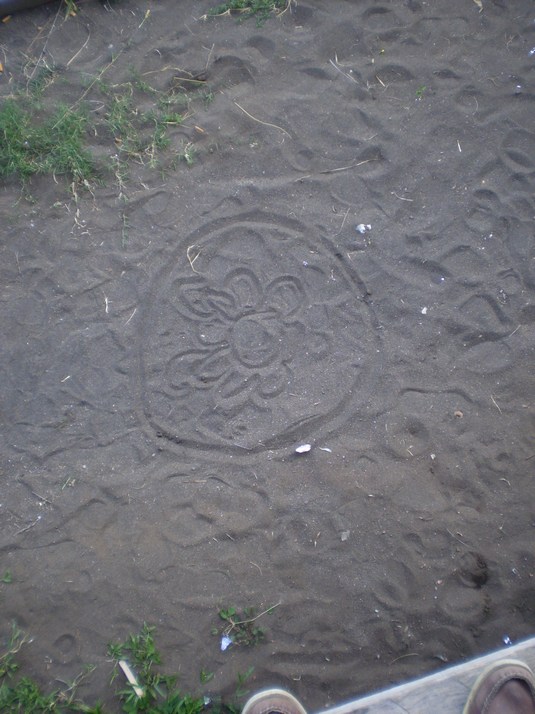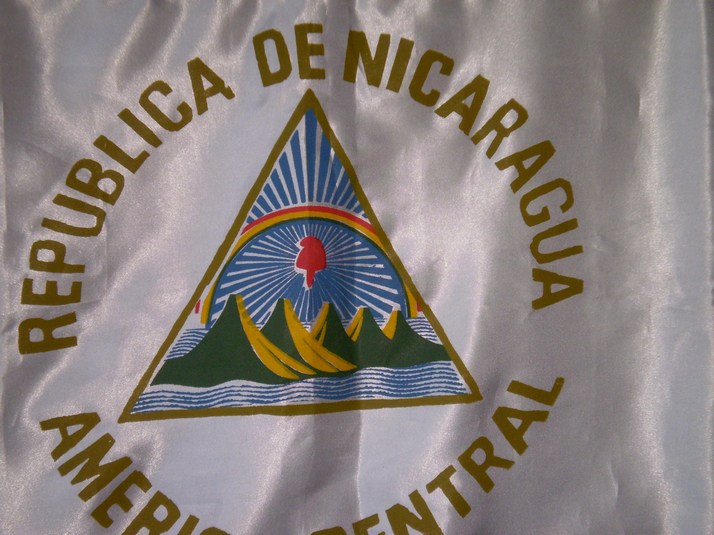 When I haul some more water and what not back to 'Miss Cindy' I chat with two of the guys at Martha's. Santos and Domingo. Names don't get any easier to remember than this, tomorrow is Easter Sunday, Santo Domingo. Santos has a reserve of gasoline and will sell me 4 gallons. I arrange to get it in the morning. Some people come buy looking for gas but they are told as I was to come back Monday.
April 5 2009
0545 the Immigration guy has come by in a launch to ask if I would like a tour of old Greytown. It is 5:45AM. On Sunday he is a guide. As I would like to visit there and it should help paperwork wise I say sure. $40, no mosquitoes, no boots needed, go at 1000 he provides the boat and fuel.
I get my gas and while waiting for the guide several other people come by for gas. There is none, not even for the police. Lucky 'Miss Cindy'. At ten he is back and we head out. Great tour, nice guy. He works a shift rotation between here and San Carlos at all the posts with 1 month at each place.
Greytown's dredge. 150 years old and still an impressive piece of machinery.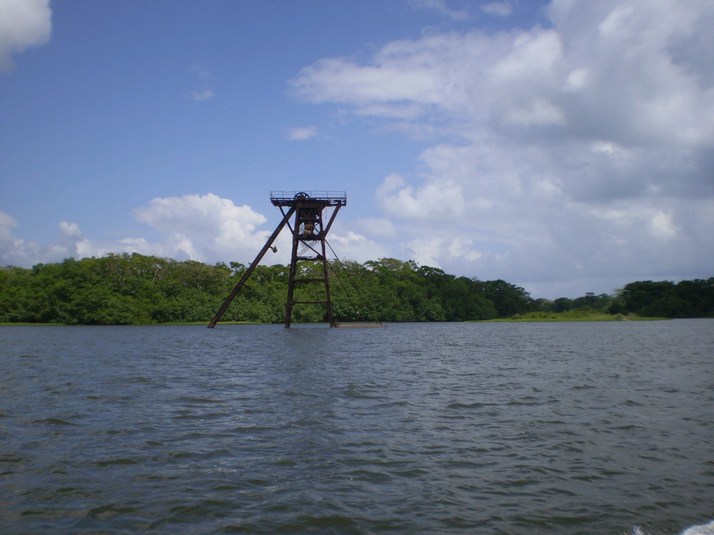 The entrance to Greytown is up this peaceful little channel.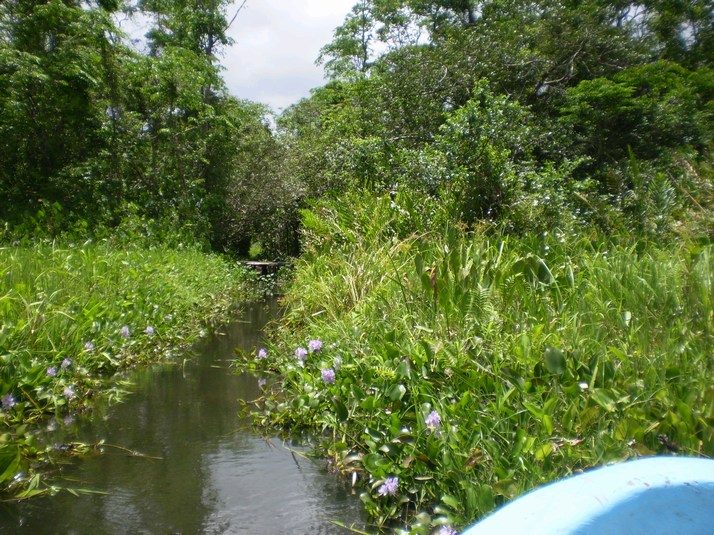 We talk about Eden Pastora and his work on the airstrip at Greytown as well as his commercial fishing business in SJdN. It seems he is respectable but not necessarily respected. There are scads of grave yards including one for a number of crew of the US Frigate Sabine that seems to have had a bit of trouble with the bar. He shows me Contra defense pits and bomb craters and what is left of the many houses in Greytown ( not much ). While we are walking the runway I keep hearing an eerie sound a bit like sea lions. I ask and it is Howler monkeys.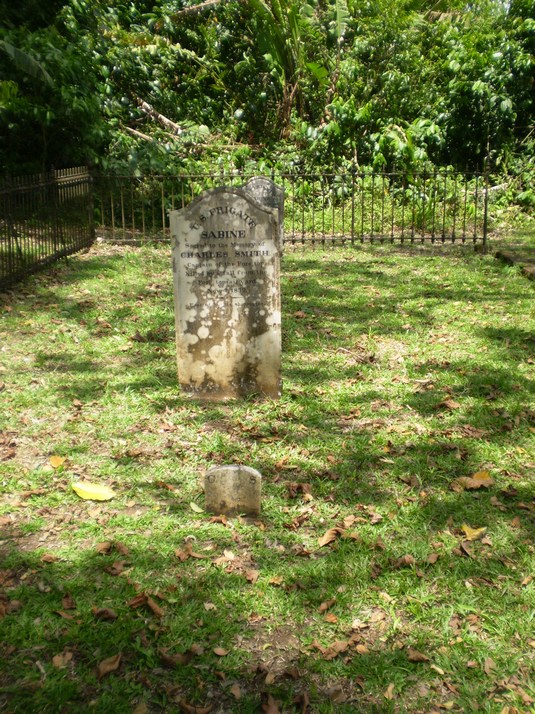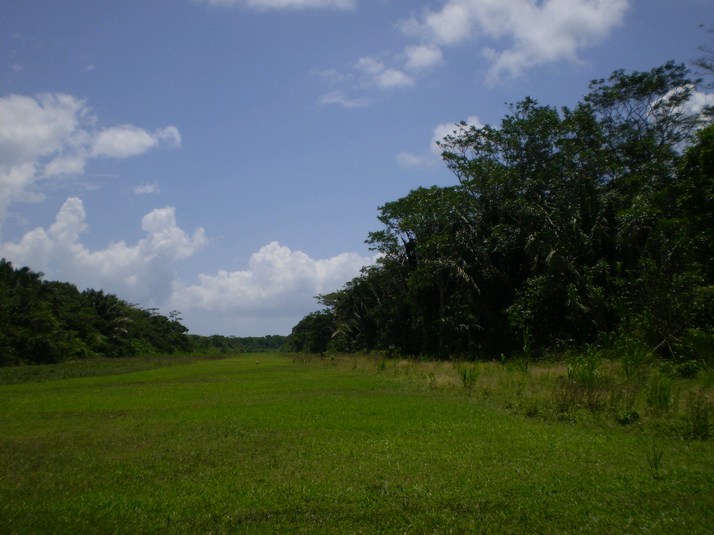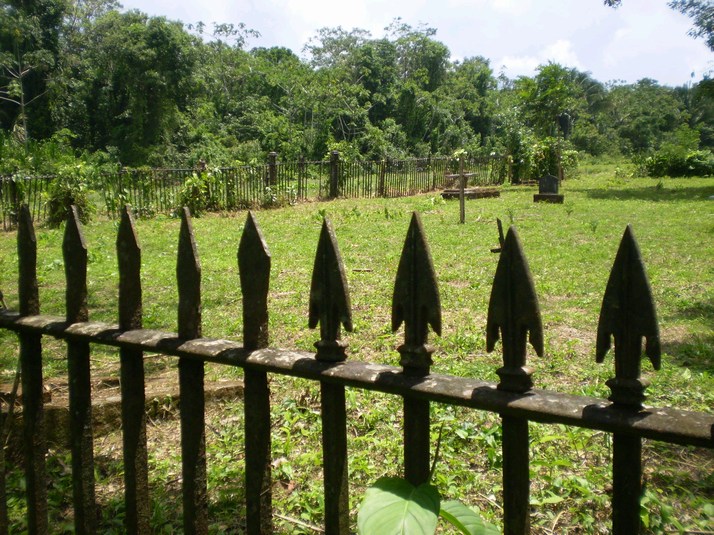 On the way back we go past Commandante Cero's commercial fishing operation. One of the boats has a Eden for President sticker from 2006. He came in 5th and the winner was Daniel Ortega who Eden fought against right after the revolution.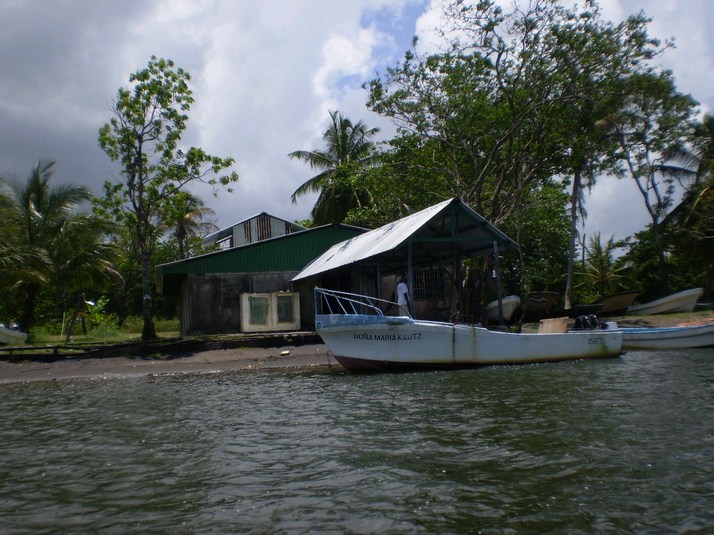 We visit the blue lagoon and hangout with some locals including this cool float toy.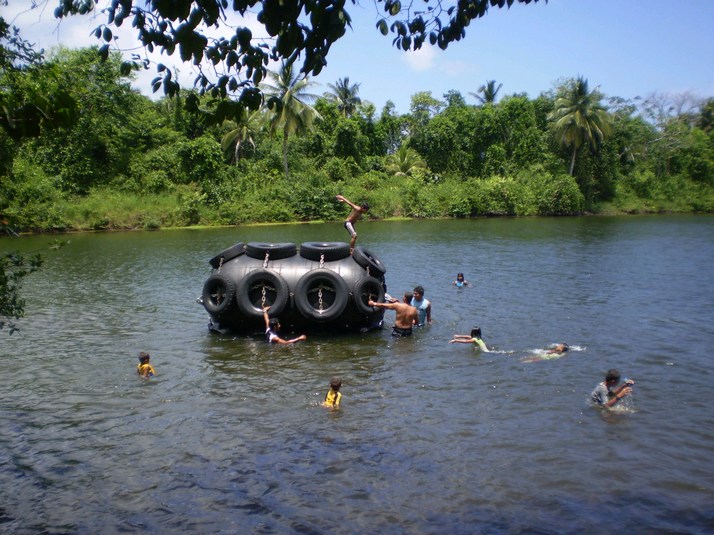 Around 1500 the Immigration fellow comes by with a guy who can get me into an office at the municipal hall with internet access. This is the first day of Semana Santos. We are pretty lucky. I pick up a GRIB file for the weather, it looks great for going North East, I also pickup a virus on my thumbdrive which my computer cleans off.
As I am updating this section I am in Cuba, tied to a scruffy pine tree on the cay of women. The trade wind is holding me off the pure white beach and keeping us cool as we enjoy a Cuba Libre ( they call them that here ). All the babes I see on the beach look just like 3 foot Iguanas.
After that he tells me that he has to call his jefe in San Carlos. He wants to be sure he can stamp me out of here properly. There is a problem. Seems despite what I was told in San Carlos they cannot clear me for Cayman Brac here. They can only clear me for Costa Rica. If I want to clear out for the Cayman Islands I can do that from Bluefields about 70 miles North. They will give me a national zarpe for there. I ask about maybe clearing out of the country to go to Costa Rica. El Limon is closer than Bluefields. He checks back with his boss. Yes no problem. I will get my passport stamped out of the country tomorrow morning with an international zarpe for 'Miss Cindy' destination El Limon Costa Rica.
Back at Martha's I have been chatting a bit with Santos. I lent him my Yammy spark plug wrench for a motor he was working on but it was not Suzuki size. He ended up using a hammer and screwdriver to take the plug out. We chatted about lots of stuff. He spent about 8 years in Costa Rica. I mentioned some of the birds and he pulled out a comprehensive field guide to birds and animals and we spent an hour going thru it. I particularly enjoyed comments like 'there are lots of them' or 'they taste really good'. We came across some weird little critter with ears sticking out and a flat face and deepset eyes. He had taken 6 months of English class but all our conversations were in Spanish. He asked if I had a spare Spanish/English dictionary. I have been asked this a few times on the trip and decided to give mine to Santos. He was a real nice guy with a rich range of interests. I will wing it if I get to Columbia and in Cuba and Florida for that matter.
Pedro had caught the packet boat that morning. 'Miss Cindy' and my luck seems to have no end. Not only gas, but Martha was back a day early and they had fresh water shrimp. Dinner for me at 7pm. It was set at the family table. I got this big formal platter.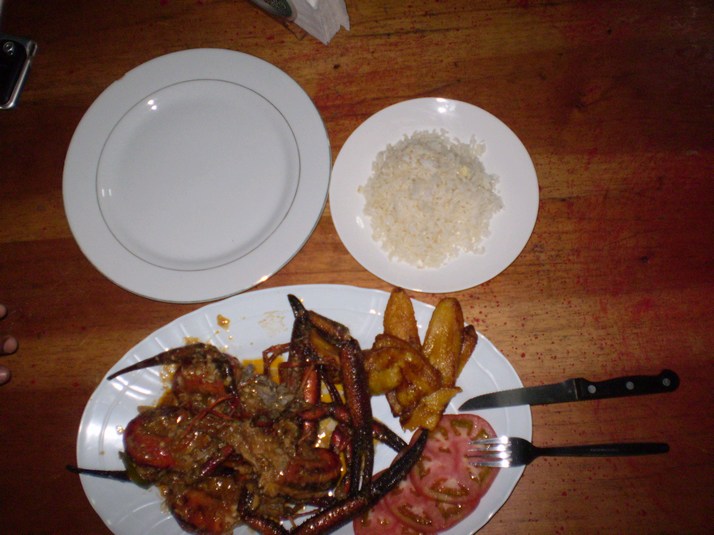 Everybody else was eating them too but from a big bowl onto their plates. The TV was on to a San Jose CR station and they were sorta watching Eddy Murphy in 'Daddy Daycare'. The room had a display case and some ceramic womens busts on the wall. After supper the daughter brought out boxes of stuff Martha had brought back and started filling the 'store' stock. Jewelry and things in the display case, blouses and swimwear on the busts and other clothing onto shelves. The daughter did not remotely see this as work as she was earmarking things to 'try on' asking Martha how she thought this or that looked as she draped it over her. I stayed a bit longer but was getting a little tired of feeding the mosquitoes and thanked all and headed back for an early night in preparation for our big day tomorrow.
---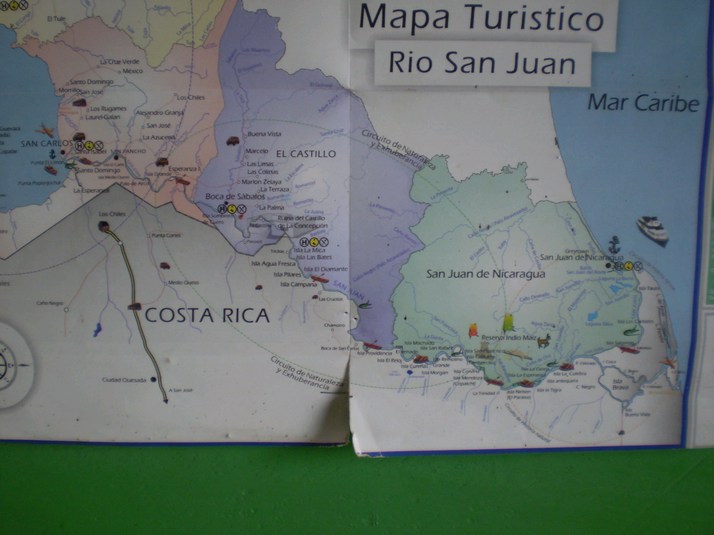 Distance Summary:
---
This Leg: 125 Nautical Miles
Hours Underway: 24
Hours on Motor: 24
---
Total To Date: 2555 Nautical Miles
Total Hours Underway: 1053
Total Hours on Motor: 187
---
Copyright © 2009 Tony Bigras.