Travels with Miss Cindy

Chapter 16

Nostalgia, Permission to Navigate in Nicaragua, Waiting and Planning and Waiting, Sailing in the Lake, Puerto Diaz Banana Clippers, Solentiname Islands, Revolution, Art, Naval Police, The River.
---
Saturday March 21 2009
Well hanging around Granada I got to doing some house keeping. Made a bimini cover for the cockpit from the tent I bought in Barillis El Salvador, did a little clean up of the boat stowage and the computer too. Came across a few nostalgic photos I will share up front here.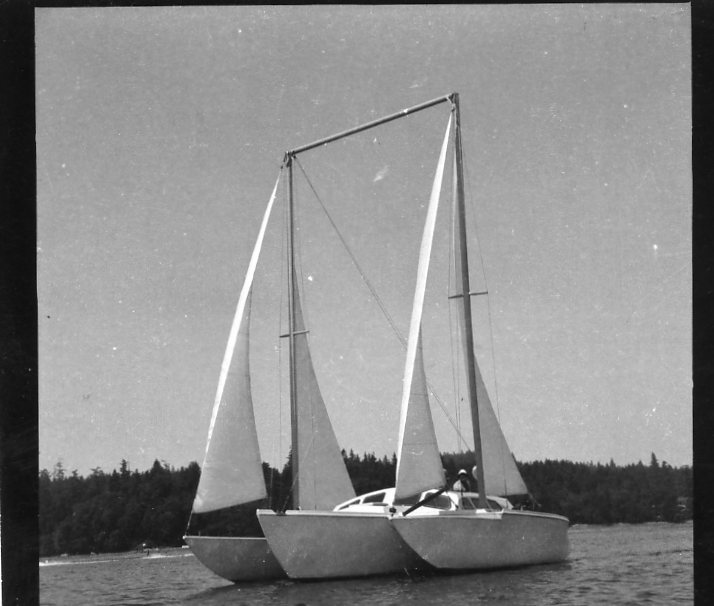 This was a boat an old guy I knew in the 70's, Bill Holme, built and sailed to San Francisco and the Marquesas. Stories of boat brewed beer and working girls were all soaked up by me. Bill also built another biplane wingsail tri about 35' but did not get to sail it anywhere before he died. Bill and I drifted apart, but it seems part of him is still with me and 'Miss Cindy'.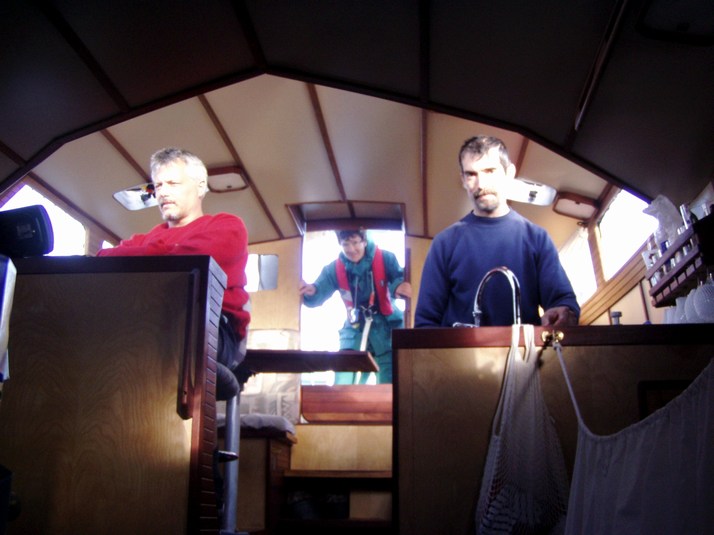 Next up this photo of everyone but Iain onboard 'Loon III' enroute San Francisco from Victoria about 5 years ago. As I write this Iain and Aly are about 2/3's of the way to the Marquesas on their crossing after cruising Peru. The photo shows a bit of the scruffiness that can get aboard underway and as well for some reason Brian and I seem to be somewhat intense. Aly seems to be having enough fun for both of us.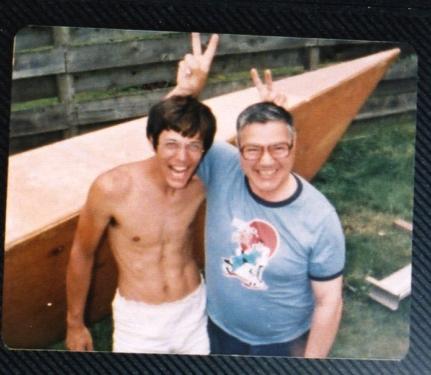 And last up a photo of me and Dad taken in July 1983 based on the ama for Osram VI in the background. He and Mom were always supportive of my boat stuff even when they had big concerns about what I would do with them. He sailed with me that September on Osram VI from Kelsey Bay to Prince Rupert and I think that was the last time we sailed together.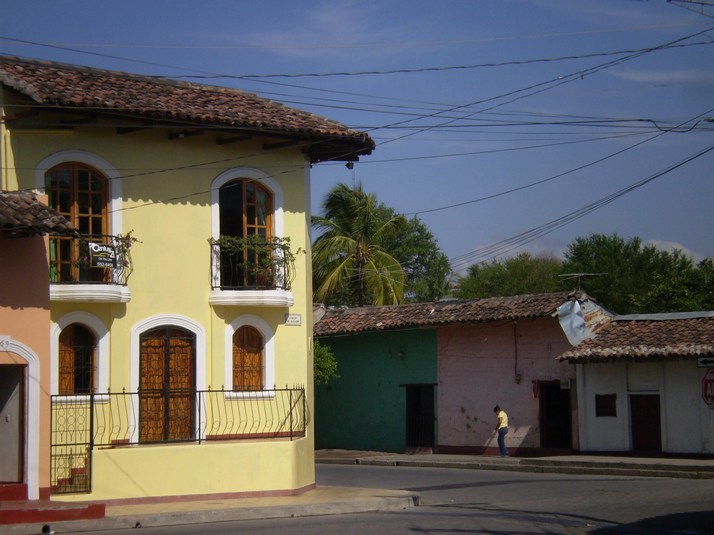 I have spent 3 nights at a hotel in Granada, but each day come back to visit 'Miss Cindy'. Before I left I had nice chats with the day and night security guys about our trip so far and where we were headed. Both nice guys. I met the evening guy only in the dark while riding the turtle looking around. A notable feature was the pump shotgun slung diagonally across his back. I tossed him a can of pineapple juice to ward of the night chill.
Friday March 20 2009
I was expecting the navigation permit to be dropped off at the marina on Thursday. I asked the official if I needed to sign anything on Thursday and the answer was no. Unfortunately that was the wrong question. I should have asked if I needed to be here on Thursday. So Friday morning I clean up and shave and he returns around 1030 to hand over the document and shake my hand. Here as elsewhere on this voyage there is a need to honour formality in official process. I ask a couple of questions about the document but he assures me it is what I need.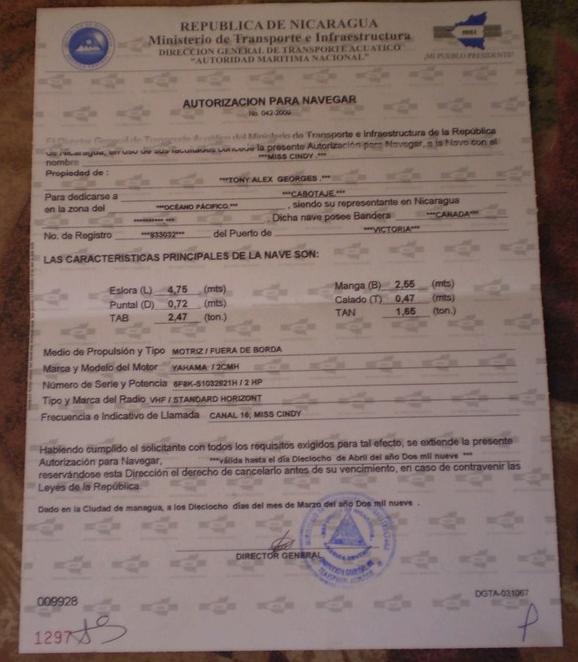 It appears to be for 'Coastal Shipping' in the Pacific Region. No mention of the lake or river. It is good for one month minus the 3 days it took to issue. There are some things that are clearly wrong like our gross and net tonnage. We are listed as 2.45 and 1.65 but are really 1.39 and 1.32. They appear to have made a good guess at our draft at 18.5" ( we are 21" ). And of course a mistake I have seen to some degree since Mexico they have left off my last name, assuming my second middle name is my last name. So the owner is Tony Alex Georges. This has never been a problem as the next official who checks my permits and passport is comfortable making the same assumption.
I make 15 copies and am reasonably confident that it will meet the needs of other officials in the lake and on the river. I suspect it would be sufficient permission to visit the Corn Islands or Bluefields as well. They apparently require some sort of permit.
The parts are still not here. When I phoned the remailer company NicaBox in Miami prior to deciding to use them they told me the parts would be delivered in San Juan del Sur 4 to 5 days after they received the package in Miami. They said it might be as quick as 2 to 3 days but 4 to 5 days for sure no ifs ands or buts. 8 days later it is starting to look a bit like a fairy tale.
It is a dark night, particularly so because the power has gone out. Pretty well only the stars and 'Miss Cindy's anchor light. I am still sleeping like at sea, a couple hours then up for a look see. Around 0230 the red and green of a boat coming in can be seen out on the lake. Next their spotlight, then music.... 'Wake up little Suzy...Wake up'. Surreal. They pull into the quay 50 feet away and tie up. A gaggle of young ladies get off and the sounds of the party head off with them.
Saturday March 21 2009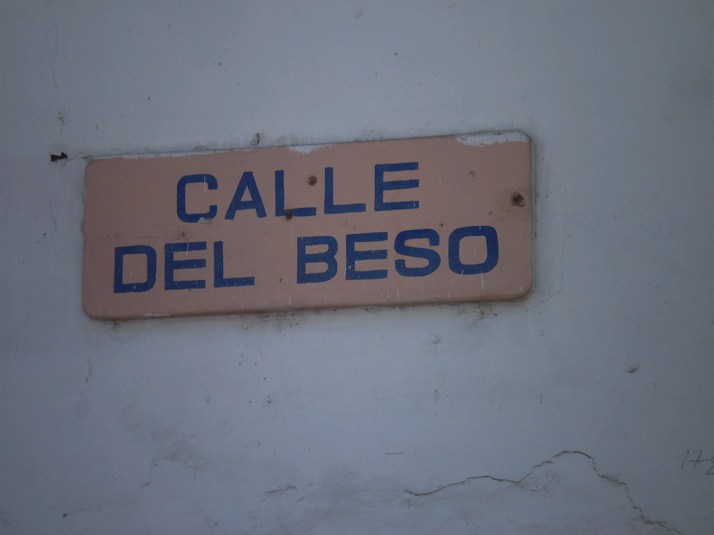 I think today is the start of spring. For a couple of weeks now the day has been longer than the night ( So says Mr. Garmin ), but I guess it is official now. The days have been getting a bit warmer/muggy.... mucho calor. But soon we will be wending our way North perhaps even staying ahead of the Sun.
After a bit of an extended stay in town I returned fairly late to the marina. The gates were locked as expected so I banged and called out a bit. After a bit I climbed the gate and headed out to the boat saying hi to Negrita the guard dog as she feigned at doing her job. I was back at the boat about 5 minutes when the night guard showed up. He mentioned it was very dangerous and I should have waited. I apologized and he was good with that. He was pretty agitated to start and I suspect the big danger wasn't that I might hurt myself climbing the gate but that he might shoot me. That would have been really inconvenient for him and not to nice for me.
Sunday March 22 2009
I take it easy and spend the whole day at the marina.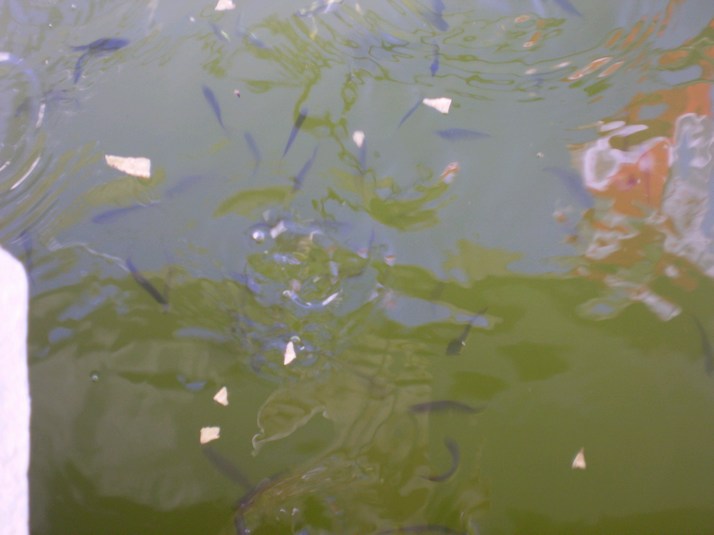 First I feed the fish. I try tostadas, and pork rind which they seem to like but they are particularly fond of peanut butter and the yolks of boiled eggs. Don't think I will swim here, they seem pretty eager.
Next I take lunch at the marina restaurant. It is the most expensive eatery by far I have been to in Nicaragua, but still cheaper than Canada. The food is ok but nothing special however the service is excellent. The fare on the menu, like Granada is getting a bit tired for me so using my malleable Spanish I ask for a salad ( they don't have any on the menu). I explain it to my server who brings me the chef. I get a grilled chicken salad with some parboiled carrots and beets. Delicious.
After lunch I buy some ice cold coke and take a little of the waterline burden off 'Miss Cindy' by pouring in a generous dram of Flor de Cana. I lay on the bow net and soak up the sun, say hi to looky loos. A cultural note. In Northern Mexico they say 'Buenos Dias '. A little further South in Mexico they just say 'Dias'. In Nicaragua they just say 'Buenos'. At some point I get energetic and pull the two center pieces of webbing out of the bow net, roll them up and stow them away. The rest of the net is one piece looped around and these middle pieces never really did it for me. I think the 1" x3" gaps on the center diagonals will work just fine. Less windage, less for waves to grab at and less weight if I get rid of the rolled up webbing. I have done something productive today.
I watch a osprey swoop on a fish. It misses. It looks to be coming around for another go. I should get the camera. I don't. The osprey gets it's lunch and heads East. Lucky bird. Me too soon.
A pretty teen age girl and her little sister row in to shore. I go get the camera but they are to far away now. I get a photo of another boat rowing in with the alternate oar rowing style they use in Nicaragua.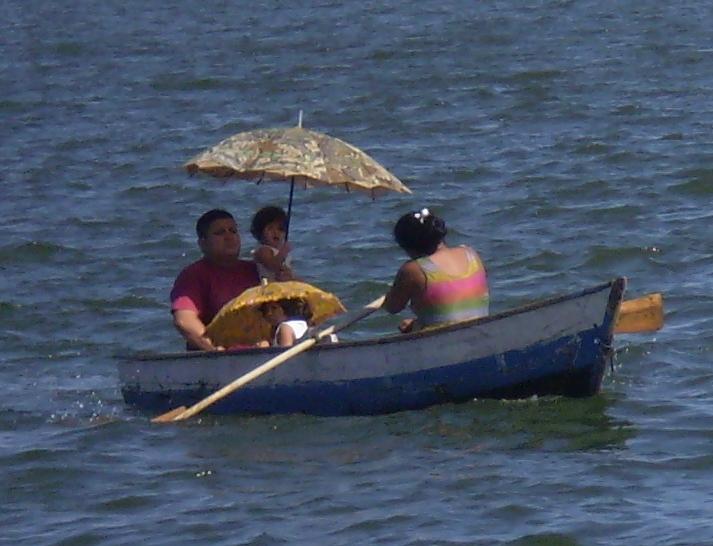 Mom rows, the kids hide under umbrellas, and Dad bails.
There are lots of day trippers visiting the marina and on the power boat beside us the owner comes down to 'cottage' on his boat. Two young ladies, himself and a young man. The young man turns out to be 42 and was 'involved' in the 1980's. The older man the young fellow tells me is 'Commander Zero'. Famous for storming the National Palace in 78 and infamous for leading one of the Contra groups in the 80's. The young fellow tells me those were 10 years of wasted opportunity for Nicaragua, but that things are going well now. There is a reluctance here to talk of the atrocities of the 80's but that silence seems to be the charm for reconciliation.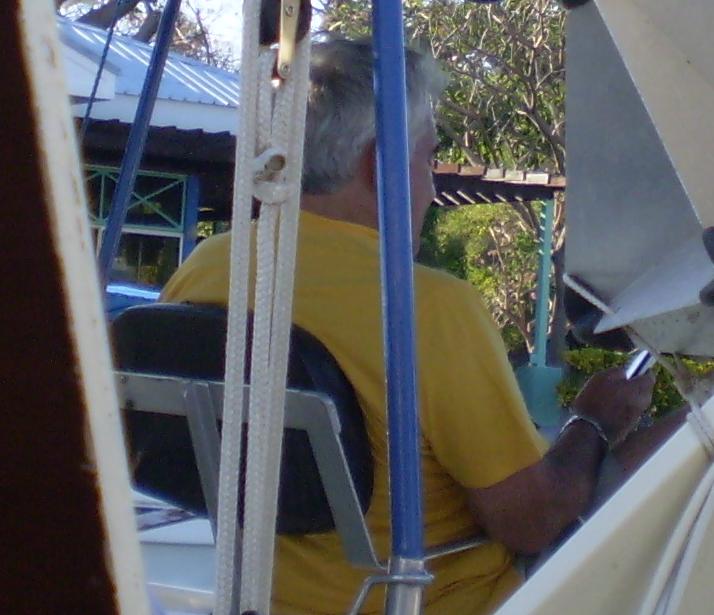 Commander Zero Today ?
Monday March 23 2009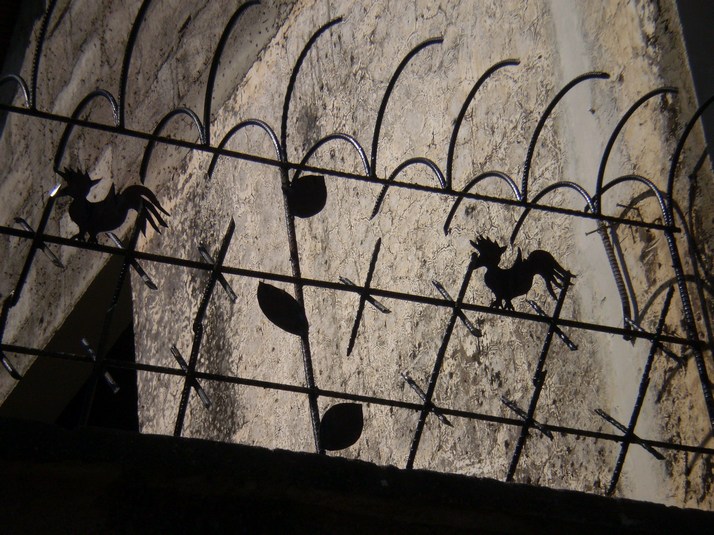 I walked into town as the roosters crow to re-break in my old Sperry Topsiders. In the afternoon I taxied back with a couple of blisters and some more jugs of water. I told the driver where I was going and for the first time rather than wait for him to offer a price I told him that I would pay 30 Cordobas. He was happy with that and off we went. Seemed personable and a good driver in a nice modern car too. I asked him about SJdS and back probably Wed Thur or Fri. He says $50. I get his phone number, give him C40 and my thanks.
Now that we are a couple of weeks from the Atlantic I have been doing some detailed planning for the route there. Originally I had planned on coasting up the East side of Nicaragua till it reached the gulf then heading to Cayman Brac from there. In early planning it was clearly an unfriendly coast with lots of shoals and rocks plus a few billion worth of sunken Spanish plunder. Information gathered along the way points to another big problem, Langosta Blanco. This is related to Grouper Quadrada in the Sea of Cortez. Apparently on the East coast there are lots of high speed boats roaring along in the dark full of cocaine.
Wind direction on this coast is also an issue. Predominately NE thru March it has a bit more East in it starting late in March and becomes SE by May. In March and April there are occasional Nortes though unlikely to reach gale force this far South. I have been pulling down GRIB files for the Caribbean for a couple of weeks and am starting to see more East from time to time but there is still lots of NE. The course to Cayman Brac is pretty well NNE so some East wind will be needed or we will be tacking to windward. A well timed mild Norte might be sweet for some Easting too.
There are a couple of other issues too. The bar at San Juan del Nicaragua ( formerly called del Norte ) is very shallow at 5 feet and will require good conditions to cross. May have to wait a bit. There is another bar on the Colorado river which branches from the San Juan and goes out thru Costa Rica. It is a deeper bar but everything I have heard says it is often worse than the one at SJdN.
Then of course there is the matter of paperwork. I would like to properly clear out and get my passport stamped and a international Zarpe for 'Miss Cindy'. The info I have indicates I can do that now at SJdN. But perhaps not. I will ask at San Carlos at the start of the river. Apparently I could clear out there too. But perhaps not. If I don't clear out at San Carlos then I cannot drop down the Colorado to exit from Costa Rica ( paperwork wise ). It may well be that I cannot clear out on the Atlantic side with out going up to Bluefields. But perhaps not there either.
Route wise the Nicaraguan Corn Islands do not hold much interest for me. They are well West and near all the bad stuff. Columbia has a couple of interesting looking islands further East, Isla San Andras and Isla Providencia. These both are ports of entry and nicely NE. Providencia is less touristy and a healthy 200 miles from SJdN. Looks good to me. Cayman Brac would be a little under 430 miles NNE from there. Further along Cuba way I am now thinking rather than bashing all the way to Havana on the NW coast to head to an interesting spot on the SW, a marina in the Canadreos Archipellago. Cuba pretty well requires I check in at a marina, not even lucky 'Miss Cindy' will be able to avoid that.
Wednesday March 25 2009
In the past week the lake level has fallen another 4 inches. I have decided if I cannot get a confirmation today that the parts will be delivered by Friday then I will head out tomorrow.
My support team :) up North has been working with NicaBox's Sandra and Oscar in Miami and is in touch with Oscar again today. There is good news. The package will be delivered to SJdS Friday morning. I buy drinks for everyone in El Quixote bar. The tourist season is over, two drinks including mine. I also light a small cigar I picked up during a stroll with the bar manager earlier in the day. Cigars seem to be something I try one of about every 5 years, usually for an occasion. My brain cells always forget but cigars are not my thing. On that same stroll we went to the cheapest place in town to pick up booze. We walk past the fire trucks and the police cars and the maintenance yard right back into the police commissary. They sell to anyone and it is substantially less than elsewhere. The cheapest bottle of 5 yr Flor de Cana I have seen is just under $6. Here $4.47 I put 4 in my backpack with the computer.
I get back to the marina a bit late and bang and holler and wait. The night guard comes by and we have a chat. As is often the case with my Spanish conversations if someone starts in cold without my understanding the context it can be an effort for me to understand. But he lets me in the gate, and somehow pineapple juice is involved in this conversation. Ah he is thanking me for the juice I gave him a couple of weeks ago. I give him a cigar and what a big smile he has. We have a bit of small talk and then he and his 12 gauge head out.
The bar had a neat guidebook written in English by a Nica. It has some history and that frankness that is seldom seen in first world publications. It also has a nice section on the lake islands and Rio San Juan. I make a photocopy of the section and read it at length back on the boat. It has a 'Heart of darkness' feel to it.
' San Carlos stands in sharp contrast to the immense natural beauty that surrounds it. There is a lack of quality accommodation in San Carlos. Rodents and insects are common, pull your bed away from the wall and don't walk barefoot in the dark. If you time it right you can stay for lunch, meet the friendly locals, and get on with your journey without needing to spend the night.
The town of Boca de Sabalos is melancholy, muddy and friendly. There is a trail that leads to a spooky plantation.
A historic fort at El Castillo followed by El Diablo Rapids, where the occasional boat has flipped over.
Rio Sarnoso and its 19th century shipwreck, and the first Nica MARENA checkpoint, passports and papers please. Commander Zero was here in 82 and you can get supplies on the Costa Rica side, with permission of the military.
Monkeys, Toucans, Macawas, King Vultures... The river now snakes wildly.
At Old Greytown a dredge rusts in the bay. Mark Twain was here. Commander Zero too just before the Sandinistas razed the town.
San Juan del Nicaragau... This is the end of the earth... The river is teaming with bull sharks gorging on the rich fishery... swimming is only for the suicidal. The bar has fooled navigators for hundreds of years and been responsible for many a sailors death.'
As the snail said when riding the turtle......Wheeeeeeeee!
Friday March 27 2009
The parcel contains a bunch of stuff that would be helpful to have as some equipment is getting tired or has just failed.
Two small Claw anchors to replace the one lost. 60' of 3/16 galvanized chain to replace the SS chain that is breaking. A swivel for the sea anchor and some shackles for the anchors and a bit more anchor line and some polyester for new reefing lines.
2 Attwood LED nav lights. West Marine # 9034463. These have been a disaster lasting an average of 7 weeks. They are supposed to be good for 7 years of steady use. I had a replacement flown in to PV in Mexico at a total cost of about $120, it died before San Juan del Sur. West Marine in Nanaimo has given us these two units at no cost under warranty. Thanks Rachel.
With just our small all round white and no directional nav lights I figure we are about 5 times as likely to be run down by a white lobster boat. Something that will help will be to get into the Atlantic near the full moon... so no more waiting around.
In addition there is a bunch of stuff for PangaPaks. I particularly like this stuff because while it weighs 20 lbs I get to give it all away.
And finally there are the 'Miss Cindy' cards from my favorite print shop.
We have a Dynamic Time Warp Butterfly Effect looming over a timely entry into the river. I expect to get to San Carlos around April 5 or so and want to get paperwork done for the river and perhaps even for exiting Nicaragua. But a single event 8000 miles away and 2000 years ago may prevent that. Semana Santo starts April 6 and it may not be possible to do anything official for 5 or 6 days after that.
Saturday March 28 2009
Nicabox confirmed yesterday that the parcel was in the hands of staff from Pelican Eyes and that the poor guy was riding the bus back to SJdS that night. I take my $50 taxi ride and find out that in fact NO, Pelican Eyes is sending their staff to Managua this morning...... Make arrangements to have the parcel delivered to the marina and back we go to Granada.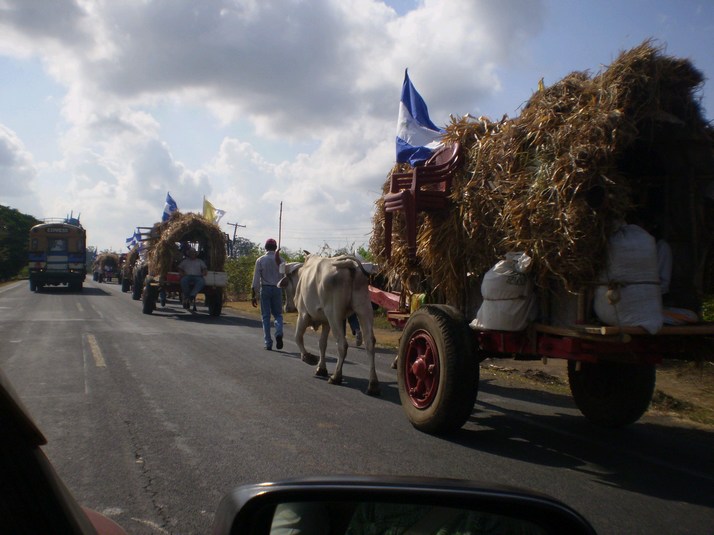 See these along the road. It is part of the ceremony of Semana Santo.
Spend the afternoon in my favorite bar, bummed out about the parcel and that I can't give the nice guys there some PangaPak stuff and determined to leave manana come what may. Pelican Eyes ( Thanks so very very much Chris and Katie ) deliver the parcel in the afternoon and it is waiting for me on my return.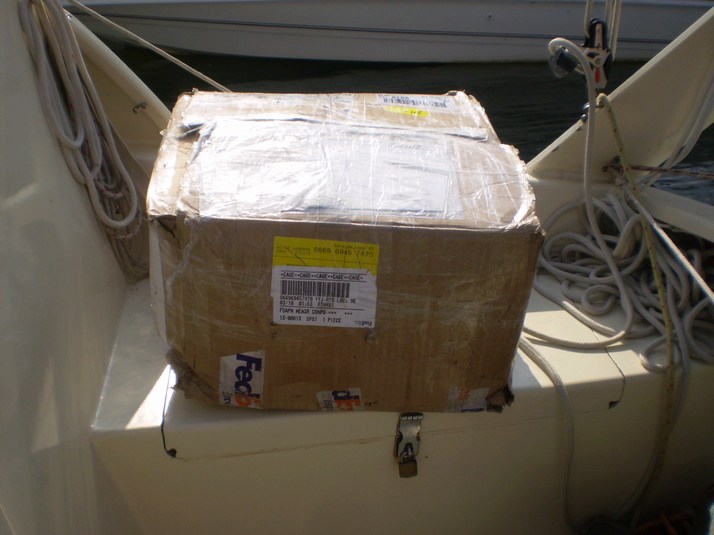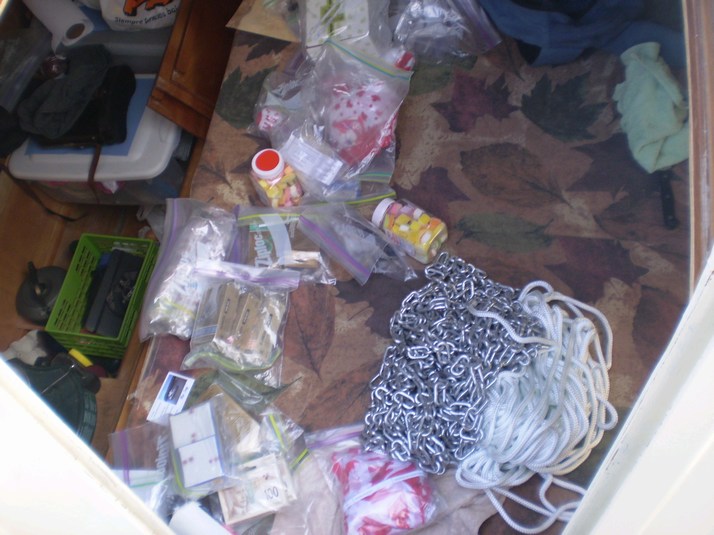 Give some of the PangaPak stuff to the marina staff, plus my Tfal frying pan as the nice Senora at the marina pines for one and I have only used it 4 times so far ( once for poorly done biscuits ). Then one more taxi ride to town to email my Sweety and give some PangaPak stuff to the staff at El Quixote.
TransExpress/NicaBox: Thanks Mucho Sandra and Oscar. Nicabox don't promise what you cannot deliver. Arghhhh!
Sunday March 29 2009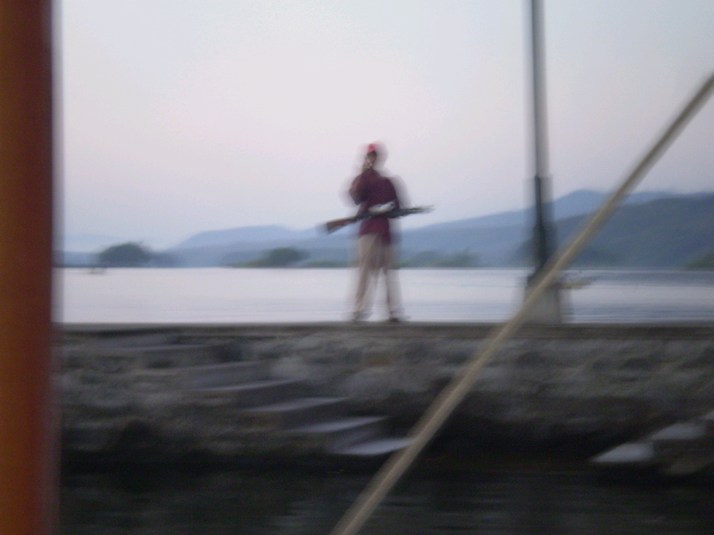 I sneak a fuzzy photo of my guard as we push off the quay. The weapon is the most dangerous kind anyone can carry. It is a 12 gauge pump shotgun and is he says as he points it in all directions, unloaded.
We slip the surly bonds of Granada and sail out into the lake to touch the face of god.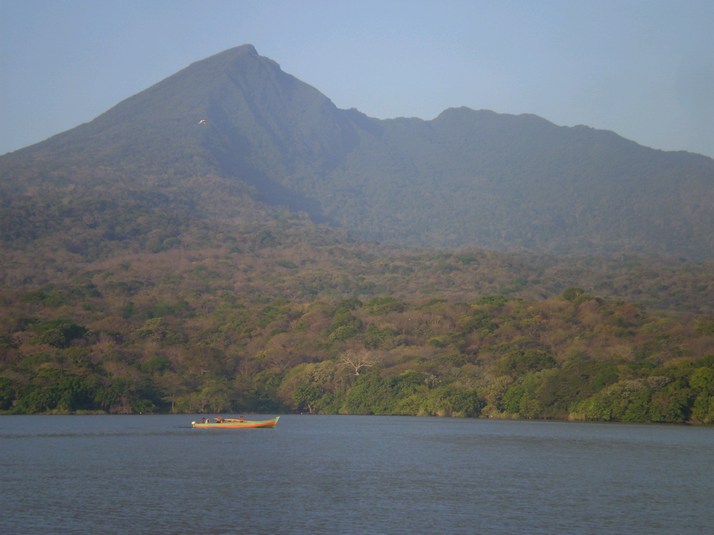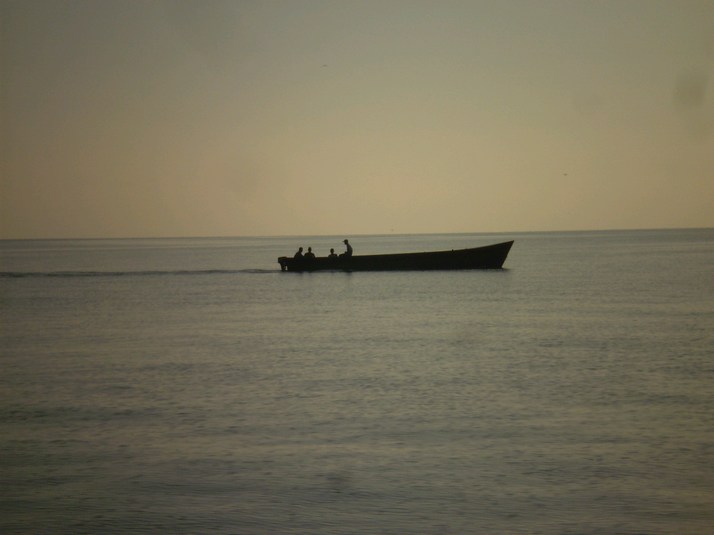 As we leave the rock pile that is the Islettas and head out into the void we put our faith in a floating magnet and follow it's directions. A little bit later the big fusion reactor in the East is our guide and we keep it centered between the uprights. We have no wind.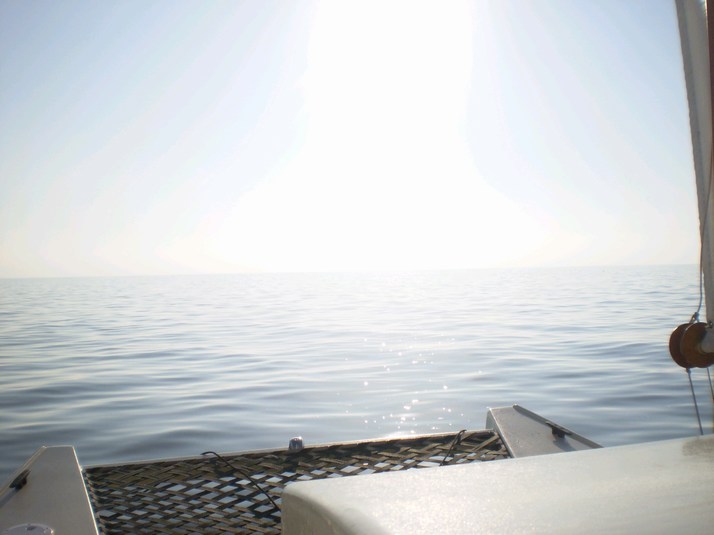 Yammy does a good job and I am grateful for him. He was stuffed in a locker when the parcel arrived so did not see the parts and gear oil that were for him. I got sent a 500ml container instead of the 45ML tube I asked for. Wee problem is that the tube includes the injector to put the oil into the gearcase but the 500ml container does not. Luckily Yammy was unable to see this and I put the lube up near the trash.
As I told Yammy when I first discovered the gear oil issue, we are going to rely on Japanese engineering and the little magnetic plug. He will be lucky to see 100 hours between here and Cuba.
We cross to Peurto Diaz in a calm. There were a few brief 2 minute 5kt breezes. They were all announced by a squall of gnats that filled the air just before the breeze arrived. These photos show lots of glare but I don't remember it. I remember drinking lots of water and still having a headache.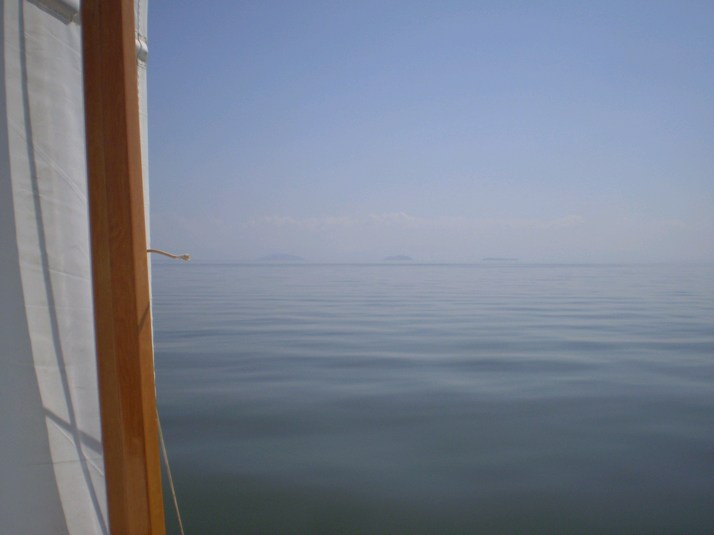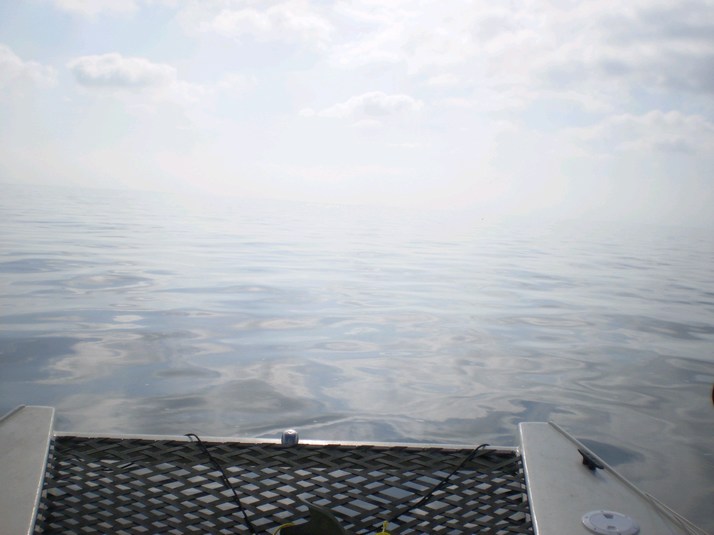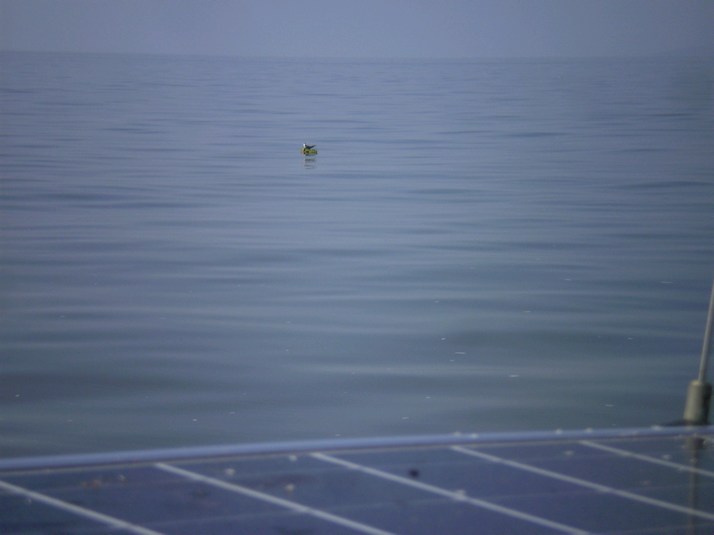 The lakes equivalent of a turtle island, a water hyacinth. Despite wearing my Panama Hat and guzzling 3 liters of water I think I get sunstroke, and some significant sunburn... everywhere. It has been a month since I have been sailing... rough break in.
Around 1100 we get a bit of a breeze and weeeee, 'Miss Cindy' gets to sail. We are headed to Puerto Diaz to scope out some sail cargo boats that carry plantain between Diaz and Ometepe. The Nica at the skippers meeting mentioned them and that is why I am headed here. I glass the bay and I don't see anything resembling a sail barge nor anything that looks like a good bay to hook in. I rely on my bootleg MaxSea charts and it tells me the bay I am looking for is South of the peninsula I see ahead. I don't trust the charts EW but NS they have been pretty good. I follow the chart plotter and head in South of the peninsula looking for the hidden cove. When I am in 3 feet all I see is swamp and trees and mangrove. The entrance is supposed to be 200' ahead. I decide to buzz off.
We motor South. The whole day our maximum depth has been 37'. Since we left the rock pile of the Islettas nothing but nice flat muddy bottom. I spot a banana clipper on the horizon and get a better look with the binocs. Interesting.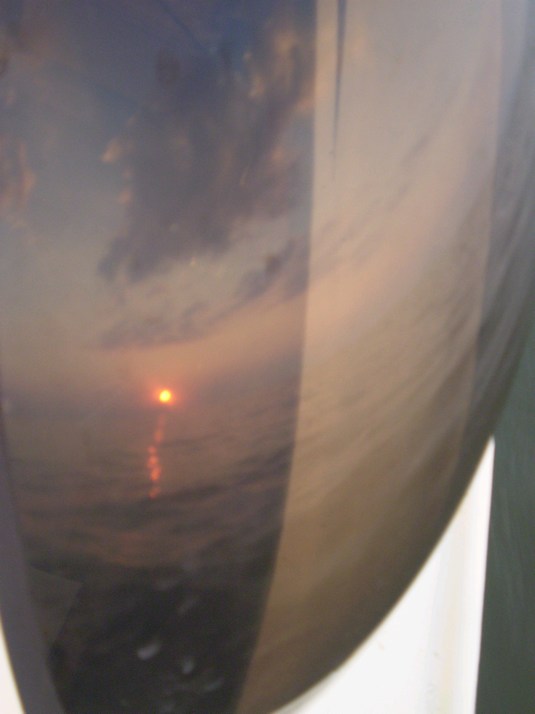 And another sunset.
We carry on South favouring the little moon that is coming on. The new nav lights shine brightly and a firefly surprises me as it blinks its way across our decks. We hook into 22', put on the anchor light and sleep a nice 3 hour wake up sleep pattern till daybreak.
Next stop Solentiname Islands. One of my destinations. We are going to get there today, Monday, cool, looks like we have a few days there before the Butterfly Effect thingy, we will maybe get to San Carlos Thursday.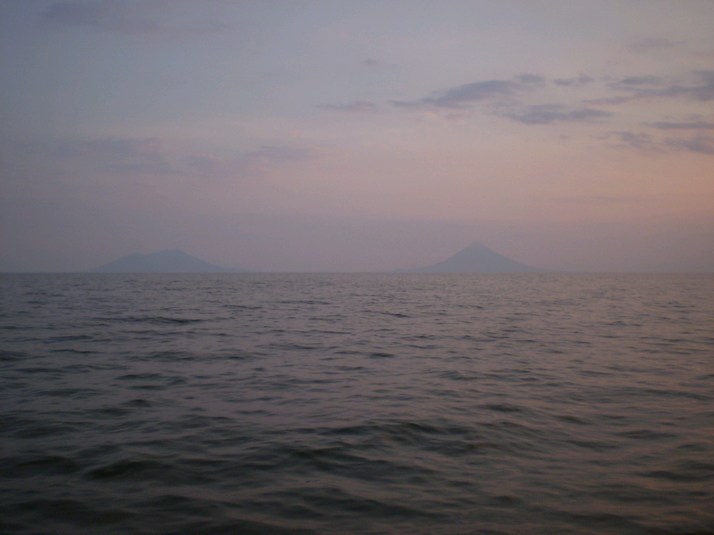 The big Ometepe Island with it's twin volcanoes.
We sail off the hook and for another 3 hours close reach on a East breeze. Then it swings SE and drops to 5kt and we motorsail. Around noon we just motor. There has been a flock of little gulls following us all day, nibbling in our wake. Since Diaz we have only seen two small pangas at a distance. The Solentiname Islands show up about 15 miles out.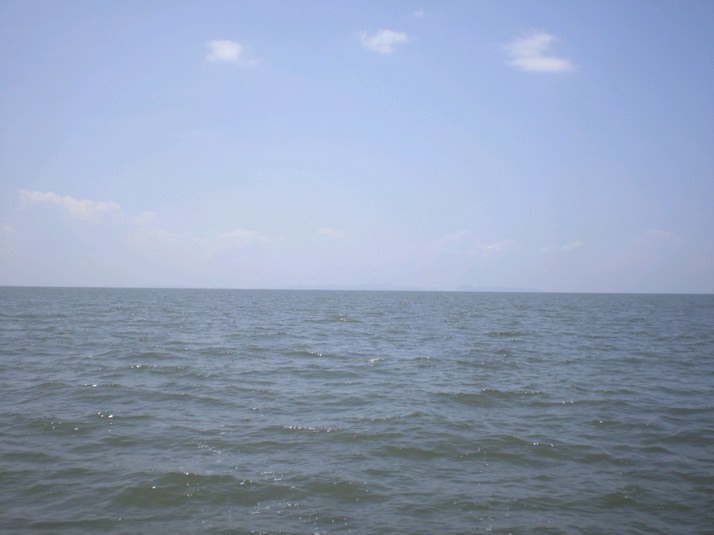 This is a photo of them just barely visible... This is the kind of view sailors like after 20 miles of nothing but sea, they like it even more after 3000 miles eh Iain and Aly ( they made landfall in the Marquesas just before I left Granada )
For some stupid reason I did not get a touristo map of these islands so I am guessing where everything is. For example where is the town on Mancarrun Island. Well my MaxSea chart sorta shows me the shape of the Island and I give my best analytical guess as to where I would put the village. First guess is wrong. We beat in a nice breeze up to my second guess. It may be the village but no easy access to shore. It is a peninsula so I go to the other side and it looks promising. It has a pier. I anchor off. A swimmer swims by and we chat, it is the town. Another boat asks if I need assistance, why aren't I tied to the pier? No problemo! I dinghy in.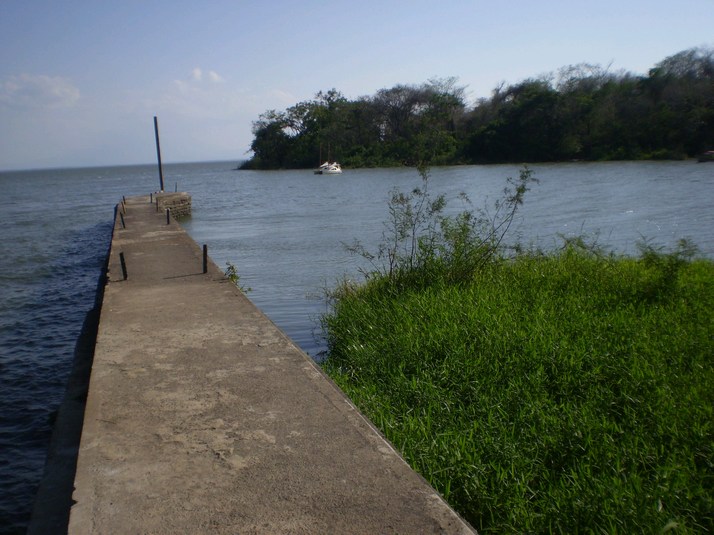 I am reminded once more of how much more rich this experience would be if my lingua was a bit better.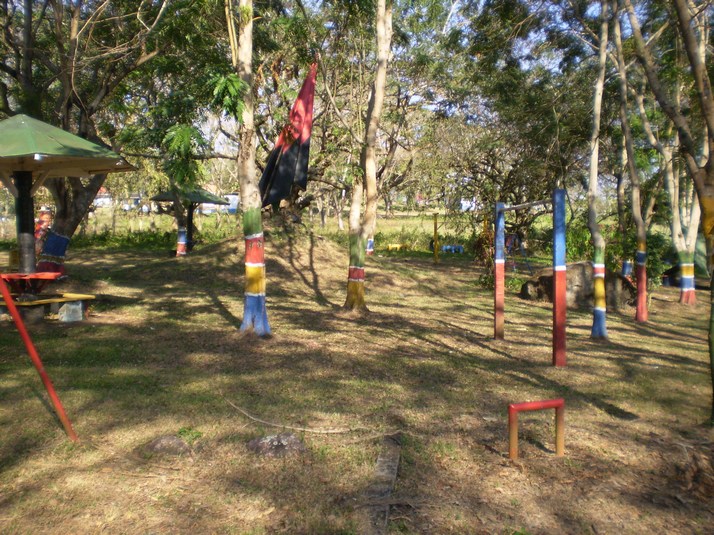 First I walk thru a huge playground with a steel rocket sculpture in it. ( Gotta be from the Ruski period. Confirmed, and in the Red and Black of the Sandinistas. ) I am looking for the church, it has a museum behind the alter. Nothing looks like a church except one building, sorta, but it is all locked up. I wander up the concrete path. There is an overall impression of natural beauty and peacefulness. Everybody seems pretty mellow. ( This is not the white guy Grey Hawk thing. Probably not. ). I know the history of this place. This church, this priest, he arranged for 12 locals to get art lessons and a rich internationally acclaimed art community was the result. This priest, he talked about rights, and freedoms, and fighting for those freedoms. This mellow peaceful, idyllic place was the first to spill blood for the Sandinista revolution. Around 1977, inspired young men from this tranquil place, full of testosterone attacked the garrison at San Carlos. The nasty Somoza regime returned fire sending bombers to blast the houses here. Has the church been unused for 30 years? Do just tourists wander thru and take photos and wonder how, why here, why?
I ask information of a fellow pulling pail after pail of dirt from under a walkway. He has earbuds connected to music but can still hear my bad Spanish. He tells me the Church is that funny building and it is open.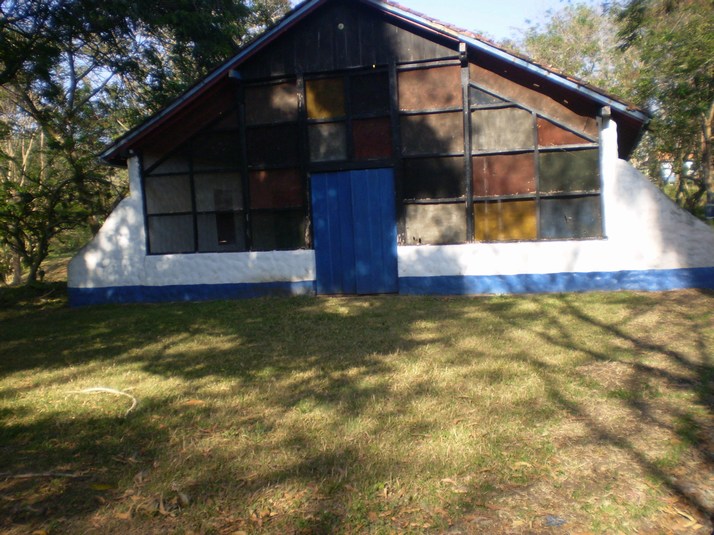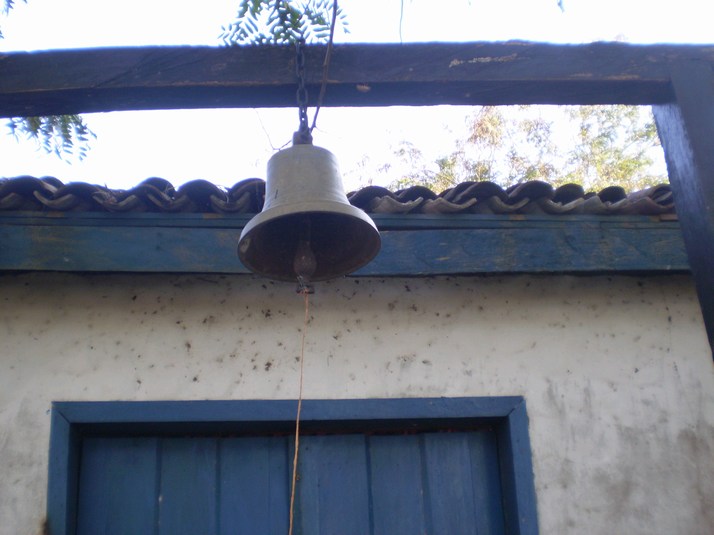 I walk back and try the doors, they are all locked. As I complete my circle of the church someone else greets me. He says he will get a key for me. He comes back and opens it up. I take all these photos of the art on the wall .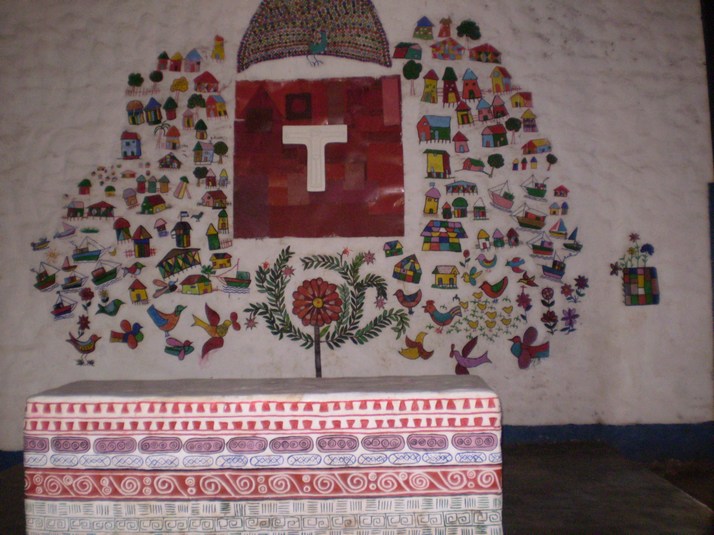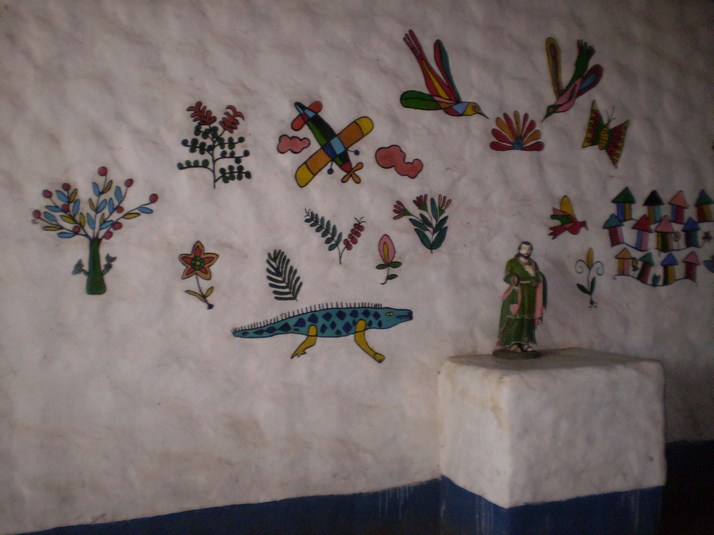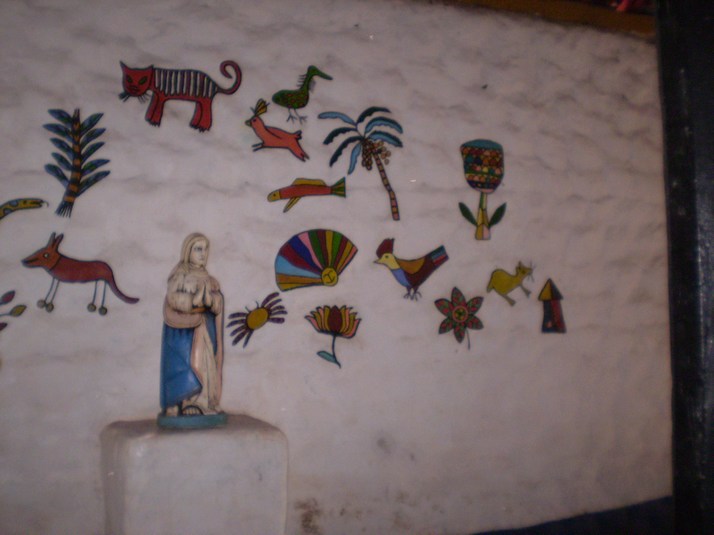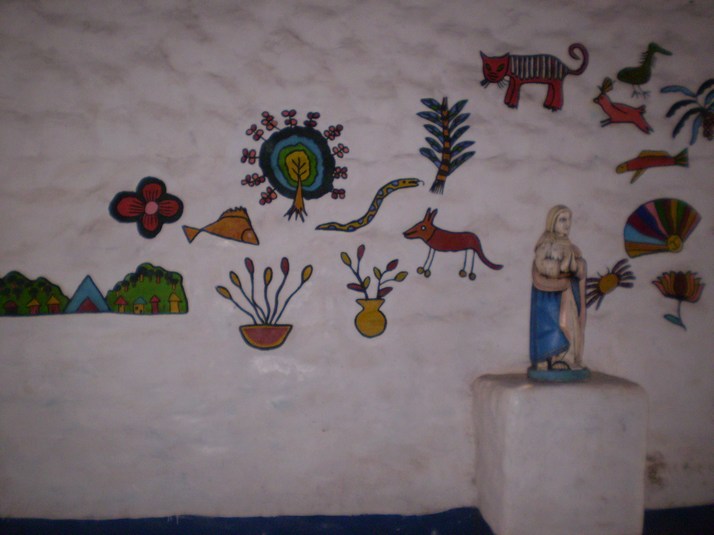 The floor is dirt. A man with the power to persuade spoke here. A man who made a difference.
The museum is no longer in the church. They are building a new one, which is currently the library, and the old library holds the collection. We walk up there and take off the padlock which is not latched. It is a pre-columbian collection with some revolution posters and art mixed in. The pre-columbian stuff is apparently local.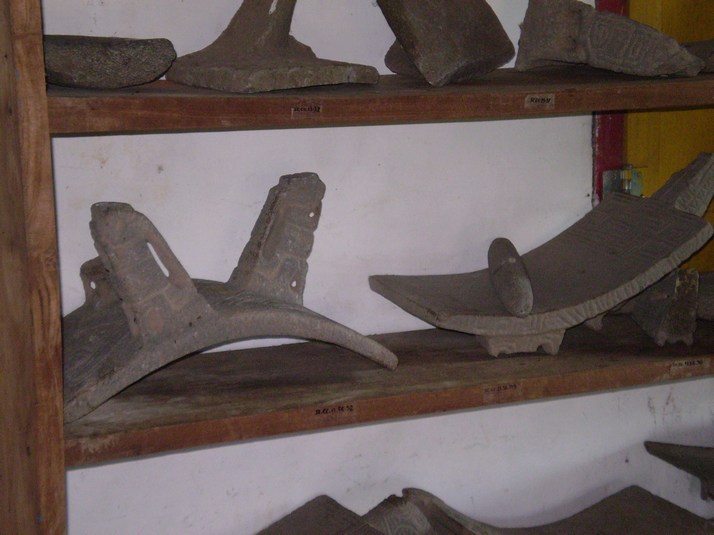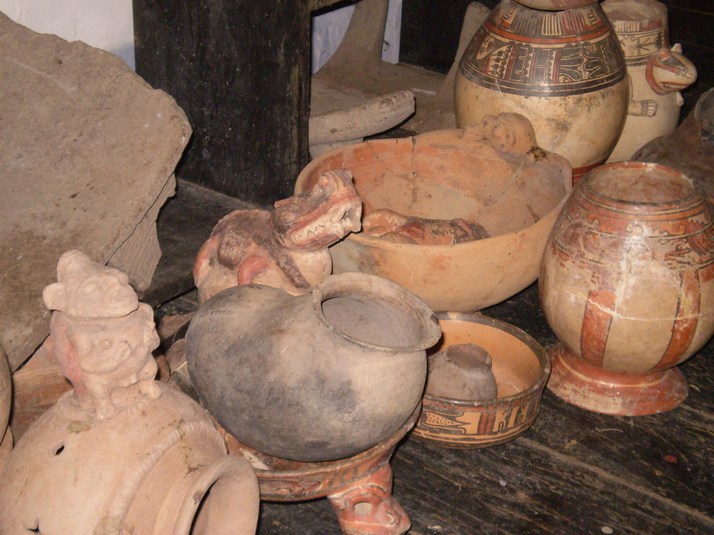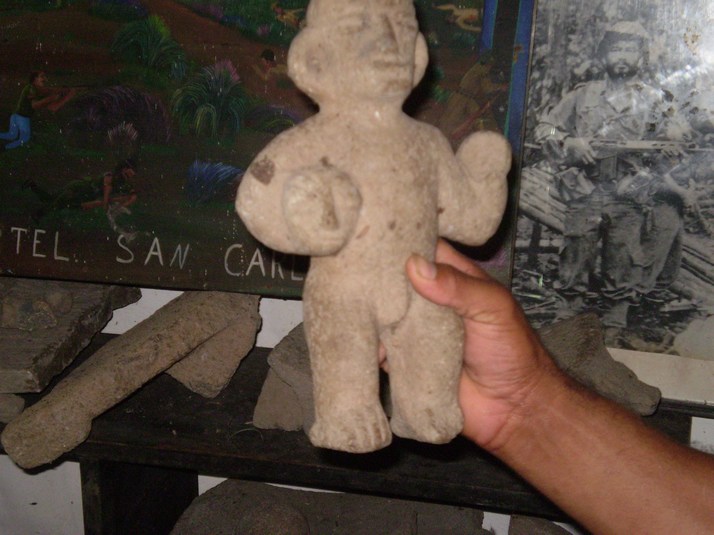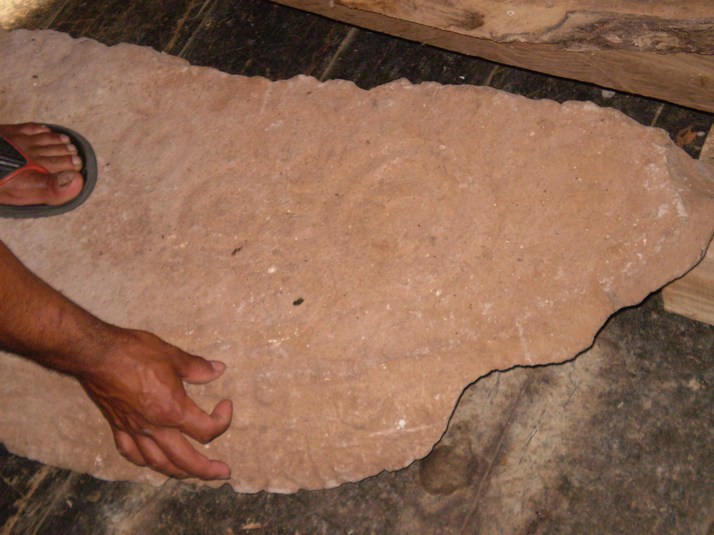 I know from research the islands were inhabited from 500 to 1000 AD and then just used for ceremonial purposes. This is old stuff. The current inhabitants are about 4 generations, mostly form Ometepe and some from elsewhere. Another place with a disconnect from it's past. No one here is related to the pre-columbian art in the museum. Just like the natives in Nanaimo and on Gabriola island, ancient petroglyphs no more belong to them than to me. A common heritage never to be understood. We all want to be connected to it but none can hear it's song.
The revolutionary art touches me. One poster shows three marytrs who died for your freedom.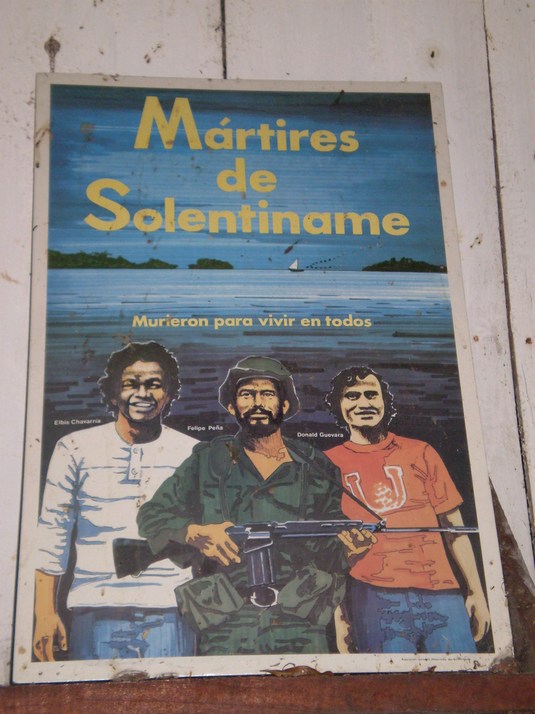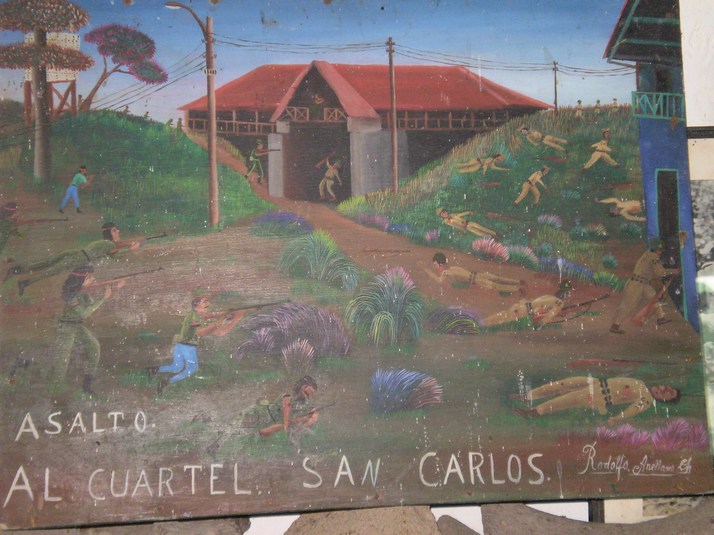 The painting of the battle of San Carlos. All the mothers weep. I will meet the artist tomorrow. He is still troubled by those events.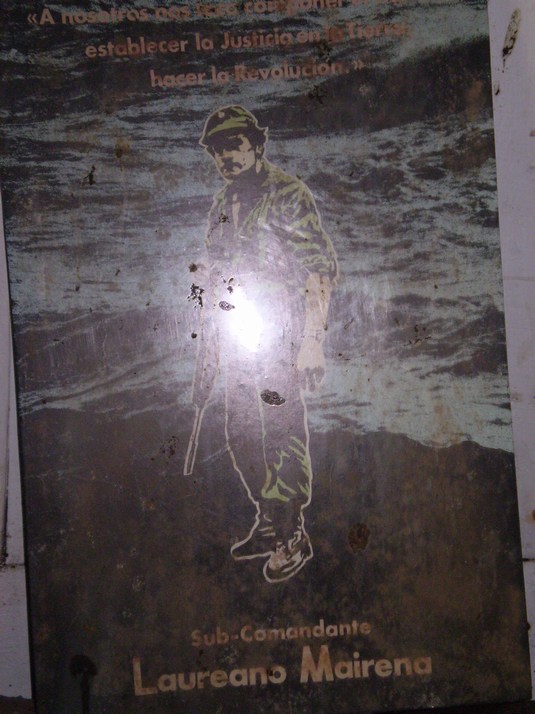 I have deduced from my poor Spanish that there are artists selling their wares further down the concrete path past the hotel. And there is a Pulperia ( 7/11 store ) on that path too.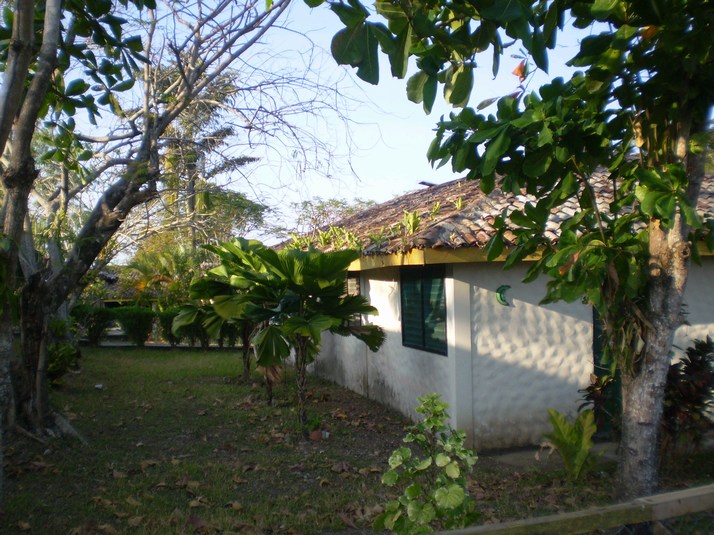 I walk up the hilly path past the Hotel. It seems steep and burdensome. I turn around before I find the artisans or the store. I chat once more with the hard working ditch digger. Back I go to the artists puebelo that exists over the hill. I buy 3 beer and a coke at the pulperia. I remind myself to buy some salty peanuts. I noticed while eating a can of refried beans and toastadas that it was not as salty as I recall. HINT Hint hint, I am in aqua dulce, not the sea. I realized I don't even have salt aboard. Made a mental note to buy some salty peanuts to go with the 3 liters of water I am guzzeling daily. There are six mini packets of salted peanuts. I say all of them please, six. She asks if I want the ones with chille, there are scads of them, I say no just those six. She gives me 4 and two with limon and sal. I know this game, she wants to keep some for her regular customers, don't let the touristo clean them out. Fine by me, I understand.
I ask if they sell gasoline, yep. Cool I can fill up the 3 gallons we torched since Granada. I leave there and meander down to the artists houses. One house has a sign indicating carvings. I am looking for some. The artists son says hi, great smile, glows brighter than mine. I ask for tortugas. Yep she has those. They clear the kitchen table and she brings out a hundred carvings. Mostly birds and fish. I ask for turtles. She has a couple that look like sliders. She mentions the price, It dosen't matter. For money I have. What I want and need are memories, connections....more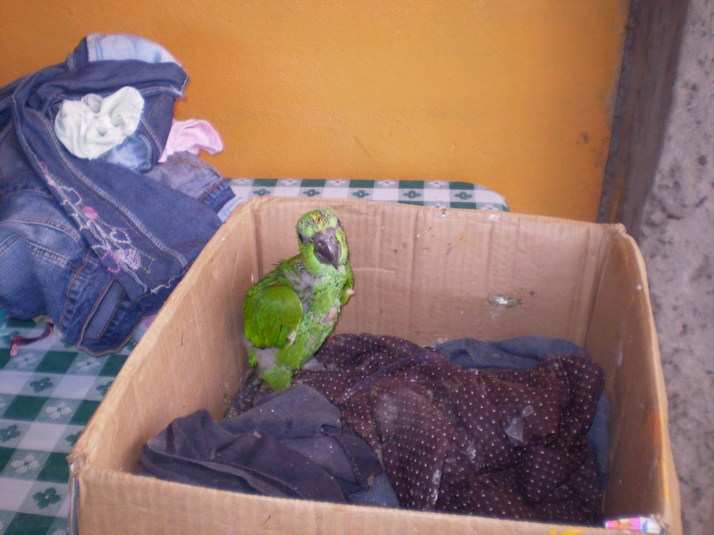 There is a scruffy young parrot in a cardboard box. He squawks nicely and looks forlorn. I ask the young man if he is a bambino. The locals continue to find me amusing.
I pick out a tortuga, two fish and a toucan. The toucan has interesting purple shadings on it's wings. I ask the artist how come that colour. She says, she had lots of that colour. How refreshing.
I get back to the rocky beach and pick up a volcanic stone.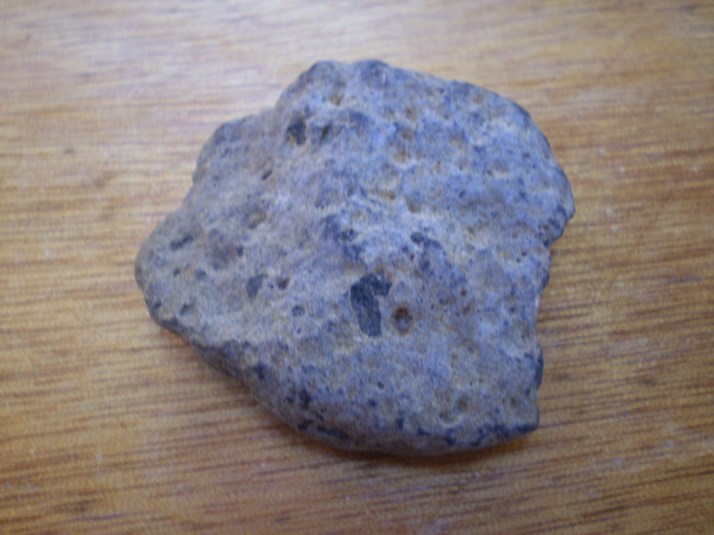 It has been here for millions of years. It has the worn edges of experience, but still lots of shape and life left in it. It asks to come with us. I put it in my pocket push off in the kayak and wobble out thru the steep breaking waves and lug my booty back aboard 'Miss Cindy'. I put some dos tiempo oil into the jerry cans and pick up some PangaPaks and head back to shore. I walk back to the artists house, not even noticing the hill as my mind is busy, and give the lad with a bright smile one. Back to the Pulperia and get my gas. The owners handsome son fills it via syphon. About $20. I give him a PangaPak, but first pull out the cigar. I buy another beer and head down the path. I find my ditch digger guy and give him a PangaPak, an extra cigar and the cold beer.
Funny how they all just live here and yet I have a need to find meaning and context in the place.
Anchored in 7 feet, no tide to worry about.
My soul likes being here.
Around 0415 there are LED fireflies flitting about along the path on shore. They load up one of the big boats at the dock and it heads into the lake.
In the early morning I do my laundry in a bucket. Nice to have all the fresh water.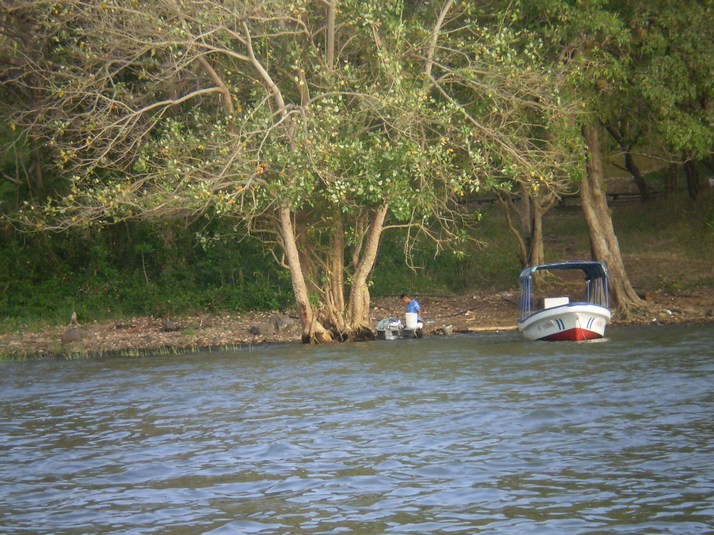 At the same time on shore a local man does laundry in a bucket too.
The town wakes up a little at a time. A generator starts up then a table saw, plywood and lumber being cut. A bigger laundry operation starts up near the shore. Fish boats come and go.
It is Tuesday March 31 2009
Quite the day. You don't get these working 8 to 4. Early morning we head out from Mancarrun headed for San Fernando. These Islands all have two names it seems, their old name and that of one of the revolutionaries from here who is dead. We feel our way with the sounder.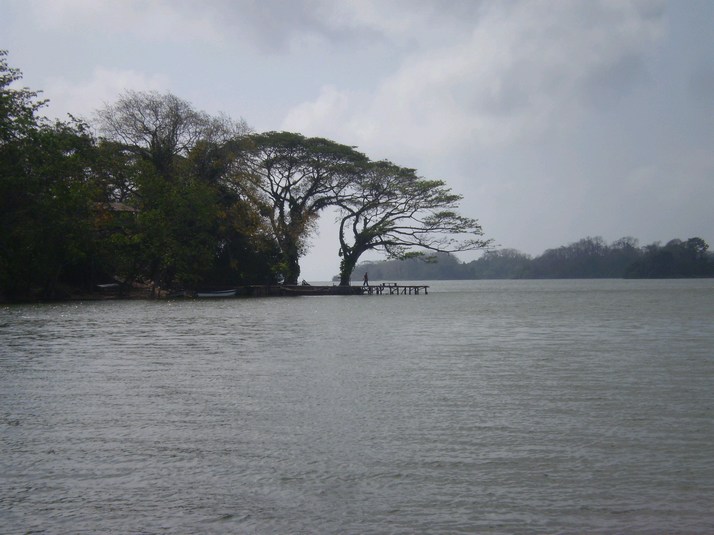 We come up to this point and I shut down the motor and chat with the fellow. He knows of me. His brother was the fellow who opened the church. At the time he mentioned his brother was a guide but away on another island. I had already passed him a PangaPak and tossed another for his brother who I could not find when I returned to shore the day before. He wants to come with me but has a bunch of tourists to pick up and tour with. There is a rock marked with a pole in the fairway, he clearly tells me to go between it and the shore but to stay very close to the big tree. We do. Gets down to 4', but not worried.
We get to the pier and he is there picking up his tour. He wants me to pull in at the end. I load up the fenders and lines and mosey in. Sorry guy not there, with that bunch of steps sticking out under the water. I pull alongside the concrete wall and someone takes my line. We need to stand off the pier a bit as the masts are too close to the overhanging roof.
I toss a couple of anchors out to hold us off and go ashore with a couple of PangaPaks. I give one to the kid sitting on the pier and another to the guy who took my line.
I ask for directions at the library. Head up to the museum. It is 0900 but I am soaked when I get up the little hill. Pretty nice little museum. I am even more soaked having walked all the way down to the end of the concrete walkway. I missed the artists house I was looking for.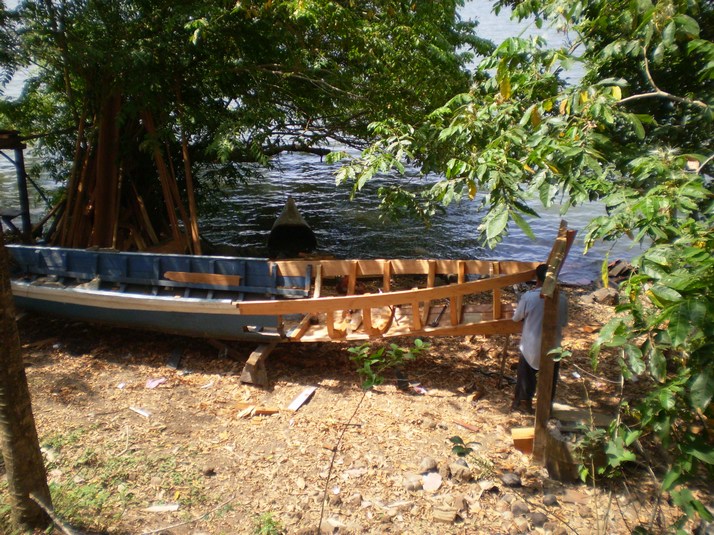 I do get to see a guy rebuilding a local boat. Like everyone else I met he knew I was from 'Miss Cindy' If it was not so hot I would have volunteered to spend a couple of hours holding the other end of a board or what not for him. On the way back a little boy asks for a gift like I gave his brother.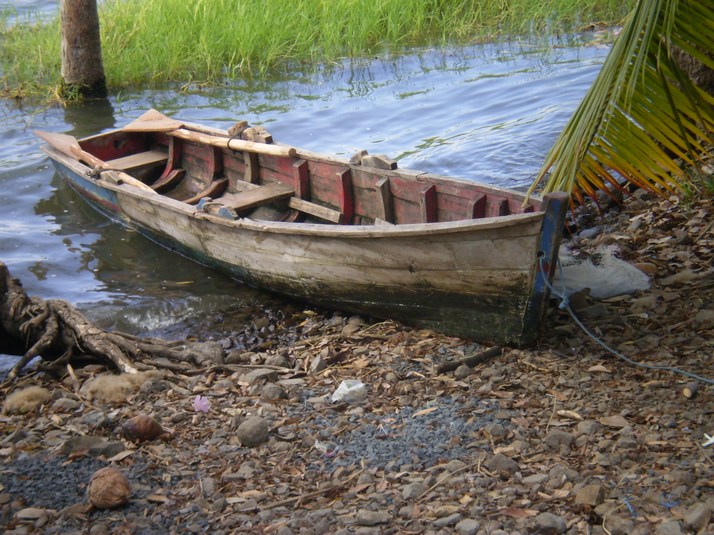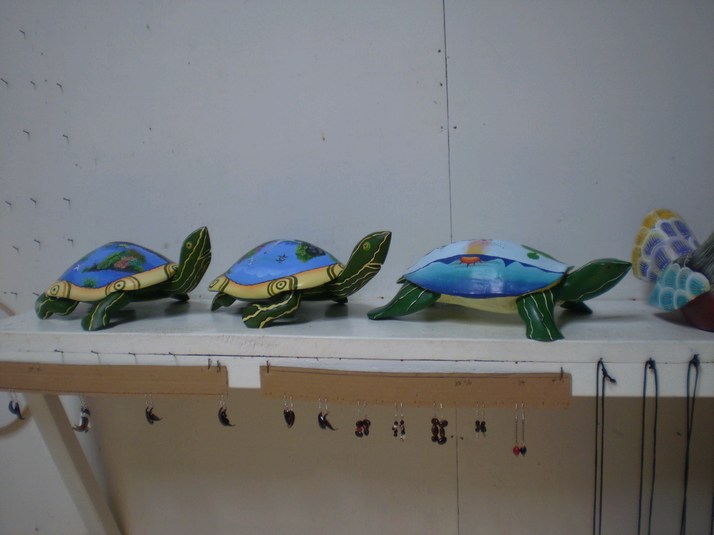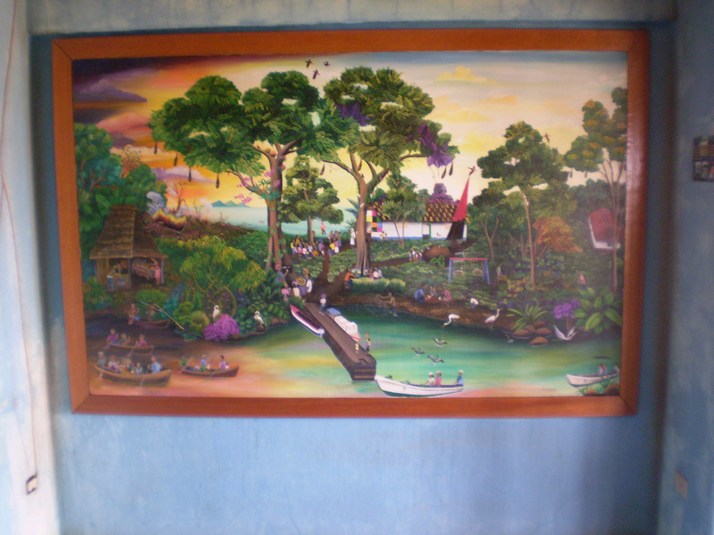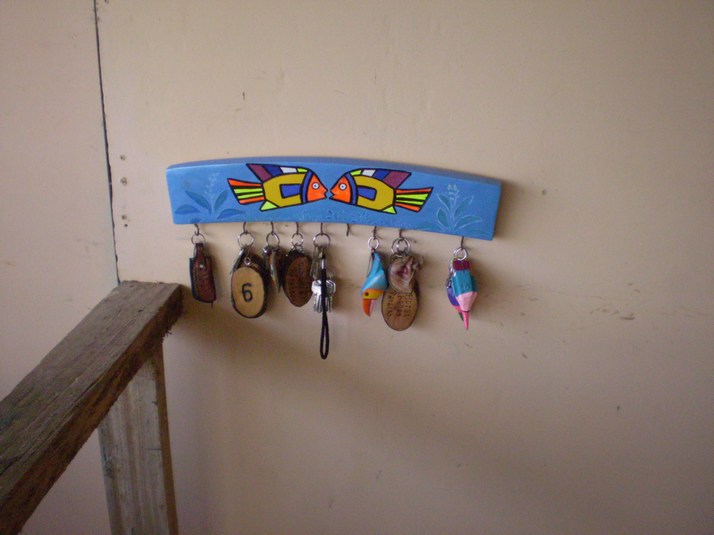 I meet the artist. Interesting woman and interesting art, but nothing she has on display works for me. She walks me up to the cooperative showroom. Some nice stuff here but no painting that fits, size and style wise. I am tempted by one but it just feels gratuitous. I pick out a canvas card I like and some printed cards as well as a couple of balsa wood carvings. It turns out she painted the canvas card. Nice. Her nephew runs one of the hotels in town. She suggest there for lunch and asks where I will be staying the night, on 'Miss Cindy' on another Island.
I decided to do lunch or at least have a cold drink. I ask what he has and I can have anything I want as long as it is Tona beer. Seems the supply boat is due later today. I take two. I ask about lunch. He checks and the cook will be making fish soup at 1pm. It is 11am. Ok. They have stuff to read, Nica business magazines, and other magazines from all over the world. I can wait for lunch. I chat with the Nica who is doing some renos. After about 5 minutes he suggest we talk English which he speaks well. I continue in a mix of English and Spanish and he stays in English. Interesting perspectives on these islands and events.
I read a bunch of stuff. Here is a Nicaraguan security add.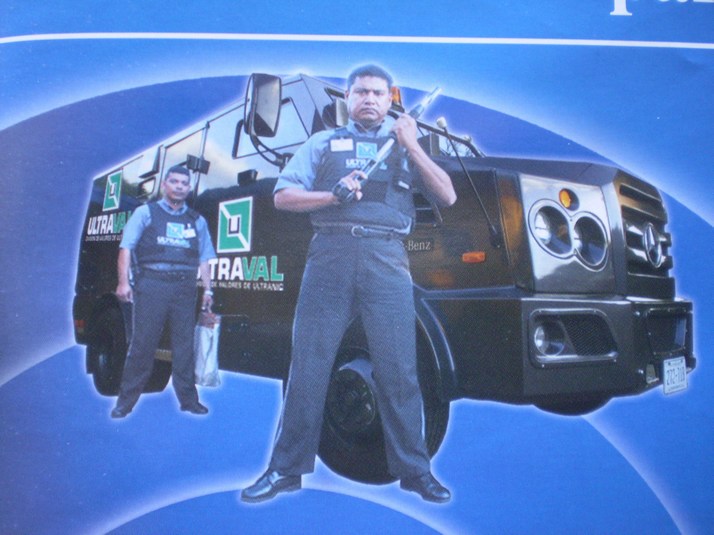 I read the 'Sun' sort of like the Atlantic Monthly but a lot more depressing. Stories of horrible situations, sad letters to the editor. I won't pick that up again. Lunch arrives. First with these smiley guys.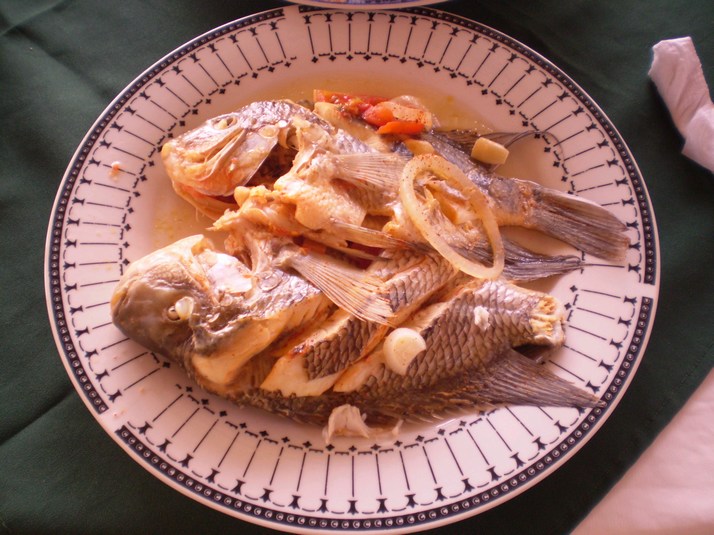 I have sorta avoided little fish with their heads on during my travels. But these are destined. Along comes a bowl of fish broth with onions peppers and tomatoes, plus a bowl of rice and some fried plantain. I refresh my technique for eating whole fish and do much better on the second one. But even with lots of fresh lime it does not suit. I eat a one and a half. The broth isn't my thing either. Rice and plantian work well. Oh well, nice to try it.
Back at the dock there are 5 or 6 young guys with lots of questions. I chat for a bit then slide away. We putt putt putt in about 8 feet and head to the next island. My info says , house on the SW side.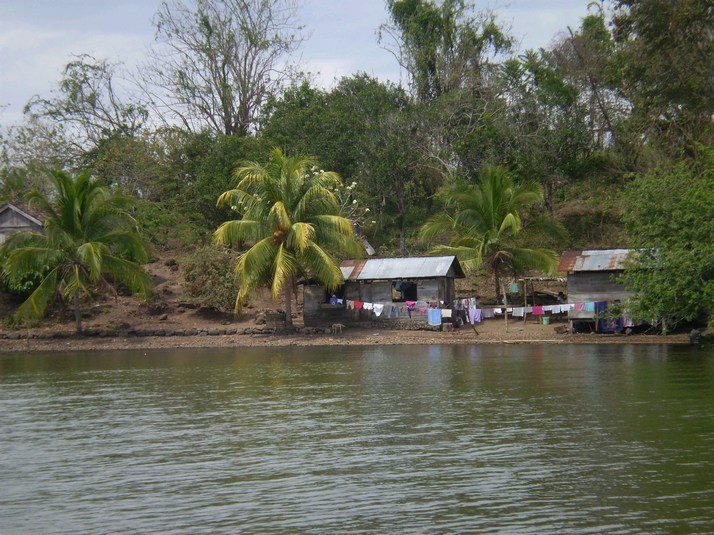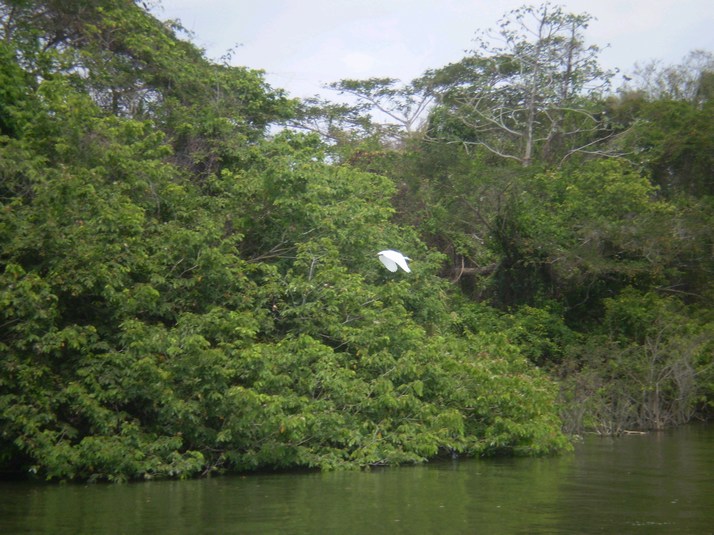 It is a pretty big SW side. Spot a big boat at a dock, doesn't look promising. Tuck in close to the next place ( oh yea lots of those white crane type birds plus several types of kingfishers ) and ask if this is Rodulfos house. No but it is up at the next little cove. I motor in and shut down then ask the guy on shore. Right place. I anchor in 7 feet and set it good.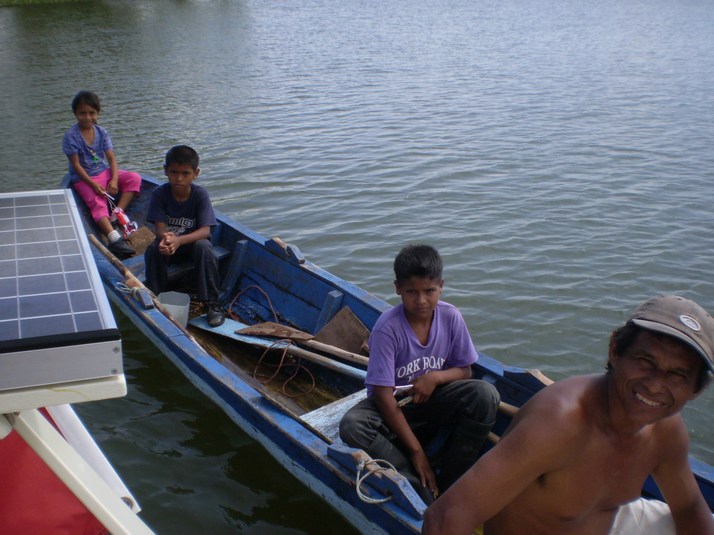 By then Rodulfo is out in his long boat with 3 of his kids. They all get some stuf and a PangaPak to Rodulfo. I go ashore in my kayak. It is a simple house. His wife is there and their 4 kids. They are all nice. We chat about all kinds of stuff. The river is sounding scary. Lots of boats go down it however, I think we can too. Maybe a couple more guided sections than I originally planned.
He is Rodulfo junior, his father is old and infirm he explains. We talk about my trip. He keeps calling her Victoria, eventually I explain 'Miss Cindy' Senorita Cynthia. From then on he calls her Senorita. He offers me an exotic fruit, 3 days it will be ready to eat. He has another that is ready now. The outer flesh is like melon, but the big treat is inside with all the funny seeds. His wife preps it, I have a tiny anxiety with the water, but hey I must have some bugs on my side by now. It is an ok flavour but floating on the top looking like tapioca or fisheyes are the seeds from the fruit. I don't like tapioca or fisheyes. I get to spoon those out and finish the drink but excuse myself from the gift fruit. They think it is all a bit funny.
They both paint and he carves. He is semi retired from it as he is focused on other work. I like one of her paintings and a couple of his turtles. She has the price of the painting but will need to wait for the tortugas. We double bag it for the trip back in the dingy. Meanwhile after the failure of the funny fruit, I had asked if those were drinking coconuts and yes they were and Rodulfo is whacking the husks off of three for me to take back with me. We have also discussed my need for a pole for the shallows in the river and if it should be bamboo or madera. He says we will go cut one. Off we go. Pretty nice walk in the woods, farm etc. There are stingy nettle type things that have their way. Rudolfo assures me that the sting will not last long (and he is of course correct). We are going for bamboo. The first one he cuts down is caught up and we cannot pull it out.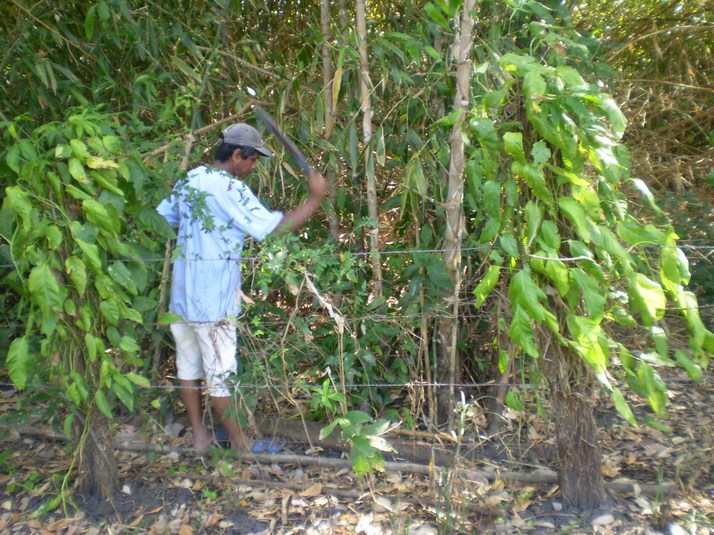 We get another and take it back.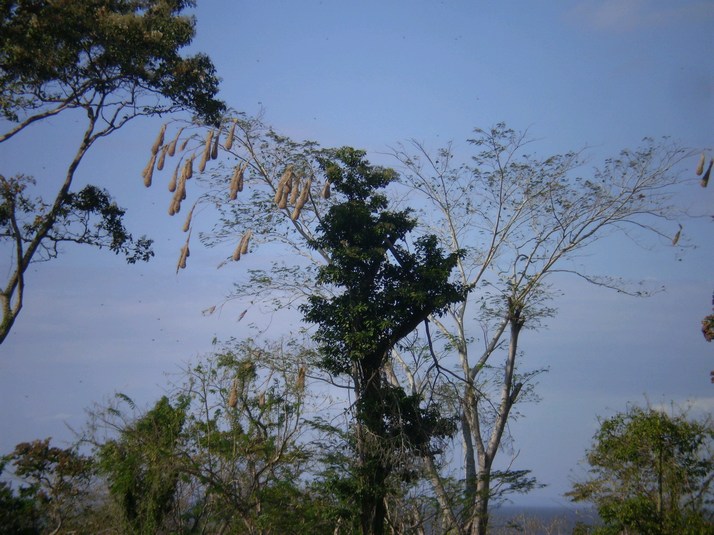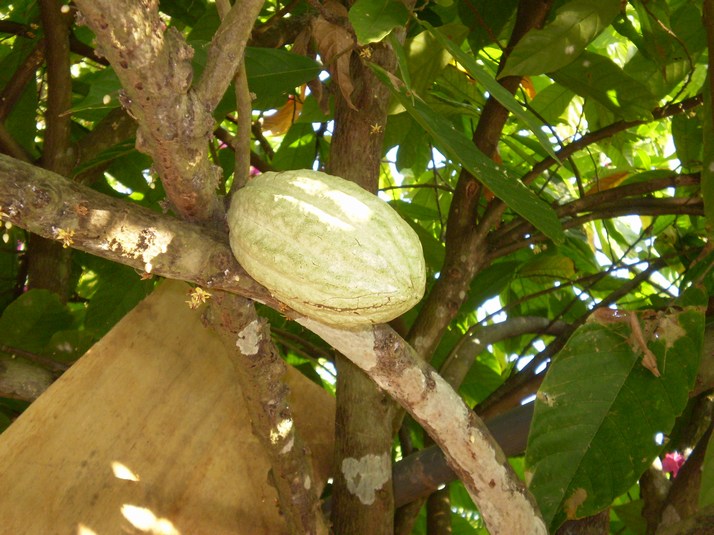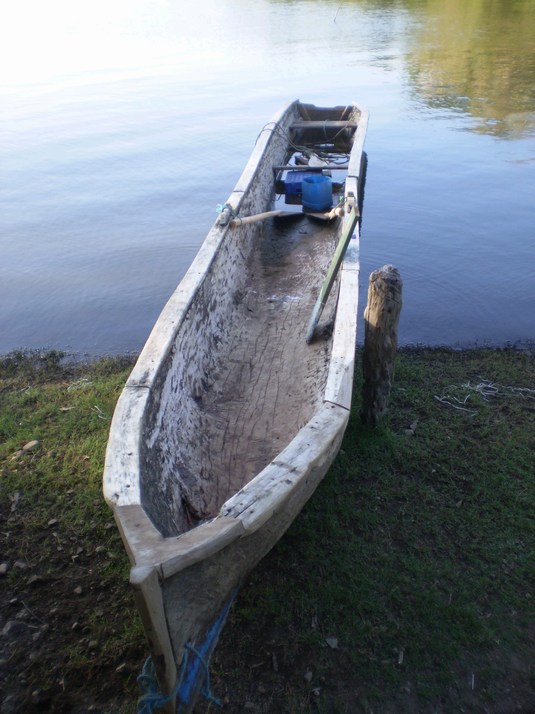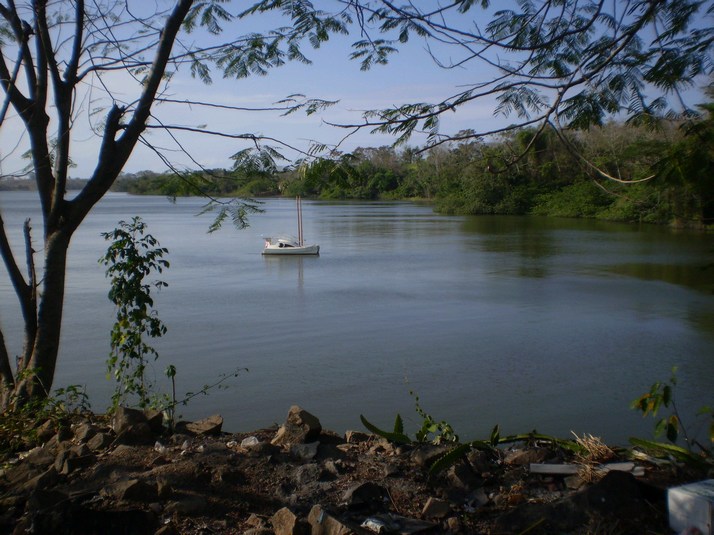 We take a different route and end up at his fathers place and I chat with both parents a bit. They both seem pretty spry. They hint at dinner but I tell of my big lunch, I want to get back to 'Miss Cindy'. I am trouble shooting a leak in the starboard aft locker. I suspect it is water the locker lid seal let in when I washed the deck, but it is looking like perhaps from the rock I hit with the starboard rudder?
Back to Rudolfos house where I square up the bill for the art stuff and head out in the kayak. 'Miss Cindy' has a leak. About a 1/3 of a gallon a day. It is from where she hit the wooden roller hauling out in SJdS. I put an optimistic epoxy and 'Miss Cindy' card patch on it.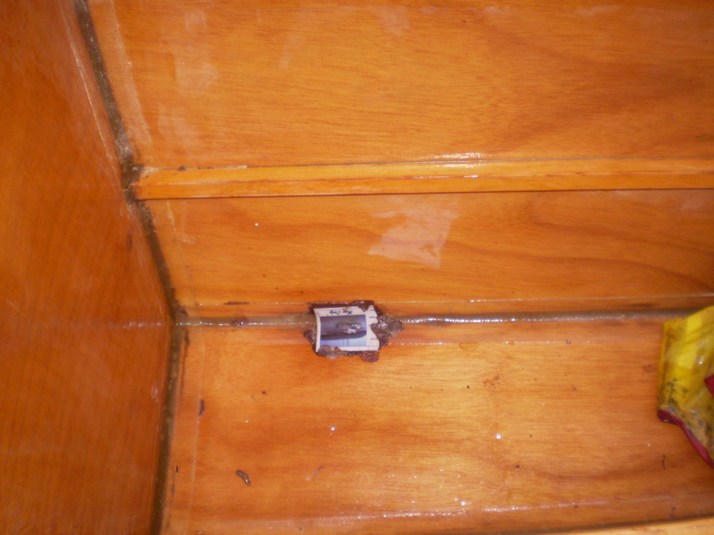 That cuts it to half a cup a day. When we get back in tidal waters I will beach and repair it. Exciting stuff finding a leak a week before you head into the Atlantic.
At anchor the jungle chorus starts up big time. I don't know what they all are but they are loud and varied. No serious bugs here either. I pack a container with the art and the Slojo togs and the Baccarat crystal. I am getting into exit mode. Still 1400 miles to go.
Wednesday April 1 2009
By 0400 the sky is clear and dark, the lake is a big reflecting pool full of stars.
A couple of roosters are talking across the bay.
I am reading my info on the river. Lots of rocks. Maybe a little more guiding than I planned. particularly for the middle and bottom stretches. I think I will get to San Carlos early and see if I cannot get out of there and a few miles down river today. Got a list of stuff to do but should be able to start on it by early morning. An hour later other birds are making novel noises. cheeroo cheeroo, whohoo whohoo. Good light in about 15 minutes. Time to go.
We power across the lake into a light headwind. About half way to San Carlos a launch goes by about a 1/2 mile away. It turns around and heads for us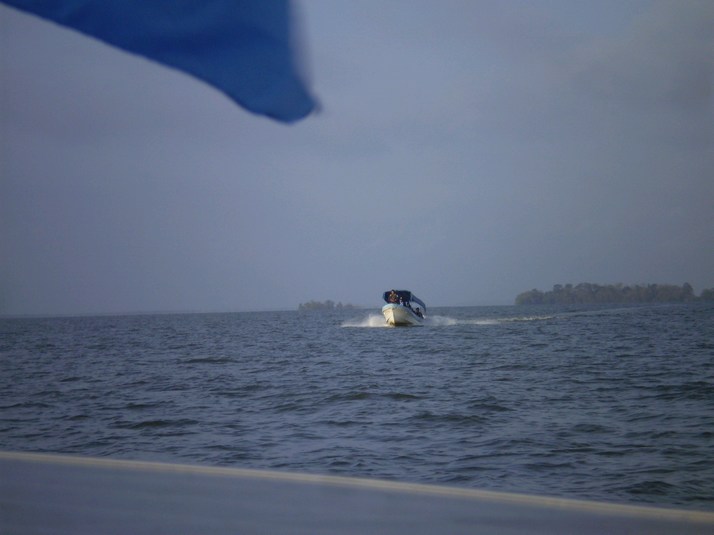 It is the MARENA Nicaraguas marine/military/police. We get fenders out, they want papers etc. I get to use my $125 Nicaragua permit to navigate. I don't think they have seen one before ( they just got a copy ). Three of them pass it between them. I pass out some of my new 'Miss Cindy' cards. There are too many in the boat for PangaPak stuff. They seem happy and tell me to report to immigration in San Carlos when I get there.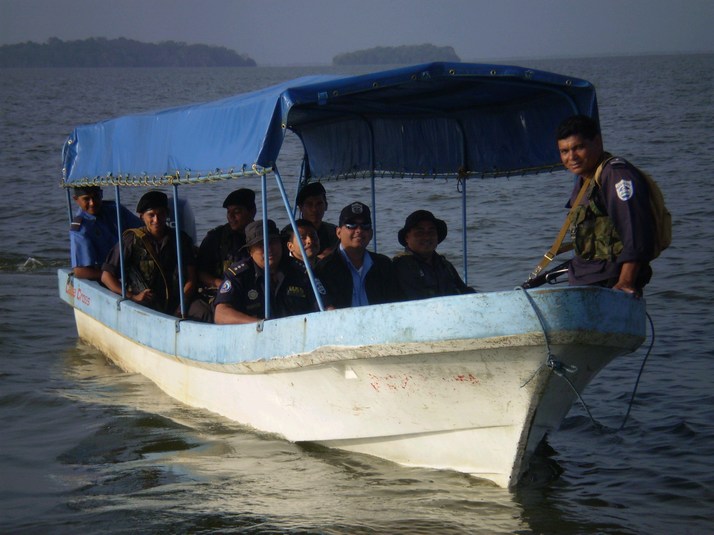 I ask if I can take a picture. Yep. Then off they go.
I have been heading towards a radio tower as my chart has the river mouth but no reference to San Carlos. I have also been using info the Swiss fellow gave me about the islands near by. I am now looking for the channel buoys he mentioned. Soon they are in sight and down the straight line we go. This is a bit of an odd channel with just 8 to 9 feet of draft.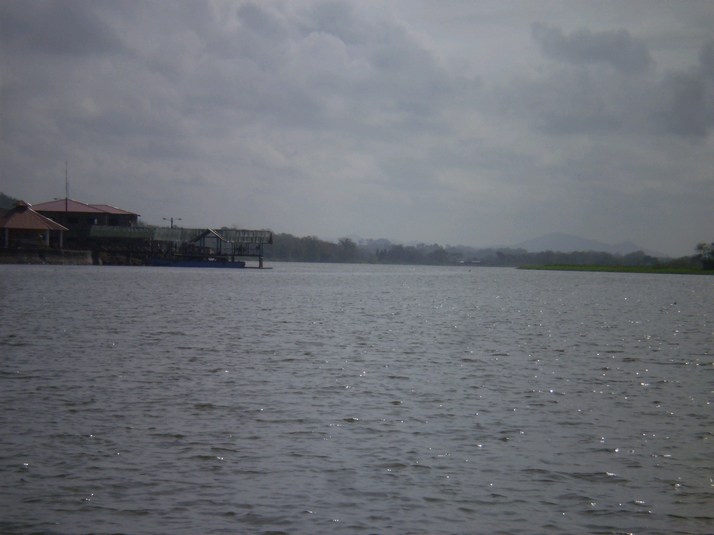 And we see the river. Next stop San Carlos.
---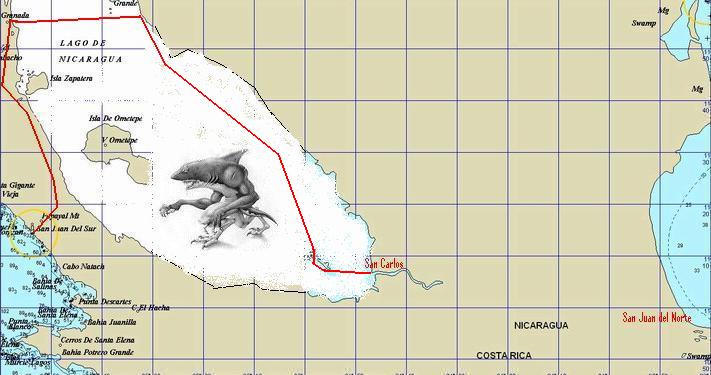 Distance Summary:
---
This Leg: 100 Nautical Miles
Hours Underway: 27
Hours on Motor: 19
---
Total To Date: 2430 Nautical Miles
Total Hours Underway: 1029
Total Hours on Motor: 163
Copyright © 2009 Tony Bigras.