Travels with Miss Cindy

Chapter 14

Rendezvous with Art-Moto, Cold Water, Windy Windy Windy, Relaxing San Juan del Sur, Out of the Pacific, Paint Varnish and Tortugas, On the Road Again, Nica Beauties at the Lake.
---
We call up the Port Capitan right after anchoring and get no response. I figure I will find him tomorrow. Around 1830 the Port Capitan calls 'Miss Cindy'. He is interested in seeing us but more importantly Jason of art-moto fame from La Paz is in his office and wants to talk to us. We have been emailing Jason for two months as he has traveled from La Paz thru Central America and this is our first reconnection. 'Miss Cindy' has sailed 1800 Nautical miles since La Paz and Jason has taken his BMW RS100 about 7000 statute miles in that time. 'Miss Cindy' beat the big Beamer into San Juan del Sur by about an hour.
The Port Capitan says he will send out a couple of navy guys to bring me in as I am reluctant to launch my kayak in all this wind. They finally find us. We are not where most yachts anchor but much closer to the beach. I ride back with the navy in their little inflatable with it's 5HP Honda. We swerve left and right in the dark around all the pangas and their long mooring lines. At one point we come to a sudden stop. We un-snargle from the mooring line and head in. I give the navy guys a 'Miss Cindy' card and my only Nicaraguan money, a 20 cordoba note in thanks.
It is great to see Jason. He is staying at the Hostel Esperanza and we head out to dinner with 3 young ladies he has just met there. I later make arrangements with the nice folks at the hostel to shower and what not there. Jason and I have a good reunion and a late night and I snooze in a hammock after having a talk with 'Miss Cindy' from the beach. The next day a sailing cruise ship comes in. The wind is enough to heel her with bare spars.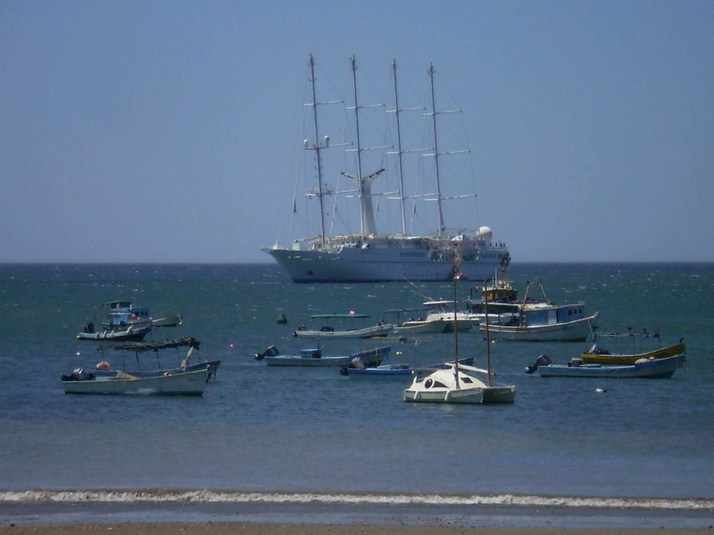 I finish my paperwork with the Port Capitan. He remembers talking with the Port Capitan from Corriento when I was at Puesto del Sol re my going into the lake. He does not expect it will be a problem.
The wind is blowing all the warm water out of the bay to be replaced with cold upwelling water and the water temperature was 67 degrees F when I arrived. During my stay it continues to fall as the wind continues to blow. Bye the time I haul out it is 59 degrees. We are 700 miles from the equator.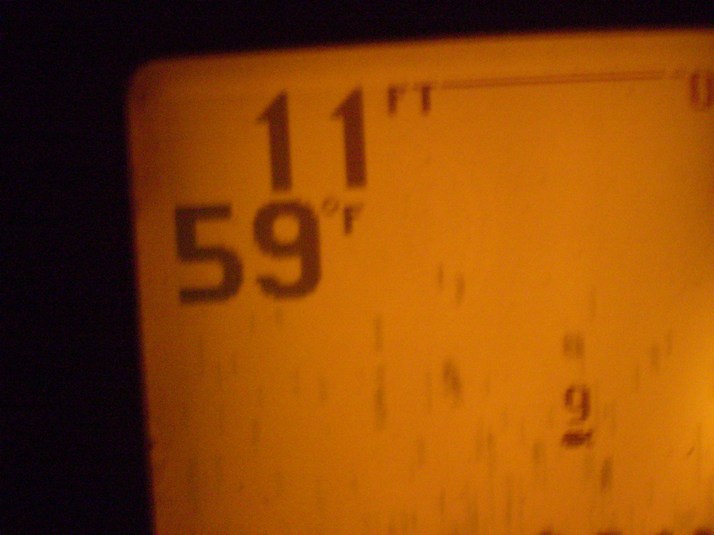 I use a water taxi that I get the attention of by waving at the shore. They have no radio. The skippers of the taxi appear to have a bit of trouble in these winds but they have lots of fenders. It is $2.00 each way. The fishermen in their pangas come around for a look and have nice things to say about the sweet lady, as do I.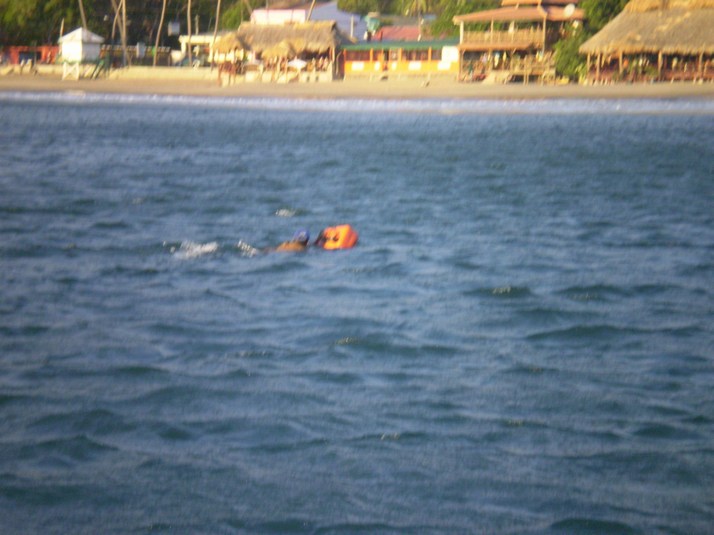 Some of the fishermen swim out to their pangas at first light pushing their gas tanks ahead of them, and then climb up into their boat. The water is pretty cold. On their return in the afternoon after dropping off their catch they swim ashore. As one goes buy I give him a bag with a couple of boiled eggs and a beer. These guys are hard working and tough. They go out every day I am in the bay despite the wind.
I had made some advance contacts in San Juan del Sur as I have been looking to get a parts package down here. I follow up with the many folks who have offered to help. I meet Chris at Pelican Eyes Resort . He has offered to let us use his expedited parcel delivery arrangements. I visit him at the resort, it is quite a nice place. A big bonus is that Chris went down the San Juan River many years ago on a 24' catamaran. He gives me tips as he recalls the trip.
The third night in the bay the wind builds. There are several cruising sailboats in the bay and one has nobody aboard and drags anchor into two others. They are somewhat damaged but still hold onto the offenders anchor to keep it from going onto the big western reef. They need to keep their engines running off and on for two days to take the load off their anchors. All next day I stay aboard 'Miss Cindy' and add about 60 lbs of salt water in jugs to the bow net to reduce it's tendency to kite in the heavy gusts. I am not super worried as I can flood the bow watertight compartments if needed to keep her on the water.
There are a couple of guys Ira and Dave on shore who have been in town for over a year working on prepping their yacht on the hard. It's name is 'Papagallo' which accounts for all the wind I suppose. I hang out with them and one of the other yacht capitans after Jason heads down the road.
San Juan del Sur is one of my destinations on this voyage. It is a place I am happy to spend some time and see how it is. It meets my expectations and then some. It has a tiny flavour of Cabo San Lucas with it's many bars and night spots but unlike Cabo it is very cosmopolitan with people from all over the world and lots of Nicas interacting both in the clubs and elsewhere. While it has a clear tourist feel at times that does not impose nor form the focus of interactions with the locals. I meet lots of locals and interesting people from Norway, France, the Netherlands ( not Holland right Francesca ), England, Canada, Australia, Ireland, United States, Finland, Poland... etc.
I find a neat bar/restaurant. I call it 'The restaurant at the end of the beach', after the book 'The restaurant at the end of the universe' which I have just read aboard during the windy day. It is painted green with a bit of wood trim and has three plastic tables and a dozen chairs plus 4 bar stools. It is open for the most part with the beach on one side and a gale of wind coming off the street on the other. It is at the West end of the beach just before the estuary and the brothels.
They sell beer for $1 rather than $1.25 and they also sell big bottles, triple sized for less than double the price. The food is great. They have fries which could have come from McDonalds ( not my favorite type but most seem to love them). They don't serve them with catsup but with a big heap of delicate tomato flavoured mayonnaise reminiscent of the way I had fries in Brussels 10 years back. They also have several great ceviches all moderately priced. It is a mom and pop type place. I meet some interesting locals there, mostly long line fishermen who spend a month or more at a time at sea. Bring small bills and coins as they do not have a lot of change, or stay till you spend the larger bills.
After a couple of days ( and nights ) I am pretty well known in town. I am walking down the road one evening heading to 'The restaurant at the end of the beach' with Ira and Dave and all kinds of people are saying 'Hola Tony' or 'Capitan' with salutes. I haven't met most of them before. Ira comments that I could be Mayor if I want.
San Juan del Sur is a sweet town, some scenes: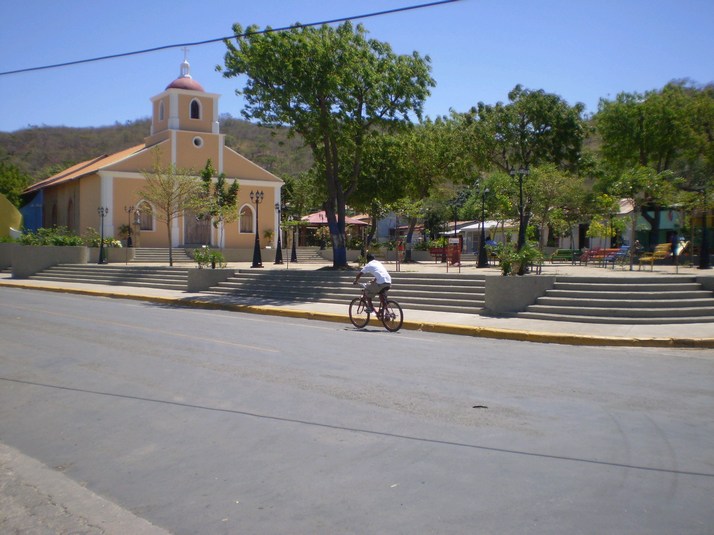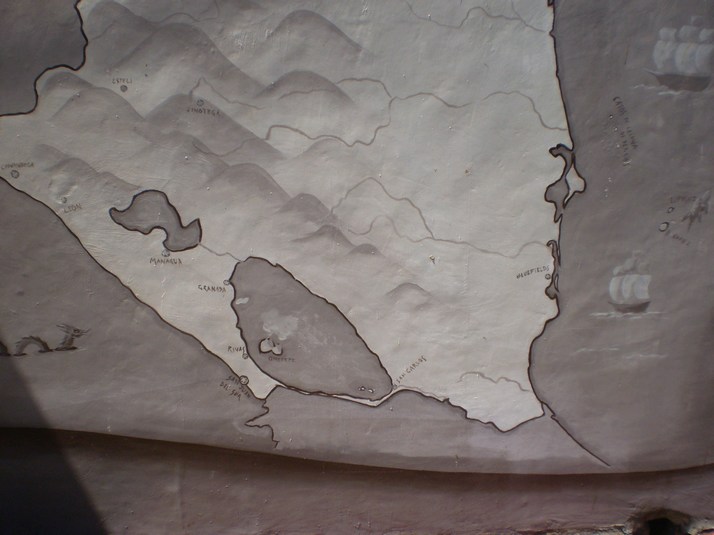 When I saw this mural I also saw our voyage thru the lake and the river. I got a haircut at the local barber and after I had told him of 'Miss Cindy' and my plan he brought out a framed map of the 1850's gold rush route via the river, lake and San Juan del Sur to show me. He also had a couple of period photos on his wall.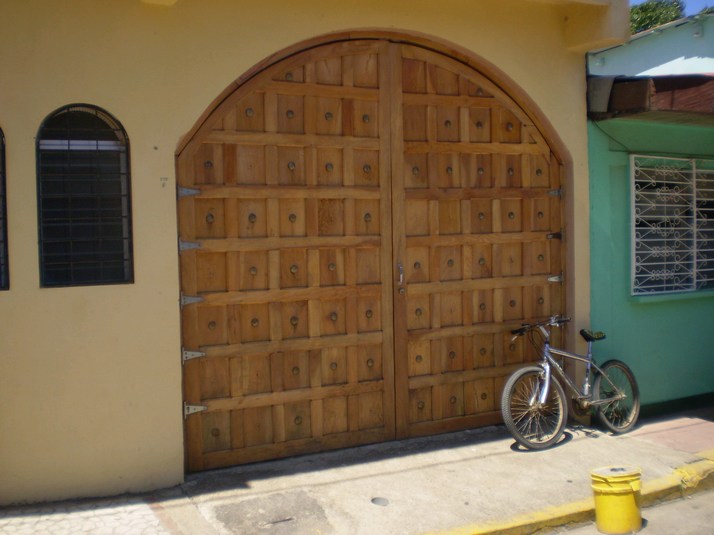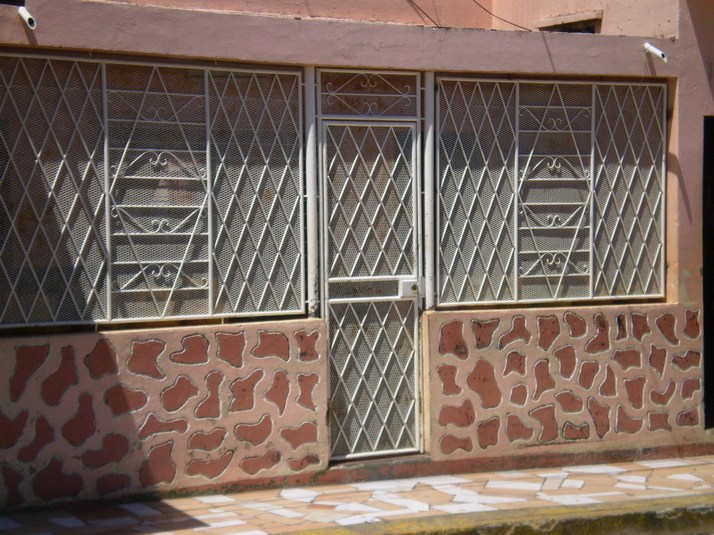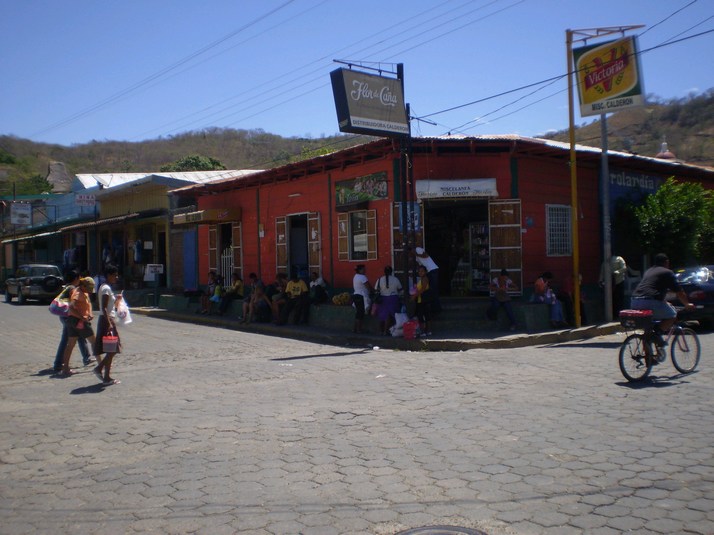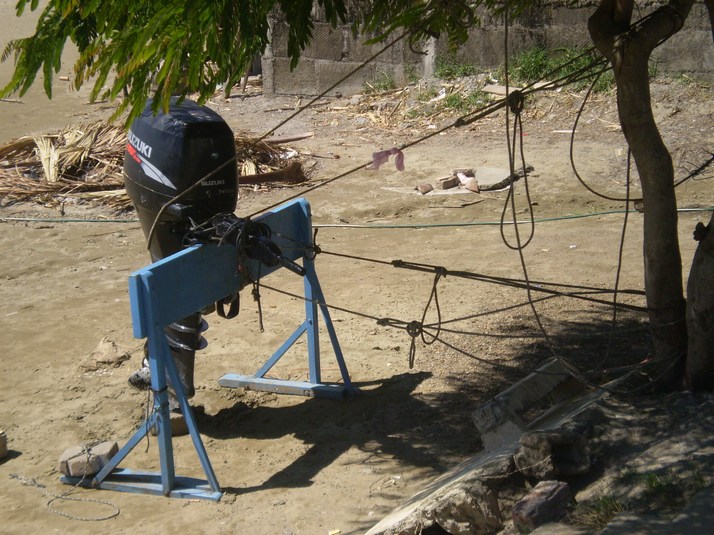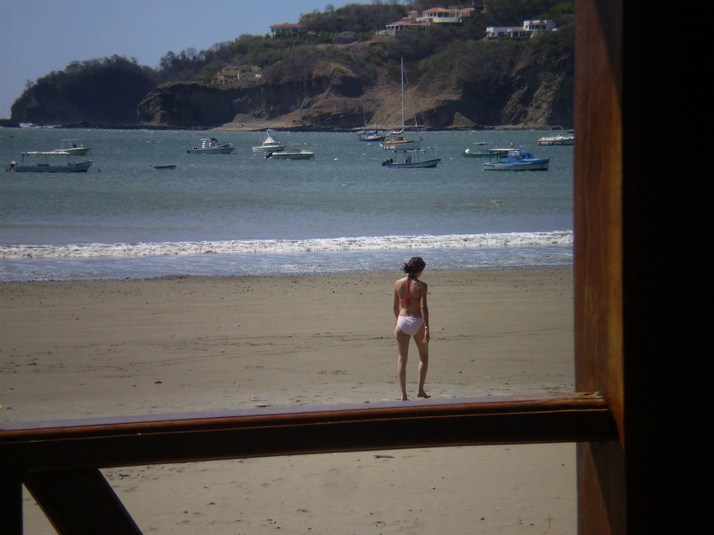 But not everything on the beach is this sweet.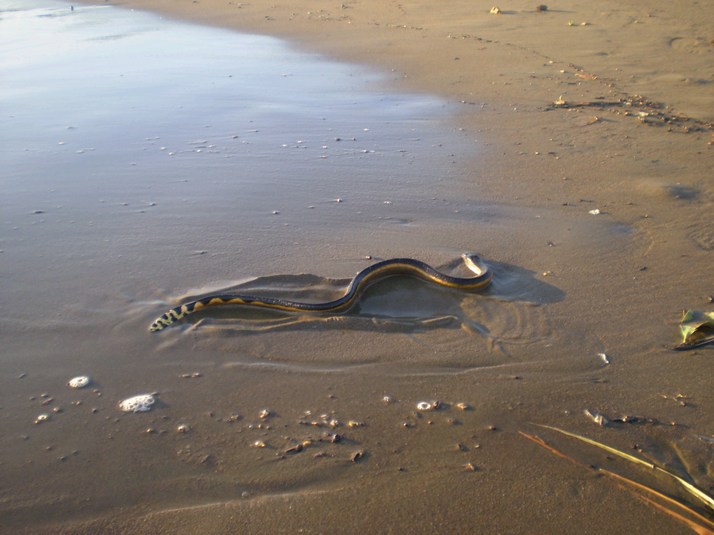 This is a poisonous sea snake just like we saw around Salina Cruz in Mexico.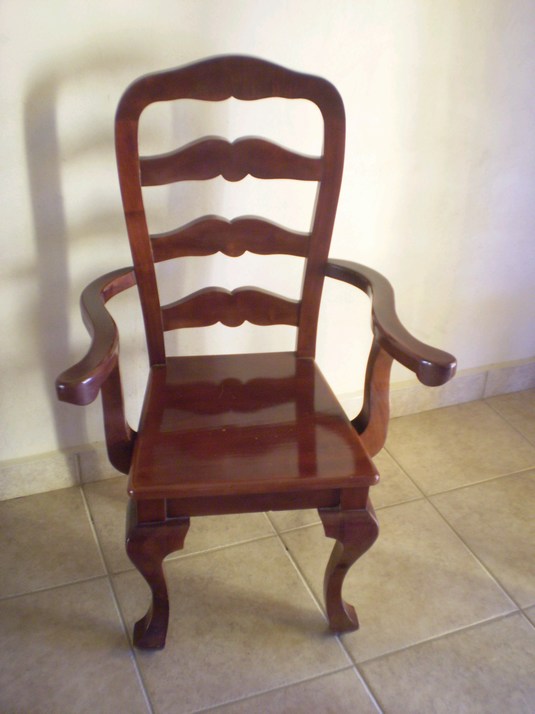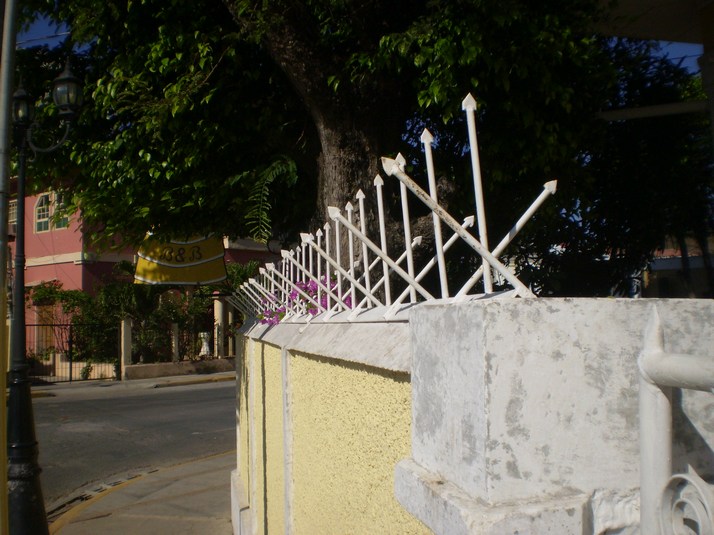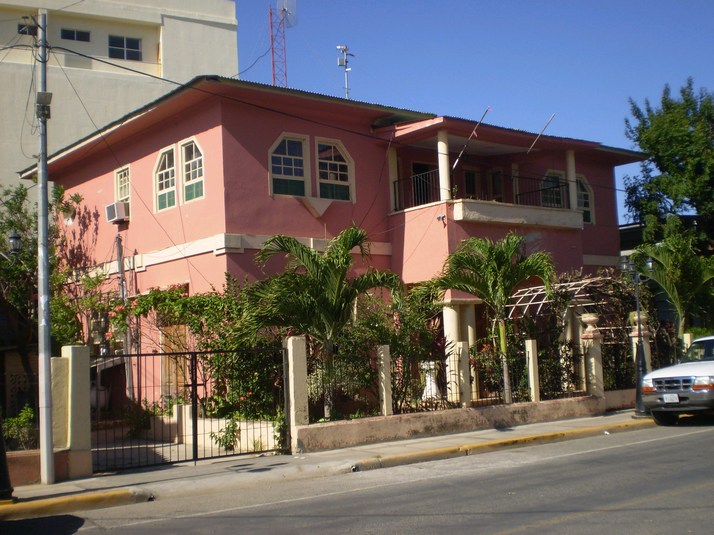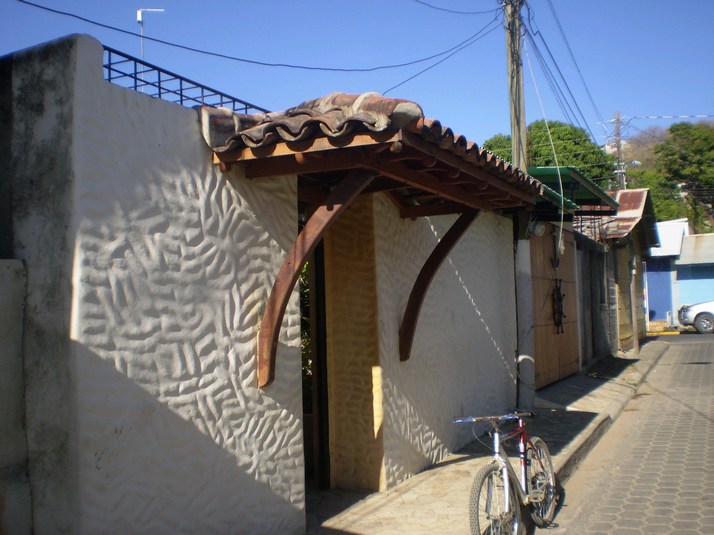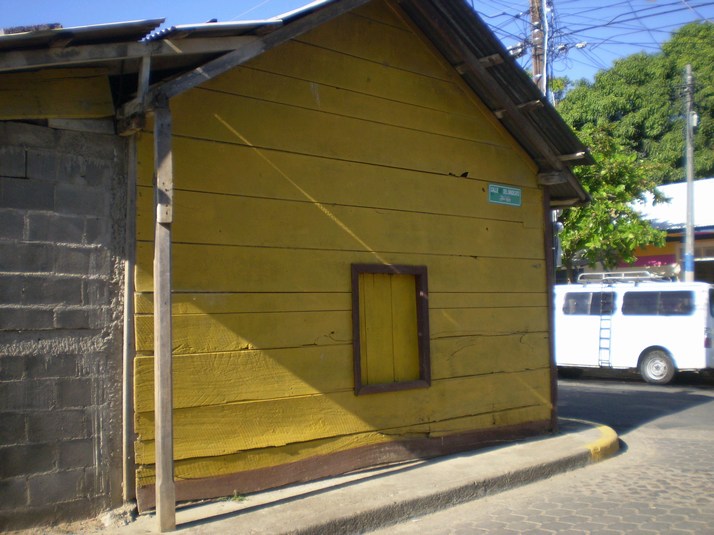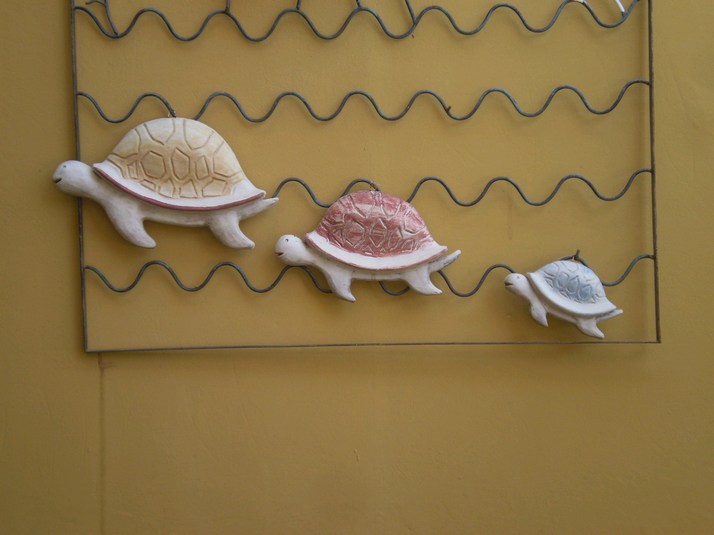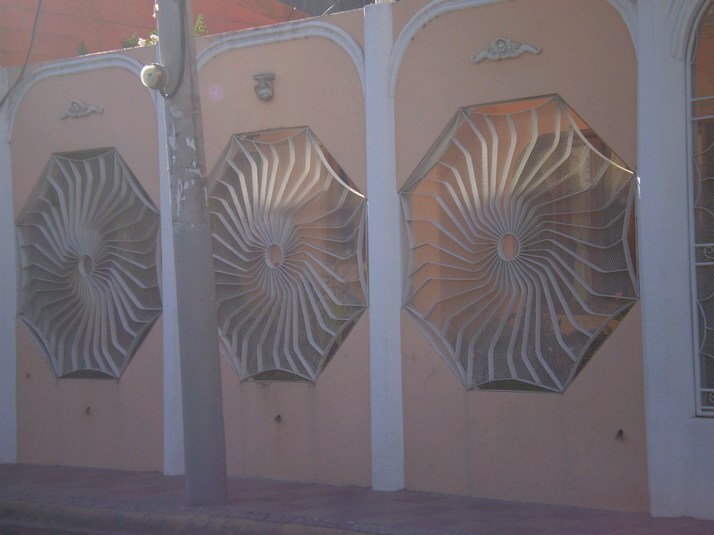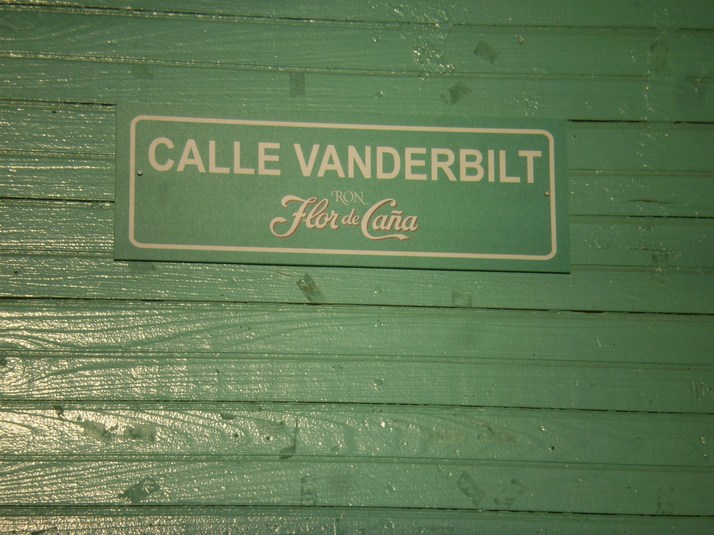 This for me harkened back to the California gold rush days. Vanderbilt was a big proponent of building the canal in Nicaragua.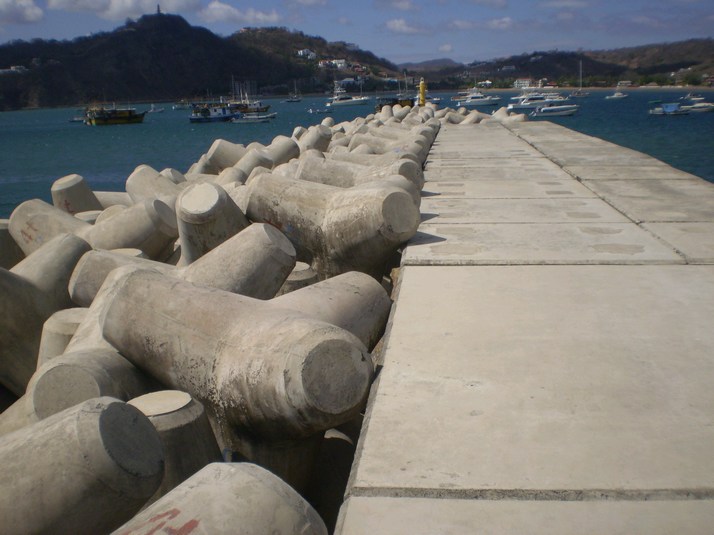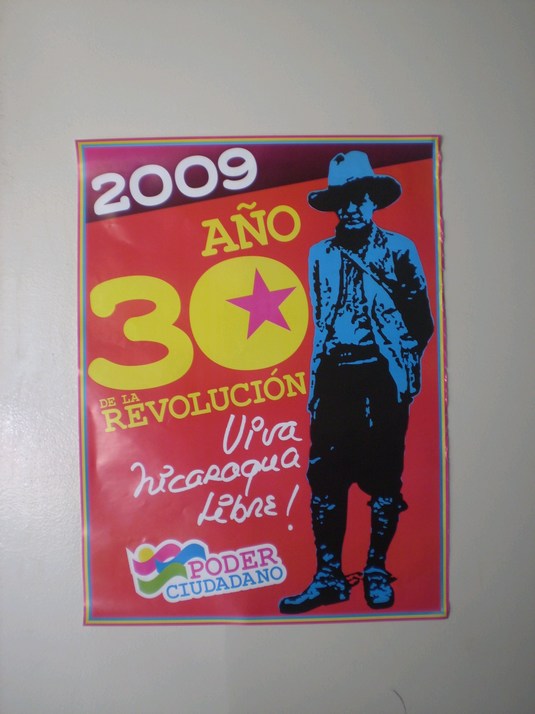 A reminder of the revolution.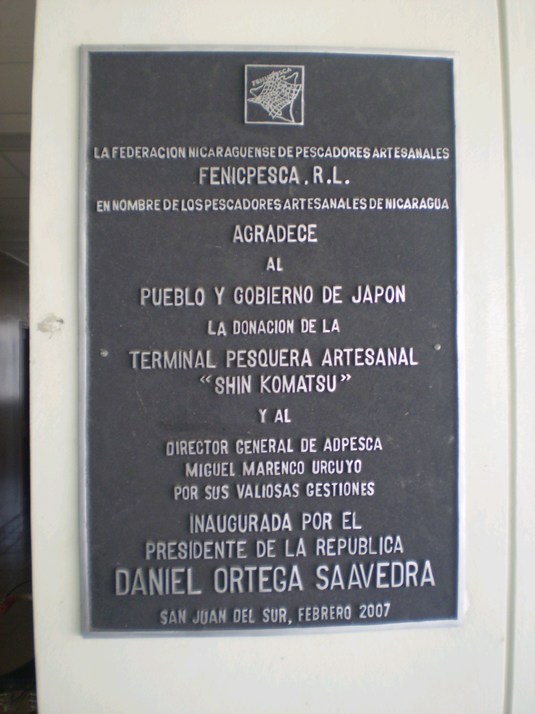 And a reminder of how much things have changed for the revolutionary Daniel Ortega.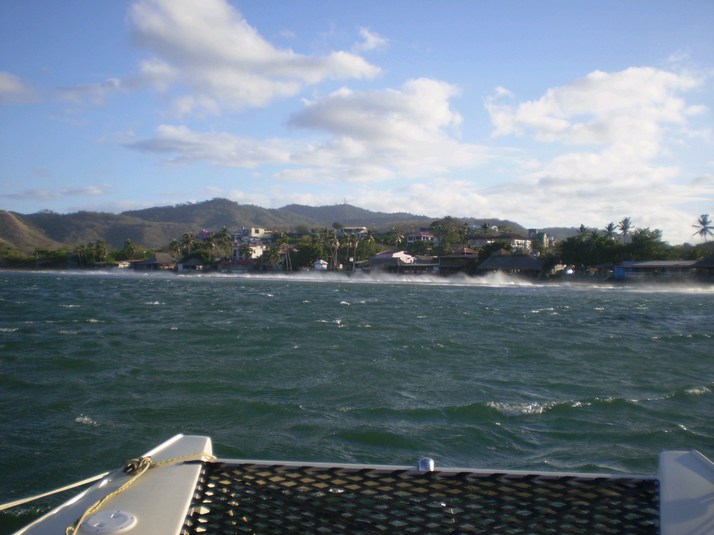 We hauled out on a windy day ( what else ) and went onto the rubber skids. A truck hooked up and hauled us to the end of the skids where a foul up of helpers put balks of timber under 'Miss Cindy' and dragged her on her keels to the work area. She sustained a bit of damage to a chine from a big wood roller that gouged her. I was able to repair this with a bit of Epoxy. Certainly a lesson for when we put her on the trailer.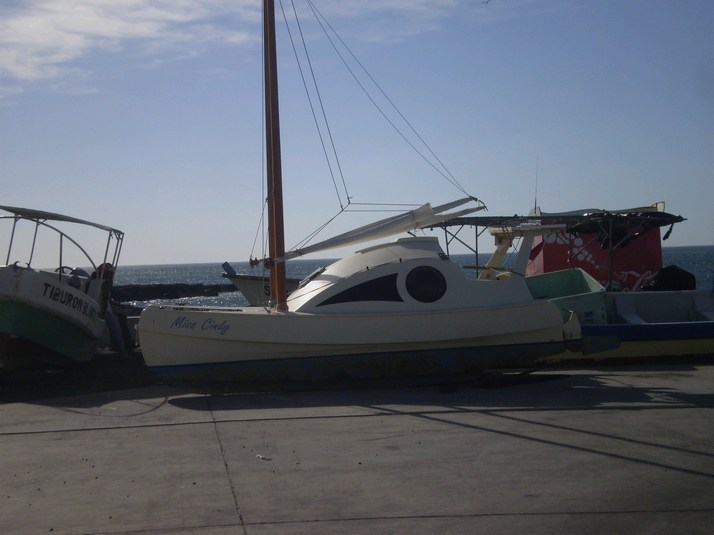 I have bought some local bottom paint in brown for the Atlantic side. I will paint that on the bottom, varnish the masts and hope ' Miss Cindy' does not blow away while we are on shore. Once I have the brown on I arrange for an artsy type to do some turtles with my old blue bottom paint. A bunch of fishermen hang around while he paints, I hope they find it more interesting and neat than loco.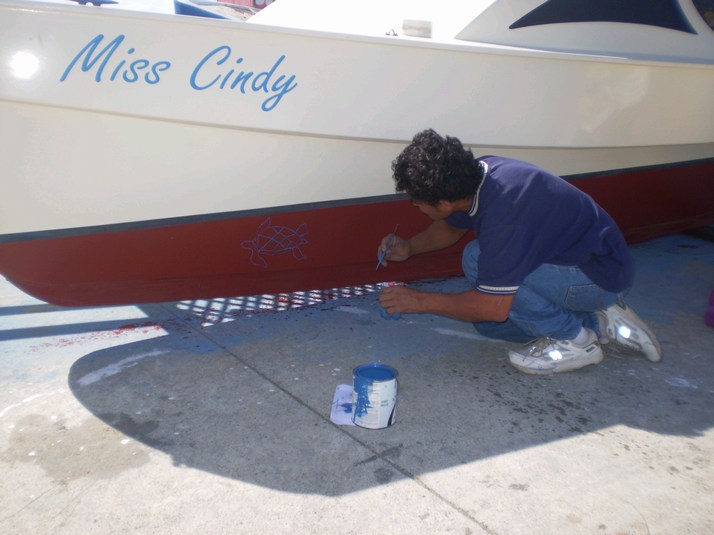 Just so you understand that this is not all work and no play I go to the Iguana bar ( actually 'Henry's' Iguana bar ) with the 3 young ladies that Jason has abandoned. Before they showed up I had occasion to talk to Henry. He was behind the bar in a blue golf shirt fiddling with the TV remotes and I asked if he was Henry ( yep ). Later I asked the staff for some intel on him. ( from Texas ). I found occasion to talk to him on the bar lower level and later upstairs where he was also the music director. A man after my own heart, it's his bar and he plays what he likes. When the young ladies showed up I asked Francesca ( not her real name ) ( that is funny for reasons you cannot imagine ) if she would like to hear a particular song. She had been in town a month and said the owner does not take requests. I asked her what she would like to hear... Brittany Spears, Womanizer. I had a brief chat with Henry complimenting his selections and suggesting that perhaps Womanizer might be a good fit at this time. When it came on shortly thereafter Francesca was suitably impressed.
I had met Ricardo in the yard as part of my telling everyone what I was up to. He offered to assist with finding transport to the lake and what not. I let him know I was looking for and end to end solution. He was game. He suggested I get a security guy for the evenings in the yard. I hired a pescadaro to babysit 'Miss Cindy' from 1800 - 0600 for five days for $25. Ricardos fee was $50. Ricardo with some messiness arranged for some lumber to use on a boat trailer and found me a guy who would do the hauling. His name is Jorge and he owns the Hotel Gran Oceano and does fishing charters as well. I met with him and we agreed on $190 for the 60 mile trip to the lake. He will provide the truck and trailer.
A big issue when loading up the trailer will be controlling potential foul ups when so many people are trying to help. But zero hour has arrived and I have 15 guys and their foreman ready to do the trailer load. I get to give them a brief brief on where to pick her up and tell them she is my baby so be careful. When I advise them I am the boss for this and to listen to me, they promptly listen to their foreman who doesn't listen to me. Sometimes you just have to let it go. It went just fine.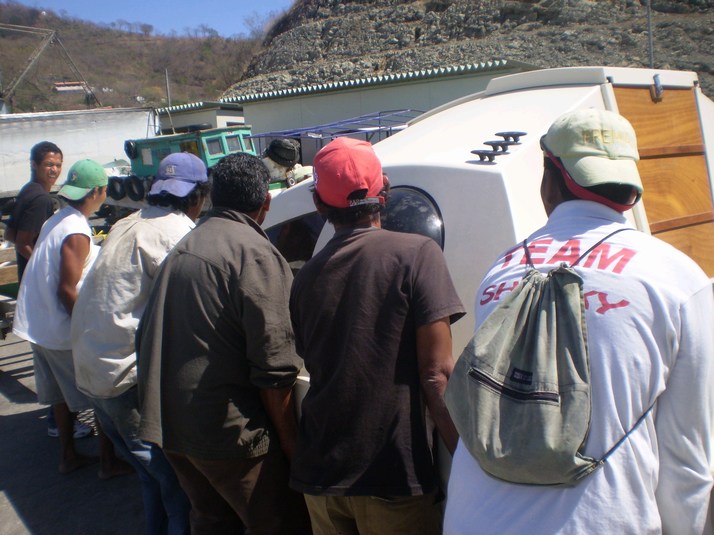 Before they started we had all agreed on a payment of $1 per person. I gave them all a numbered card with my signature on it. After the lift they returned them to me to be paid. A couple of them had a little extra mark on them. I gave them all their $1 except for the two lucky guys who got $5. I was happy and everybody else seemed to be too.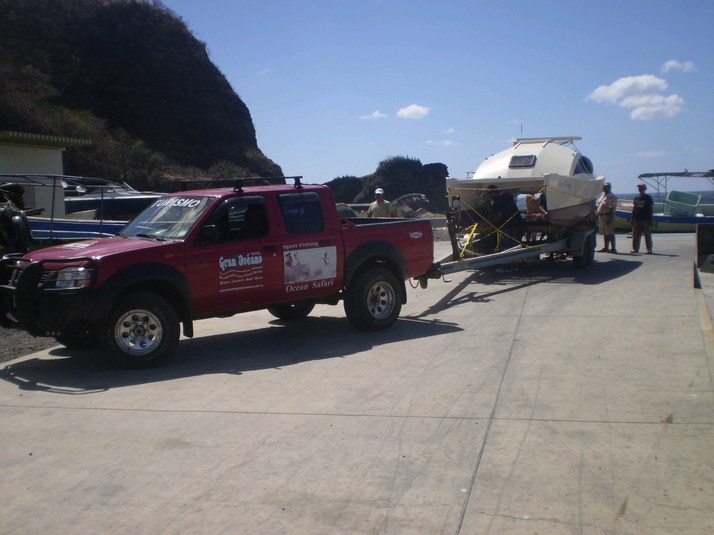 We are now nicely on the trailer and everyone and their dog is tying her down. These fishermen know their knots and all the frayed ends also get thumb knots to keep them from fraying more. I make sure we get some good diagonal bracing in and then we head to the hotel.
Earlier that day I had talked to Ricardo who I had given the left over bottom paint to. He sold the brown but decided to use the blue to paint the outdoor metal chairs at his church. When the rainy season starts, their Sunday best is in for a surprise.
I go to see the Port Capitan who has told me he cannot provide me a zarpe but will provide a document stating I have left SJdS and that I am going to Granada, San Carlos and San Juan del Norte via Rio San Juan. When I get there he has changed his mind however. He will give me nothing but verbal permission to leave. I ask about the need to hand in a zarpe when I get to the Port Capitan in San Carlos. He says the marina in Granada will provide me with one. I suppose I should not grumble about a paperwork shortage after endless 6 copies of everything.
We spend the night aboard at the Grand Oceano hotel.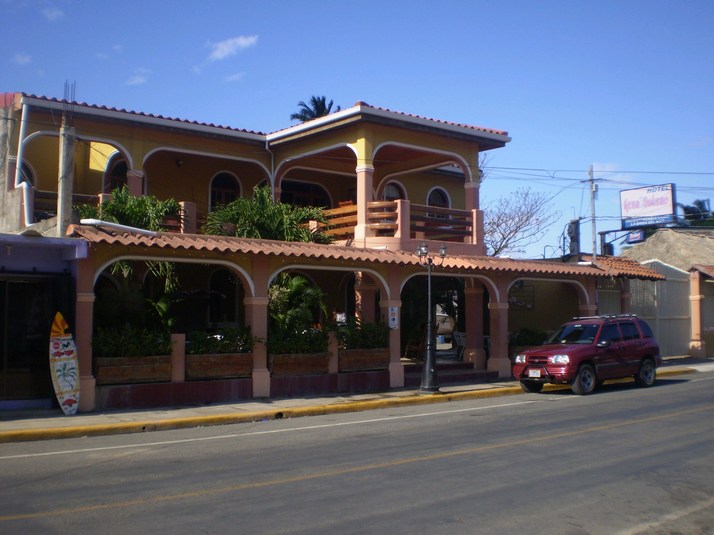 Where Miss Cindy is well secured.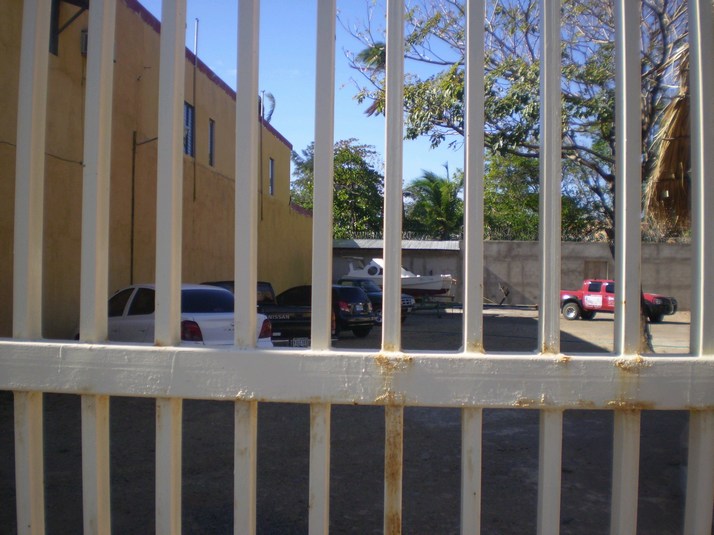 I briefly ride the turtle and think about our trip tomorrow.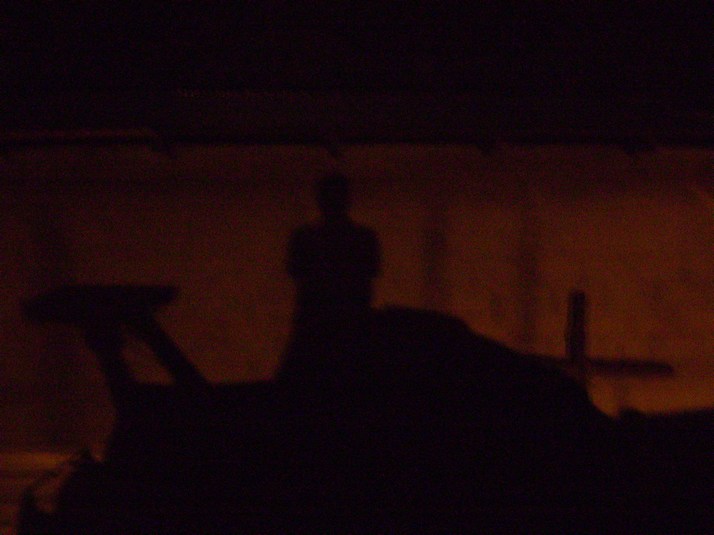 On the road again. It is smoother than I5 near Seattle. Jorge is a consummate professional, and an avid fisherman and very personable too. He takes very good care of 'Miss Cindy'. His right hand Raoul rides in the rear seat and keeps a steady eye on 'Miss Cindy'. Jorge and I chat about this and that and I mention 'The restaurant at the end of the beach'. When he finally figures out which one I mean he tells me that is a fisherman's bar with a laugh.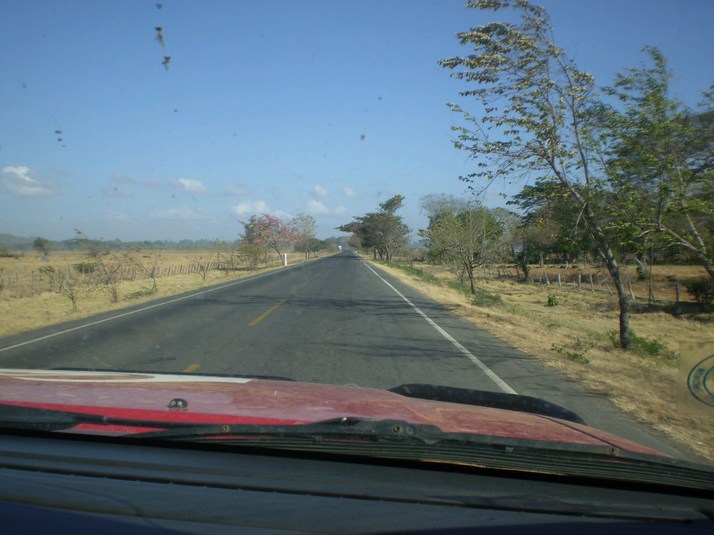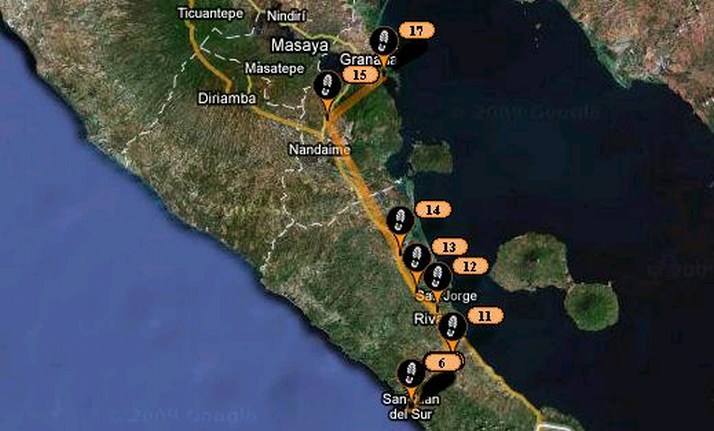 Our route from the SPOT tracker.
SPLASH!
I take Jorge and Raoul to lunch and they head back as I go to wash and rig 'Miss Cindy'.
An hour after we enter Lago Nicaragua the beauty pageant shows up. I did not invite any of the young ladies aboard as those heels would be hard on the decks.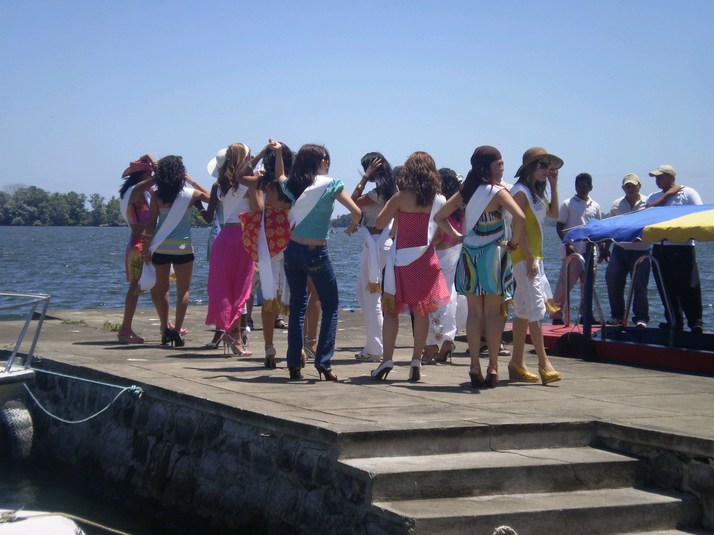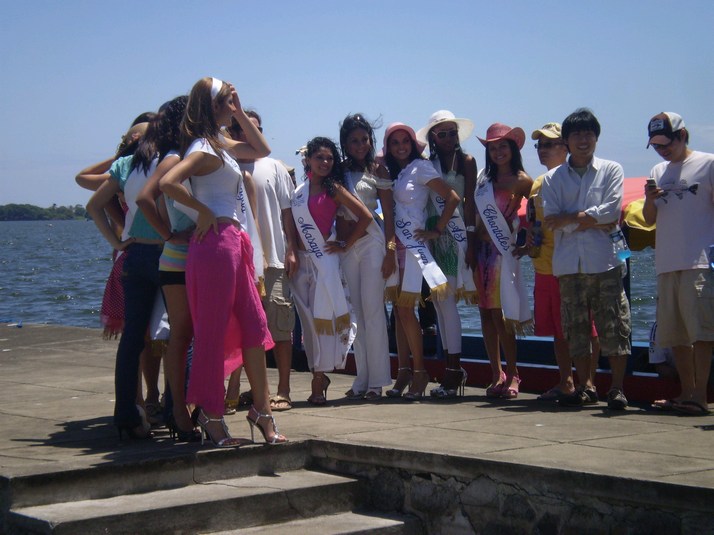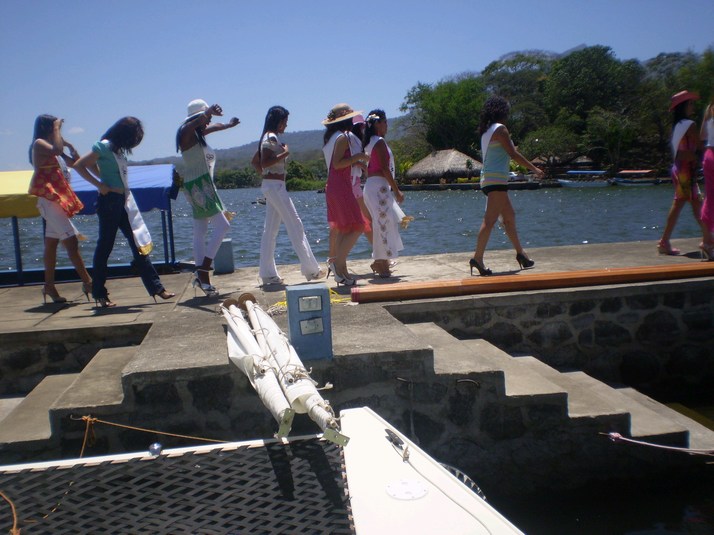 And a movie of them prancing along. One gives us a nice wave as she walks by our masts on the quay.
---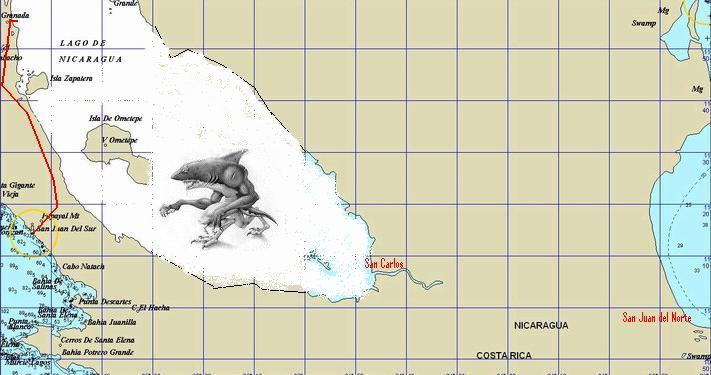 Distance Summary:
---
This Leg: 0 Nautical Miles
Hours Underway: 0
Hours on Motor: 0
---
Total To Date: 2330 Nautical Miles
Total Hours Underway: 1002
Total Hours on Motor: 144
---
Copyright © 2009 Tony Bigras.