Travels with Miss Cindy

Chapter 12

Still Waiting in Huatulco, Yachtero Rumour Mill, Trouble in the Tehuantepec, Bahia Conejo, Panga Tankers, Sun Sets on Mexico, Dolphins Boycott 'Miss Cindy', 3 Days 2 Nights in Guatemala, We Break a Wing, Entry into El Salvador.
---
As I am writing this it is February 13, mid morning, we are sailing on a close reach on the land breeze near the beach about 50 miles into Guatemala. The leg from Hutaluco to Nicaragua has been the most challenging and trying of the trip so far. Between the long hours motoring, the risk of gales and the long distance involved I have found it somewhat unpleasant for the most part. Their have been some redeeming bits including one particularly beautiful anchorage. It feels like a rushed delivery. That is what it was intended to be and how it has worked out.
While waiting in Hualtuco I hear the endless Yachtero rumours. 95% of these are baseless. They aren't from someone who was there but 3rd to 50th hand. For example, clear out of Mexico in Hualtuco, the port capitan in Puerto Madero is a hassle and the fees are high. Don't even go close to shore as you go by Madero as he will send a boat out to bring you in to re clear out of Mexico. Guatemala is very expensive to clear in and out of, $1000, skip it. Don't even go close to Guatemala ( stay outside the 12 mile limit ) or they will send out a gunboat and board and inspect you or maybe even force you to enter the country. Off Guatemala turn off you RADAR and Nav lights as they may even go beyond the 12 mile limit to pull you in.
Somehow I decided to change my plans for this leg. Originally it was to be a 250 mile hop to Puerto Madero, a 170 mile hop to El Salvador and then maybe down the coast in small hops to SJdS Nicaragua. Now I am going for it. Next port SJdS 700 miles. ( What was I thinking ).
There was nobody dragging boats into Puerto Madero, in fact the port capitan was helpful and friendly providing info and weather to yachts sailing right by that called him up on the radio. He probably would have loved to see a yacht drop in. No gunboats off Guatemala to be seen at all. A yacht I spoke who had been there personally 2 years ago said fees were about $300. Mexico cost $140 in and out all told.
Friday Feb 6 2009
I start the '3 hours' of paperwork with Enrique from the marina and a couple of other yachts. Suffice to say that Enrique was a big help and it went pretty smooth and I appreciate Enrique dropping off the Port Capitans approved crew list at 0630 the next day.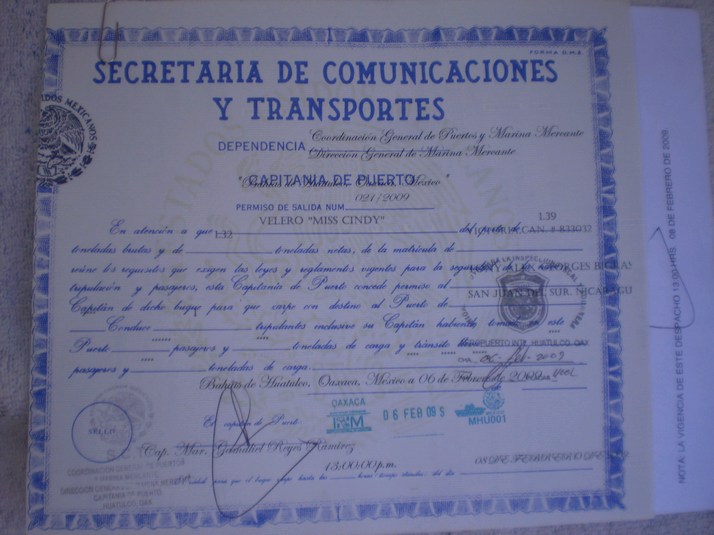 Our First Zarpe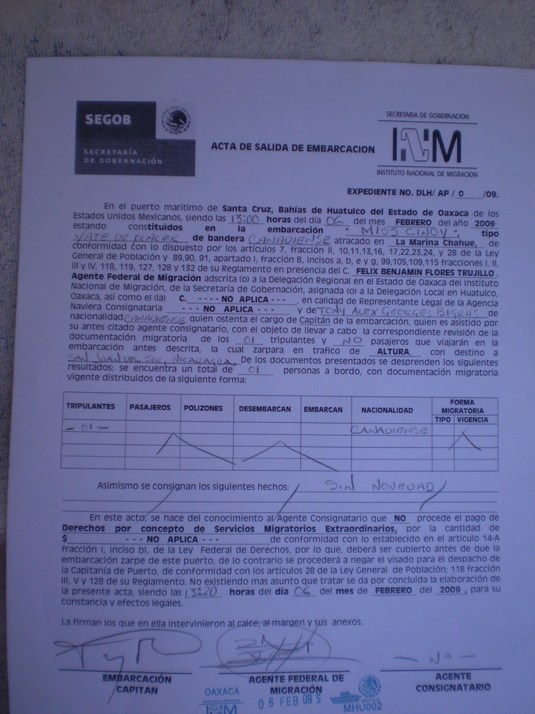 Oh Yea, the immigration guy seemed to have some trouble with my tourist card missing 'stamps'. He was kind enough to provide me with another 180 day tourist card seeing how I was leaving the country that evening or first thing next day. Only 203 Pesos. Nothing stamped on that card either.
His signature was pretty complicated and took about 1/2 a minute to do.
And our first crewlist.
That evening one more night with Rooster from 'Lost Elvis' and with Boys from Brazil, who blew into town a couple of days ago. The Norte is forecast to continue thru Sunday afternoon, but I intend to use a day or two to sneak up on Salina Cruz, and be prestaged for the 4 day weather window. Ten days has been a long wait despite meeting old friends and new. I am in a hurry to get to the lake.
Doug, Rooster, Courtney, Ariana and I have pizza aboard 'Lost Elvis' before heading out for the evening. I used that time to work a deal with Ariana and Doug for her to try out as lead singer for the band he 'manages'. With bellies full of pizza and beer agreement is reached. The night with the Boys from Brazil is pretty predictable, the bad boy gets the girl and the nice guy goes home with the other crew member in a taxi. I hit the hay at 0400.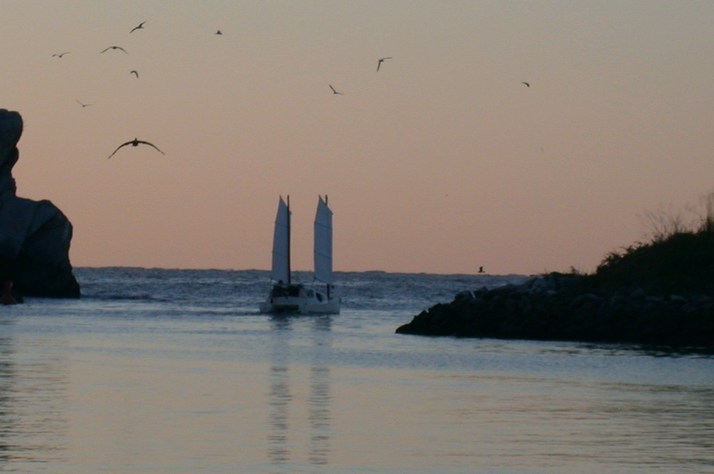 Photo by Chris Freund.
Saturday Feb 7 2009
0700 depart Hutaulco on a nice land breeze that carries out past all the pretty bays. We sail with a strong favorable current till 0900 then the wind dies so motor time.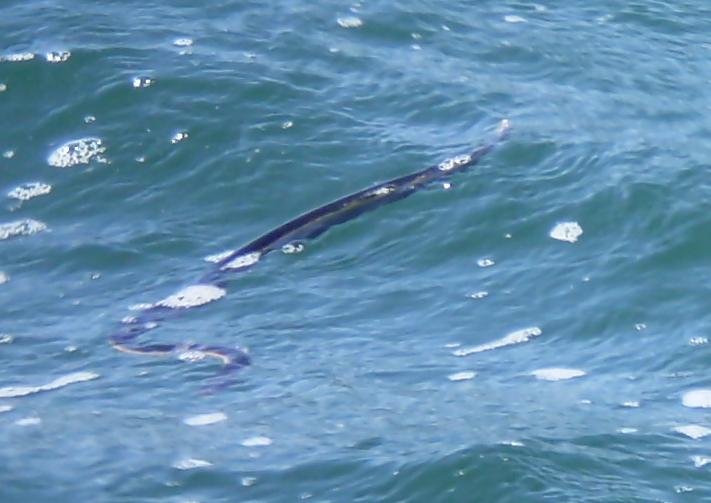 By 1015 we are sailing and sail past our first sea snake a 2 foot long black and yellow one.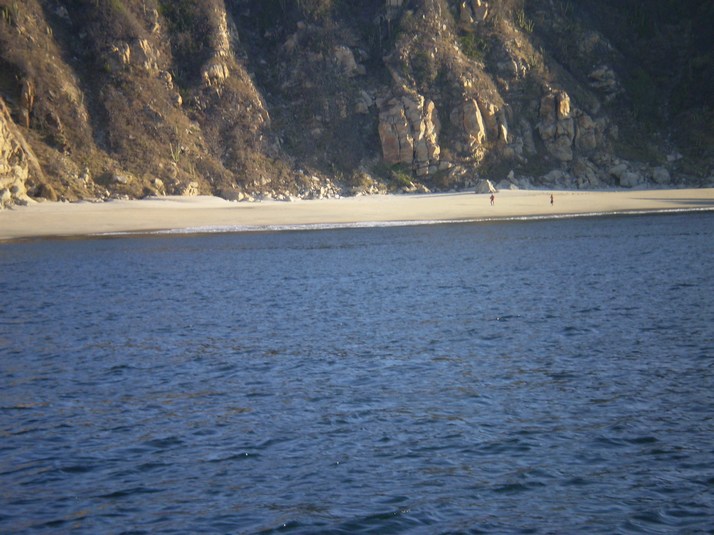 Along some isolated stretch are these people walking the beach, we are close enough that they wave.
At 1130 the port boom waggle plate falls off the boom.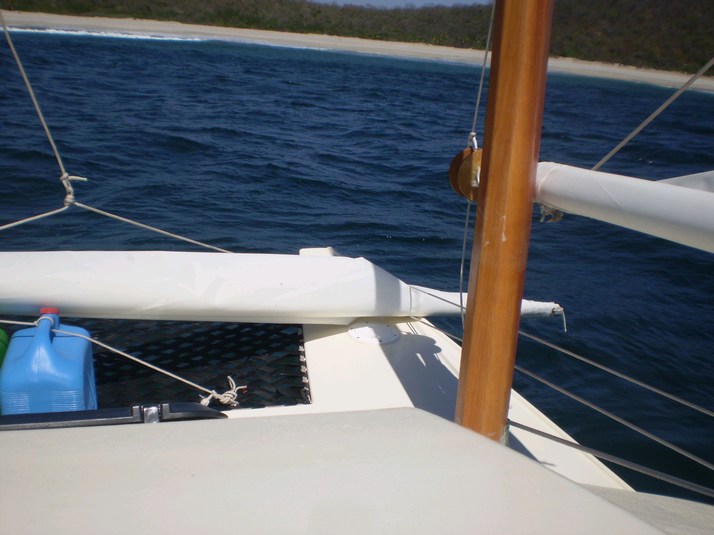 I quickly stow the sail and booms on the foredeck as there is some serious wind coming up ahead from the North.
I motor in to about 25' of depth close to the beach break and anchor. I do the first repair to the boom, the bolt that was glued in there just fell out. The Captain has unkind words for the Builder who should have prepped the smooth bolt properly and gotten a good bond. The Builder has unkind words for the Designer who should have speced a threaded rod which would not have had any bonding issues. The Chief Engineer gets to repair it in any case.
A temporary fix is to glue a screw driver bit in the hole. This is failing after about an hour so is redone with more goop reinforcement. ( west 405).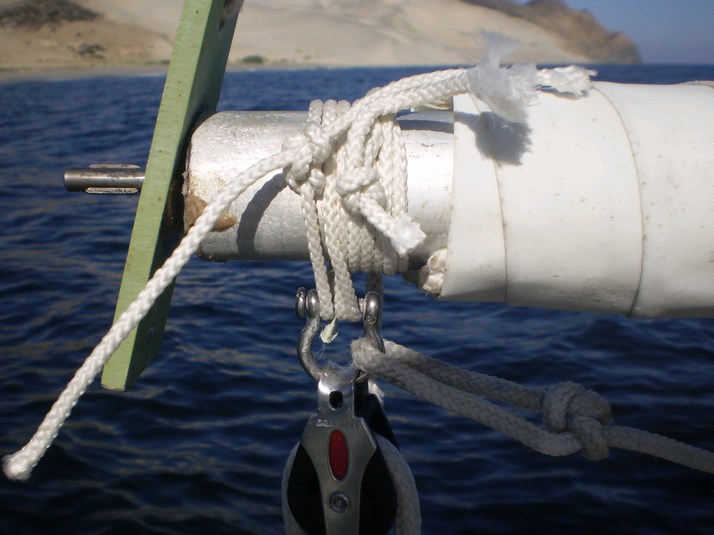 That is destined to start to bend out of place too so we end up with that holding the waggle plate and toping lift and a separate strop and googa which looks like it could last indefinitely. The Designer likes the strop and is considering changing the boom end arrangement which neither the Designer, Builder, Owner, Sailmaker, Chief Engineer et all ( it turns out ) really liked anyway!
'Miss Cindy' continues to sail her course with just the tiller tied as I type up all of this twaddle. Nice Boat!
I open the hatch and ride the turtle for a bit. Sea breeze, churtling along, funky stuff on shore.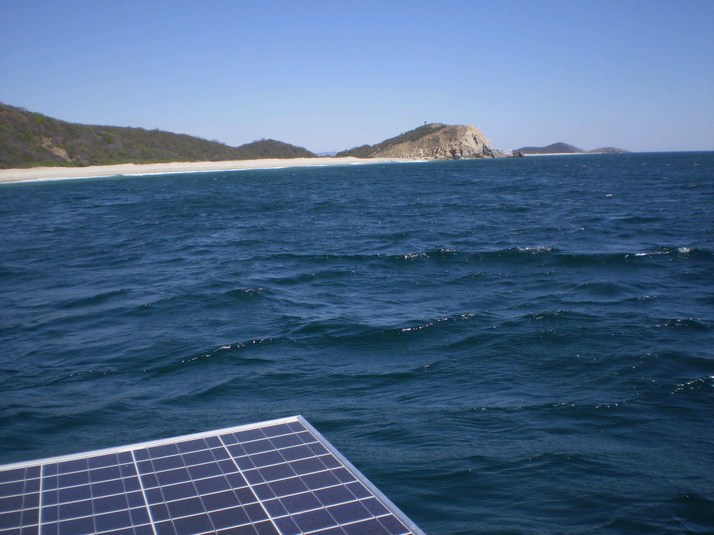 1500 In the middle of the Tehuantepec in a Norte blowing a small gale the wind has decided to shift way East and is now blowing on shore.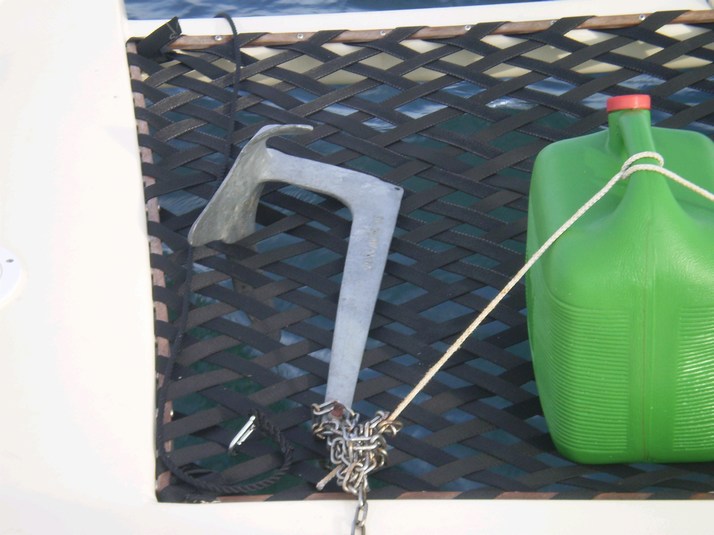 I rig up the bower anchor, which we will have ready on the bow net thru the Tehuantepec, and head out to about 60 foot depth away from the shore break line and anchor again. The current is still running Easterly 1kt and the wind is Easterly 30-35kt. Believe it or not despite those correct descriptions the wind and current are going in exactly opposite directions. The current wins because 'Miss Cindy' has outstanding directional stability, she loves to keep going the direction she is going. So she politely points into the current on her anchor as the waves build and dash against her sterns. Because it is wind against current the waves are very steep and breaking with enthusiasm. Now and then she gets about 45 degrees off when the wind blows particularly hard and then the waves which are now about 3-4 feet bash her from the side. Normally when she is moving she scoots away from these nasty waves but she is anchored and cannot do so now. It is not pleasant.
After several hours the waves are now in the 4-5 foot range and I decide to shift the anchor to the stern. I spring a line tied to the starboard radar arch base and slip the bow anchor to move the load there. Perfecto. 'Miss Cindy' turns into the wind and rides comfortably up and down. The anchor streams about 45 degrees aft on the side. I go to sleep.
I wake around 0100 and head out on a favorable wind angle. That lasts about an hour and a half when the nasty starts blowing again, so I anchor again. On this first day underway I have spent 15 hours at anchor and we are about 25 miles up the coast.
Next day is better but not pleasant either. The swells left over are against the current and square and snarky. We motor slowly as Yammy is sucking air in the prop all the time. We pitch heavily all the time. The bow beam slams into waves all the time. This goes on for hours and hours and hours.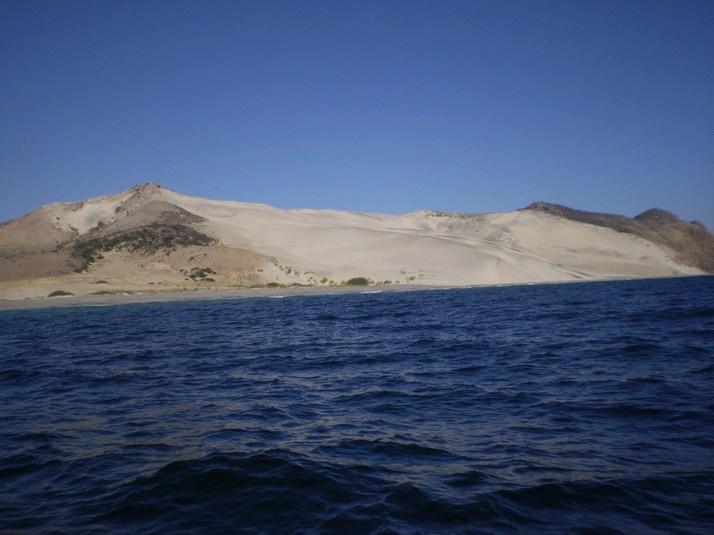 We briefly anchor off this lovely feature about 15 miles from Salina Cruz as there is nasty looking wind around the point.
An hour or so later we head out and anchor at one of the best spots of the whole trip.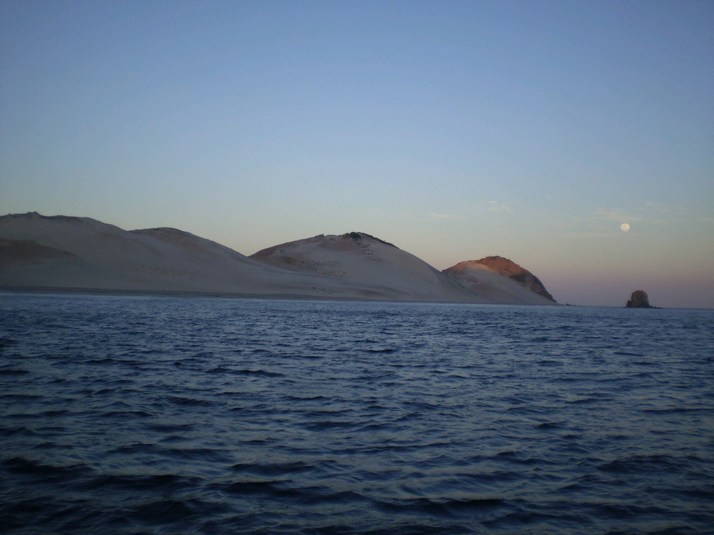 Bahia Conejo. It was worth all the bashing to be here as the sun goes down and the moon comes up, what a fantastic time and place.
Meanwhile back on 'Miss Cindy' the Navigator has to get our position, currently 13 degrees 58.2 minutes N, 91 degrees 23.7 minutes W . Currently doing 3.7 knots. He is wanted on deck to take us around a sand bar about 1 mile ahead that sticks out a ways. Think I will take a break and have an apple too.
Monday Feb 9 2009
During the night we speak on VHF with 'Misty Michael' and the bunch from Nanaimo. They are about 8 miles ahead and have not enjoyed the leg to Salina Cruz either.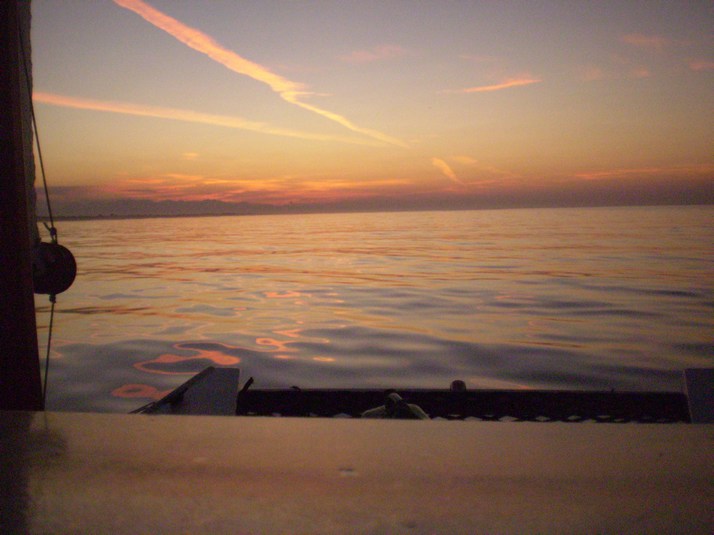 We have a great sunrise and motor a bunch. Anchor around 2200 in 30 feet of water about 100yds from the beach in the middle of the Tehuantepec.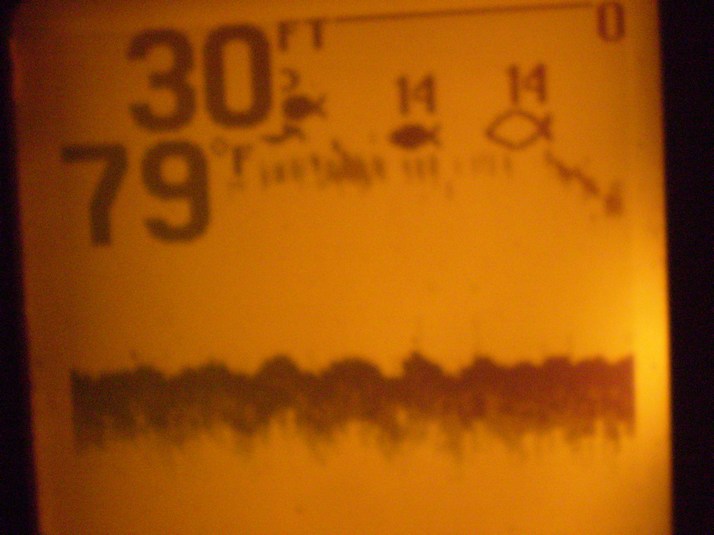 The little waves on the bottom are really big swells on the surface.
Tuesday Feb 10 2009
0500 Since 0415 we have been motoring. There is no wind and an occasional fickle puff from land brings a scent of ylang ylang or jasmine. These are probably from the same sort of palms I smelled in Teignmouth, Devon, England this summer. I was there to visit the haunts of the late Donald Crowhurst. I saw the estuary where he started on his ill fated solo round the world race in 1968, took a little sand from the beach, drank beer in his favorite pub, and visited the library and museum, where I touched some parts of the boat that had been brought back from its final resting place on Cayman Brac.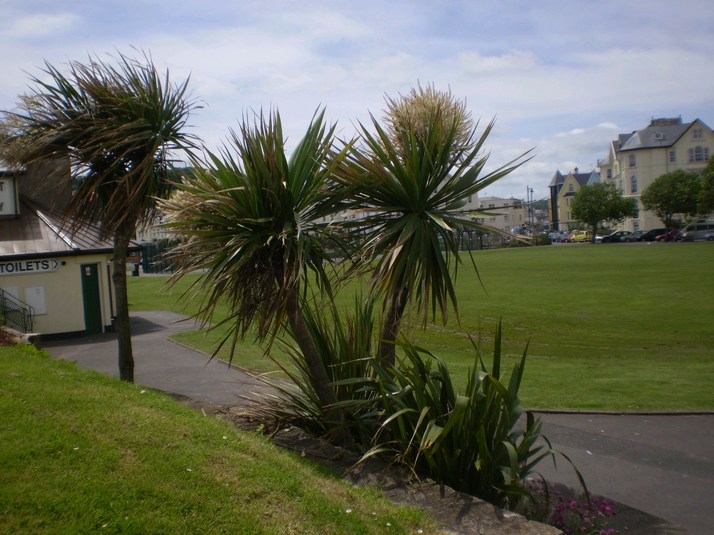 Devon Palms.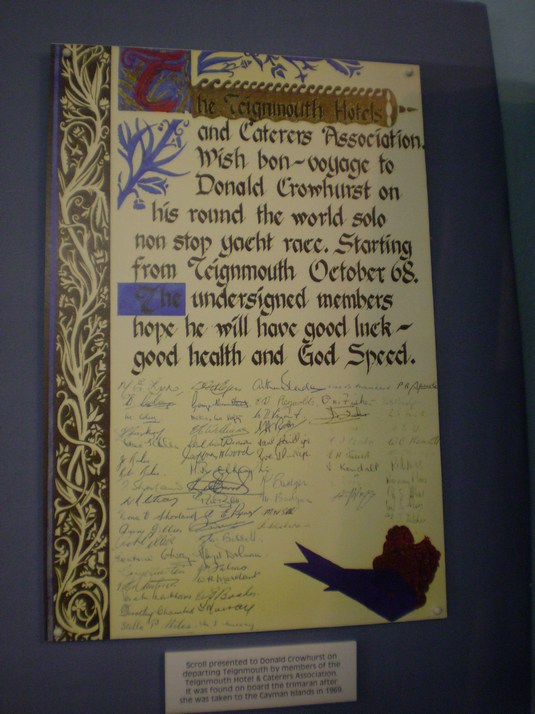 Scroll from the museum in Teignmouth.
The sun has just come up after a cool morning. The laptop helps to warm me but proves difficult to use while motoring as Yammy needs me to steer all the time it seems. The water temperature is back up to 79 but the evening air has been cold (low 60's). Currently I have the additional role of Autopilot. I steer between 140 and 160 degrees on the compass and keep 'Miss Cindy' in between 60' and 70' of depth. This is 'one foot on the beach' a strategy for coping with the risk of sudden gales on this coast. They are very common in February. The forecast we had when we left Hualtuco on Saturday morning was for an opening starting Sunday night and lasting thru Thursday. We are almost thru the worst part of this coast and the shoreline is starting to trend South as are we finally after heading North for a couple of days.
My prescription glasses are stored next to the incense and when I put them on I smell patchouli. This reminds me every time of a road trip about 10 years ago. We burned incense all the way because the car was musty and a year later when I took a sweater out of storage those memories came back then as well.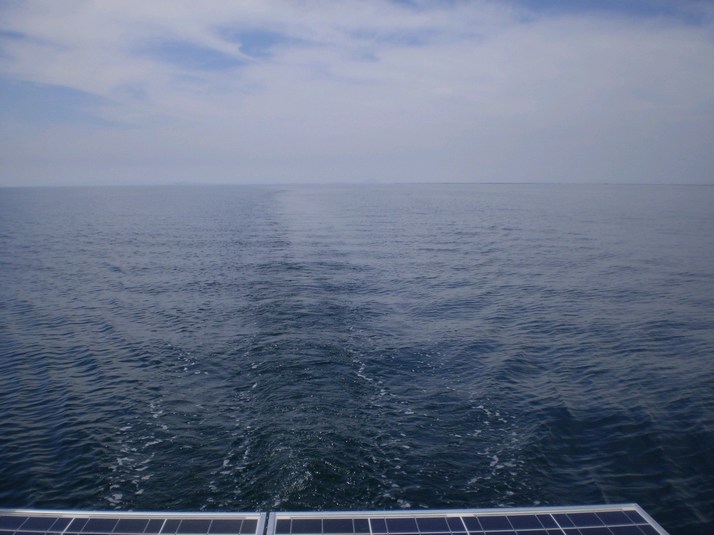 We motor steady for 9 1/2 hours. There is no land breeze. We stop every 1 1/4 hours to fill the built in fuel tank and stop twice more for pangas that want to talk. On one we give the nino a 'PangaPak' and one of the guys an orange. They wanted sweets or cookies. The other panga I waved over and gave a couple of PangaPaks ( they were keen on the hooks ) and as well I tried out my Panga Tanker plan and bought 10 liters of premix gas. I paid too much but that was likely the result of not agreeing on the price first. But even at US$20 it is a deal, delivered to 'Miss Cindy' wherever she is.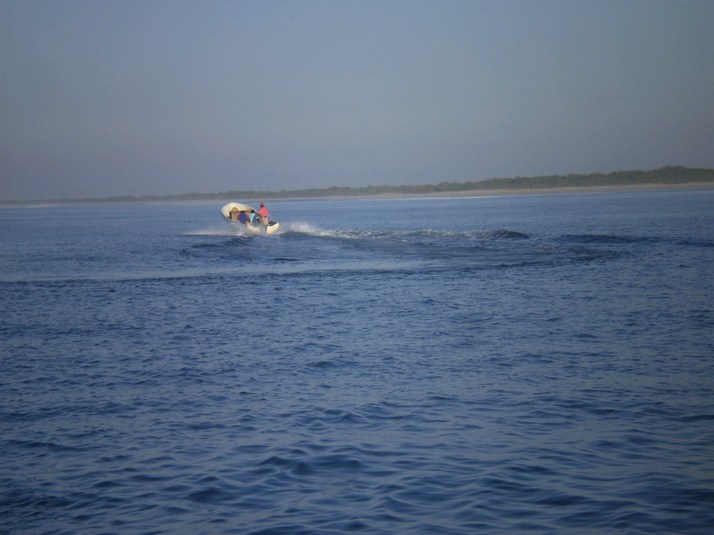 The sea breeze finally shows up and we sail in some really messy slop with waves from all angles. We close reach at about 3 knots for several hours and head out about 4 miles ( so much for one foot on the beach ). I am less worried about a gale building as the seabreeze is pretty strong and we have started heading South so 30kt from the North would not be unwelcome.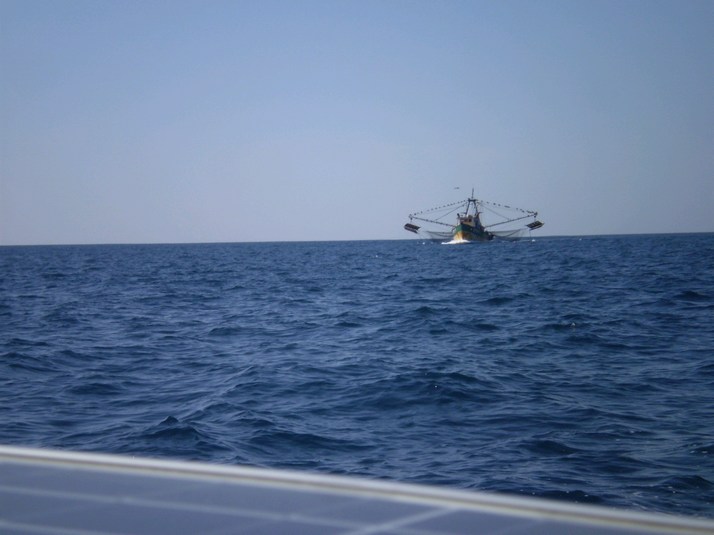 Out here in the middle of nowhere it looks like we have a looky-loo.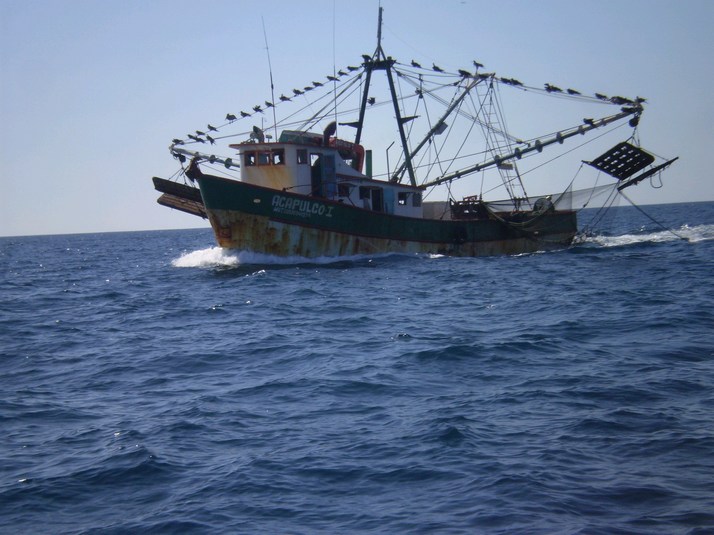 We motor another couple of hours as the sea breeze fades and at 1830 about 15 minutes after sunset we anchor in 40 feet at 15 degrees 50.23 minutes North, 93 degrees 39.84 minutes West. There are three cows on the beach starring at the surf. The wind is on shore so I cannot hear what they are talking about. I light a patchouli stick, make tea ( Earl Gray ) and fry up a slightly bruised plantain. Yum. The moon is tardy tonight won't be our way for 2 hours so rather than run Yammy in the dark dark dark, I will update the old web content, get some sleep and when I wake up, likely around 2-4 am, sail ( if we get a land breeze ) or motor under the big moon with the surf roaring on the left and close attention to the sounder.
A really nice sunset.
PS water temperature is now 82. We are back in the tropics.
Wednesday Feb 11 2009
Depart 0030 motoring in the moonlight. At 0430 we start into the bottom half of our fuel supply, there are 5.5 gallons left.
0630 Sailing on the land breeze, or is it the start of a Norte? Sailing in 35 feet of water with big swells coming in to the beach and roosters crowing.
0930 Panga just launched from beach comes by to talk. I tell them I need gas and can I buy some. Old guy says sure they will sell me 10 liters, and lights a smoke. I ask the price , US$10. The two youngest pour from the big jug while the old guy smokes and watches closely. I give him a $10 and realize this guy and the last guy have an issue with the new US bills with their colours.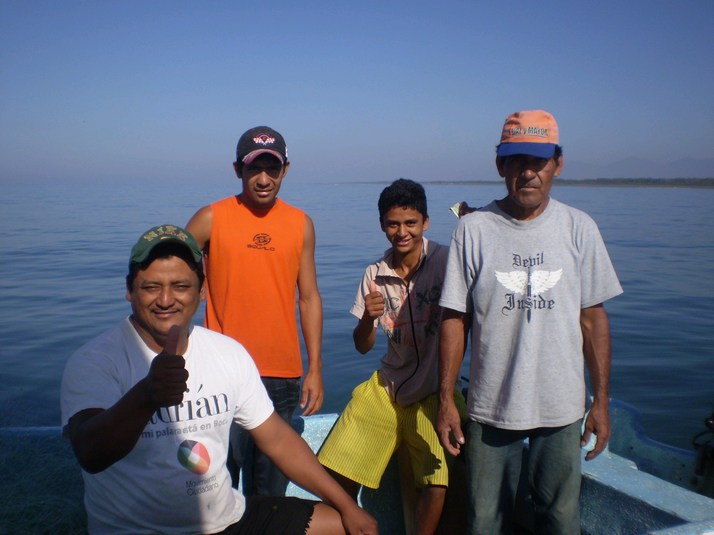 I give a PangaPak to the youngster ( soap , hooks, batteries, Canada flag beach ball), and an orange to one of them to share around and to the same guy $5 for ice cream for all.
I motor another couple of hours as the seabreeze slowly shows up. It occurs to me I should apply for membership in the Sailboat Cruisers Association of Mexico. Technically they require you to have completed a voyage of 50 miles or more, between designated ports, in your sailboat, completely under power. In checking my log I see I have sailed some on every day and mostly sailed overall but I have logged more engine hours in the last two days than in the whole trip so that should count for something.
Along this part of Mexico we see lots of puffer fish. At one point three go between the bows and when they come out the stern they are prickly balloons on the surface. These are a lot nicer to see than sea snakes.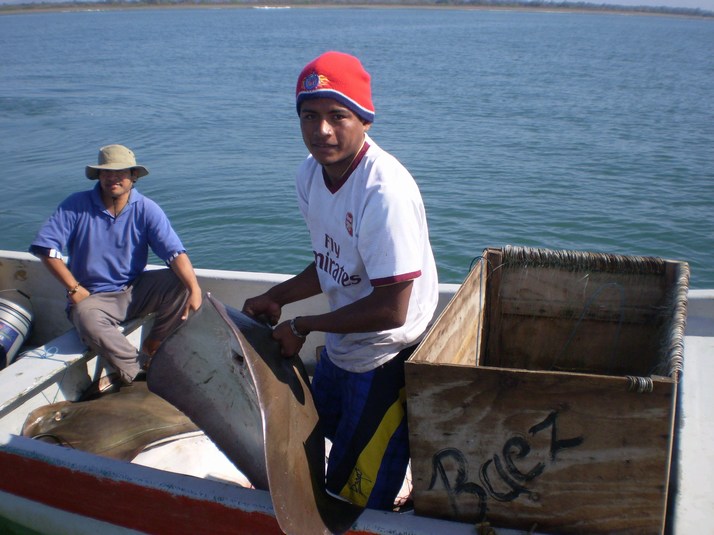 A couple of pangas are headed in to the beach but they stop for a chat and photos. Two more PangaPaks gone. I will have to start reconfiguring the ones I have left and add more local stuff to them.
By noon we are sailing and it is very nice, regular waves rather than the messy slop we had yesterday and a nice North West breeze. We sail at 5+ knots for a couple of hours in the afternoon and watch the shrimpers a mile offshore pirouetting in the sparkles. The breeze holds on and so do I and anchor at 2100 when it drops. 76 miles today 40 of them under sail. 21 hours underway... should be sleeping rather than typing this up.

Thursday Feb 12 2009
'Miss Cindy' had a great day. We hooked up with another PangaTanker early in the morning. This is a good time to troll for tankers as we typically are close in shore, 'Miss Cindy' is sailing and the sun lights her well and that draws them in. As well the Pangas are starting out with fuller tanks. We putted up to a panga longlining with just two guys in it. They were agreeable and sold us 20 liters for $20.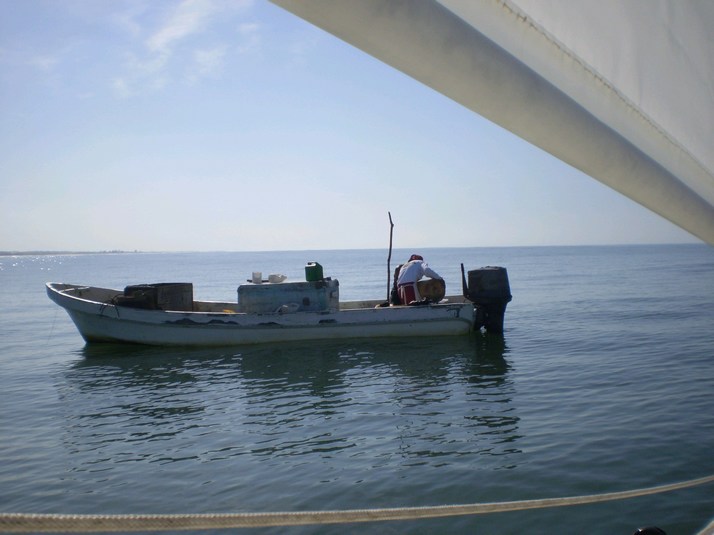 I gave them $25 and a PangaPak. This was out best value as they filled the tanks to the gills. Like other PangaTankers they used a freshly cut off pop bottle neck for the funnel and tossed it in the chuck when done.
We sailed off the edge of Mexico that afternoon.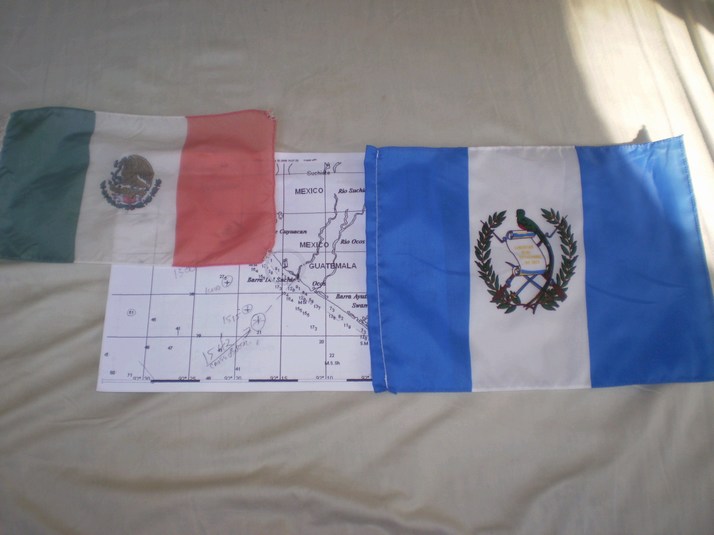 On the chart it looked like this. It was precisely 1542, and what's more it was precisely 1542 because I said it was. Just like William F. Buckley, in 'Airborne'
Where we were at sea there was this picket fence of marker flags.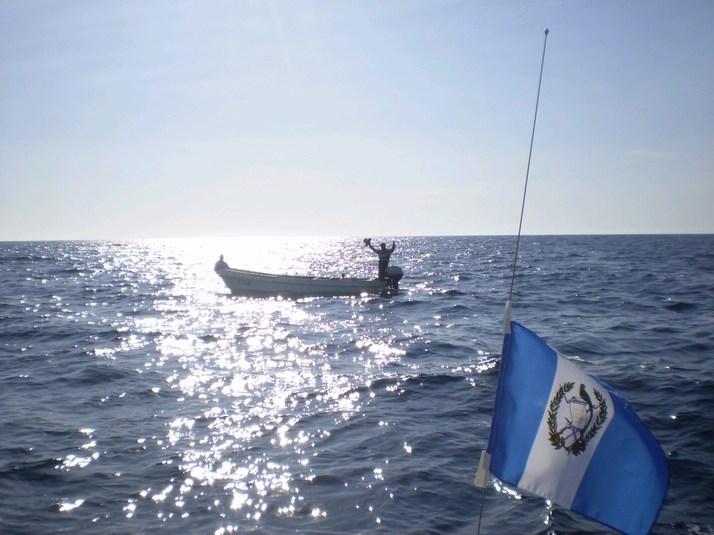 Welcome to Guatemala.
For me it was a bit of a bummer of a day. Motor Motor Motor and when the afternoon breeze hung on to the evening I was too tired.bummed.wornout.ground.down.etc to sail on it. I threw out the sea anchor to turn us into the wind and to let the current help us along and went to bed agitated. Feeling bad at pushing pushing pushing.
Friday Feb 13 2009
0400 Sail for a bit till the breeze drops then motor motor motor. By 0800 motor sailing on the land breeze.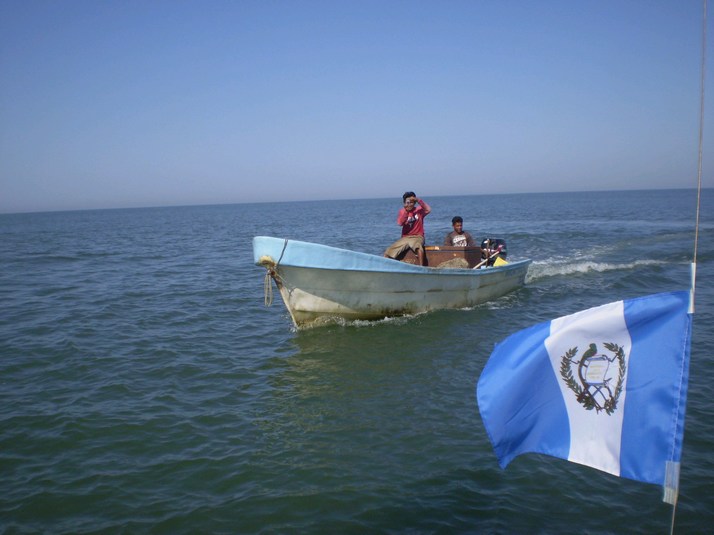 Around 0930 meet a panga with just two aboard that takes our picture and I give them a PangaPak.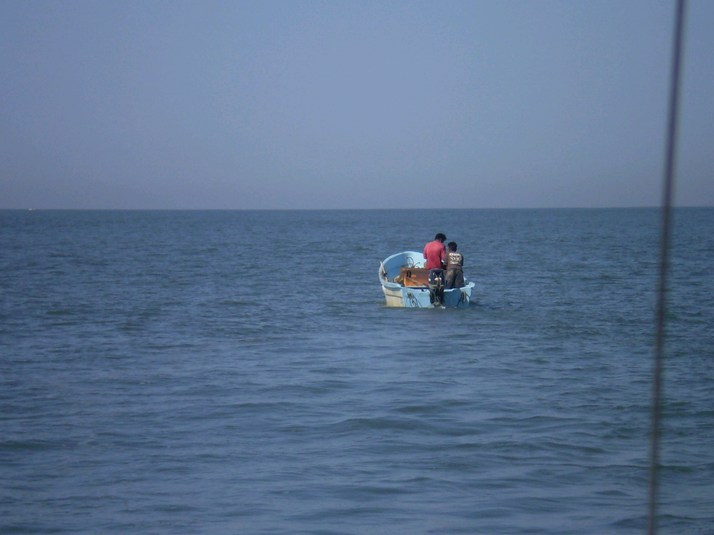 They both gave it a good looking over for about 5 minutes.
We see a couple of what look like volcanic puffs on the shore. By 1100 we are sailing on the sea breeze and catching some ZZZs and updating this travel log. By 1500 we have come about 60 miles today and the breeze and current are still giving us 4 kt. If it is like last night it will hold nicely thru till 2200 or so. The next 30 miles of coast are friendly with just a commercial port, Quetzal about 20 miles along with shipping and pangas. Barillis in El Salvador is another 180 from here.
1600 and we have not seen dolphins since leaving Hultuco on Saturday. Something is fishy. I grab some log paper and do a Time Related Incidence of Dolphins or TRID plot. The likelihood of not seeing dolphins for 6 days is so far off the trend line it is time to buy a lottery ticket.
What is going on?
Following that sharp fellow Occam's advice I can only see one possibility. I updated my web site just before leaving Hultauco and said some stuff about dolphins that some might not consider complimentary. Now I know there are some dolphins doing liason work with the US Navy and they likely have internet access and are probably following 'Miss Cindy's' adventures. They must have passed the info on to some higher authority and now there is a boycott in effect.
But like French wines, one can only stay away so long, I'm sure they will be back.
As compensation for the dearth of dolphins we have skipping fish to entertain us. They are about a foot and a bit long and maybe 2" high across the back and an inch wide. They skip across the water for 50 yards like a flat stone on their sides and occasionally rise up just on their waggling tail. ( you can't make this stuff up )
The wind dies around 1800 and we motor 4 hours and anchor at Puerto Quetzal in 90' of water beside a bunch of big ships off a refinery. This anchorage is also way better than crappy Careyes.
Saturday Feb 14 2009 Valentine's Day: Una Dia Encatado
Slept well only woke up 3 times, and finally get back to business at 0430 after a quick breakfast. Moto Moto Moto, till it broke. We had just spoken to a panga with a Dutch guy fishing for tuna ( they had a bunch ) and three locals.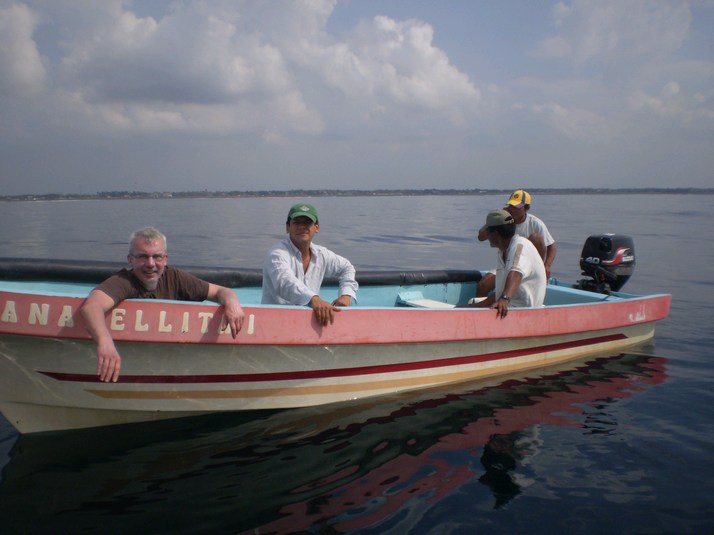 They were low on gas so no joy there. I gave them a PangaPak with a big Lucky Louie fishing plug. Don't know if that will work down here. After starting the engine it made grinding noises and then just clankity noises without the prop spinning.
I should mention that off and on over the last two weeks I had heard a noise from the engine that reminded me of metal on metal bearing scraping. However I only heard this occasionally and only with my ear plugs in. I could not hear it with them out. I should also mention that when I am tired and the motor is droning I have aural hallucinations, I actually can hear conversations clearly in the prattle and rattle of the engine. I reviewed my manual and it seems I neglected to change the leg oil at 10 hours ( not to mention the sparkplug ). I asked for all the service bits when I bought the engine and have spare shear pins, cotters, a plug and wrench but there was no mention of a 10 hour oil drain. Anyway that was not done and is not likely to be as I need little seals for the screws which come as part of the drain kit. I could wing it and reuse the seals but rather than do that I decided I would rely on the little magnet in the bottom drain screw to catch any metal flakes from the break in period.
Today's problem was just a shear pin and it was fixed in five minutes. Surprised it had not gone earlier as there was some serious ventilation going on when motoring the Tehuantepec the first couple of days.
Next day.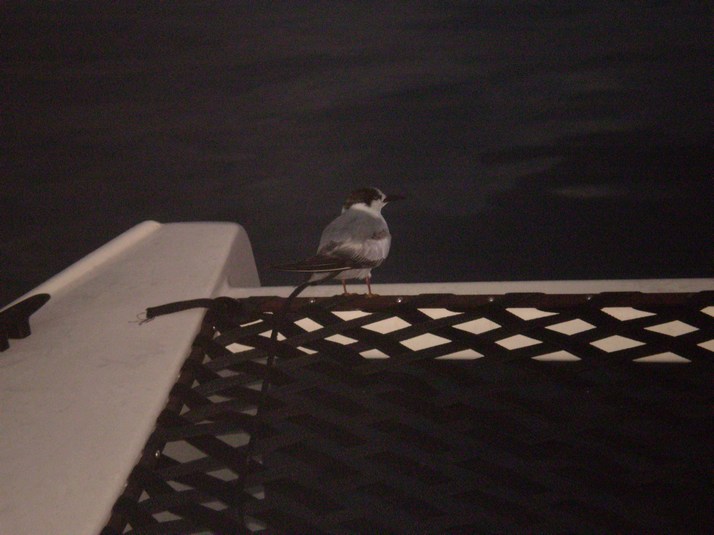 Around 0700 this cute sea bird circled us three time then landed on the bow beam. I said 'Hi, feel free to ride along Sammy, but keep a lookout for Panga Tankers'. He stayed about an hour and flew off leaving behind a little bit of good luck. As he took wing I asked him to put in a nice word for us with the dolphins.
Around 1100 got back to sailing on the lovely sea breeze , presently 'Miss Cindy' is doing her usual fine work steering et all at 2.5 knots. Our pal the current seems to have gone to play for the other team. We are about 20 miles from El Salvador and have another flag ceremony scheduled for late afternoon.
Ate my last apple which I had been saving for today ( Valentine's Day ). Per the other dozens of apples I have enjoyed on this trip I twisted off the stem with alternate 'She Loves Me' 'She Loves Me Not". Of all the apples a few were ambiguous ( no stems to twist ) but the others including this one returned the correct response, except for 2 or 3 that were obviously defective.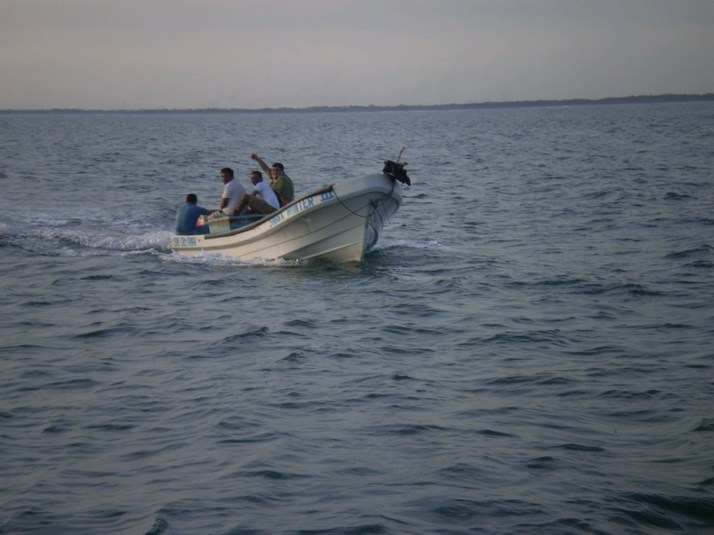 We meet 'Shark Hunter III' a big panga with a 45 gal drum for a fuel tank and 4 guys aboard plus a dog. She could not go very fast with her small motor and took about 10 minutes to catch up with us. I give them a PangaPak two oranges and some chocolate peanut butter combo that I had a jar of. It is too rough out to try for gas.
In Hualtuco I used my onboard printer to make a bunch of 'Miss Cindy' boat cards for handing out to all and sundry. I also put them in PangaPaks and got an email from one of the guys on this panga. He says his part of Guatemala is a very special place. I would agree. The place is tropical and interesting and the few people I met were intriguing. A few coastal photos.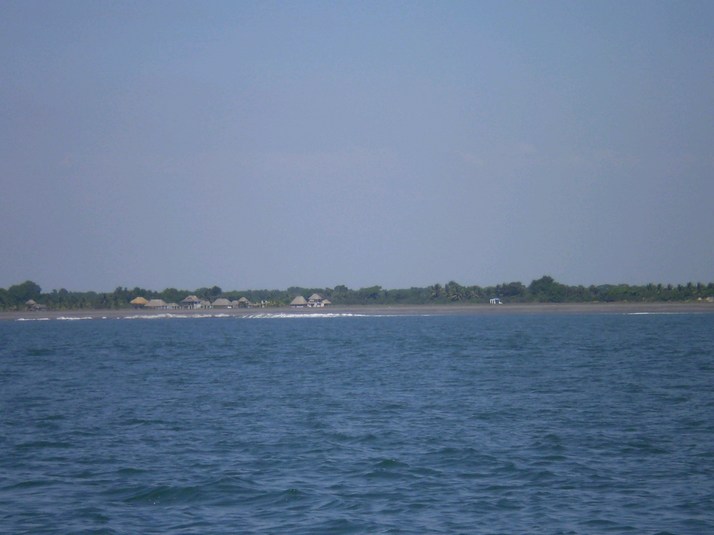 There is a black car doing about 50 MPH along the beach. I think he was rushing to tell the gunboats. The buildings on the left were very interesting looking.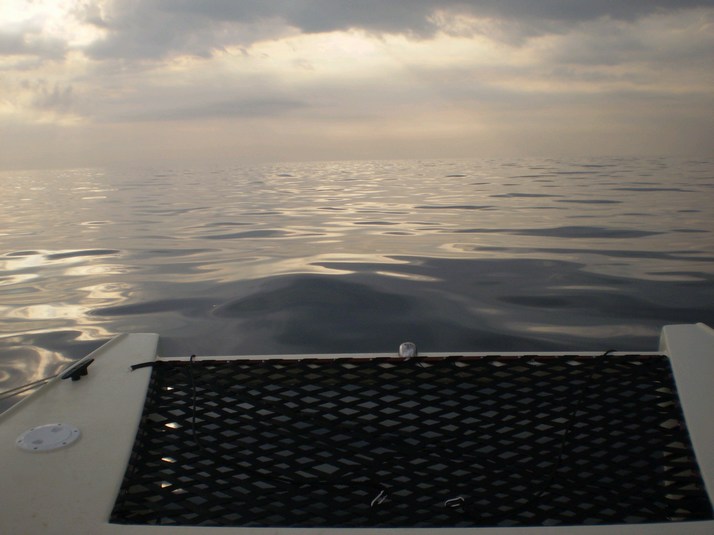 I have the forward cabin hatch open as we sail downwind in about 6-8 kt of breeze, It is not hot below but it is warm and a bit stuffy even with the fan on so the extra flow thru is nice. When I installed the hatch it had a label on it that said something like 'DANGER do NOT open hatch underway'.
I adjust the preventer on the windward reversed boom as the wind has increased. When I tighten the mainsheet again there is a big bang and the starboard mainsail goes slack and the boom swings forward. I think at first the boom has broken, as I have concluded they are undersized and have gone easy on them the last month or so. But it is not that. It is the Stainless Steel pad eye that holds the boom down, and also holds the turning block for the halyard and the reefing line. This part is rated to something like 2200 lbs. When I installed it I had some concerns that it might be pulled out of the deck despite the extra blocking in the deck, but I never expected the part would fail, let alone in 8-10 kt of wind.
I guess this is why we should not open the hatch underway. When we tease the gods and have a laugh at them, they have their own chuckle a bit later.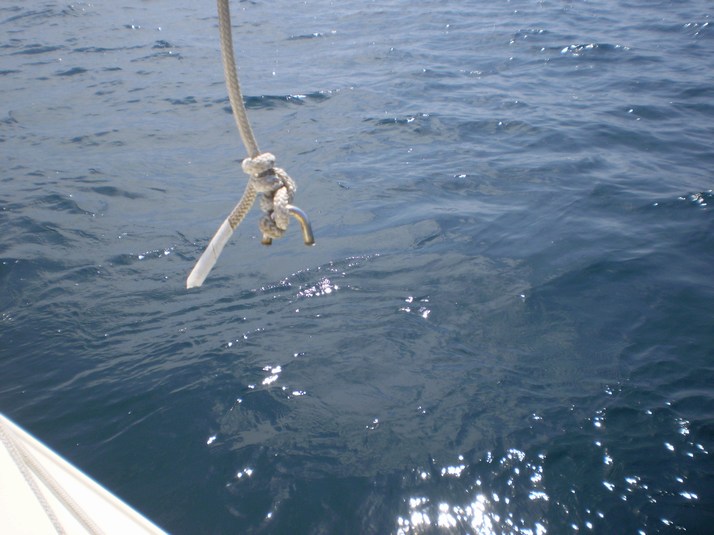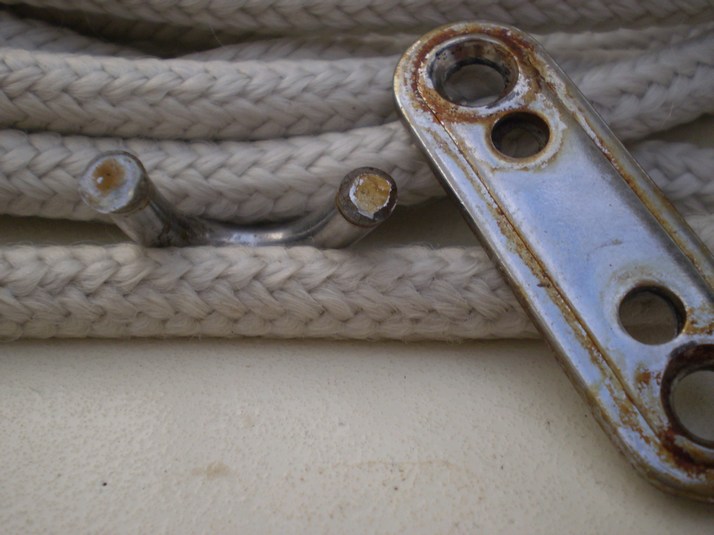 On inspection I know what has caused this. Seadog built it of type 304 stainless as I recall and they have just welded it onto the base of the pad and not around the top where the rod goes in. What this means in practice is that salt water gets into that space and sits there corroding the SS. This causes stress corrosion cracking and leads to the failure of the part at a fraction of it's new strength. I have six of these aboard, two fairly highly loaded including the one that failed, two lightly loaded that hold the boom on to the mast and they would probably be fine, and one that I tie my safety harness to in the cockpit.... I have one more in my toolkit that was supposed to be installed in the center beam somewhere for my harness tie point but I have not used it as my harness has been long enough to work from the cockpit tie point.
We continue to sail on one wing at about a knot less and without really good self steering balance, so a fair bit of hand steering. I decide to make for Acajutla about 40 miles away in El Salvador. It is a commercial port but the town should have some basics and hopefully someone who can TIG weld SS. I will also see if I can pick up a bolt for the boom end and do a little more rework on the tiller head which I am still not happy with.
Around 1600 we are down to a knot and a half so I fire up Yammy and off we go. Lots of fuel for this short run of about 35 miles. We see one more panga in Guatamala and have a chat and as we leave a gaggle of dolphins hop aboard and hang out with us for about 30 minutes. The boycott has ended. Thanks Sammy.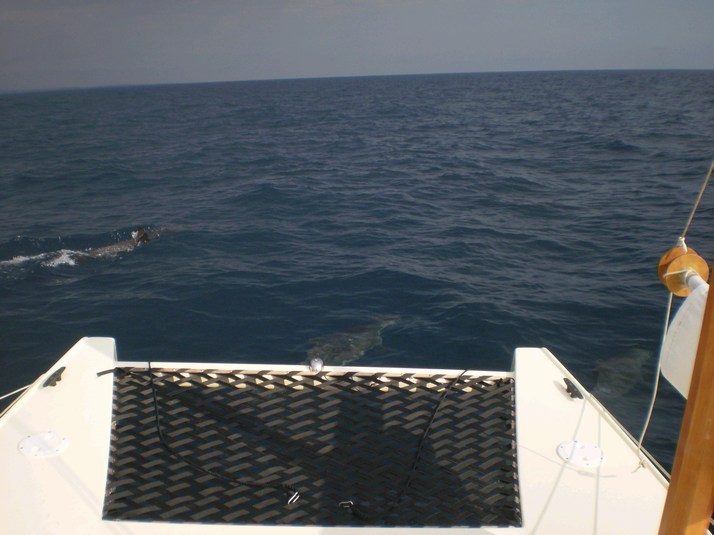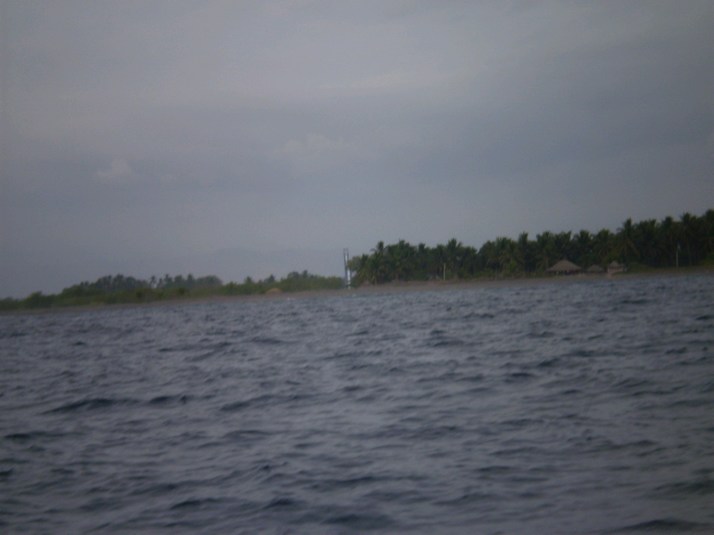 We cross the border here I think. These are actually two range markers one behind the other.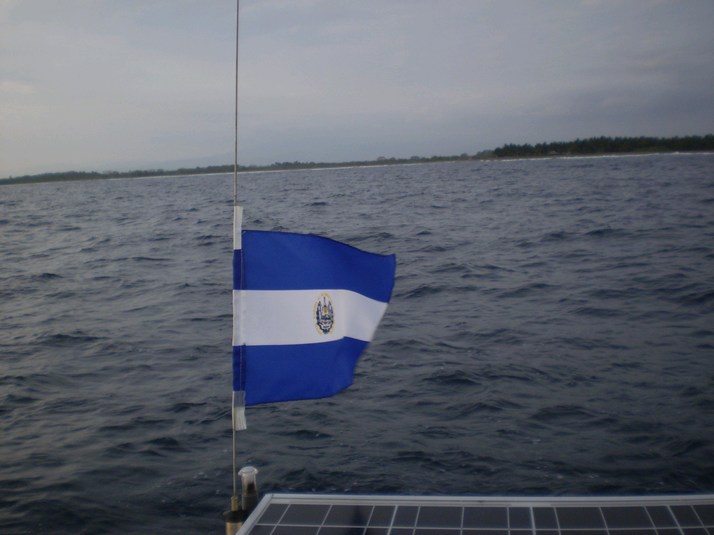 And our second flag ceremony in two days.
Around 1800 I talk to a boat I can sorta hear on VHF and they are going into Acajutla too... it becomes clear... it is 'Destino Canela' the Boys from Brazil.
But fortune favours us. The Canadian boat they are traveling with has gone in ahead just to get some diesel and they are jugging some for the Boys. They are not heading in after all but continuing on down the coast. Looks like we might be partying with them in San Juan del Sur however.
Around 2200 we wander into the big commercial port and find our place behind the piers and the fishboats. There is a lonely looking guy with guard duty on the Navy patrol boat next to us. He is just sitting on the foredeck. He probably wants to be with his sweetheart too.
I have been in Acajutla before, in 1979, on ferry business.
It is a long story, but a good story, and like many good stories it starts:
There was, there was, and yet there was not. There was a symposium in Toronto Canada in 1976. It was put on by Multihulls Magazine and was the first 'World Multihull Symposium'. I was working as a foreman in a small fibreglas boat shop at the time and had published a couple of bits in boat research journals and had a big interest in multihulls. I was there. Bigger than life Charles Chiodi from MM was there as was the warlike James Wharram and a few other big names. There was a fellow from El Salvador, Jimmy Ruiz, who was demonstrating a self righting model of a 40' catamaran. It used a waterbag over the bow. I helped him with the demo in the pool. I built the same righting method into 'Osram V' a 23' cat I built in 1978 and also into 'Miss Cindy'.
Out of the blue on a cold November day in 1979 I got a call from Jimmy asking if I was interested in coming down to consult and coordinate with the team building the 40 footer. For a number of reasons this fit really well. We came to agreement on the arrangements and off I went.
I flew out of Vancouver BC on a Continental DC10 ( these were still falling from the sky at the time ). In Los Angles I transferred to a Air Mexico 737. In Mexico City I got on a Lanika ( Nicaragua's national carrier ) 707 or 727. It was an old plane. The only way my seat would stay in the upright position was if I sat upright. The wing outside my window had a nice fresh looking hydraulic trail by the elevons. We flew into Ilopongo airport near San Salvador and landed around 4 in the afternoon. I walked down the ramp onto the tarmac. It had just rained. It wasn't cold here. I called Jimmy's house, he was away but Carlos the chauffer was on his way. We drove up the hill in the nice Mercedes Benz past cardboard and sackcloth shacks tucked into ravines between big fancy homes. We parked in the 5 car garage with the other 4 Benzes and I headed in for the night. The house was really big and pretty nice. They had 5 full time servants. They also had plain porcelean light fixtures with bare bulbs and no hot water in the shower.
Next day I was all refreshed so we head out on the highway to take me to Jimmy. He was running a WW II tank landing ship off beaches in El Salvador and Costa Rica and using it to ferry 18 wheelers and passengers around Nicaragua which was hopping at the time. Carlos had had a hard night I suppose because he suggested I drive and just like that I am driving my first Mercedes Benz. They are really quiet inside, you can hardly tell how fast you are going. There is interesting stuff around every corner it seems, things like cows, people drying corn in the road. Carlos does not seem worried and doses off in the passenger seat. I buzz by a sign at about 70 MPH, who knows what it means. When Carlos wakes up after we land back on the road after the big bump he is more interested in driving and takes over. This is probably good as I didn't really know where we were going anyway.
Late afternoon we get to the bay where the ship is anchored out.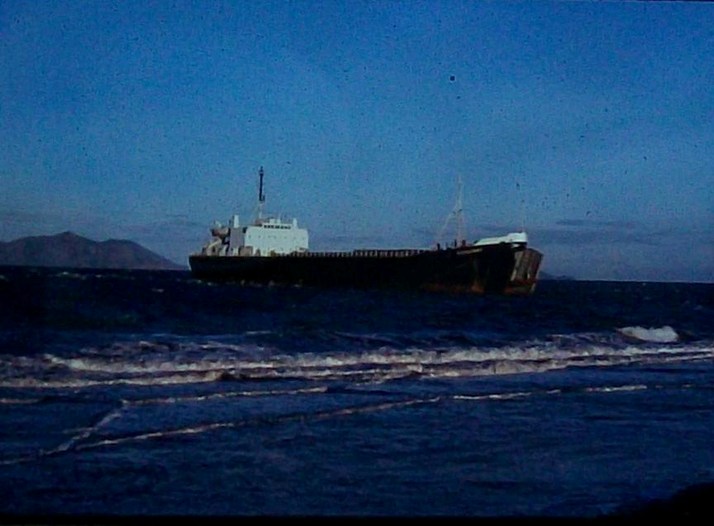 It is windy, I have a nice slide of it up North and I will scan it in when I get back in May.
It is windy like I said and there is a wooden 25' dugout on the beach inside the surf line. It has an outboard on it. Carlos and I have a number of beers in a shack on the beach and as well some of the tortilla type things they make for you in El Salvador while you drink. It is getting dark as I get into the dugout, getting quite wet in the process and we head out thru the surf. Now nothing is dry. I get out to the ship just as it gets dark. I go up to the side and don't you know, someone throws down a Jacobs ladder. I stumble on up, meet Jimmy and he shows me to my cabin, which is all mine except for the couple hundred roaches who scamper when the light goes on.
I made two trips to Costa Rica on that ship in my 5 months in El Salvador. The first trip I saw my first whales at sea. Loading and unloading from the beach was a challenge and quite entertaining too. One driver knew he could turn around inside the ship and did not reverse in. He almost made it and an hour later he reversed out then reversed in. All of this involved timing with tides and big wooden planks on the beach for the trucks to drive on.
On the second trip there were two interesting things. One was a passenger, a sweet girl from France. The other interesting thing was that while about 15 miles off the Nicaraguan coast one of their gunboats came close along side and shadowed us for about an hour. They grew bored I guess, because they emptied a clip from an automatic weapon into the 1/2" plating on the side of the ship. On the bridge everyone including me and the French girl hit the floor for a few minutes. When we got up the gunboat had left. I managed to turn down further trips past Nicaragua, due I'm sure to a critical phase of the catamaran project.
Soon another lady and I will do one more trip down the Nicaraguan coast. Hopefully they will be a bit friendlier this time.
El Salvador has a lot of other memories for me as well. Most of them involve guns. A picnic and every other guy in swim trunks has a 45 in their waistband. Going to a movie driving in a Cherokee Chief, bullet proof, with gunports, 'you can't see the ports on the outside, just shoot thru from the inside' The movie was 'Express de Media Noche'. Not recommended fare when in an exotic country.
There was lots of nice stuff too, mostly the people. I'll meet some more of them here tomorrow.
And how was your Valentines Day ?
Sunday Feb 15 2009
I put the Q flag up on the topping lift, requesting free pratique.
I should have called Port Control when I got in at 2200 yesterday however. I got a friendly visit from the port security police who tied along side around 0730 and filled me in on the process ( in a very nice way ). They took the info they needed and I talked to Port Control while they waited. The guy with the clipboard came aboard big army boots and all and went inside the cabin for an inspection. I asked their permission for a photo, they radioed the harbour authority first to see if it was ok to take a photo in the port. Click.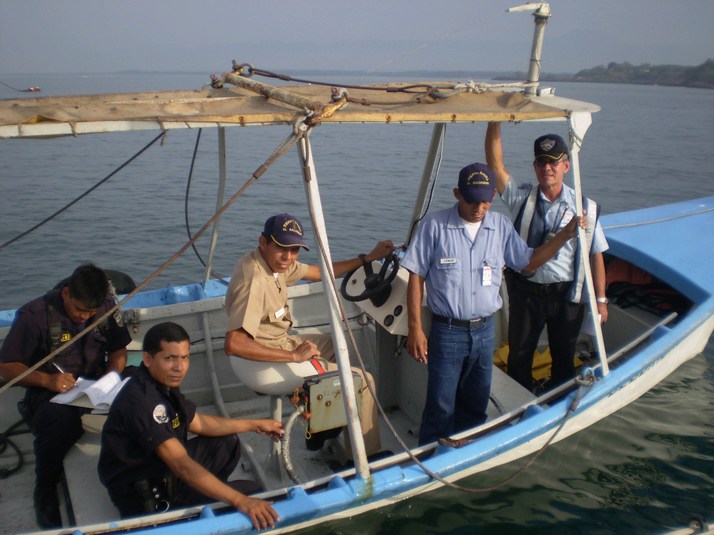 ( Authorized port photo )
Next I took the little inflatable kayak in to shore. I was wearing my nice Panama hat and half way there felt a bit silly looking like Paul Theroux. I got to the steel ladder just ahead of the navy ship and tied on leaving lots of slack line for the tide, and climbed on up. Kinda of exciting, like the Jacobs ladder on the ship so many years ago. Went to immigration at the head of the road and got checked in by three very nice guys. They even turned on the air conditioner for me. I paid my US$10 for a 90 day visa and they called the Port Capitan who came on down on his motor cycle and processed me right there. Then the immigration guy called me a taxi ( we are deep inside a very secure very commercial port ) and arranged for it to take me to town for a bank machine and fruit and to return me all for US$6.
As I am talking to my taxi driver Nelson, I learn that they dumped the Colon in 2001 and use the US$ here. How odd. The bank ATM gives me US dollars. I am still so impressed with the change to the US dollar that I leave my bank card in the machine. This will prove to be somewhat inconvenient down the road. I talk Nelson into taking me around town for 2 or 3 hours and then return and he agrees to for $12. We go to the Sunday market for fruit, I get some internet time, 1/2 hour for 50 cents, get some bottled water, visit a hardware store where I get a drill bit and some regular steel bolts to fix the boom end, have a good look around town which is tidy and nice. Bicycle wise it is like Cambridge, they are everywhere and unlike Cambridge drive where ever they want and the traffic works around them. Then I go for lunch and offer to buy Nelson some. He slaps his stomach and declines but manages a couple of good beers. He drops me back at the ladder, thinks it is pretty funny so takes a picture of the kayak down there with his cell phone and agrees to meet me there again tomorrow morning to go to the welding shop. Oh yea Nelsons fellow taxi driver had lugged the fuel the night before for the other Canadian boat and the Boys from Brazil. We will lug some tomorrow for 'Miss Cindy'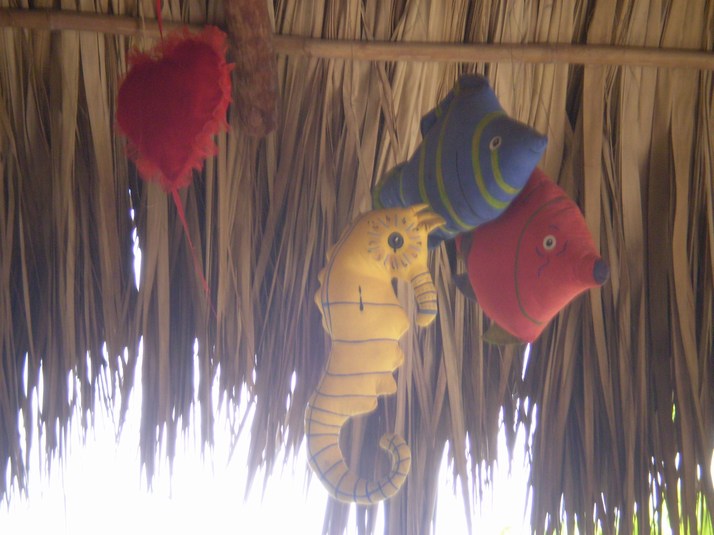 We missed the 'Festival de Lamour', and calling my sweety, by one day.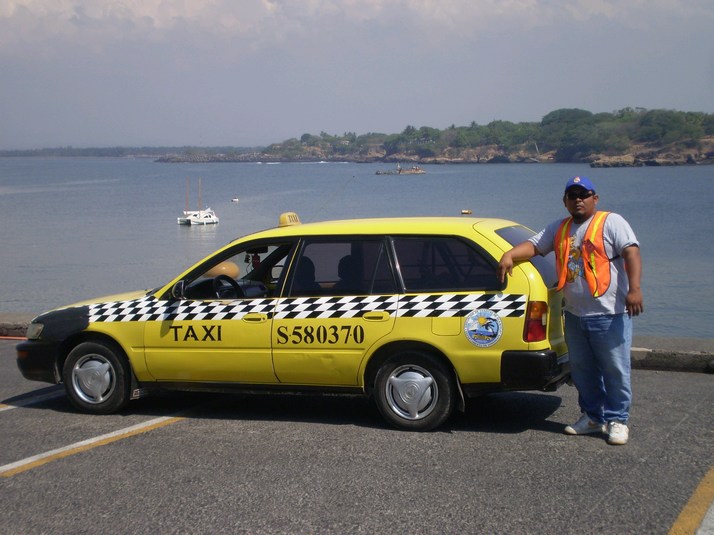 Once again we are the only yacht in the bay. ( Unauthorized port photo )
A sailor on the patrol boat gives me a hand with the baja bag full of fruit and the water jugs and I balance the baja bag and tow the water back to 'Miss Cindy'.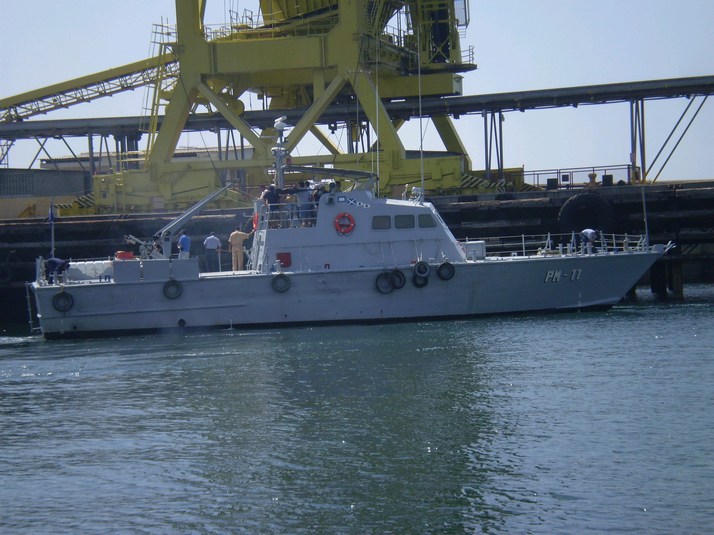 The patrol boat heads out for a Sunday cruise with what looks like family and friends aboard. ( Unauthorized port photo )
I have been thinking of jumping straight to San Juan del Sur but am reconsidering. The folks I know from Nanaimo are in Barillas and I would like to see them again. I don't like the idea of crossing the bar twice nor the 10 miles in and out there. But.... it is about 100 miles from here and would break up the run to SJdS nicely and there are those nice folks there. I will have to tell the Port Capitan tomorrow after the welding as he thinks I will be exiting the country from here.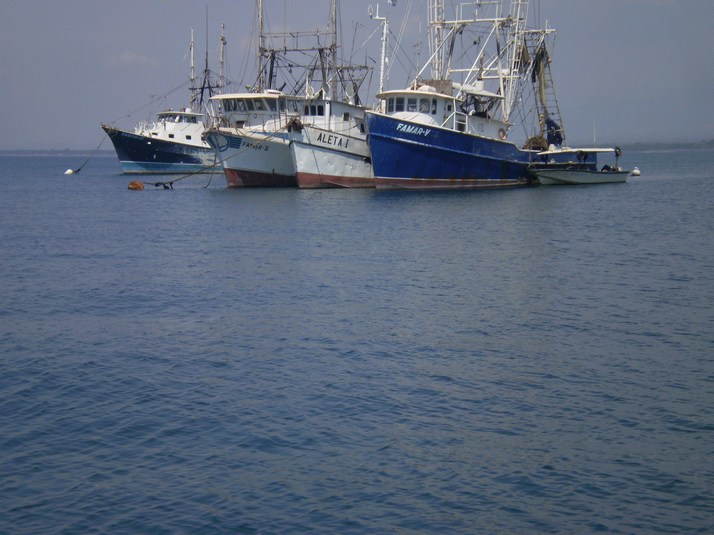 The local fishing fleet. ( Unauthorized port photo )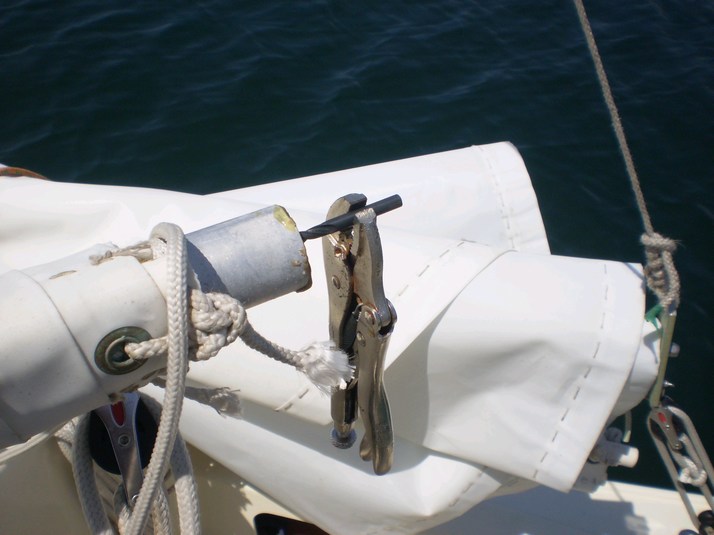 I use my 'hand drill' to bore out the boom and glue in a fully threaded bolt per the designers recommendation. ( Unauthorized port photo )
And for a change of pace, a flash back to how it all began, May 6 2008 as I recall. A little plug too for the nice folks at Edensaw woods in Port Townsend. Hi Erik.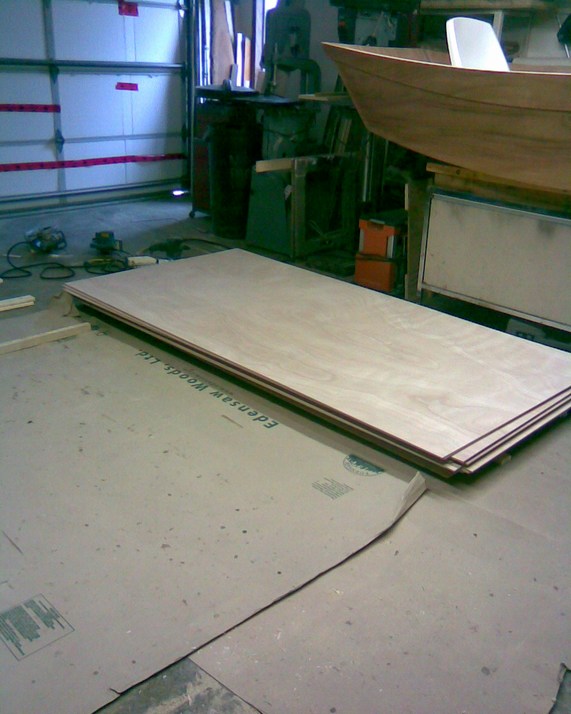 ---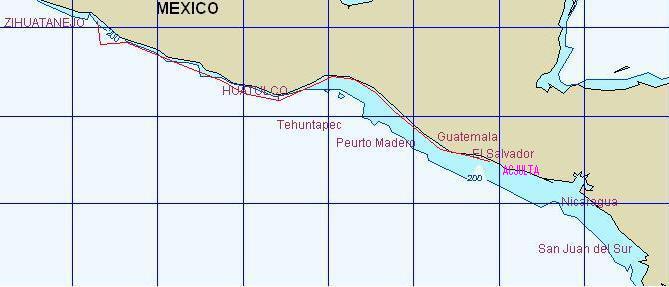 Distance Summary:
---
This Leg: 420 Nautical Miles
Hours Underway: 183
Hours on Motor: 49 Yuck!
---
Total To Date: 2030 Nautical Miles
Total Hours Underway: 870
Total Hours on Motor: 102
---
Copyright © 2009 Tony Bigras.