Travels with Miss Cindy

Chapter 11

Boys from Brazil, Sail Repairs, Dolphins in Cabin, Blood in the Cockpit, Whales Close Aboard, Pelicans for Breakfast, Waiting in Huatulco.
---
Friday January 23 2009
Just after dark an inflatable with 3 guys and a gal aboard hailed me, saying 'Raven' told them to drop by if they saw 'Miss Cindy'. This was the crew of 'Destino Canela' who I had heard of up the road. Three Boys from Brazil on a sponsored boat sailing from San Diego to their home town via all the nice places. Here is their web site.
I chatted with them briefly and hopped in to their dink for a ride to 'Destino Canela' for dinner, drinks, and discourse.
I was barely in the cockpit when they all started asking questions together. 2 brothers and their long time friend from Canela Brazil. As they were all asking questions together I got to answer just the ones I wanted. Everybody wants to know how she sails upwind with the twin rig, how fast she has gone, and 'who is Cindy?'. One of the brothers headed down below to make supper. He was an excellent cook including making his own mayonnaise. Both the brothers had tortuga tattoos on their backs near the base of the neck. The gal was from Vancouver and was traveling for 3 months. I asked why this boat and she indicated the boys and said they were gorgeous. She seemed very sweet on them all. I concurred they were pretty good looking and buff, the oldest just turned 30 a couple of days before.
An hour later another boat they knew came in and anchored and they dinghyed over to join the supper and tell tall fish tales. The brothers had studied as a civil engineer and architect respectively. Watched some video they had made of the prep of the boat in San Diego. Later they brought out their guitar and bongos for some nice music. I made it back to 'Miss Cindy' very late and shelved my plans for a 4 am departure.
Saturday January 24 2009
While hoisting the sails just prior to departure I noticed that the starboard sail had a nasty 7" tear in it about 4 feet down from the gaff. I gave it a quick mend with a view to a proper herring bone stitch later and pondered how that got there. I finally figured it happened in the rain and lightning when we entered Acapulco. When the preventer strop had failed we were surfing at around 8kt and the sail was back winded. It swung all the way around and the sail hit the forward part of the port sail gaff which was sticking aft because of the dihedral of the port sail. I have made a note to sand the forward edges of the gaffs.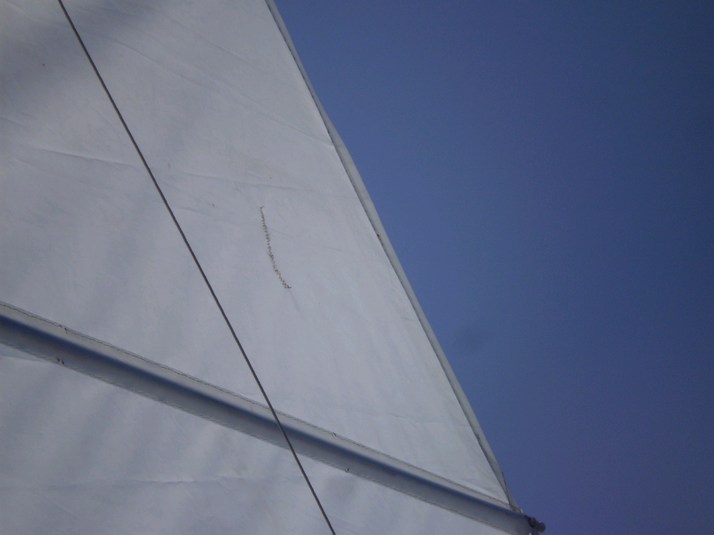 I pulled our 80' of chain up from the bottom and we were underway by 0815. There was no wind so we motored at 4kt till 1045 when a light NW started to fill in. I set the sails for a broad reach and did not need to trim them all day. A 10-12 kt breeze settled in and we made 4.5 to 5.5 kt until late afternoon. Into the evening the wind faded a bit but I only retrimed the sails when the land breeze came in at 2315. The only adjustments I had made to the tiller tie down lines in this period was when I moved into the cabin for a nap, as the boat trim would change. Saw no turtles, whales or dolphins all day but some dolphins came around at dusk and a turtle floated by at daybreak. We have been carrying about a knot of S current all day and evening. We are currently about 12 miles off shore but that will close in as the coast drops more sharply South ahead. Very light winds from dawn to the present 1030 but I took leave to have a nice wash up and shave and to launder the sheets and towels. 'Miss Cindy' liked this too as it used up 15 lbs of fresh water. She is probaby close now to being the lightest she has been the whole trip. The sheets and towels are drying in the sun and light breeze on deck while I type type type in the cabin. Have had a couple of pods of dolphins say hi today already. If the sea breeze does not show up in and hour or so I will start up Yammy and rumble east till we find a bit more wind.
Sunday Jan 25 2009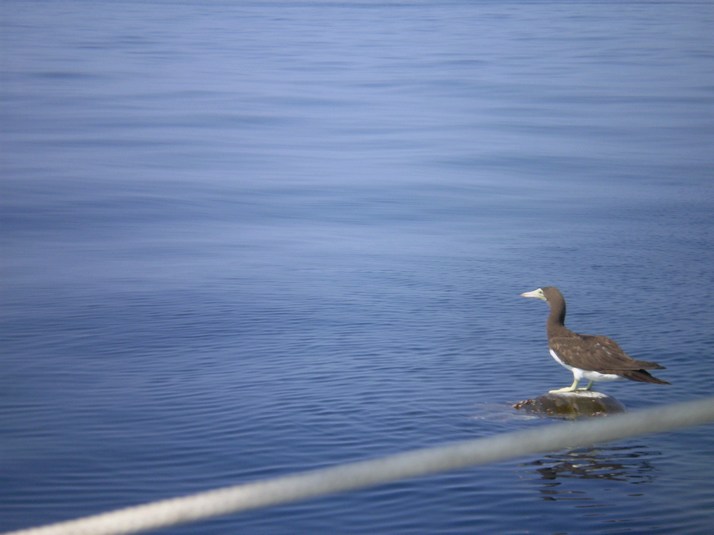 We continue on our way from Acapulco to Hutalco perhaps 180 miles to go. Between 1100 and 1300 we saw 10 'turtle islands'. Around 1700 I did some work on the starboard boom to reverse its orientation as I thought it might have a slight set in it. While up there I noticed the boom front hold down lines had a fair bit of chafe and would need to be replaced soon or they would break. Having had that thought the starboard one broke 5 minutes later. Re reeved a couple of new ones.
Around 1300 I took this video of some dolphins from inside the cabin and made a note to remove the 'temporary' window holders. The sealant should be hard by now.
And some nice dolphins up near the bow in blue water.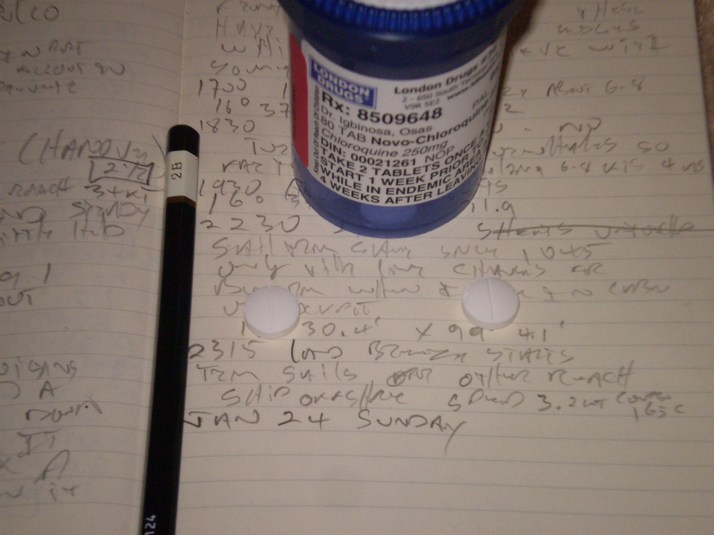 I took my malaria prophylactics today. Theses are like veterinary sized pills probably for sheep and taste Ewwe Baahhdd.
At 2045 I spoke on VHF with 'Lost Elvis' enroute Acapulco to Escondito. They had a late night with the Boys from Brazil as well and were feeling the effects.
At 2200 due to the pangas about and lack of wind I furled the sails, set the anchor light and had a series of naps with look arounds til 0430.
Monday January 26 2009
Sea breeze started up around 1100 and we started making tracks. Log shows:
1130 3.5kt
1200 4.4kt
1300 4.9kt
1400 5.8kt
1500 5.8kt, Fishing line out
1530 4lb tuna aboard, 'Miss Cindy's' first
1600 5.4kt
1645 Turtle
1700 4.1kt
1800 3.5kt, lots of rays jumping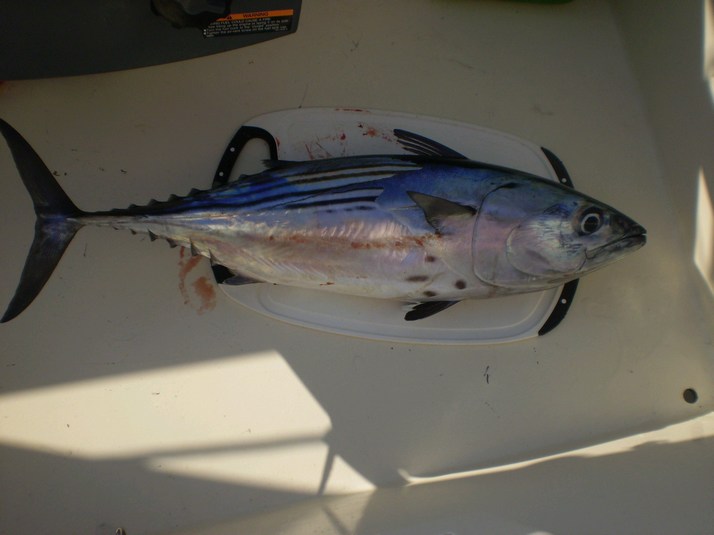 The fish was nice to catch but I was almost immediately melancholy ( still doing much better than the tuna however ). Sailing alone, no one to share the first catch with, fish was kinda pretty. I cleaned him up then cleaned up the cockpit. He was one of those red fleshed tuna, and I ate a bit as sashimi, but it was not a type I really like. I gave the rest back to nature. The fish had these neat vortex generators on his tail, they go at an angle rather than with the flow. If I catch another like this I will let it go. In any case no fishing for a bit I think.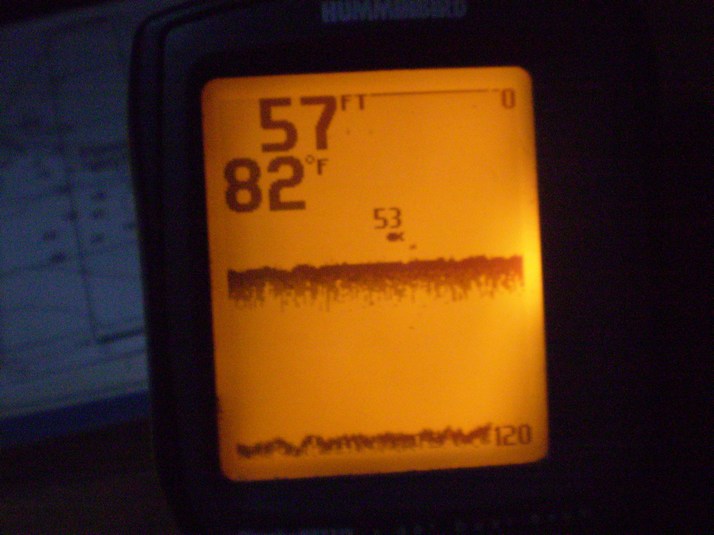 We anchor for the night in an open roadstead around midnight. The water is now nice and warm. I cook up some fancy rice with raisins and onions, light some special incense and listen to the roar of the surf on the beach, then hit the hay.
Tuesday January 27 2009
0630 We ghost off our anchorage, sunrise, chow, tunes. Too soon the light breeze dies and I put in my ear plugs and start up Yammy. 15 minutes, a bit of breeze, then for an hour and a half... the tyranny of the motor... I have to steer all the time with the motor and about 10% of the time when under sail. From about 1100 on we have been sailing and are making about 3.5kt on a beam reach. I am actually typing this in real time down below with little pop ups every 30 minutes to look for boats and occasional glances out the windows.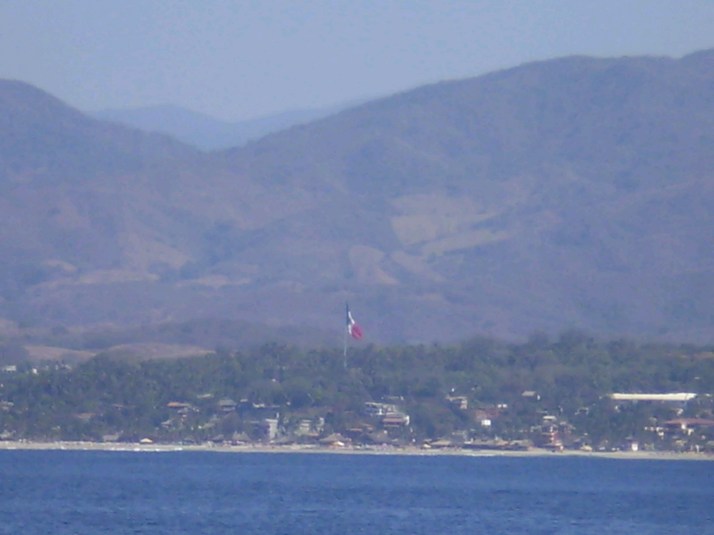 When we went by Escondito I at first had trouble finding the bay... When I found it I noticed this really big Mexican flag. Must be 40 x 80 feet.
The boat is pretty light, having eaten thru a bunch of chow and down to 3 gallons of fresh water and 4 of fuel, and is moving well. In the afternoon a couple of whales come around, these are the first we have seen since Banderas Bay area.
Video of whales 150' off our side
We sailed on nicely thruout the day and towards evening I decided to push on into the night to Huatulco and see if we could make it into the bay. It will be dark for the last 20 miles and likely very dark as we enter the bay. There is a lighthouse on the hill before the bay and if it is working the plan is to follow the 150' contour to stay outside the many rocks and islands along the shore and when the lighthouse bearing is about North to turn North till the cliffs of the bluff are visible then feel our way around the bluff into the bay... and find some place to anchor. It is a bit tenuous and will be a challenge but we will get in some nice night sailing if the breeze carries on.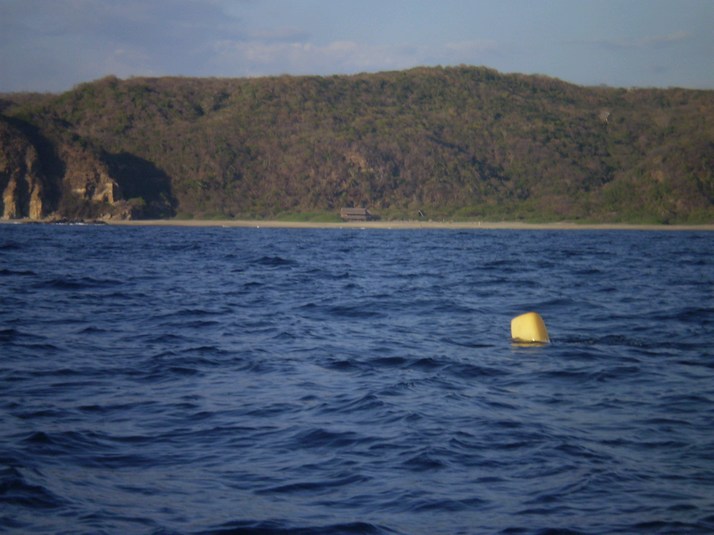 We pass by Roca Negra and Roca Blanco off an interesting cape with rustic looking communities, carrying perhaps 2 kt of current. We sail wing and wing and speak to some panganeros, they want to know where we are from. As dusk falls the breeze shifts landward and freshens. 'Miss Cindy' is happy to reach along into the darkness. We are headed to a far light in the distance. I don't know what the light is but it is the furthest West light in the distance and is about were the Southern point of this passage should be. As we pass the light following the 200' contour there is nothing but darkness ahead. Venus which was guiding our way directly astern in the East has gone to bed for the night. We have had a dolphin gang along side for about an hour and a half but they cannot be trusted to show the way, they can be tricksters.
It has been fantastic sailing the past several hours. 'Miss Cindy' runs along taking care of the course and I have been standing in the conning hatch or sitting in the cockpit. When in the cockpit I wear my 30 year old safety harness and when standing in the conning hatch I wear nothing but a patina of salt. The warm breeze swirls around and gently caresses, for a brief moment there is a smell of fish from the West, an unlit panga? A whale? We too run unlit for a while to better scope the lights ahead and spot other vessels and to enjoy shoals of fish phosphorescing and our own twin bow waves and wakes aglow. We are under a sphere of stars, with an occasional one that falls to earth. There is one slow falling yellow star that says goodbye in the direction Venus has gone. We ride along in darkness with Orion at the masthead and a smooth rhythm sailing on the Pacific swells. I can see occasional waves break a bit before they get to us and know it is a group of three that will knock 'Miss Cindy' off course briefly as she surges on them. They are from somewhere far away and show up every 5 minutes or so.
I am like a bird standing on a little turtle, a turtle I have built with care and breathed life into, a little turtle that now shares an adventure with me.
Soon Huatulco's big light shows ahead and we sail on. At 2200 the wind has had enough and leaves us. I start up Yammy and motor following the 170 foot contour until the light is due North and turn in. I am working hard to identify the shore and spot any breaking water. Suddenly there is white water just ahead. It is the dolphins who are back and dashing about making bright flashes and generally distracting. They are tricksters and messing with us as we approach the dark shore. I slow right down and they go away. As we go around the point the lights of the harbour show up. I putter in towards the anchorage and the one sailboat there turns on a steaming light and for a while his anchor light comes on. At 2345 I anchor in 18' of water, set the hook and settle in for the night.
The next morning we are surrounded by a small flotilla.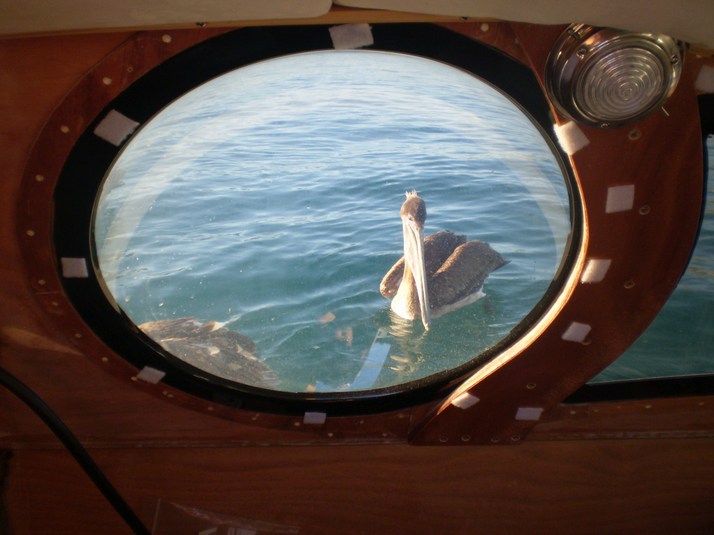 We shift over to Marina Chahue in the next bay and tie up one slip away from 'Paesano' who is from our marina in Nanaimo and headed south a couple of years ago. 'Misty Michael' who is also from our marina in Nanaimo is here too just the next dock over. They are waiting for a weather window to cross the Tehuantepec as well.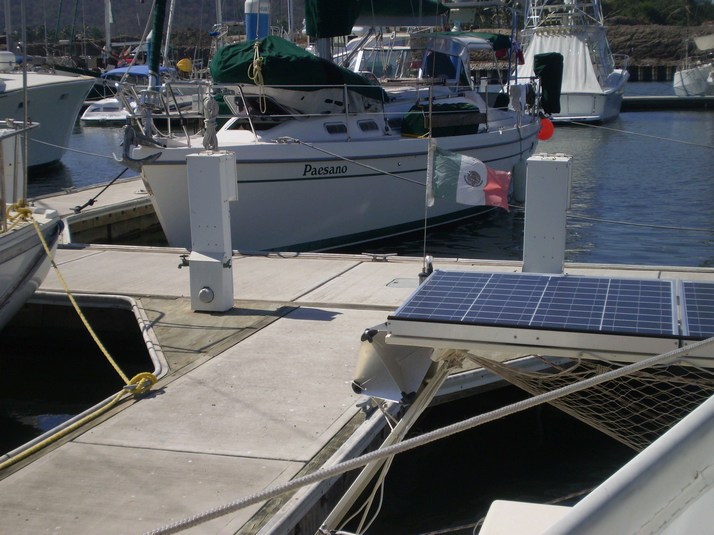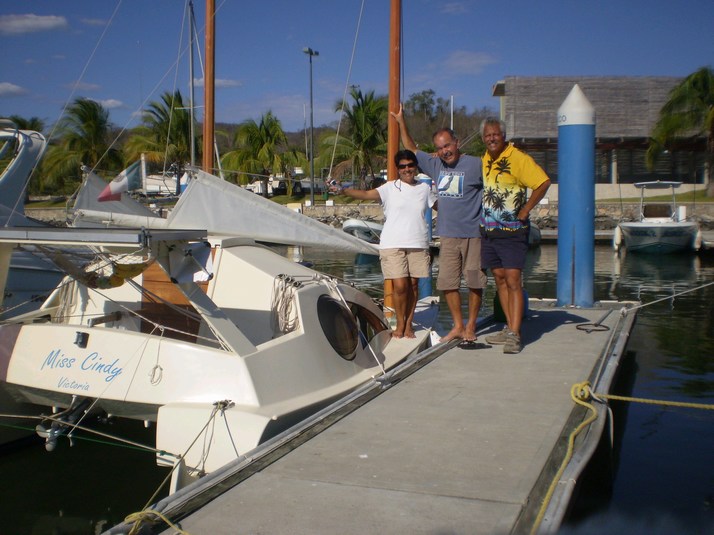 Monday February 2 2009
Bright sunshine today so the groundhog saw his shadow. Six more weeks of winter. I have been here almost a week. It is a nice group of towns. The weather does not look good for crossing till at least the end of this week. But I am getting itchy feet. I think we will clear out and depart Thursday. Take little hops down the coast and monitor the port capitans weather reports. We have a potentially challenging couple of legs. We will probably overnight in Puerto Madero at the bottom of Mexico about 250 miles, then try to jump all the way to San Juan del Sur in Nicaragua. I don't want to stop in Guatemala as entry and exit procedures are apparently complicated and expensive. It is only 150 miles from Mexico to El Salvador but about 400 or so to San Juan del Sur. The Tehuantepec has its challenges wind wise for crossing and South of there the currents start to become adverse and head winds are likely. As well there are the Papagayo winds, similar to the Tehuanatepec. Also want to stay ahead of the Boys from Brazil :) Time to be going.
Some scenes around Huatulco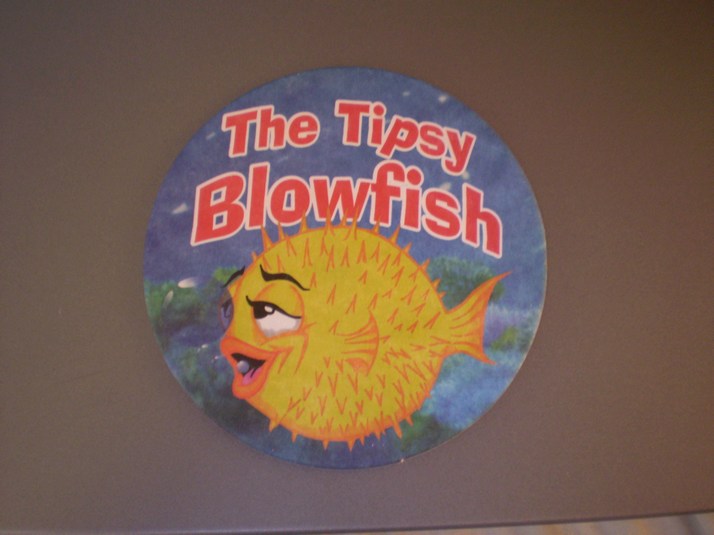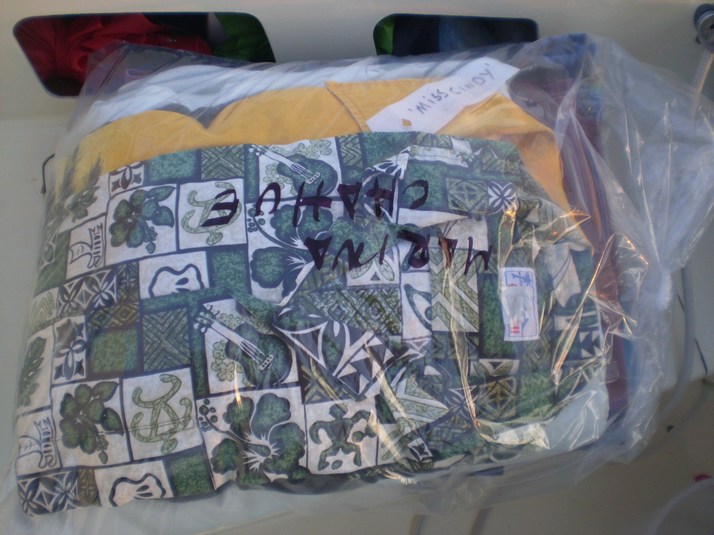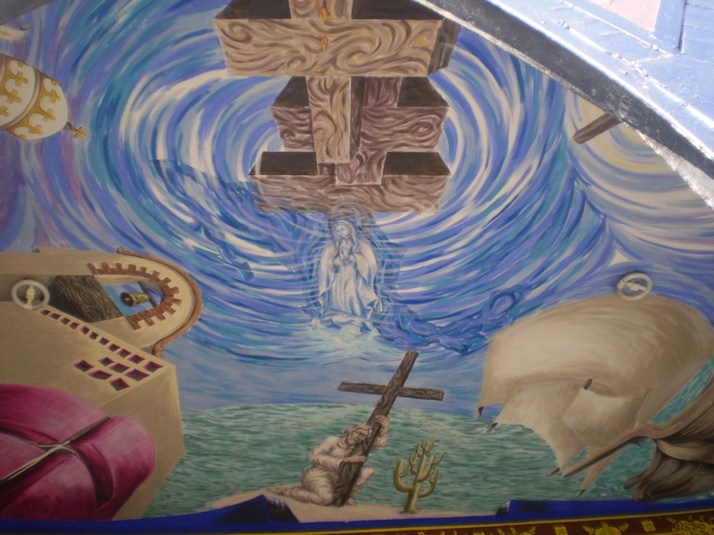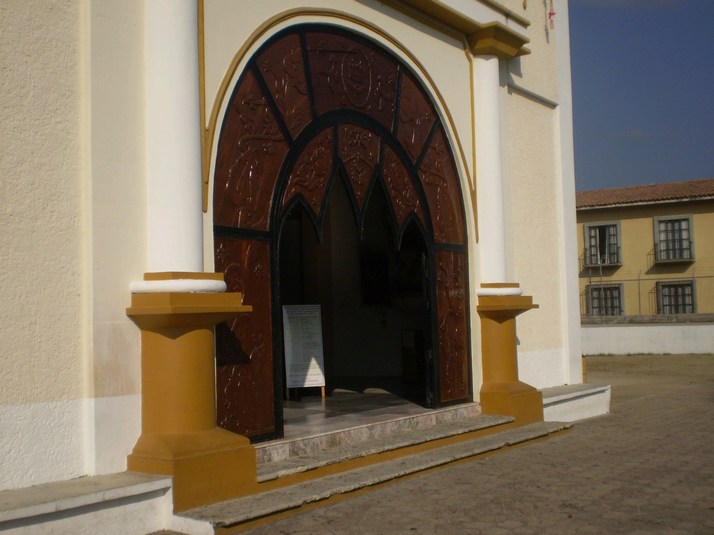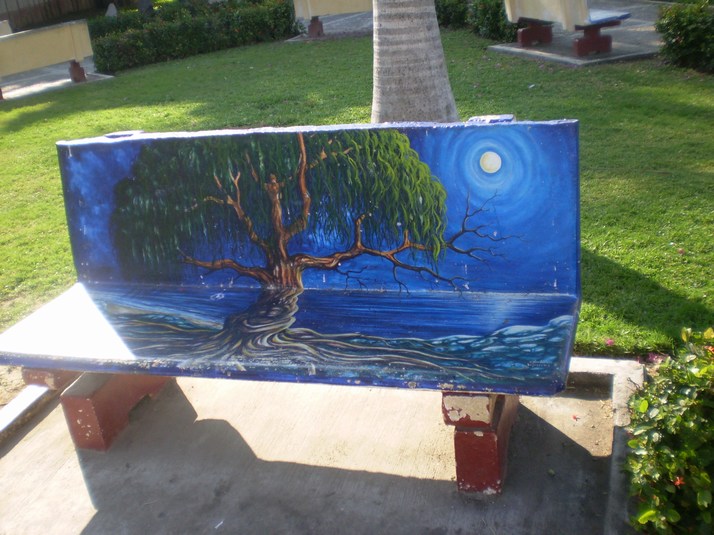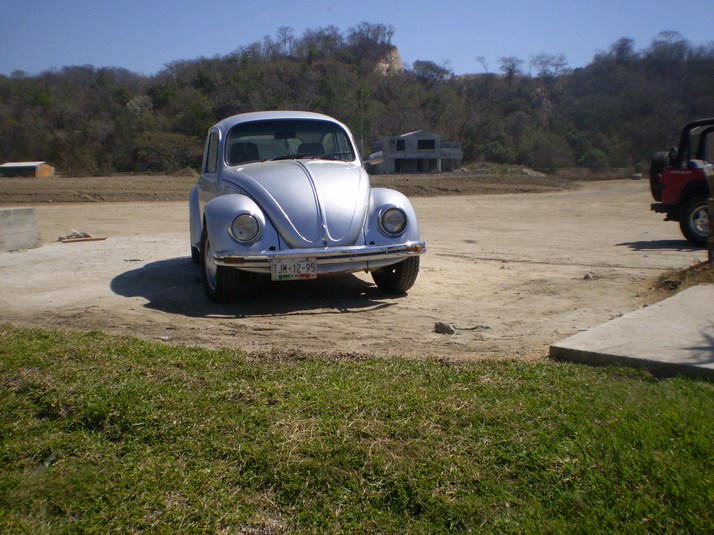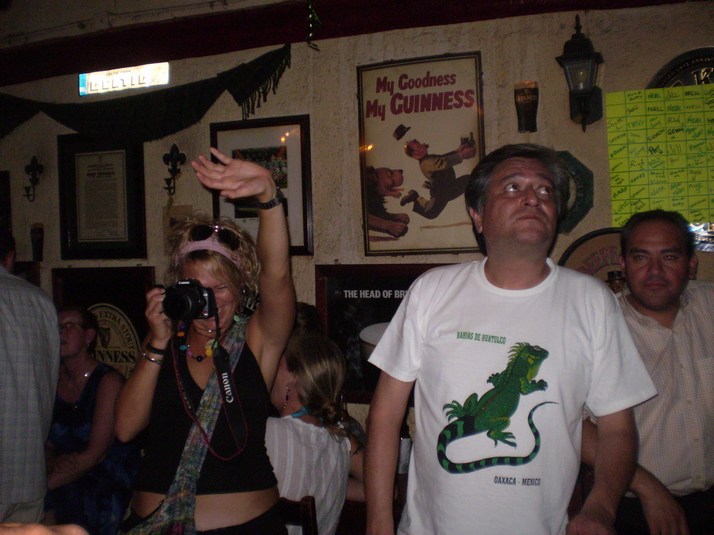 The Irish Pub Blight has spread this far.
Thursday February 5 2009
The predicted wind for Thursday and Friday has picked up a bit. Plan now is to clear out of the country on Friday and depart early Saturday. Meanwhile I have been helping out Rooster on 'Lost Elvis' with some mechanical and rigging stuff and learning guitar from him while drinking his beer. Provisioning is complete, laundry is clean, and I have given 'Miss Cindys' bottom a bit of a caress to get they slime and weed off. .... Definitely time to go....
---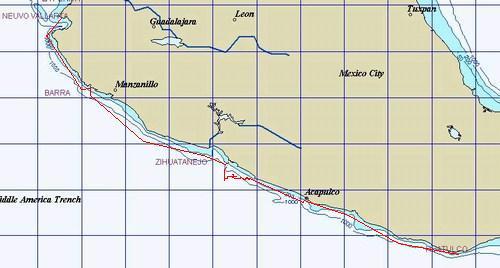 Distance Summary:
---
This Leg: 210 Nautical Miles
Hours Underway: 84
Hours on Motor: 10
---
Total To Date: 1610 Nautical Miles
Total Hours Underway: 687
Total Hours on Motor: 53
---
Copyright © 2009 Tony Bigras.