Travels with Miss Cindy

Chapter 10

Putting the R&R in Barra, Leatherback Turtle gets Frisky with Missy, Leaping Stingrays Batman, 4 Nights to Zwhat, A Tour of 'Slojo', 'Miss Cindy' Helps Out a Cruise Ship, Dolphins Everywhere, Miss Adventure Offshore, Midnight Train to Acapulco.
---
Jan 12 2009

Ray has plans to pick up his laundry and hit the pool at the Sand Hotel Sandbar. I pick up my laundry bag and head ashore with him on a panga water taxi. 25 pesos return per person. Then over to the Sandbar for a couple of cold beers and a leisurely swim in the pool. That takes up all the afternoon. We head over to a local eatery to watch the sunset and have dinner with the Canadian girls that have been keeping Ray up till all hours. Nice little dinner then off to Lucy's Paradise Bar... I briefly met Lucy on the way to the laundry earlier. She and her business partner 'Cabana Boy' chat with us a bit. Some how mention of the big tin cat on Gabriola comes out and Cabana Boy is suddenly all excited. Seems 9 years ago he was the crane operator who put the mast up on Osram VII.

Sitting at the next table is a blonde who was talking with Lucy when we came in. She was three sheets to the wind then and has been working pretty hard on 4 5 6 . She is from Haynes Junction up North and is keeping warm here til the end of February. She made a number of suggestions but I only let her try on my hat.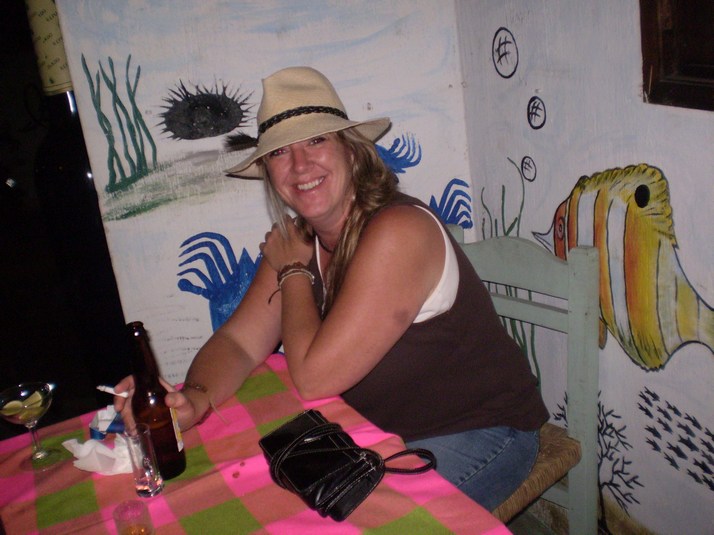 Nice hat.
Back with Ray, as he was fond of Canadian women I suggested I might try to set him up with her. Ray was not keen but that fell on deaf ears, he has better hearing and eyesight than me, and his eyes in some light are exotic, like pure blue embers, all cracked sapphire with a blue dancing light.
Linda and Sue the Canadian girls ( Cable TV magnate and Nurse respectively ) have been with us since dinner and we finally persuade them to go for a sail with Ray and I on Pavane. They won't be bringing there PJs just a day trip to Tenacita if the wind is agreeable.
Next day I get a bunch of croissants and some tarts from the 'French Baker' who comes by with his wares by boat. The girls arrived and we leave Pavane's anchor tied to 'Miss Cindy' all 45 pounds and 50' of 3/8 chain. She should be there when we get back.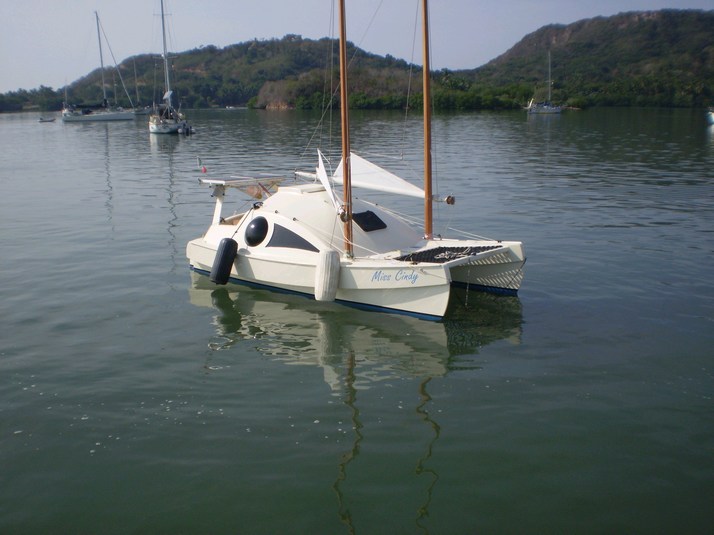 'Miss Cindy' as an anchor buoy.
We had a great 6 hour sail with Ray passing up refreshments from the companionway and lots of interesting conversation. We sail past the rocks at the entrance to Tenacita bay and lose our wind briefly in the bay. Several more whales show up and wave their tails and a couple of turtles churtle by. Then a nice breeze for returning comes up and we sail back. On the way we go by a little town Cuestecomate on the water front that Ray says he has always wanted to sail to, anchor and visit. He has talked to a Mexican sailor who had done that.
After our sail we tie along side Raven in the lagoon. The potential sale of Raven has fallen thru. The interested party was living on his girlfriends boat in the lagoon, and was tired of doing all the maintenance they both required. She flew in that day and a quickly blew off that idea. But we had cocktails all round in any case. Scott made me a couple of fantastic tequila and grapefruit juice things swimming in ICE that were really nICE after a day in the sun. Jim from Gitana is Sicilian and he was there and we compared tans.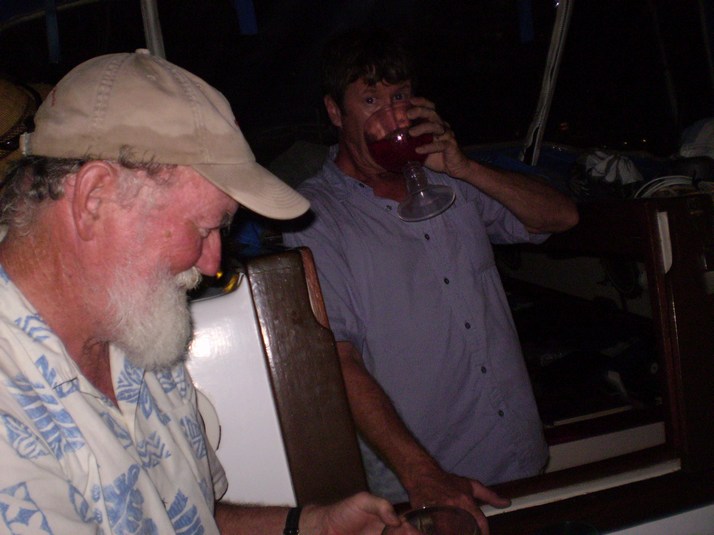 Onboard Raven, Ray on left Scott with a nice drink.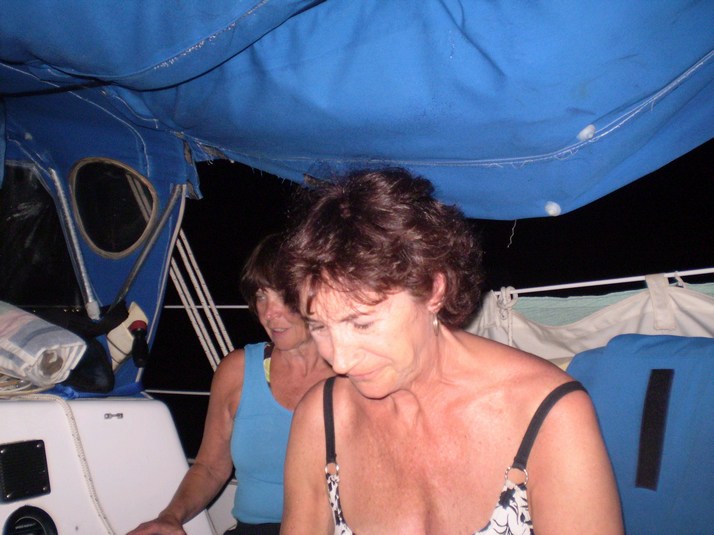 The Girls.
Sue from Calgary was expecting her friend 'Sue from Berkley' to meet us at 'Chips' for munchies and drinks that evening. She arrived, was in her 60's short and fit and Ray seemed a bit taken with her. He had seen her around Barra before. He bought her a rose. I sat on her other side and talked books mostly but must have been flirting as she kept bonking my head with the rose... She was really from Montana, and was off to her book club at 2100. Suffering temporary brain damage from all the rose bashing I went to pick up everyone's tab. The hostess appeared to have a French accent but when I asked for the cheque in French it was clear she was not. German it seems. I took care of the cheque and used up all my German saying goodbye.
In reflecting on the sequence of events of these three days it occurs to me I have likely developed a composite day or two with parts from one in the other. Like I said earlier I was here for R and R.
Earlier in the day Ray and I had gone to Melaque for gas cans, cell phone trouble and what not. It is a nice little town.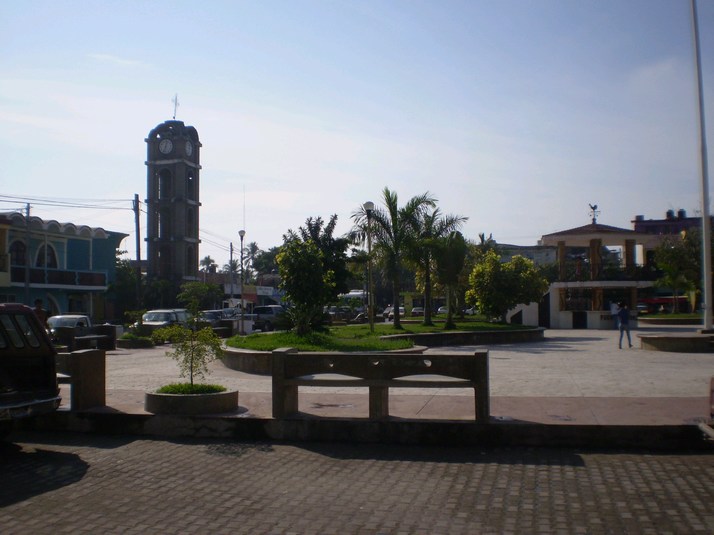 While we were waiting for the bus an old lady came over with a coin in her left palm and started singing. It was lilting and nice to the ear. It was a tortured love song with much passion and revenge. When she was done Ray gave her a 20 peso bill and she shook his hand. She smiled at me and shook my hand palming the 10 peso coin I held for the bus.
After Melaque Ray and I headed back to the Sandbar pool. Nice place with permanent special of two beers and a shot of tequila for $4. While there I saw the blond from the bar and she indicated she had been a bit drunk the other night. Chatted a bit and it developed that she had been to Cuestecomate by boat and anchored there and would be interested in going again. I said my pal Ray wanted to sail there and anchor and perhaps she could go with him :)
Went and sat with Ray back at his lounge chair and told him the good news, that I had found someone who been there and had local knowledge re anchoring. He said she had probably gone there by panga, and what was I trying to do. When we headed out she corralled him and they had a chat. She had been there on a 38' sailboat it turns out and Ray thought she seemed ok sober. Well see.
After Sue from Berkely left we headed out for some limes tequila etc for the margaritas I had promised to make. Linda and I squeezed the living daylights out of a big sack of limes and I added all but a couple of inches of the Tequila ( reserving a tad for flavour adjustment ). The other fixings joined these in a big bowl along with some ice. We served them up like punch and they went well with the tunes on Sue's Ipod. Lots of dancing then time to go.
Some scenes around Barra.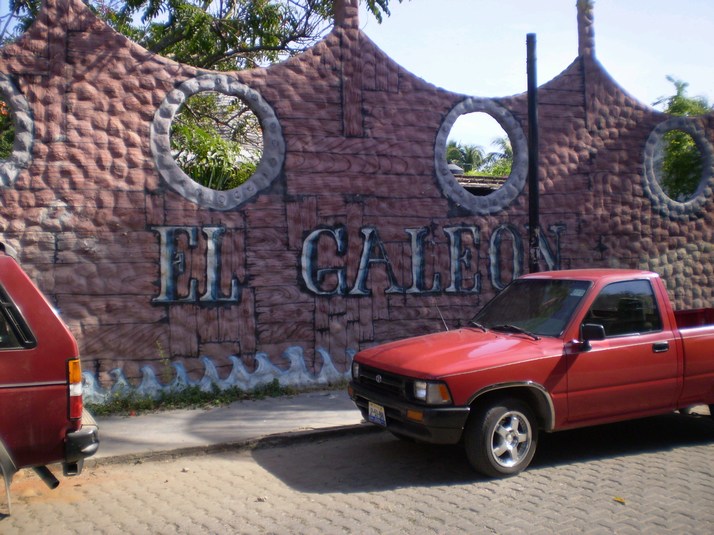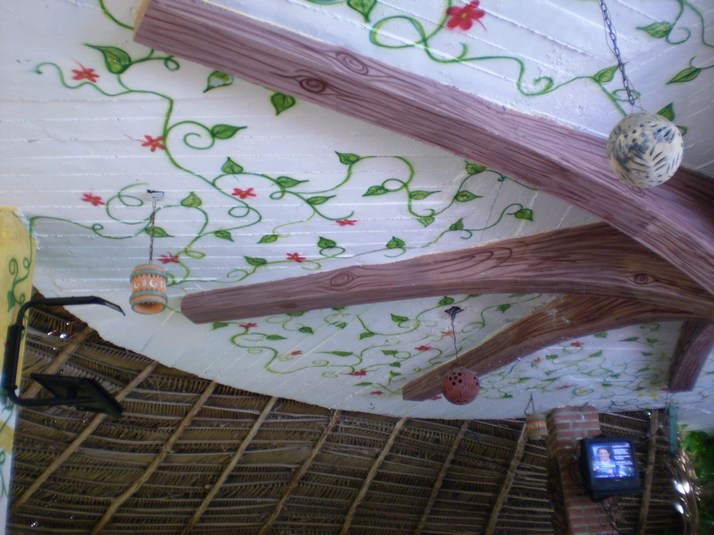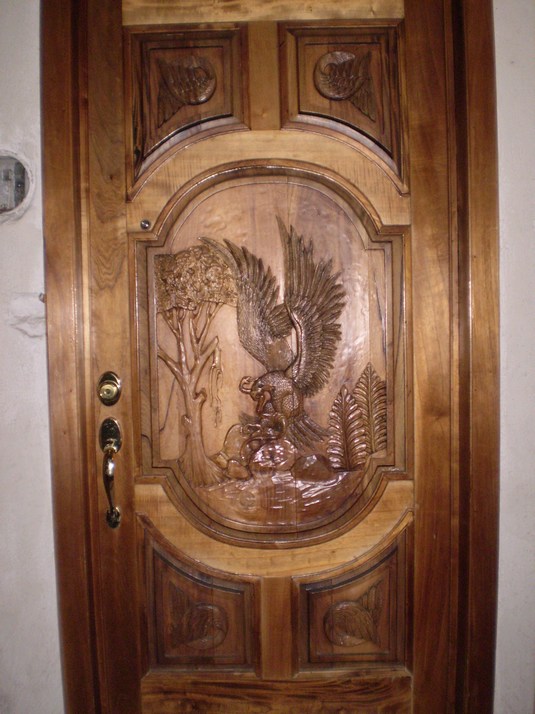 This was my last night in town so we headed back to Lucy's Paradise. Ray, me, the Canadian girls, Scott. We sat and chatted and imbibed. Late in the evening another tall blonde woman walked in and stood beside the table in a bit of a confused focus kind of way asking for Lucy who was out. My spider senses are tingling big time, some sort of trouble here. Ray invites her to sit down... not once but 5 times ignoring my cautionary glances.. until she does.
Intense.. very intense. And a very strong intellect. And somewhat troubled re stuff back home. Came here to learn to surf, an 8 year dream. Does organic truck farming back home, diatomaceous earth, bacillus thrigungus, pyrethenes... stuff like that. Also policitical, sees Mr O as a very dangerous president, he uses Neural Linguistic Programming, you know. Some where in this discussion Ray has left to escort the girls home. He returns and fortunately Lucy closes the bar. Out on the street Ray continues to talk with her, He mentions my boat is only 16', now I am mister radical or some such thing. I don't want to be on this lady's radar. She is leaving in two days, 'What is your boats name Ray?'.... Make something up Ray.... Pavane. Great. She shakes Rays hand, then mine, then mine again, lots of intense looks as I try to become invisible, she finally lets go. We head across the street and she heads up to her hotel, she stops and says something, we keep going.
Next day I leave early, Ray is still asleep, I leave him a note.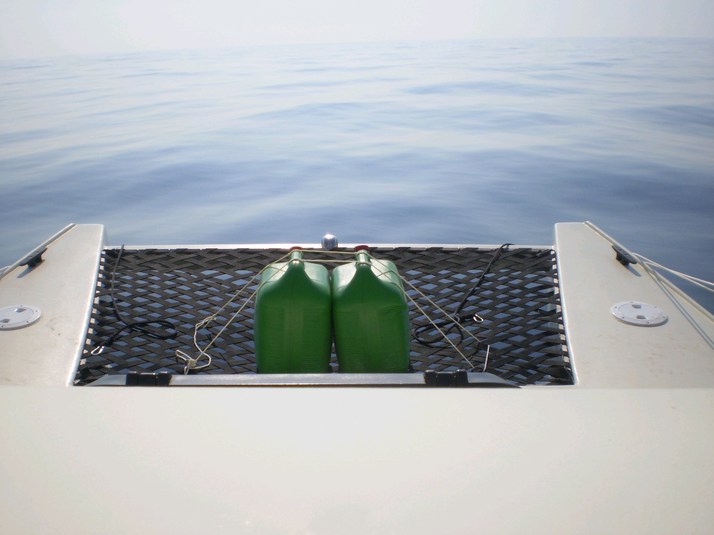 We carry 4 gallons of extra fuel.
Saturday January 17 2100 at sea.
The dolphins arrived an hour ago. I turned off the running light to see them better. There are about a dozen. We were doing 4 1/2 kt when they arrived. I boil some water and make tea and watch them from the conning hatch. They are like phosphorescent smoke trails of torpedoes that dash about in all directions. About them are frequent bright green roils of plasma. Up near the bows it is sometimes a pool of shimmering, shape shifting light. They snort like horses bobbing for apples. From time to time they move off into the distance like a prairie storm at night, light flashes fading into the darkness.
I sip my tea and think of my brother in Cambridge where I bought this tea and our three weeks together last June in Heerling and Champagne. The sea breeze is dropping and we are slowing but the dolphins continue to share our destiny. I think of my estranged brother Brian. He has not returned calls or mail for 3 years and is out of touch with my brother and sister as well. My mothers dying wish was that we stay in touch.
There is a scent of smoke on the wind, the land breeze won't be long.
When I drove 'Miss Cindy' South I thought of pulling up to his house in Port Moody, but did not want to start this voyage on a sour note. That melody plays a few bars tonight anyway.
The breeze fades, the dolphins leave, there is just starlight, Venus glow, and an occasional flash from the lighthouse 5 miles astern. I turn on the navigation lights , trim the sails to the coming breeze and carry on.
Some where on our 92 hour passage to Zihuatanejo a big leatherback turtle comes over to us as we ghost along. He swims along after us. Perhaps he has a thing for 'Miss Cindy'.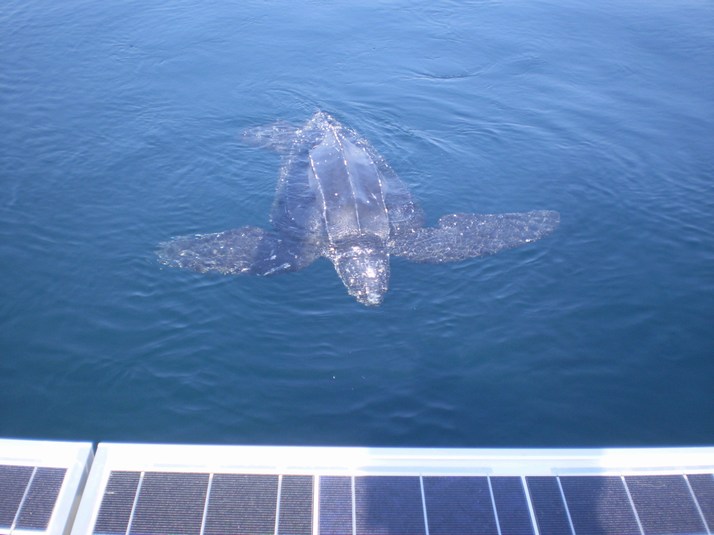 Later near evening I take these two videos of these amazing leaping stingrays. First one is big, second is really big.
Lots of rays, lots of jumping.
Jan 19 2009 We wait about 3 miles off the harbour for first light and head in. We anchor in Zihuatanejo about 0800.
An hour later the carnival comes to town, and a little bit after that 'Slojo' who we were moored next to in La Paz and Paradise Village.
I head into town to for a look around and to pick up some supplies. I dump in the surf going in on the kayak. It is warm and I will dry quick. Zwhat is a bit like Barra but more touristy. Some scenes from around town.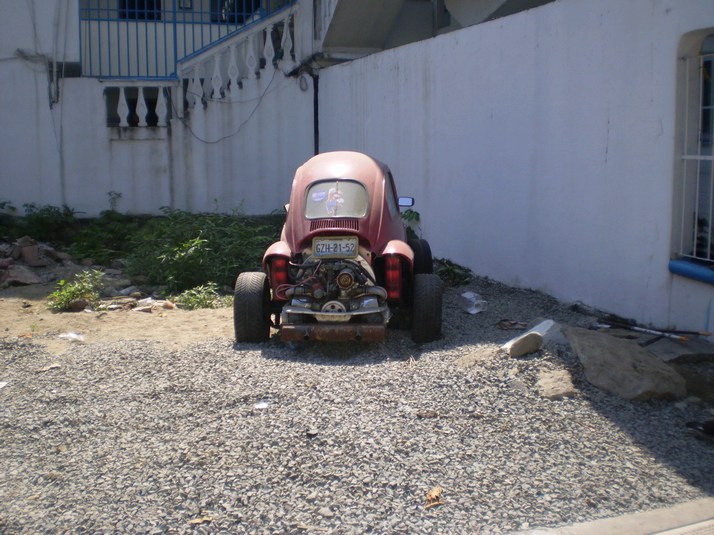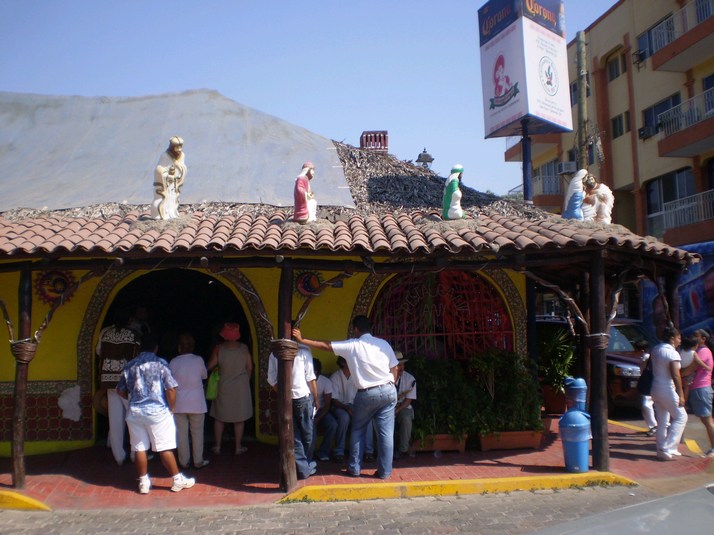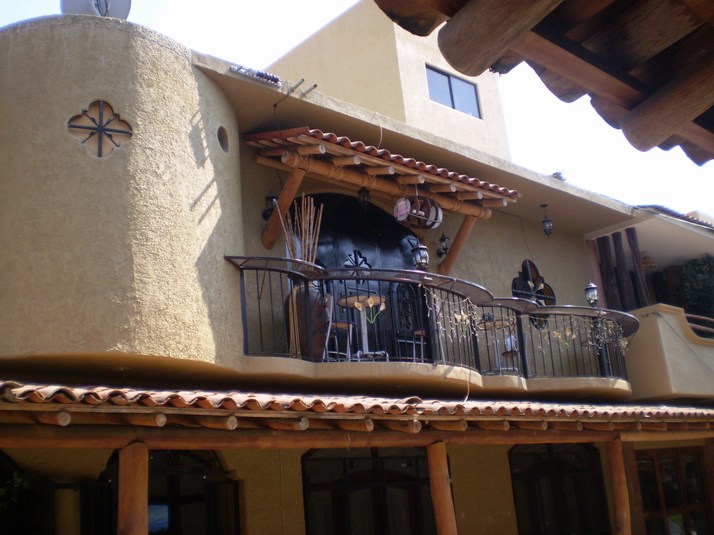 Jan 20 2009
We headed over to the Pemex fuel dock around 0830. It was a dirty concrete pier with oil and garbage all about. Worst yet their gas pump had been broken for quite a while and they only sold diesel. I pushed off and headed over to Playa Ropa where I had heard piggyback wifi was available. Along the way the crew boat for 'Slojo' came by and we had a little chat. 'Slojo's' owner was on the crew boat on his way back from shore. He seemed to like 'Miss Cindy' and I took the occasion to comment on 'Slojo's' nice cabin lines. A lot of these really big boats are quite poorly styled. I advised them if they wanted gas they would have to jug it from a station on shore. Jim said he would be happy to give us the 4 gallons we were looking for. I also commented on how when I was loading up 'Miss Cindy' in Paradise Village I noticed all those crates of California Chardonnay. Jim said he would have the crew bring the gas and a bottle of the Chardonnay as well. I said what I would really like is a tour of 'Slojo. He said he would send over some gas and they would bring me over for a tour. I changed out of my sailing duds into my going visiting duds and after putting aboard 4 gallons of go juice we headed over to 'Slojo'.
Off the stern when we came along side was a bevy of bathing beauties swimming around. I asked them if they had seen any jellyfish. They were all from Michigan except for one from Denver and they were all headed back to the cold North that day. I got on the huge teak aft deck and took off my topsiders and said Hi to all. First I got a tour of the machinery spaces, they were all air conditioned. They were all painted white with a few accents of stainless steel. Primary engines the size of Volkswagons, a Northern Lights generator running quietly to port and another idle to starboard. All kinds of tags and labels and valves and filters and a whole nuther system for the Quantum stabilizers which even have an active mode for when anchored. All very organized and tidy, even had a coffee maker there. That was just the main engine room. In the foyer to the engine room there were computers, filing cabinets with all the systems documentation, two big ( and noisy ) watermakers and a neat Nitrox dive air maker that took regular air and increased the O2 content from 21 to 36 percent or so. It works sort of like a watermaker with a semi-permeable membrane that passed more O2 that N to enrich the output. Nitrox is used in diving to increase tank time and reduce the risks of the bends. There was another space off the foyer that led under the big stern deck and this had an engineer working in there with another bunch of pipes and valves and mysterious equipment all in a place with about 4 1/2 foot headroom.
The crew member then passed me on to Jim who started the tour of the rest of the boat. The interior was quite big and bright. It was also very tastefully decorated primarily with lighter woods and well coordinated floor covering and lighting. The only marble on the boat was a big table in the salon. The boat had a very homey feeling to it with none of the gin palace glitz or excesses. Some of the wood for instance the dining table had simple but lovely inlay work that accented nicely with the decor. Jim was a bit apologetic about the size of the master stateroom that ran across the full beam of the boat but again it was tastefully done in creams and woods and was actually smaller than the master bedrooms I have seen in 5000 sq ft homes ashore.
We went by a large set of doors covered in a sort of distressed copper bronze and Jim was quite proud of what he had done in there. It was a bunch of IT server racks with IT and video equipment. Jim said it had been a bit of work to develop but the satellite TV feeds and the movie on demand equipment had been configured to allow every single TV on the vessel to watch an independent channel or start a selected movie at any point even if it was being watched by someone else. This included all the TVs in the crew quarters. We next had a look in the crew quarters which were exceptionally spacious and comfortable. In the working spaces in the ship there were lots of labour saving devices as well including a machine the pressed sheets and towels and what not as well as a couple of big laundry machines. The galley was pretty sweet as well nicely decored and well configured and equipped, including a big walk in refrigerator.
I had brought a couple of things with me from 'Miss Cindy' to give to Jim if he was interested, always keen to take a bit of weight off the little boat. One was the exquisite anchovies that I had got last summer in England, my stash of these olive oil soaked... parsley and garlic delights was getting low but the best gifts are ones that mean a lot to both the giver and the receiver. I asked Jim if he like anchovies and he clearly did not, it was not looking to good for the anchovies. It turned out however that Jim's wife Sue-Jo did indeed like anchovies and I described these to her and she was keen. I left the small can with the Chef. All the crew aboard seemed pretty chirpy and happy. Next up to the bridge with it two big chairs and a small array of flat screens. Pretty good views from up there. They had a 40" flat screen on the aft bulkhead they called HAL. When ever they came across something that interested them they could Google it and have the info up on the big screen, 'Miss Cindy' for example.
Above HAL was a brushed stainless steel panel with a foot long clinometer arch on it made of glass and stainless with a asymmetrical bent filling tube on the port side. It was filled with a neon pink fluid. It look whimsical and neat and was a fun accent to the seriousness of the bridge. I told Jim I liked it a lot and he said he and Sue-Jo did too but the interior designer hated it.
We strolled up to the sky lounge, ( there were some orchids hanging about there ) and had a beverage and a chat. I asked Jim outright ( in a nice way ) how he had made his money. I like this question as how people react provides some insights as does their response. He did a small double take and cheerfully said 'the old fashioned way' 'he inherited it'. A bit later he asked if he could ask me a forward question. I said sure after my question he was entitled to two. He asked how old I was. In my best 80's Oil of Olay commercial impression I said, 'How old do you think I am', and said I would tell him after his guess. He said he did not want to offend me ( guess to old ) and that he could see a couple of crows feet ( smile lines I say ), but I was a sailor soooo... 41. I told him my age and he was surprised as I look much younger. I asked his age and noted he looked my age, younger. We talked a bit about his kite surfing experience where he had met quite a few men around his age as well.
He mentioned he had hoped to do some writing for a web site about 'Slojo's' travels but between technical issues with the web and his concerns about what to write it had not happened yet. He struck me as a considered man who was looking for a bit of an artistic outlet and I encouraged him to write about what interested him rather than the day to day mechanics.... left Acapulco at 0800, saw a turtle at 1000, arrived Escondito 1800. That stuff is not even fun to write. I signed the ships guest book at the nice marble table and we said our farewells. Jim gave me a bag with a bottle of Chardonnay ( I bet it has a nice flinty edge ) and a 'Slojo' hat and shirt. I pulled the small Canadian flag wind sock from my pocket and suggested he tie it to the back of his surf kite. He said I had the cutest stuff on 'Miss Cindy' and seemed touched.
Nice boat.
Nice folks.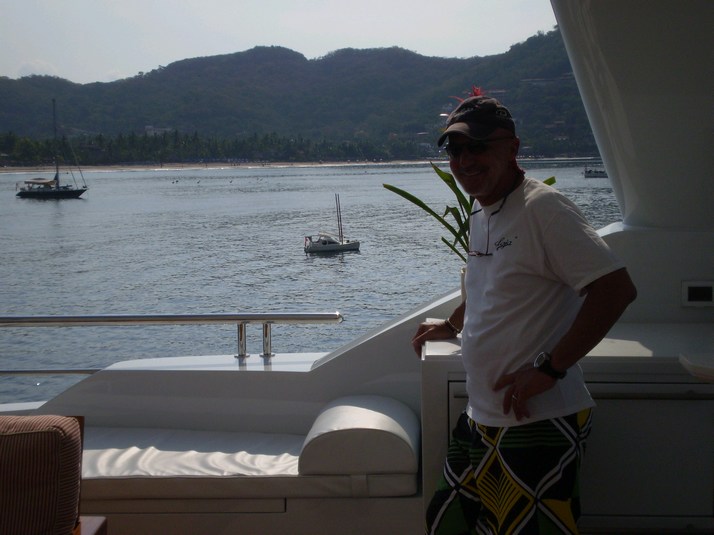 Jim on the top deck with 'Miss Cindy' down below.
We beat out of the harbour to let one of the guests on 'Slojo' get a photo as we went by her bow. An hour or so later we were outside the harbour making an offing and waiting for the Catamaran 'Don Quixote' who wanted to get some video of us under way. We had met them in La Paz and saw them briefly in Mazatlan, and I recall the cute little girl who would not take the rap for my coffee spill in La Paz and who asked me as I was paying my bill at Marina Mazatlan ' Do I pay by the foot or for the whole slip'.
While we were working off shore and waiting for them to glide down the coast the Capitain de la Porte was busy on VHF 16 calling repeatedly for 'Osterdam'. After a while we could hear the 'Osterdam' calling the port capitan but he clearly could not hear them and kept calling. This went on for about 15 minutes when they actually could hear snippets of each other but nothing clear. I could hear them both very well. 'Miss Cindy' called 'Osterdam' and asked if we could be of assistance with a radio relay to the port capitan. They were keen. I relayed the port capitans request for their ETA, and confirmed their response and relayed it to the port capitan who I asked if he required any other information. He did not so 'Miss Cindy' signed off with both of them and received enthusiastic thanks from both.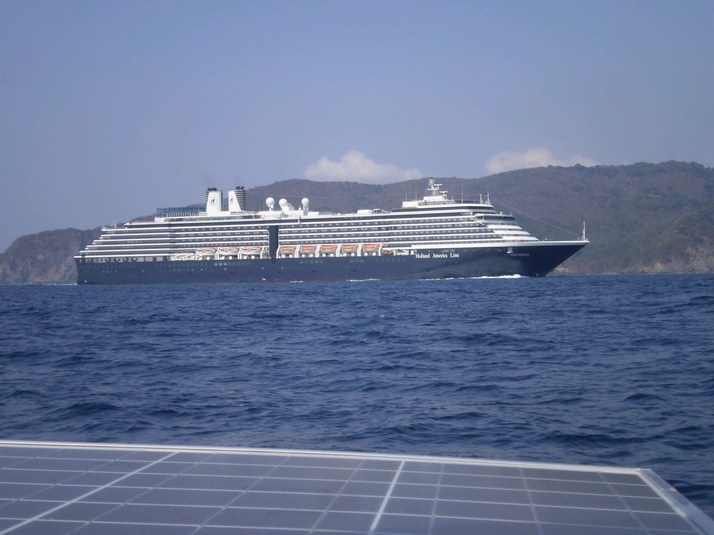 The 'Oosterdam' came over the horizon about ten minutes later and we tacked to stay clear. Our little radio setup with an antenna 4' off the water was able to bridge their communication problem.
We did our little spin around the other catamaran who thought we looked like a cute mouse with big ears coming downwind and then headed offshore.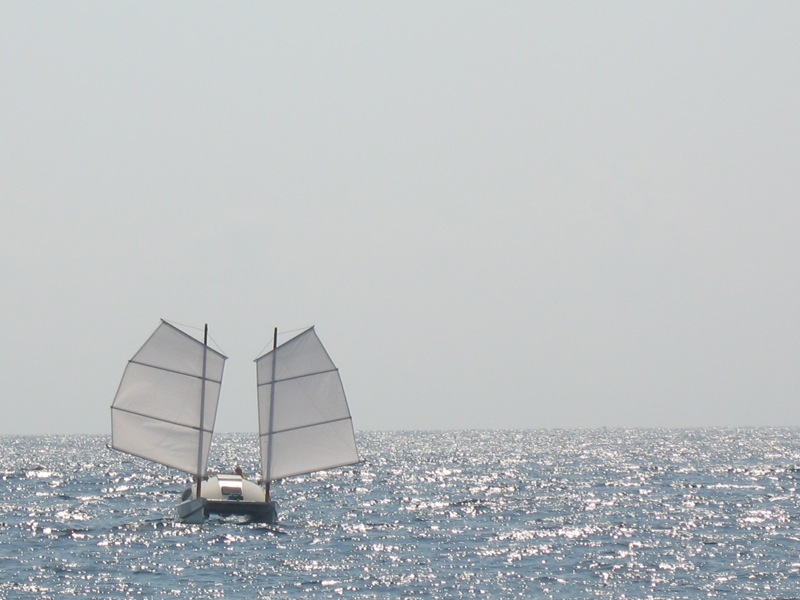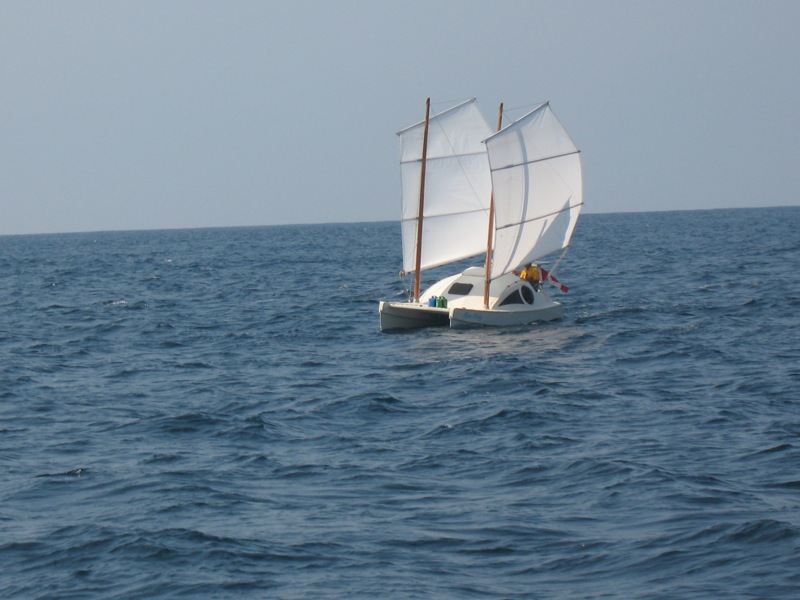 Photos of 'Miss Cindy sailing'by Karen Toast Conger.
The plan was to go about 20 to 25 miles offshore to pickup the steady NW 8-10kt wind that is normally out there and was currently being forecast. This was preferred for the long jaunt to Huatulco as it would probably allow us to get there in about 3 days rather than 6. We sailed out on a SE breeze of 5kt thru both sets of shipping lanes and into the night.
As we are churtling along another pod of dolphins come and play up near the bows. I configure my harness in long mode and take some photos from the bow deck. Then I put the camera away and see if I can touch one of the dolphins. As I lie on the net they move forward a few feet and their tails are below but too deep in the water. After a minute they coast back and I touch a couple of them. They don't seem to mind.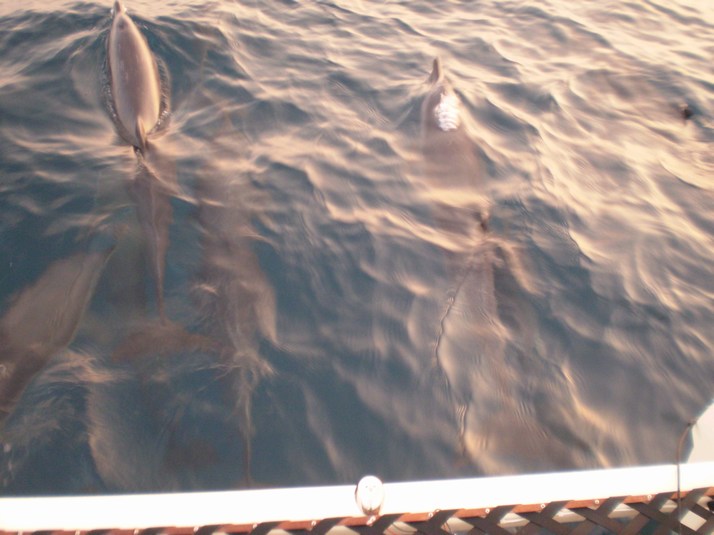 Next day we were 23 miles offshore and the winds were still light South East. Looks like the forecast was wrong. At 1400 I decided to return inshore probably with our next stop Acapulco. We motored in the light adverse winds for 5 hours to get inside the shipping lanes before dark. We had a nice 5kt NW breeze for most of the night which died early in the morning. We were now about 10 miles South of where we had been 24 hours ago.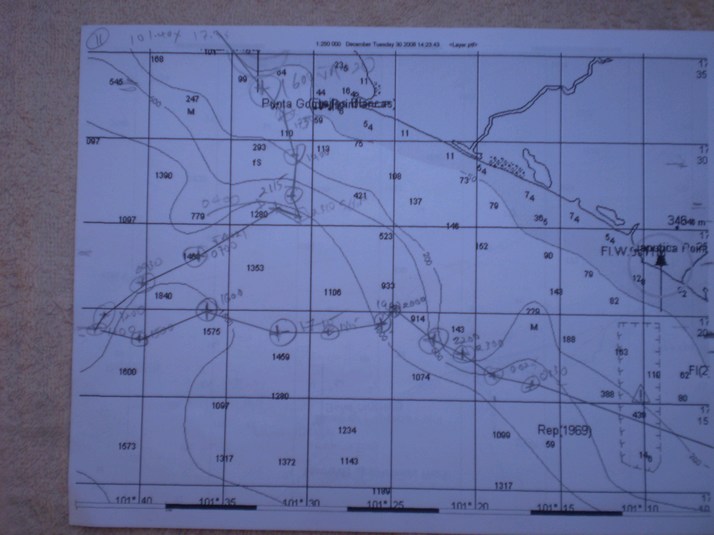 We motored for another hour and a half till a light NW breeze sprung up. I had made a list of things to do in Acapulco and told 'Miss Cindy' she could have a nice fresh water bath at the marina, including having her sails washed. She seemed keen and we made a good rate thru the day and into the early evening. As darkness fell ( no moon ) Acapulco was 26 miles away and we could see a small bunch of light off the next point. There were pangas net fishing on the port side and big ships coasting by to starboard. Orion stood above the masthead with his sword ready to smite any one who would come too close. The wind started to pick up and 'Miss Cindy' started to go like a train. I turned off her nav lights from time to time so we could enjoy the phosphoresent rails she was laying down behind as she scooted along.
As we approached the little bunch of lights I looked up the coast for the glow of the city but could see nothing. At 15 miles it was clear as the bunch of lights enlarged that it had been Acapulco all along. At this distance it looked like a glittering gilded alligator gliding over the waters, with its head to the right, the shallows of its neck, rising ridges on its back, and finally a tapering tail. It only started to loose this clear appearance a couple of hours later.
Around midnight we still had about 10 miles to go and a little cloudburst started. I buttoned up the boat after grabbing a bar of soap and took advantage of the rain to get the salt and dirt off. It was nice to be all clean. The next cloudburst was a bit heavier. I spent the next 3 hours in a shirt and shorts soaked to the skin under an umbrella trying to find the entrance lights and our way down the channel. We eventually made our way to some sort of anchorage near the anchor symbol on the chart and dropped hook in 75', our deepest non temporary anchorage so far.
Slept in till almost 0800.
Friday Jan 23 2009
Picked up a piggyback wifi connection from the middle of the harbour and updated the travel log a bit and called my sweety after allowing for the time difference. I had already decided not to head to the marina but I still had to break the news to 'Miss Cindy' . I explained how rather than getting a quicky 15 minute wash by me at the marina she had already had a three hour bath, and seeing how she didn't need anything on shore and I was fine with what was aboard we would stay in harbour today and slip out tomorrow. She seemed ok with that but reminded me of the minor repairs list that was pretty slow moving.
I dried the shirt I had been wearing in the rain on the deck and when I folded it up in the early afternoon it smelled like the ones my Mom would bring in from the line on the prairies.
That afternoon I did some maintenance on 'Miss Cindy'. Each of the lines holding the preventers to the bow eyes had chaffed and failed, one last night. I have replaced them with a double strop, hopefully that will last the rest of the trip. One of the tiller cheeks had egged a bit from when the tiller pins had failed so I epoxied a slug in there. And finally I finally got around to epoxy bonding the starboard cleats. I had done the port ones in Gonzaga bay many moons ago.
---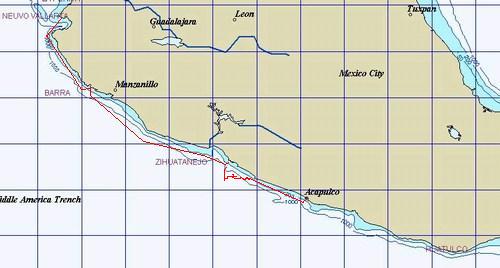 Distance Summary:
---
This Leg: 125 Nautical Miles
Hours Underway: 64
Hours on Motor: 10
---
Total To Date: 1400 Nautical Miles
Total Hours Underway: 603
Total Hours on Motor: 43
---
Copyright © 2009 Tony Bigras.